From Afghanistan to Zimbabwe: UC research spans the globe
From addressing the Ebola outbreak in Africa to exploring aquatic environments in Antarctica, University of California researchers span the globe to serve the public and create new knowledge.
As UC President Janet Napolitano likes to say, "UC teaches for California and researches for the world."
UC's global reach can be seen from health to agriculture, sustainability to tech commercialization and bridge-building efforts such as the president-led UC Global Food Initiative and UC-Mexico Initiative.
UC's global clout is reflected in its strong showing in international rankings. UC placed four campuses in the top 20 and nine in the top 150 in the Academic Ranking of World Universities, and scored similarly in the Times Higher Education World University Rankings and the inaugural U.S. News and World Report Best Global Universities rankings.
On the front lines of global health
One sign of UC's strength is its 62 Nobel Prizes, the latest of which was announced this month in physics to UC Santa Barbara's Shuji Nakamura for the invention of efficient blue light-emitting diodes. Another sign can be seen in Sierra Leone, a West African nation at the center of the Ebola crisis.
UCSF's Dan Kelly became interested in Africa as a student at Albert Einstein College of Medicine. Inspired by a roommate from Sierra Leone, Kelly co-founded Wellbody Alliance in 2006 to provide health care to the poor in that country, which had been ravaged by a decade-long civil war.
From California, Kelly watched as the epidemic progressed rapidly this summer and close friends died.
"It hit me really hard," Kelly said. "Within 48 hours, I went to Sierra Leone. I was there 3 ½ weeks and trained 1,000 health care workers. It restored my hope."
Working with colleagues at UCSF and a coalition of partner organizations, Kelly started a crowdfunding campaign to ramp up relief — one of a variety of UC-led efforts to tackle Ebola.
"We've got a long way to go," said Kelly, who has taken a leave as a UCSF infectious disease fellow to dedicate himself full time to the Ebola crisis.
Kelly was a speaker at UCSF's sold-out global health symposium, held Oct. 2 to celebrate the 10th anniversary of UCSF's Global Health Sciences program.
International health research at UCSF, which got its start in the late 1980s with a small AIDS program in Uganda, now spans 600 investigators working in 190 countries. Similarly, hundreds of faculty and an increasing number of students across UC's 10 campuses are engaged in global health, reflected by the 2009 launch of the systemwide UC Global Health Institute, the 2011 establishment of the Global Health Research, Education and Translation Program at UC Irvine and the launch this fall of a global health major at UC San Diego.
Addressing world hunger
UC also has a strong global presence in agriculture. UC Davis, which last year launched a World Food Center, has the world's top-ranked agricultural program, while UC's Division of Agriculture and Natural Resources has research and extension collaborators in more than 130 countries from Afghanistan to Zimbabwe working to solve agricultural problems at home and abroad.
UC's systemwide strength in all things related to food led Napolitano to launch the Global Food Initiative in July. The initiative aims to harness the collective power of UC to help put the world on a path to sustainably and nutritiously feed itself.
For example, UC Davis and UC Riverside scientists helped develop flood-tolerant rice, an improved grain that is now grown by more than 10 million farmers in the flood-prone fields of Bangladesh and India.
UC Davis also is part of the African Orphan Crops Consortium, which plans to sequence genomes of 100 African crop species to improve the nutrition of African farm families. The UC Davis-led Horticulture Innovation Lab, which has trained nearly 32,000 individuals in more than 30 countries and adapted more than 500 new tools, management practices and seed varieties to aid farmers, just received an $18.8 million federal grant to further build global food security through produce research.
UC Riverside is a hub for invasive species expertise, with researchers traveling around the world to find natural enemies to control imported pests.
UCLA's Resnick Program for Food Law and Policy studies and advances breakthrough solutions for improving the modern food system.
UC San Diego oceanographers have shown that a decade-long ban on fishing in a marine park in Baja California has restored the fish population and helped the economy. UC Santa Barbara's Sustainable Fisheries Group provides scientific expertise that helps to better align economic incentives for fishermen with ocean stewardship, creating implementable changes to ensure the long-term health of coastal ecosystems.
Sustaining the planet
Recognizing the importance of climate change, UC has pledged to become carbon neutral by 2025. The initiative builds on UC's pioneering work on climate research and furthers its leadership on sustainable business practices.
UC also is engaged around the world in protecting the planet.
In May, UC San Diego climate and atmospheric scientist Veerabhadran Ramanathan, a member of the Pontifical Academy of Sciences, co-convened a historic workshop of that academy and the Pontifical Academy of Social Sciences on society's responsibility to preserve nature.
UC scientists are finding clues about the planet's health in remote places such as Antarctica. UC Irvine researchers have found that a rapidly melting section of the West Antarctic Ice Sheet appears to be in irreversible decline, with nothing to stop the entire glacial basin from disappearing into the sea. Last year, UC Santa Cruz scientists conducted an expedition to explore Lake Whillans, which lies under a half-mile of ice — the first successful retrieval of clean whole samples from an Antarctic subglacial lake — in an effort to address questions about subglacial biology, climate history and the behavior of ice sheets.
Spreading tech commercialization
UC's global reach extends to tech commercialization.
UC Santa Barbara's John Bowers developed a solar-powered light and founded a nonprofit corporation, Unite to Light, to provide high-quality, inexpensive, solar-powered lighting to those without electricity.
A discovery by UC Berkeley and Berkeley Lab's Jay Keasling led to development of a partially synthetic version of artemisinin, a chemical critical to making a front-line antimalaria drug. Shipment of the life-saving drug began this summer to Africa, widening access to treatment for millions sickened by malaria.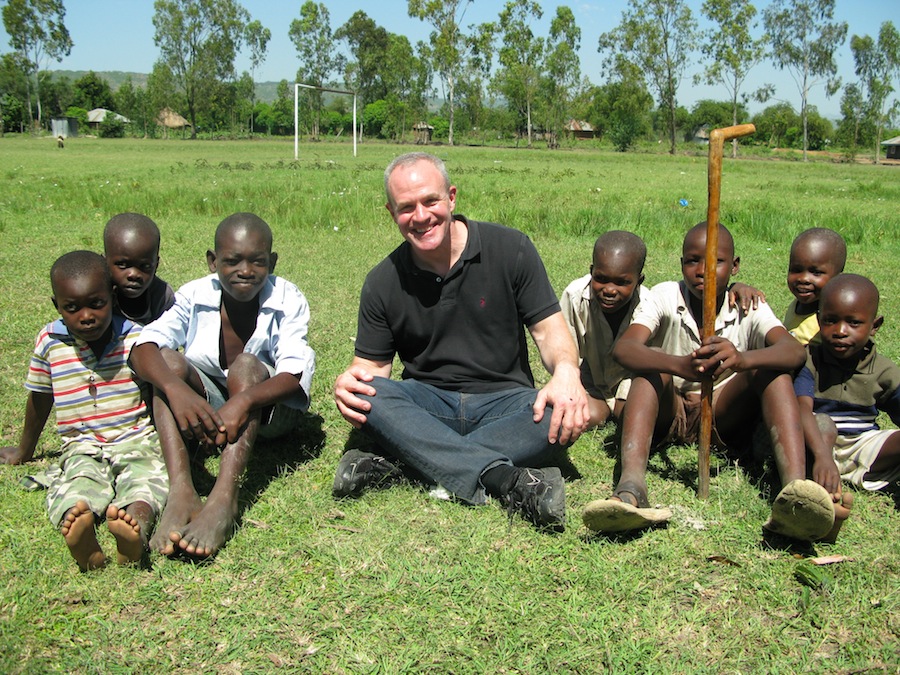 Technology developed by UC Berkeley and Berkeley Lab's Ashok Gadgil for removing arsenic from groundwater has been licensed to an Indian company that plans to bring it to arsenic-affected villages throughout India and Bangladesh, increasing access to safe drinking water. Gadgil also has led development of a highly efficient cookstove to address food security issues posed by displaced persons in Darfur and decrease women's exposure to violence while collecting firewood.
To encourage further tech commercialization, the University of California has created UC Ventures, an independent fund to pursue investments in UC research-fueled enterprises.
International engagement and partnerships
Since 1962, about 100,000 UC students have spent part of their college careers studying and interning outside of the United States. Today, UC has study-abroad partnerships with 115 universities in 42 countries. More than 10,000 UC alumni have served as Peace Corps volunteers — far more than any other university system in the country.
UC's public service mission shines through in responding to international disasters such as the 2010 Haiti earthquake. The student-led UC Haiti Initiative, with members on all 10 UC campuses, works with the State University of Haiti on projects designed to reinforce the public higher education system and spur social innovation. Students, faculty and staff also traveled to Haiti on aid and development missions following the quake.
Blum Centers, housed at five UC campuses — Berkeley, Davis, Los Angeles, Merced and San Diego — work toward the betterment of the global society, seeking sustainable solutions from poverty to health.
Individual campuses have been forging international partnerships, such as UC Davis, which is developing a Life Sciences Innovation Center in Chile, and UCLA, which has signed an agreement with Chinese firm Centre Testing International Corp. to create a company that will operate a clinical lab in Shanghai.
UC also is working systemwide to foster international cooperation, such as the UC-Mexico Initiative to increase student and faculty exchange and provide opportunities for collaborative research in key areas, including education, health, science, agriculture, sustainability, arts and culture.
Global roots in California
Jaime Sepúlveda has seen global health evolve first-hand. A native of Mexico who directed Mexico's National Institutes of Health from 2003-06, he now is executive director of UCSF Global Health Sciences.
Global health is in a key transition point, and universities can play an important role, creating knowledge to help improve health and reduce inequities, Sepúlveda said.
Examples exist throughout the UC system. UC Davis' Jonna Mazet leads the PREDICT project that is using state-of-the-art tools to identify emerging infectious diseases in hopes of preventing the next global pandemic.
Researchers at four UC campuses — Berkeley, San Diego, San Francisco and Santa Cruz — and partner institutions are developing new tools and technologies that will address three neglected tropical diseases that place a huge health and economic burden on people in Central and South America: Chagas' disease, dengue and onchocerciasis.
The UCLA Center for World Health sponsors programs in many parts of the world — sub-Saharan Africa, the Middle East, Central and South America, Southeast Asia — collaborating with local scientists and health care providers to develop and implement solutions to help people in these communities.
Global health also is relevant to local health, said Stefano Bertozzi, dean of the UC Berkeley School of Public Health. Students have opportunities in California to address health challenges similar to those faced abroad, he said.
"We have disenfranchised populations," Bertozzi said. "We have neglected populations."
Meanwhile, UC's global connection is a two-way street, attracting researchers and students from around the world.
Obieze Nwanna quit his job as a doctor working offshore in Nigeria to pursue a master's in global health at UCSF. He started classes in September. While finding housing has been a challenge — staying his initial weeks in a hotel — he already feels at home at the university. The global health program puts him in a position to reach more people, he said.
"I want to positively affect the health of people in Nigeria and make enough connections to offer other people similar opportunities, especially in underserved communities," Nwanna said.