Taking aim at the global food crisis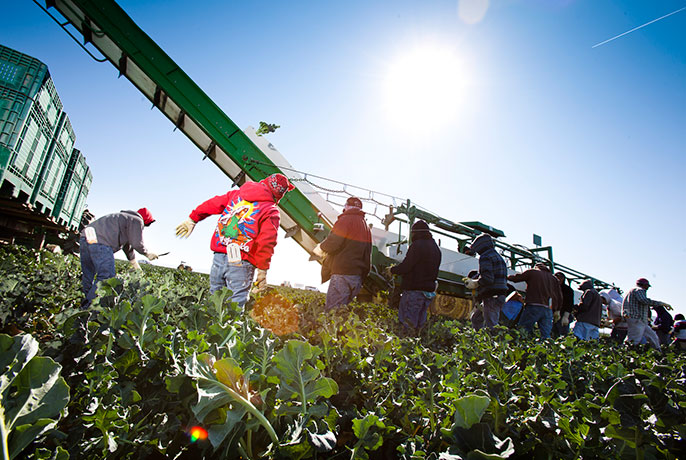 The world is facing a food crisis. Roughly 1 in 9 people lack enough food to eat. Meanwhile, pressures are mounting from population growth to climate change.
The University of California's Global Food Initiative is taking aim at the problem. From Afghanistan to Zambia, UC researchers are on the ground, working to create a world without hunger.

UC Agriculture and Natural Resources (ANR) alone has collaborators in more than 130 countries working to help solve agricultural problems.
In honor of World Food Day today (Oct. 16), here is a snapshot from around the globe of how UC's international food and agriculture research and extension work is helping to feed the world, advance health and increase sustainability.
A: Afghanistan
Once known for its high-quality almonds, pomegranates, pistachios and apricots, Afghanistan has seen its agricultural sector decimated by decades of war. UC Davis' Jim Hill, a Cooperative Extension specialist with UC ANR, leads an award-winning project that is helping farmers there rebuild. Working with four Afghan provincial extension offices, Hill has helped transform Afghanistan's old research centers into Provincial Model Teaching Farms from which Afghan extension agents have provided both extension methodology and technical training. From these provincial sites, extension agents have conducted more than 1,000 extension demonstrations and village training programs, addressing priority needs for Afghan agriculture. Read more
B: Berkeley Food Institute
The College of Natural Resources, the Goldman School of Public Policy, the Graduate School of Journalism, Berkeley Law and the School of Public Health at UC Berkeley have joined together to develop an institute dedicated to galvanizing the transition to more resilient and just food systems, from local to global scales. The institute has more than 100 affiliated faculty and staff on the UC Berkeley campus. Read more
C: Cowpea
Abundant in protein and energy-rich oils, cowpeas – also known as black-eyed peas – are central to the diets of millions of people across Africa and Asia. But according to UC Riverside's Timothy Close and Philip Roberts, the legume crop is performing at only 20 percent of its genetic potential. So they've set out to breed new cowpea varieties, ones with traits such as higher yield and quality, disease resistance, pest resistance and drought tolerance. Read more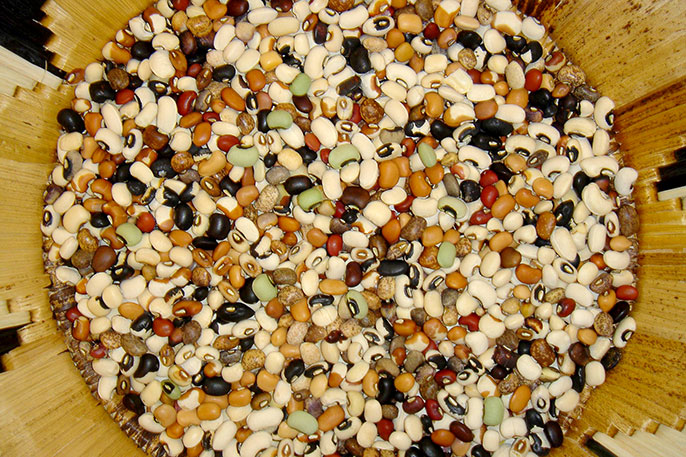 D: Darfur stove
Lawrence Berkeley National Laboratory's Ashok Gadgil has led development of the Darfur Stove, which replaces the traditional "three stone" cooking fire for Darfuri refugees in western Sudan. The old method of cooking required women to walk — for up to seven hours, five times a week — outside the safety of the camps to collect wood. After a fact-finding mission to Darfur, Gadgil realized he could design a stove that uses 75 percent less fuel to cook the same amount of food in the same pot, reducing the number of firewood collection trips. The stoves were designed at Berkeley Lab but are manufactured in a factory in Darfur and sold for $20 each. About 40,000 cookstoves are in use in Africa. Read more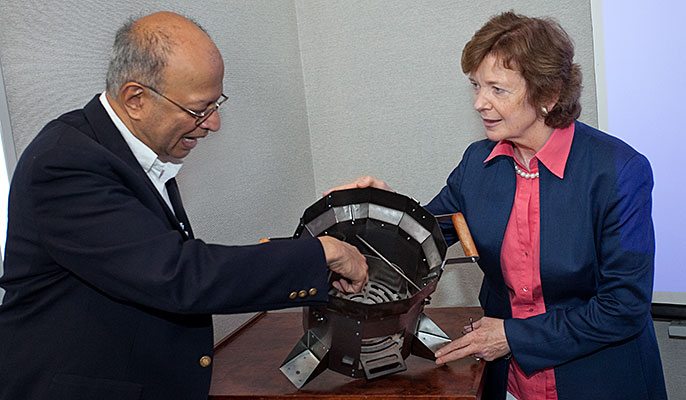 E: Ecological horticulture apprenticeship
Since UC Santa Cruz began its Apprenticeship in Ecological Horticulture in 1967, more than 1,400 students have graduated from the six-month, full-time course. Many have started their own organic farms and market gardens. A number of apprenticeship graduates work in international programs in sustainable agriculture. Graduate Lucia Stephen developed and coordinates the Grow A Farmer Apprenticeship and Mentorship Programs – the first multifaceted farmer training initiative of its kind in eastern Canada. Read more
F: Fisheries
UC Santa Barbara's Steve Gaines is tackling one of the world's biggest food security issues: how to ensure sustainable ocean fisheries. Together with Bloomberg Philanthropies' Vibrant Oceans Initiative, he is focusing on bringing stability to the fish populations in Brazil, Chile and the Philippines. But he doesn't plan to stop there. The goal is to expand into more locations. Read more
G: Guatemala
The UC Davis Clean Water for Crops team won first place for global health and global impact in the 2015 Big Ideas @ Berkeley student innovation contest. Clean Water for Crops seeks to implement a water cleaning system in Guatemala using sand filtration and a local moringa seed to treat the contaminated water of Lake Atitlán. Read more
H: History
Food intersects class, culture and ethnicity. Today, multinational corporations serve fast food for the masses. But before there was a Big Mac and McDonald's, there was chop suey and red leather booths. American Chinese food was a precursor to ubiquitous chain restaurants, democratizing the once-exclusive dining-out experience for working-class whites, African Americans and Jews. The influence of Chinese cuisine throughout the 20th century and beyond is told in "Chop Suey, USA: The Story of Chinese Food in America," by UC Irvine history professor Yong Chen. Read more
I: India
Scientists at Berkeley Lab, led by Ashok Gadgil, have developed a new, more efficient and affordable process for removing arsenic from water. The process, Electrochemical Arsenic Remediation, binds arsenic using iron dissolved in water, and costs as little as 8 cents per gallon. The technology has been licensed and a company plans to bring it to villages in India and Bangladesh, where arsenic-tainted groundwater is an insidious public health problem. Read more
J: Japan
UC Cooperative Extension advisor Luis Espino is reaching foreign rice growers without leaving California. Scientific exchanges take place when researchers and growers from other countries visit Northern California. Recently, visitors from Japan and Venezuela have come to tour California rice production systems and learn about UC rice research. Read more
K: Kenya
A multifaceted farming intervention can reduce food insecurity while improving HIV outcomes in patients in Kenya, according to a study led by researchers at UC San Francisco. Study participants who received agricultural and financial support were able to increase the quantity and quality of food consumed. At the same time, their CD4 T-cell counts increased and their rate of viral suppression increased by about one half. "While this was a pilot study, these results prove the concept that improving food insecurity and alleviating poverty can affect HIV clinical outcomes," UCSF's Sheri Weiser said. Read more
L: Law
The UCLA Resnick Program for Food Law and Policy – the first program of its kind at a top-tier law school – studies and advances breakthrough solutions for improving the modern food system. Hilal Elver, the United Nations special rapporteur on the right to food, serves as the UCLA Law program's global distinguished fellow, where she will pursue a comprehensive research agenda concerning the right to food. Read more
M: Mexico
UC San Diego researchers have presented a bioregional guide that merges city planning and ecosystem management along the U.S.-Mexico border as a way to improve human and environmental health. "Our health is not entirely hardwired genetically," says UC San Diego's Keith Pezzoli. "It is also affected by environmental exposures, stress, diet, urban design and behavior. In our region, we can't think about health on just one side of the border because animals, sick people and pollutants move back and forth." Read more
N: Northern Benin
UC San Diego's Jennifer Burney addresses the pressing issue of how to increase the supply and access to food and how to preserve native habitats in the process. Fieldwork has led Burney to develop technologies to help farmers in Africa and Brazil adapt to climate change. In lands baked by sun, Burney makes sunshine the answer. She helped develop solar irrigation systems that enable African and Brazilian farmers to grow more fruits and vegetables year round, boosting nutrition and income. In Northern Benin in West Africa, solar-powered drip irrigation systems have been installed in 10 villages, impacting thousands of individuals. Read more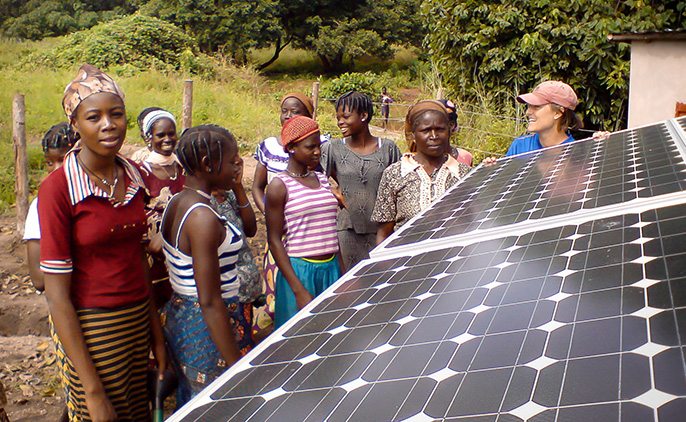 O: Orphan crops
The African Orphan Crops Consortium, run by UC Davis, Mars Inc. and other global partners, is working to sequence, assemble and annotate the genomes of 100 African crop species to improve the nutrition of the African farm families who depend on them for sustenance. "Orphan crops" are African food crops and tree species that have been neglected by researchers and industry because they are not economically important on the global market. The consortium's African Plant Breeding Academy graduated its first class of 21 plant breeders in December 2014. Read more
P: Pests
Asian citrus psyllid. Red palm weevil. Gold spotted oak borer. In Mark Hoddle's eyes, they all must be stopped. His official title is UC Cooperative Extension specialist and director of the UC Riverside Center for Invasive Species Research, but Hoddle also is known as the "Indiana Jones of insects." Every year, California is invaded by new, often-destructive species of exotic pests, resulting in annual economic losses of more than $3 billion. Hoddle travels around the world on a quest for natural enemies that can combat these species before they cause extensive damage to agriculture, residential areas, and native plants and animals. Read more
Q: Quinoa
UC Berkeley alum Sergio Núñez de Arco co-founded Andean Naturals with the goal of promoting sustainable agriculture and raising farmer incomes in his native Bolivia while giving U.S. consumers reliable access to a nutritious, gluten-free whole grain. He has built Andean Naturals into the leading importer/wholesaler of organic, fair trade quinoa. Read more
R: Rice
Rice is a staple food for billions of people. But a considerable amount of the global rice crop is grown in regions where seasonal flooding is extreme and unpredictable, and can cause major crop losses. UC Davis plant pathology professor Pamela Ronald — working with colleagues from UC Riverside — developed flood-tolerant rice. Millions of subsistence farmers in South Asia have now grown Sub1A or "scuba rice." Read more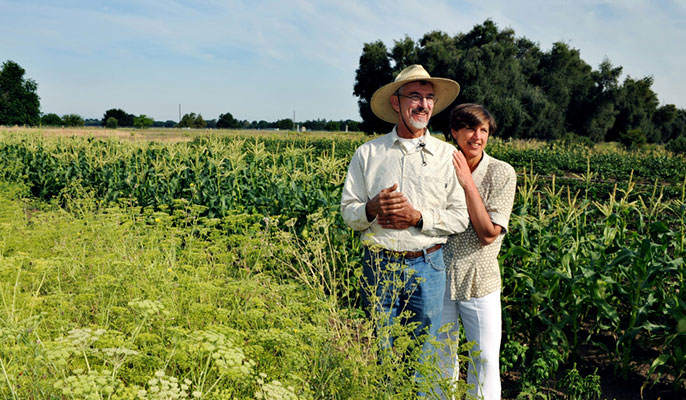 S: Sorghum
UC Berkeley leads a $12.3 million project funded by the U.S. Department of Energy to examine the role of epigenetics in allowing plants to survive in drought conditions, an increasing concern for agriculture as the effects of climate change are felt in California and globally. UC Berkeley researchers will partner with scientists at UC ANR, the Energy Department's Joint Genome Institute and that agency's Pacific Northwest National Laboratory on the five-year project, called Epigenetic Control of Drought Response in Sorghum. Researchers will dissect mechanisms by which sorghum, a close relative of corn, is able to survive water deprivation. Read more
T: Tanzania
An international team led by Diane Barrett of UC Davis opened a Postharvest Training and Services Center in Tanzania and provided yearlong postharvest training for 36 new experts who are now training farmers in seven African countries. The project is organized by the UC Davis Horticulture Innovation Lab, which builds international partnerships for fruit and vegetable research to improve livelihoods in developing countries. In its first four years, the Horticulture Innovation Lab has trained nearly 32,000 individuals in more than 30 countries. Read more
U: USAID fellows
The University of California and U.S. Agency for International Development are partnering to expand the Research and Innovation Fellowship program, which addresses pressing agricultural development challenges around the globe. Graduate student fellows spend two to six months helping partner organizations solve scientific, technological, organizational and business challenges. USAID's Global Development Lab launched this program last year with six universities, including UC Berkeley and UC Davis. The UC Global Food Initiative is co-sponsoring fellowships for the next two years to help extend the program at UC Berkeley and UC Davis and expand it to include fellowships at UC Riverside and UC Santa Cruz. Read more
V: Vinecology
UC Merced's Joshua Viers initiated the "vinecology" scientific movement that focuses on improving biodiversity conservation in vineyards of the New World Mediterranean (California, Chile, South Africa, Australia). Viers makes a case for accelerating "vinecology" — the integration of ecological and viticultural practices — in regions with Mediterranean-type climate. Current transitions in the wine industry make it an ideal time to promote vinecology, says Viers and fellow research ecologists in the wine-growing areas of Chile, South Africa and Australia. Read more
W: World Food Center
The UC Davis World Food Center, established in 2013, aims to increase the impact of research — from economic benefits to shaping national and international policy and practice — by convening innovators and leaders from industry, academia, government and nongovernmental organizations to tackle food-related challenges. Read more
X: Xavier
Nearly three-quarters of the samples of top-selling imported olive oil brands failed international extra virgin standards, according to a report by researchers at UC Davis and in Australia. UC Davis sensory scientist Jean-Xavier Guinard was co-investigator on the study, which found that the quality level of the largest imported brand-name extra virgin olive oil is inconsistent at best. The report, which garnered international attention, recommended that further research should be conducted to investigate chemical markers for sensory defects and determine the effects of minor olive-oil constituents on the oil's flavor and stability. Read more
Y: Yinchuan
Officials from China's Northwest Agricultural and Forestry University in Shaanxi province and UC Davis last year signed a memorandum of agreement that lays the groundwork for establishing the Sino-U.S. Joint Research Center for Food Safety in China. The signing ceremony was held in the city of Yinchuan, China. The agreement, which will extend over five years, calls for the center's two lead universities to form a joint research team and research platform, carry out collaborative research projects, and cooperate on other food safety-related projects. Read more
Z: Zambia
Farming is the main livelihood in Zambia. But more than a third of the crops in this Southern African country never make it to market. Lacking adequate storage silos, maize — which makes up more than 50 percent of Zambians' food — is kept in bags in farmers' homes. Stored this way, many kernels crumble to powder in a few months, having fallen victim to grain-boring insects or mold prevalent in the humid climate. Now a team of UC Davis grads, students and Zambian colleagues has built a company (Zasaka) around simple technologies and practices that aid farmers in avoiding losses and growing more crops. Read more