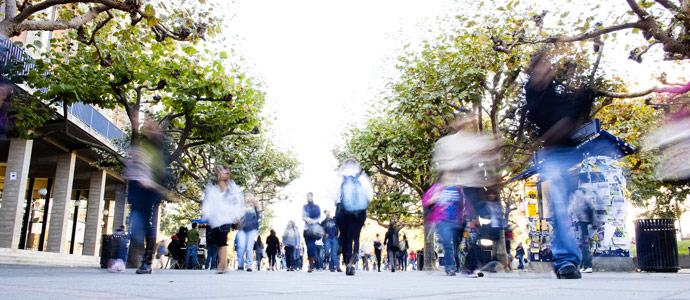 It's about striving, every day, to ensure the University of California remains the best public university in the world.
UC is committed to creating the most cost-efficient and effective system for California.
Find out about the plans we're making now to ensure the next 150 years.
As environmental, social and economic challenges in our state proliferate, they demand we address them head on. We do so using our best assets: the powerful intellect and heartfelt passion of the people who believe UC's public mission is vital to the health of our state. They're willing to fight for it, and so are we.
We focus our efforts where we think a systemwide perspective adds the most value: tracking and evaluating volumes of data on UC's performance, and exploring every opportunity to capitalize on the power of our collective size to streamline, to work smarter — together.
In the current climate, it's our responsibility to look hard at every aspect of the enterprise and ask bluntly: Can we do better? Be more effective, more sustainable? One thing is clear: We will need to change to meet the demands of the century ahead. And that change must be imagined, sketched, questioned and agreed to publicly and accountably. If the fundamental values of UC are to survive and thrive, we must embody them in how we plan our future.
Tracking progress
---
Since 2010, UC has compiled an annual assessment of its progress in meeting key goals. The Accountability Report's findings help guide UC's strategic planning and budgeting; they also help the regents prioritize important policy issues facing the university.
UC is conducting its first comprehensive assessment of campus climate, reaching faculty, staff and students across the system to gather an unprecedented pool of data to help build healthy environments where people feel respected and valued.
This website has been established to provide the public with comprehensive and timely information about UC's compensation practices — and challenges.
Taking care of the future
---
How can UC maintain access, quality and affordability in the face of dwindling resources? The commission issued its final report in November 2010, and its recommendations already are shaping UC's actions regarding budget, enrollment, education strategies and more.
By cutting costs and generating revenue through a comprehensive program of new initiatives, UC is on track to save $500 million over five years.
UC is moving aggressively to reduce its impact on the environment — from energy-saving buildings to cutting waste in food service. Our Policy on Sustainable Practice serves as a guide to becoming a better steward of the planet.