August 10, 2023
Emily Cerf
,
UC Santa Cruz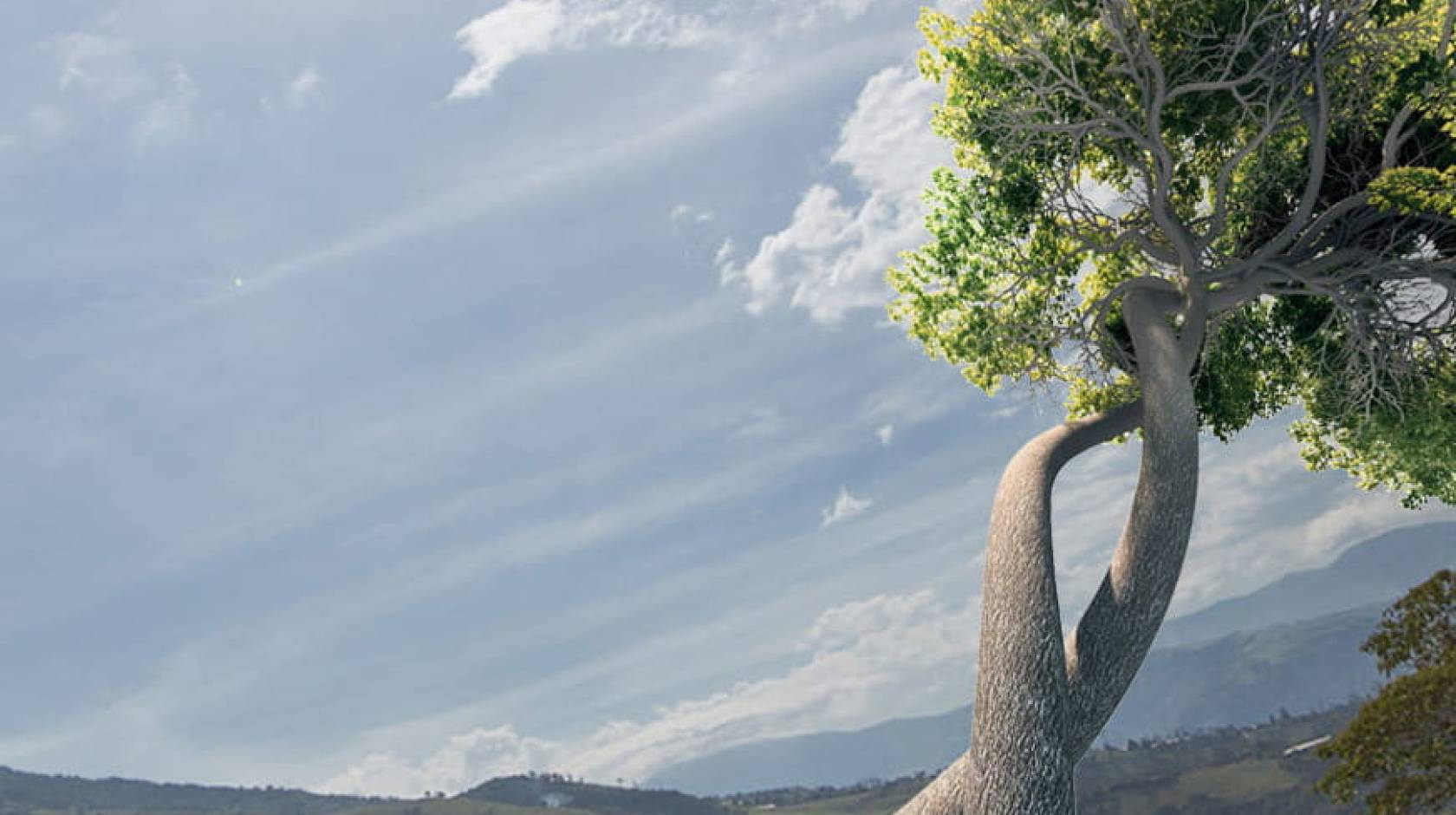 Credit: UC Santa Cruz Treehouse Childhood Cancer Initiative.
Robert McCabe of Anchorage, Alaska, is a 15-year-old avid bowler, a fan of baseball and basketball, and a rising high school sophomore who hopes to be an engineer one day. He is also a pediatric cancer survivor, and most recently, a pediatric cancer researcher. This summer, he helped to sequence and analyze a tumor sample in the lab of the UC Santa Cruz Treehouse Childhood Cancer Initiative.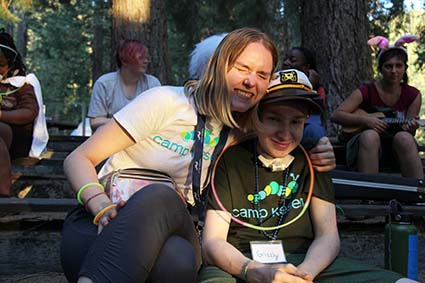 In late July, Robert joined his older sister, Molly (Cowell '22, molecular, cellular and developmental biology), a junior researcher in Associate Professor of Molecular, Cell, and Developmental Biology Olena Vaske's lab, on the UC Santa Cruz campus. Vaske leads the Treehouse Childhood Cancer Initiative with the goal of leveraging genomics to improve the outcomes for pediatric cancer patients. The siblings helped develop Treehouse's ability to sequence tumor specimens at the Colligan Clinical Diagnostic Laboratory using the lab's new DNA sequencer.
The McCabe family has been deeply impacted by cancer. Robert was diagnosed with medulloblastoma, a form of pediatric brain cancer, when he was three years old. Treatment involving emergency brain surgery, chemotherapy, radiation, and growth hormones led to Robert's recovery, but unfortunately, that was not where the family's story with cancer ended.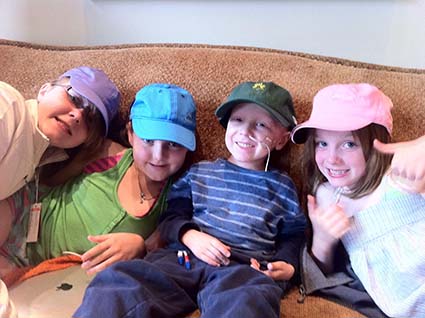 Molly and Robert's mother passed away from melanoma when Robert was just six and Molly was 13, and Robert was later diagnosed with thyroid cancer, likely from the radiation treatment for medulloblastoma. After treatment that involved a surgery that partially paralyzed his vocal chords, Robert is now in remission.
These experiences inspired Molly to get involved with cancer research while she was an undergraduate student at UCSC. She first worked with Vaske on a project at Blaze Bioscience focusing on tumor paint, an innovative technique to help doctors identify brain tumors during surgery, then later helped with the COVID-19 diagnostics lab, which Treehouse helped establish along with other UCSC colleagues during the pandemic. After the COVID-19 lab completed its mission, she stayed on with Treehouse to help develop in-house RNA sequencing protocols for human tumors — how to prepare samples for sequencing by creating what are called "libraries" from the tumor RNA, and how to do the sequencing itself.
Since it was established in 2013, Treehouse has focused on leveraging their bioinformatics expertise to analyze pediatric cancer RNA sequencing data. RNA data tells the scientists which genes within the DNA are expressed, or "turned on." In studying RNA data, the Treehouse researchers  look for abnormal gene expression, which doctors can potentially use to diagnose or target with medication. Studying RNA has been shown to be an effective strategy for understanding childhood cancers specifically, as childhood cancers are less likely to be a result of the buildup of DNA mutations that occur throughout a lifetime to cause many adult cancers.
Sequencing real tumors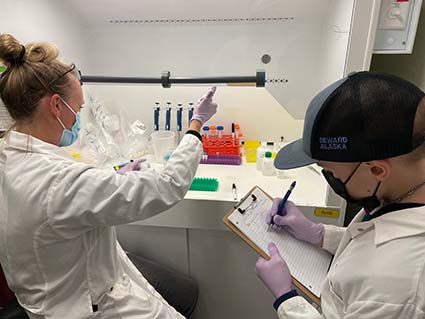 In the past, the Treehouse Initiative has worked solely with sequencing data produced by other institutions, collaborating with partners such as Stanford Medicine. But over the past year or so, Molly has been working with Treehouse Lab Manager Anouk van den Bout to set up a wet lab protocol that will enable the researchers to work directly with tumor samples to extract and then analyze the RNA sequencing data themselves. In collaboration with UCSF Associate Professor Patrick Devine, Treehouse is working on getting a CLIA license for the Colligan Clinical Diagnostic Laboratory, which will allow them to offer RNA sequencing assays to more patients.
Robert and Molly helped Treehouse develop capabilities to sequence real human tumors. They worked on a tumor sample from a child with a rare cancer who is currently out of treatment options.
Treehouse offers research analysis for such children as part of collaborations with pediatric cancer hospitals. In several cases, Treehouse's RNA-based findings have been used to guide treatment and even to contribute to disease remission. Molly, Robert, and the Treehouse team are hoping for a similar outcome for this patient. 
"It's so inspirational to hear your story and have you here," Vaske said to Robert in a lab meeting, which members from the McCabe family attended to learn more about the project. "This is the reason we're doing this work. We want to have a cure for every child's cancer, and have cures that don't produce side effects."
During their week together in the lab, the siblings worked with Van den Bout to extract RNA from a flash-frozen tumor sample and lung tissue sample, which they then turned into libraries to be sequenced. The process of breaking open the tumor sample to extract the RNA proved difficult, but they were ultimately successful.
"I was mostly working with pipettes, so I got to do the measuring and sometimes actually used them, and that was pretty fun," Robert said.
"Robert was catching on so quickly," Molly said. "He was doing math and asking questions that it took me months to start asking. I was so impressed."
Once the libraries are sequenced, Molly and Robert will work with the bioinformatics experts in the lab to identify genes that may be under- or overexpressed and could be the target of a drug therapy. The sibling team hopes to see the project through and participate in the meetings during which the researchers go through the bioinformatic analyses.
After this project is complete, Molly plans to return to Alaska and later pursue medical school to one day be a pediatric oncologist working directly with kids with cancer and their families, helping them to navigate the process that her family went through. But for the time being, this project was the "cherry on top," of her time at UC Santa Cruz, a deeply meaningful full-circle moment.
"When we were vortexing the tumor sample to lyse the tissue for the RNA extraction," she said, "Robert asked me, 'Is this what they did with my brain tumor sample?' It was a really humbling question — they probably did."