March 10, 2022
Dave Jones
,
UC Davis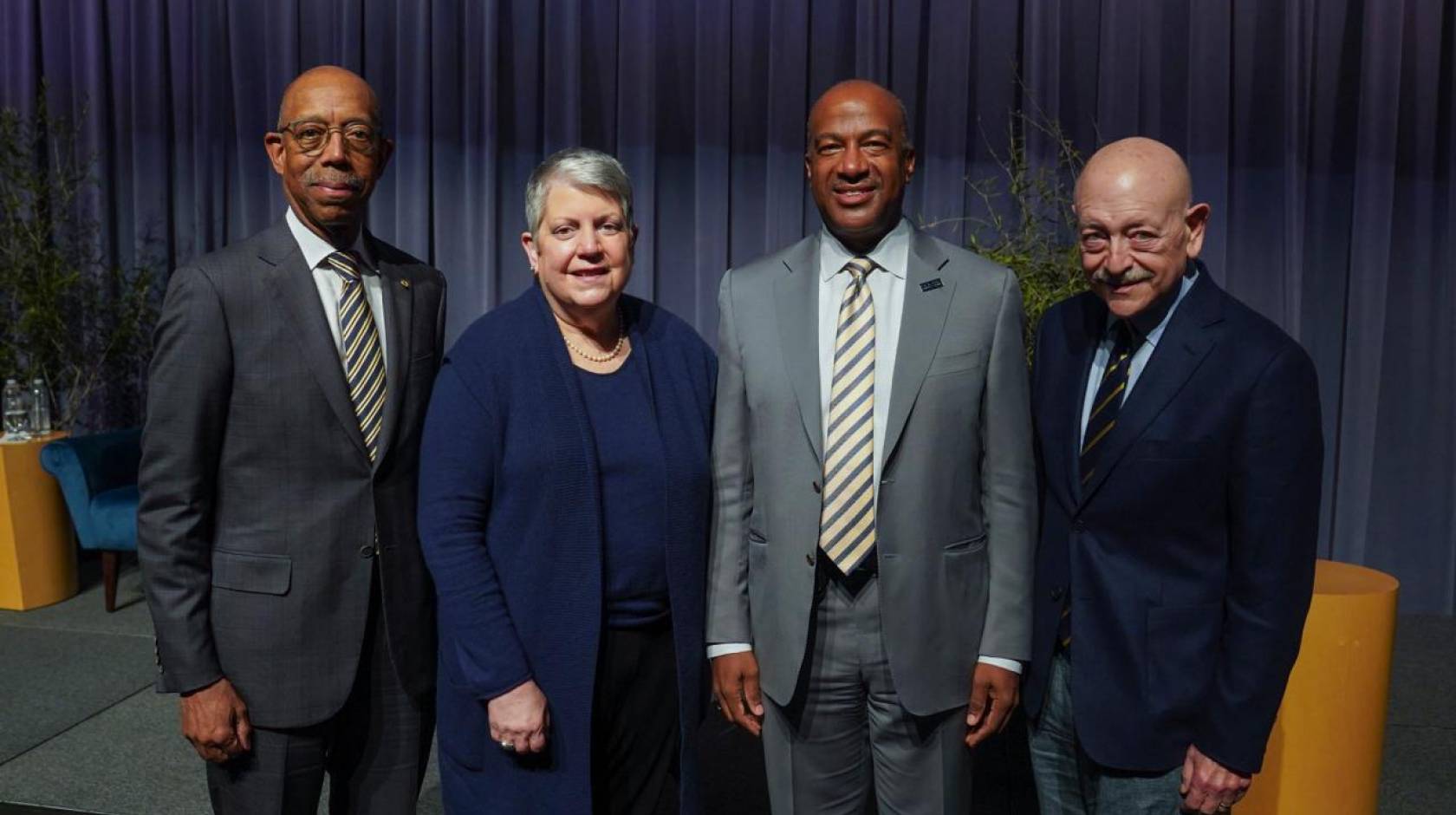 Credit: Karin Higgins/UC Davis
"So three Presidents and a Chancellor walk into a bar, and ..." — Facebook post by Chancellor Gary S. May, 8 p.m. Feb. 24
The chancellor's Facebook post was no joke, well, except for the bar. He and UC President Michael V. Drake and Presidents Emeriti Janet S. Napolitano and Mark G. Yudof had actually walked into the Vanderhoef Studio Theatre at the Mondavi Center for the Performing Arts about three-and-a-half hours earlier.
They had taken the stage with May for his winter quarter Chancellor's Colloquium, where each of his guests discussed their challenges and legacies as the UC president; access and affordability in higher education; the future of higher education; and much more. Watch the recording.
Drake, Napolitano and Yudof spoke before an audience of about 200 people (in masks). The presidents and the chancellor did not wear masks, having been tested and cleared for COVID-19 immediately before coming onto the stage.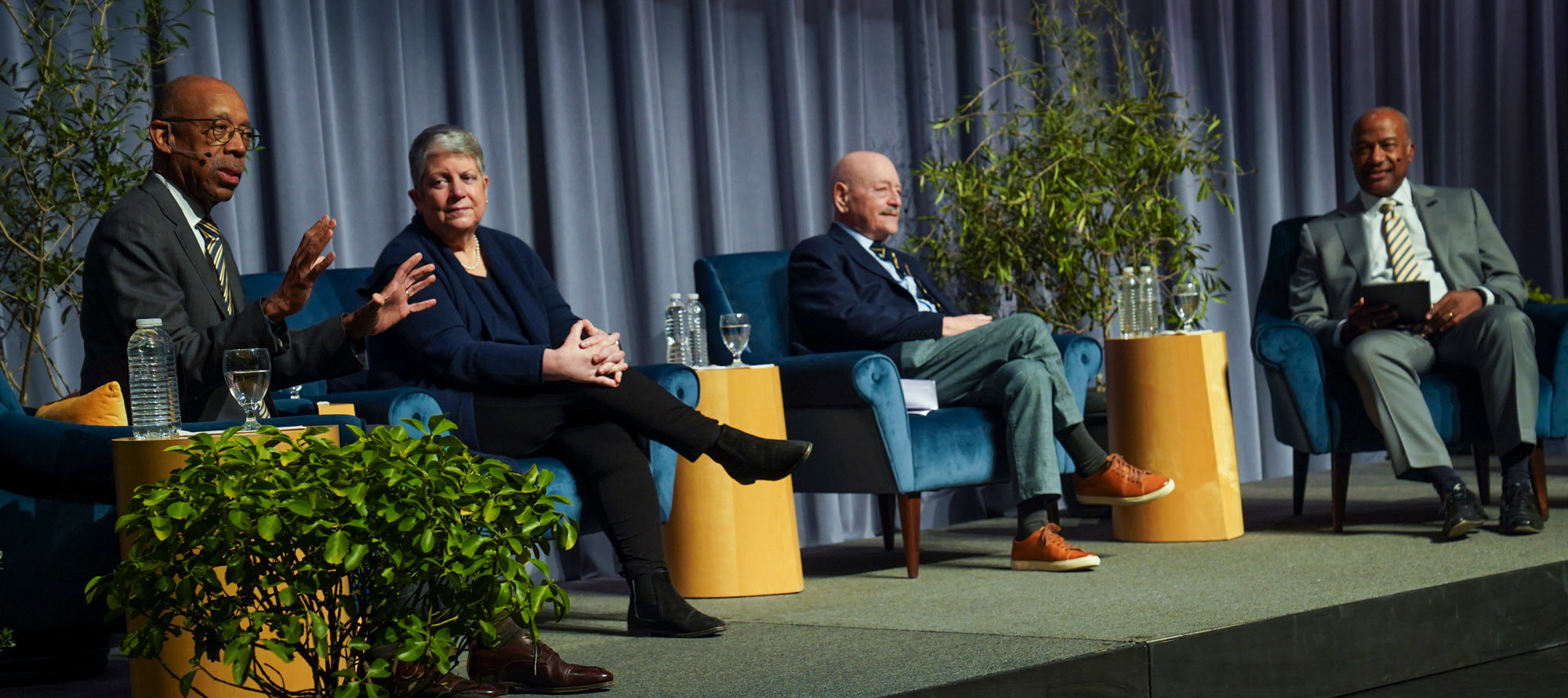 The lockdown
The pandemic began in the last months of Napolitano's presidency. She recalled being in her office in Oakland in March 2020 when her chief of staff walked in and declared: "We're going to have to vacate the building. The mayor is locking down the city."
"And I said, 'Well, for how long? A week? Two weeks?'"
Hardly. "So we moved over to my residence, and I set up my office. I had a long dining room table, and I worked at one end, and my executive assistant was more than 6 feet away — it was a long table — but at the other end, and that's where we ran the from. And the campuses had to immediately de-populate the dorms.
"The faculty had to immediately switch to remote teaching, and it was, like, overnight. And, in the meantime, our hospitals were turning into COVID hospitals, and anything non-COVID-related was canceled or postponed. And all of this had a lot of budgetary impact, and so we were working our way through that as well."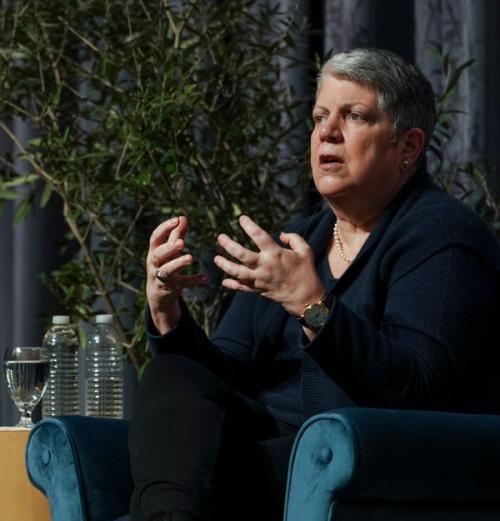 Credit: Karin Higgins/UC Davis
'Public health matters'
"I think that lessons learned from COVID for higher ed — one is public health really matters," Napolitano said. "And when you're running a college campus, it's a community. And using the best public health science that you can really counts, counts in number of fatalities, counts in number of hospitalizations, counts in innumerable ways."
Drake succeeded Napolitano in August 2020, bringing with him a medical degree from UCSF, where he taught and practiced ophthalmology. "Among things that we're most pleased about when we look back over the last two years is the way that our campus communities have responded to this sort of existential crisis, this incredible pandemic," he said.
He described UC Davis and Healthy Davis Together as a model for community collaboration. "You've avoided hospitalizations [and] actually, literally, saved people's lives by being a good community and working together, which we're really proud to see and proud to be part of.
"If we look at our campuses, if we just took our campus communities and put them all together, we would have among the lowest rates of COVID fatality in the world. We wish that that could be true for everyone, but it really shows how we focused on that, so we're really pleased about the way everyone has come together to do that."
Remote instruction
Napolitano, who today serves on the faculty of the Goldman School of Public Policy at UC Berkeley, said, "I think we've learned [during the pandemic] that remote teaching, particularly for some courses in some disciplines, works pretty well and is a way, in a way, to increase accessibility."
But, does it totally substitute for being in the classroom? No, she said.
"And I think that's the third thing we've learned, which is the value of being able to be physically in a classroom with a faculty member, with your fellow students, and the like.
"So, will remote teaching totally go away once we're through the pandemic? I do not think so. But I think we've become much more sophisticated in terms of the nuances of where it's best deployed."
Drake said: "We want to try to learn from the forced experiment of the ways that we've done things these last couple of years, to do things that we can do to improve educational delivery in the future, and we'll continue learning in that sphere.
Lawsuit over DACA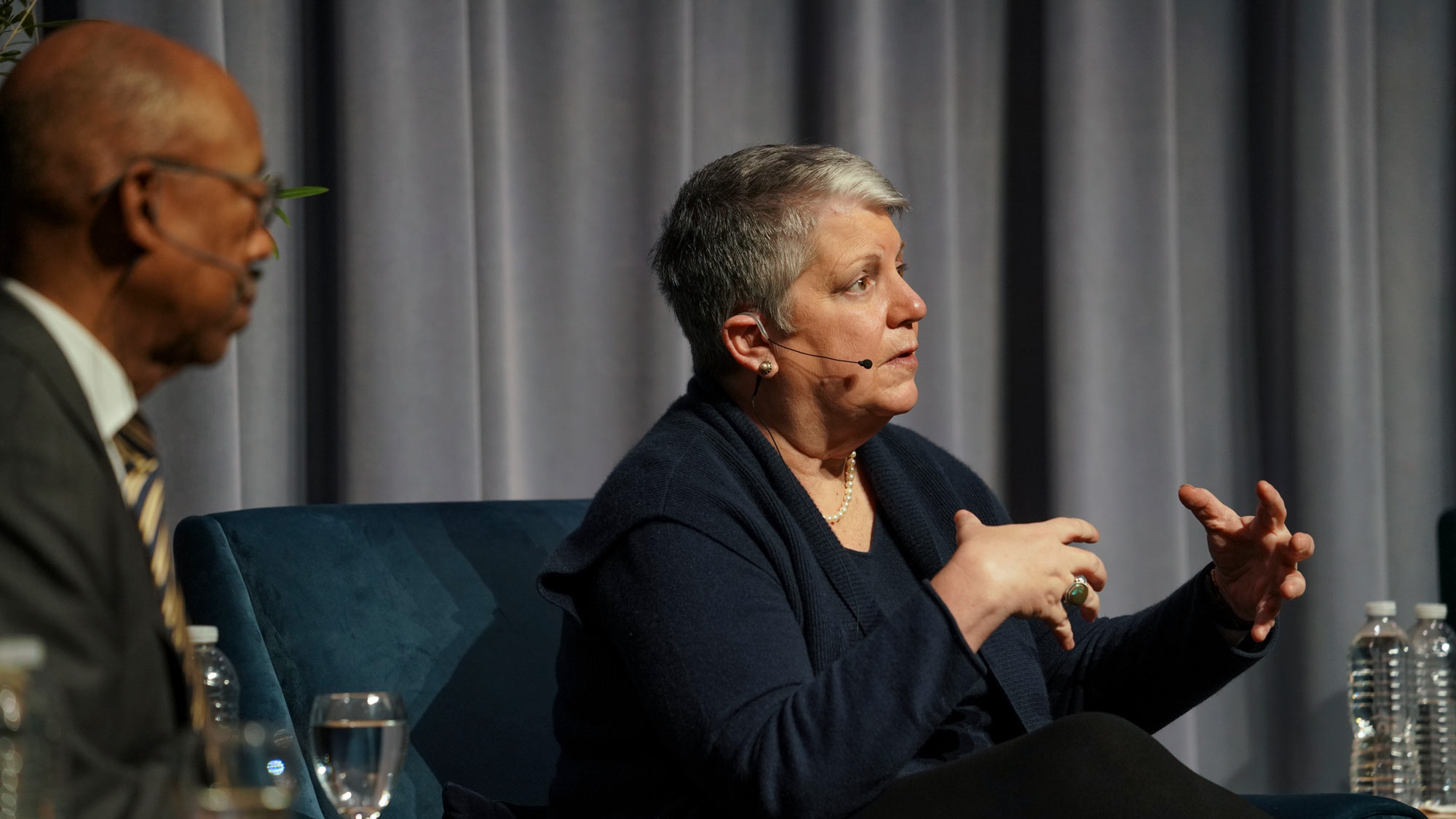 Napolitano said the one episode that marks her time as president was the university's decision to sue the Trump administration for rescinding Deferred Action for Childhood Arrivals, or DACA, the program under which children who entered the United States illegally, as children, are not deported.
Chancellor May noted he had just arrived at UC Davis when the government rescinded DACA. "I wrote one of my statements that you may read occasionally, and it was fairly critical of the administration's decision. And my wife said, 'Oh, you're going to be in trouble, because you shouldn't have said that.' ... And the next day, my boss was suing the administration. So I thought I would do OK."
The case would end up in the Supreme Court, where UC prevailed on a 5-4 vote, June 18, 2020. Napolitano said she would always remember that day. "They post the decisions at 10 o'clock in the morning D.C. time. And 7:01 a.m. our time, the phones started ringing, and that was a good day as president."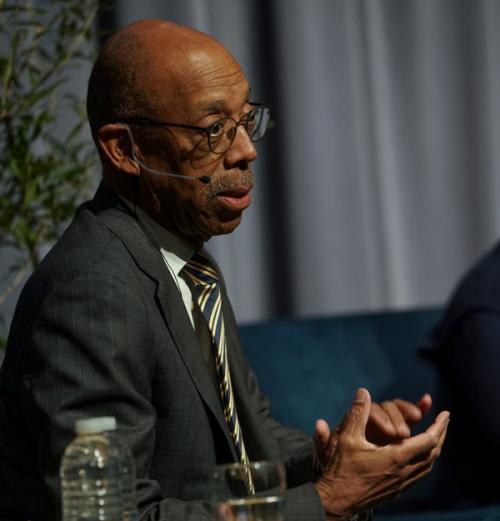 Credit: Karin Higgins/UC Davis
'Not on my watch'
Yudof recalled challenges of his own the first two years of his presidency, in the Great Recession years of 2008 and 2009, when the state slashed more than $1 billion in UC funding, and the university's retirement plan was going broke.
"The truth is ... I came to work every morning saying ... that it was not all going to go south on my watch," he said. "This was the great University of California. We were not going to let our students down. We might charge them more. I didn't like it, but we did it. Hell, we even cut the faculty's pay. We cut my pay, which I really resented.
"But I think I felt — the main impulse was, you've got to guard this. ... We can't let this institution fail, and that's what I did. That's what I worked on."
Indeed, he instituted a furlough plan and reinstated employee contributions to the retirement plan, which meant that some employees would be contributing for the first time ever, after a 20-year "holiday." And tuition went up.
Access and affordability
At the same time, Yudof established the Blue and Gold Opportunity Plan, which covered all tuition and fees for students with family incomes of less than $60,000 at the time the plan came into being in February 2009. Today, the minimum is $80,000, Drake noted, adding that about 57% of California residents pay zero tuition.
Drake spoke of his goal to establish a "debt-free pathway" for all students. "And we think we can get there in five-ish years from now. ...  You'll have to work a little bit. A little bit, maybe, is a bit — 12, 15 hours a week, something like that, in a job that helps with your educational development.
"But the concept will be that anyone could step on the campus with not a dime and expect to graduate in four years not owing a dime if they put that effort into it. Families that have more that they can contribute can help to mitigate that, but we'd like there to be a debt-free pathway for everyone."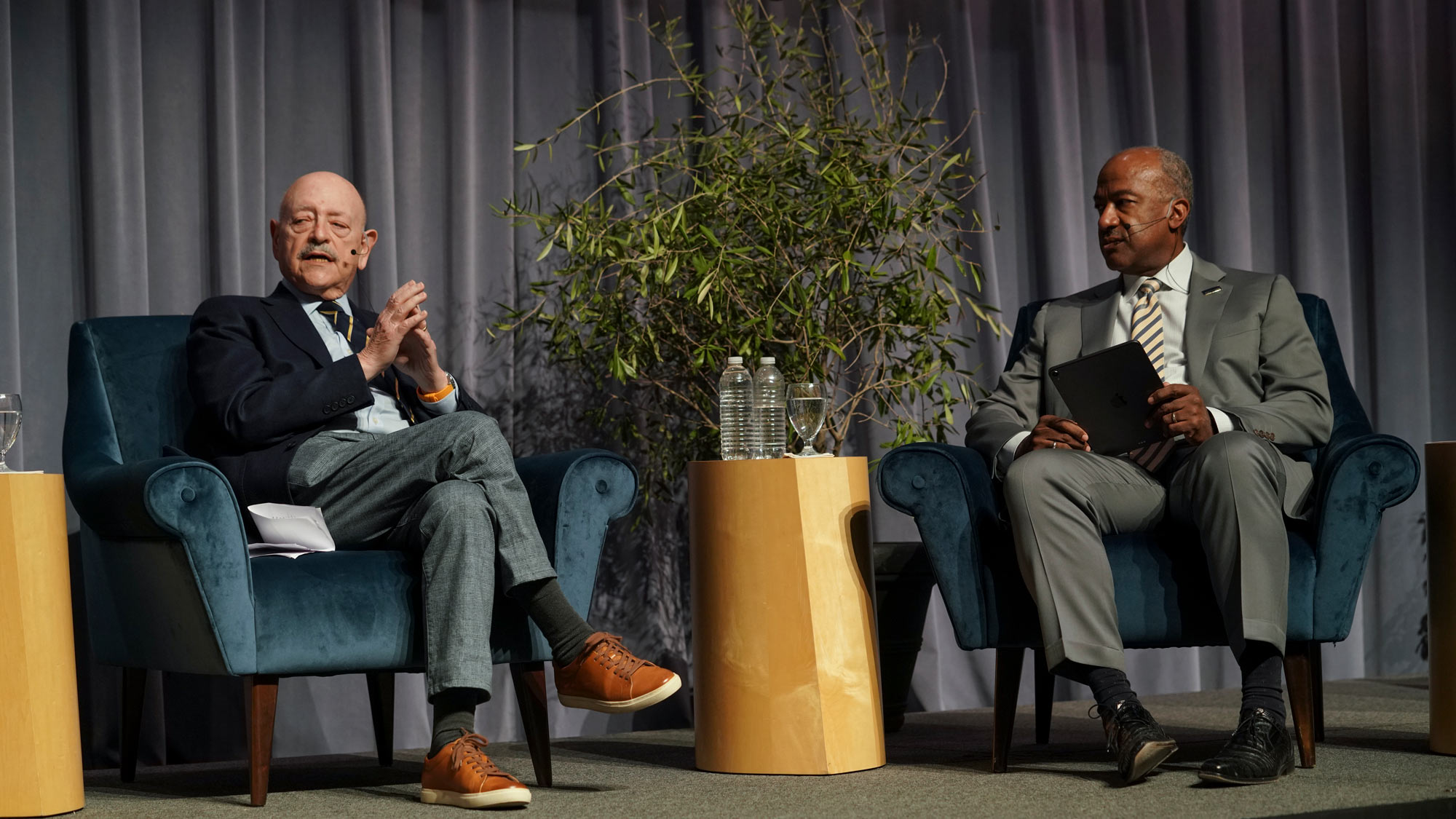 Yudof added: "Access and affordability are important because, in my view, a democracy should not have a permanent underclass, particularly one identifiable by race or religion or ethnicity or immigration status or any of that stuff.
"I don't expect everyone will succeed. We're not all equal in all our talents and so forth, but I do expect that you not be penalized for where you're born or who you are when you're born."
The future
President Emerita Napolitano, former attorney general and governor of Arizona, and secretary of Homeland Security under President Obama, said: "I spent a lot of my adult life thinking about questions about security and considering threats to people, threats to property.
"But really what I've been thinking a lot about is threats to our democracy. And how do we as a society deal with the plethora of disinformation that has spread across the country? It has infected our politics, our governance and so forth. And I don't think we have a good handle on that at all. ...
"For a multicultural democracy like ours to survive and to thrive, we need to figure out where our commonality lies. And we need to be able to arrive at that in a thoughtful way that allows for our differences but also allows for a common understanding about what it means to be an American. ...
"When I think about a role of a great public university, I think one of its roles is to take on some big questions like that and examine it from all angles, from the basic sciences, to the social sciences, to the arts and humanities, and to really grapple with how we deal with what I actually think is the greatest threat to the United States today."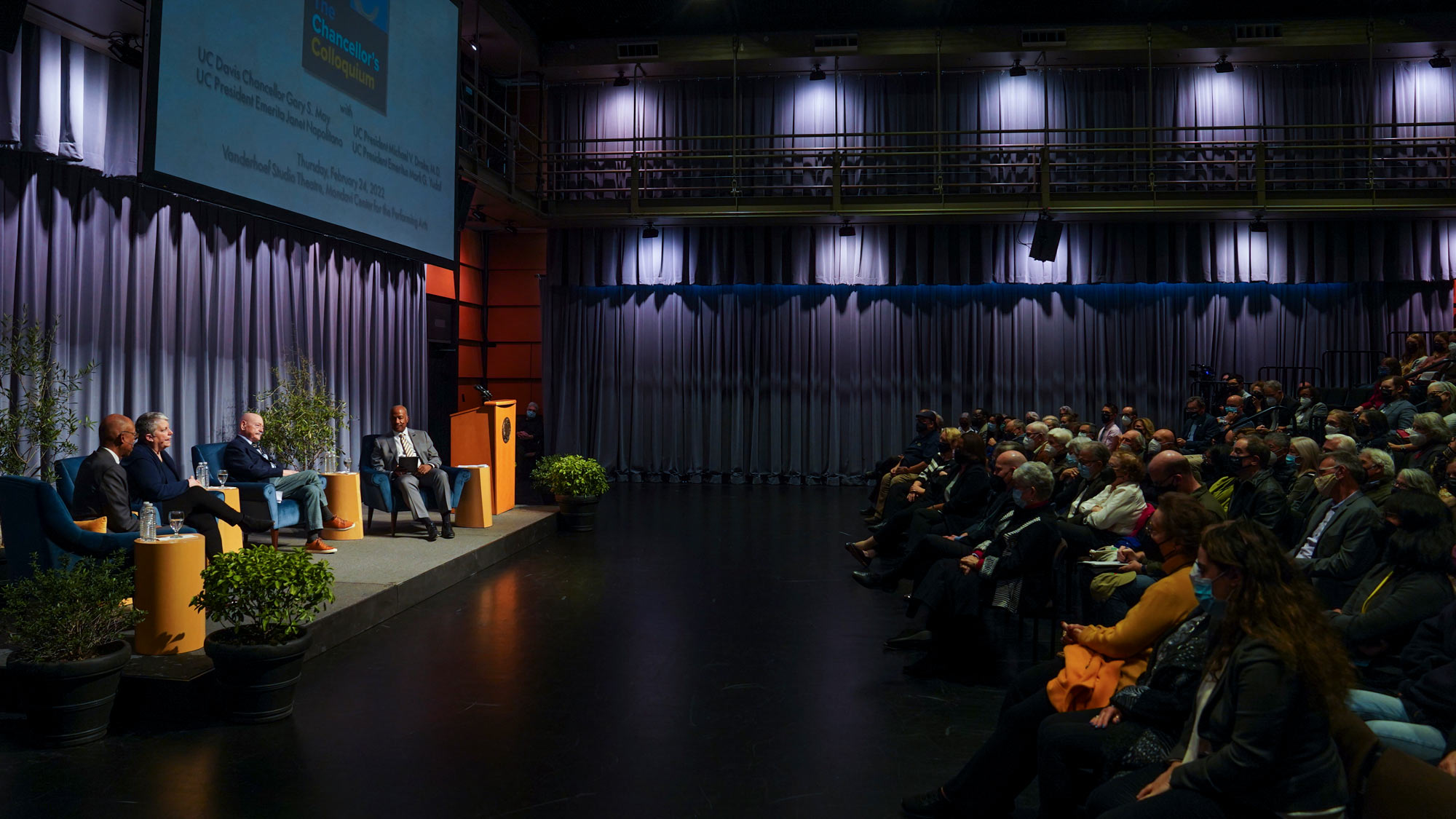 President Emeritus Yudof, a professor of constitutional law at UC Berkeley, expressed worry "about the culture and what counts as truth in the search for truth." But, he added, "I have a sort of confidence that the young people in America will get this right."
Napolitano said: "We shouldn't allow ourselves to get smug, but we should allow ourselves to take some pride in just the immense wealth of talent at the university, from students, from staff, to faculty. ... It is the kind of community that, in the end, will, I think, help permit our country to keep moving forward."
Drake, an opthalmologist, recalled studying sickle cell anemia during his years in medical school. "And I did some counseling with the sickle cell patients at the time. And what I would tell them is, 'There's no effective treatment, no cure. Here's how you can try to make a life that works for you.'
"Today ... there is an actual cure that's available. That's through the miracle of science. So I think of the hope that we have to address those kinds of things and, really, the role of the University of California in creating that opportunity in making that science and being the exemplar of those best practices to continue to lift our communities forward." 
---
QUOTABLE
President Emertus Yudof, on the pandemic: "I'm glad I'm not heading a university today." Fortunately, he added, President Drake is a physician, and, at UC Davis, Provost and Executive Vice Chancellor Mary Croughan is an epidemiologist — "she's the person you want to advise you on these matters."
President Emerita Napolitano, on accessibility: "One of the great things that the United States has contributed to the world is the notion of large land-grant public universities that are research universities and teaching universities that are broadly open to the populace."
President Drake, on diversity, recalling his lunch with students at UC Davis in December: "It was incredible to look around the table and actually mention to them, had we sat at that same table 25 years before, the students sitting around that table would have just looked entirely different. ... The things that this community has done to create that opportunity and to allow people to move forward with the knowledge that they gain and create while they're here is something that's inspiring."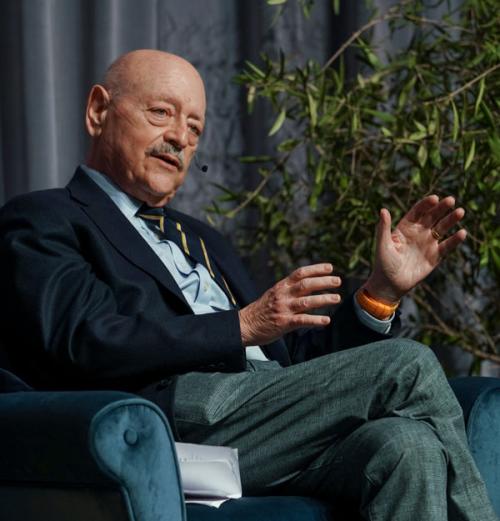 Credit: Karin Higgins/UC Davis