Campus economic impact in San Joaquin Valley grows to $1.27 billion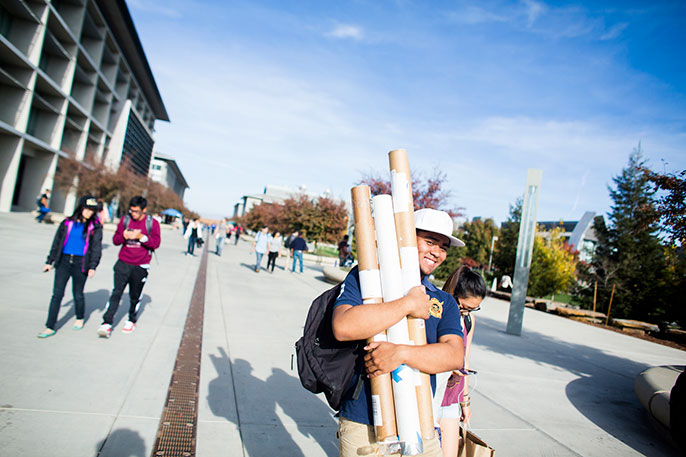 The University of California, Merced, directly invested nearly $170 million in the San Joaquin Valley economy over the past 12 months, according to the university's annual Economic Impact Report released today (Oct. 13).
Regional investments since the campus began start-up operations in July 2000 now total $1.27 billion, the university reported. Statewide, UC Merced's economic impact over the past 12 months amounted to $223 million, bringing its cumulative total to more than $2.4 billion.
The university's investments include employee wages and benefits paid, the value of goods and services purchased, and the value of construction contracts awarded. Research conducted by the UC Office of the President has shown that these investments generate economic "ripple effects" that typically double or triple the value of the original investment.
"The need to stimulate economic growth and alleviate poverty in the San Joaquin Valley was a critical factor in the decision to locate the newest UC campus in Merced," Chancellor Dorothy Leland said. "The university's investments will continue to grow as the campus grows, creating new businesses, attracting additional investors and entrepreneurs, and helping to diversify the region's economy."
Opened in September 2005 as the first new UC campus to be built since 1965, UC Merced has grown from an inaugural class of 875 students to a current enrollment of more than 6,600. Permanent employment now totals more than 1,500 faculty and staff members, with graduate students and part-time student employees adding another 1,600 to the university's payroll.
The campus plans to double its physical capacity by 2020, adding nearly 1 million assignable square feet of academic, administrative, residential and recreational facilities to accommodate a projected enrollment of 10,000 students.
The expansion proposal, now under consideration by the UC Board of Regents, would create 10,800 new construction jobs in the region (12,600 statewide), 400 permanent staff positions and many more jobs within the local community. It is expected to generate $1.9 billion in regional economic impact over the next five years ($2.4 billion statewide), including direct and indirect effects.
Separately, UC Merced is planning to build a 67,400-square-foot facility in downtown Merced to provide additional capacity for administrative staff and to promote closer interaction with the community. Groundbreaking for the $45 million Downtown Center is expected to take place next summer, with occupancy scheduled for fall 2017.
UC Merced also is increasing support for local business development through the UC Merced Venture Lab, which will open this week in the Parcade Building in Merced. UC Merced professors will work closely with students and local entrepreneurs in a small-business incubator designed to convert ideas into commercially viable enterprises.
"The UC Merced Venture Lab is the newest component of the university's overall strategy to improve the Central Valley economy," said Peter Schuerman, associate vice chancellor for research and economic development. "Our goal is to promote innovation and entrepreneurship to create an environment that will create new businesses and attract new employers to the region."