August 3, 2023
Benny Evangelista
,
Lawrence Livermore National Lab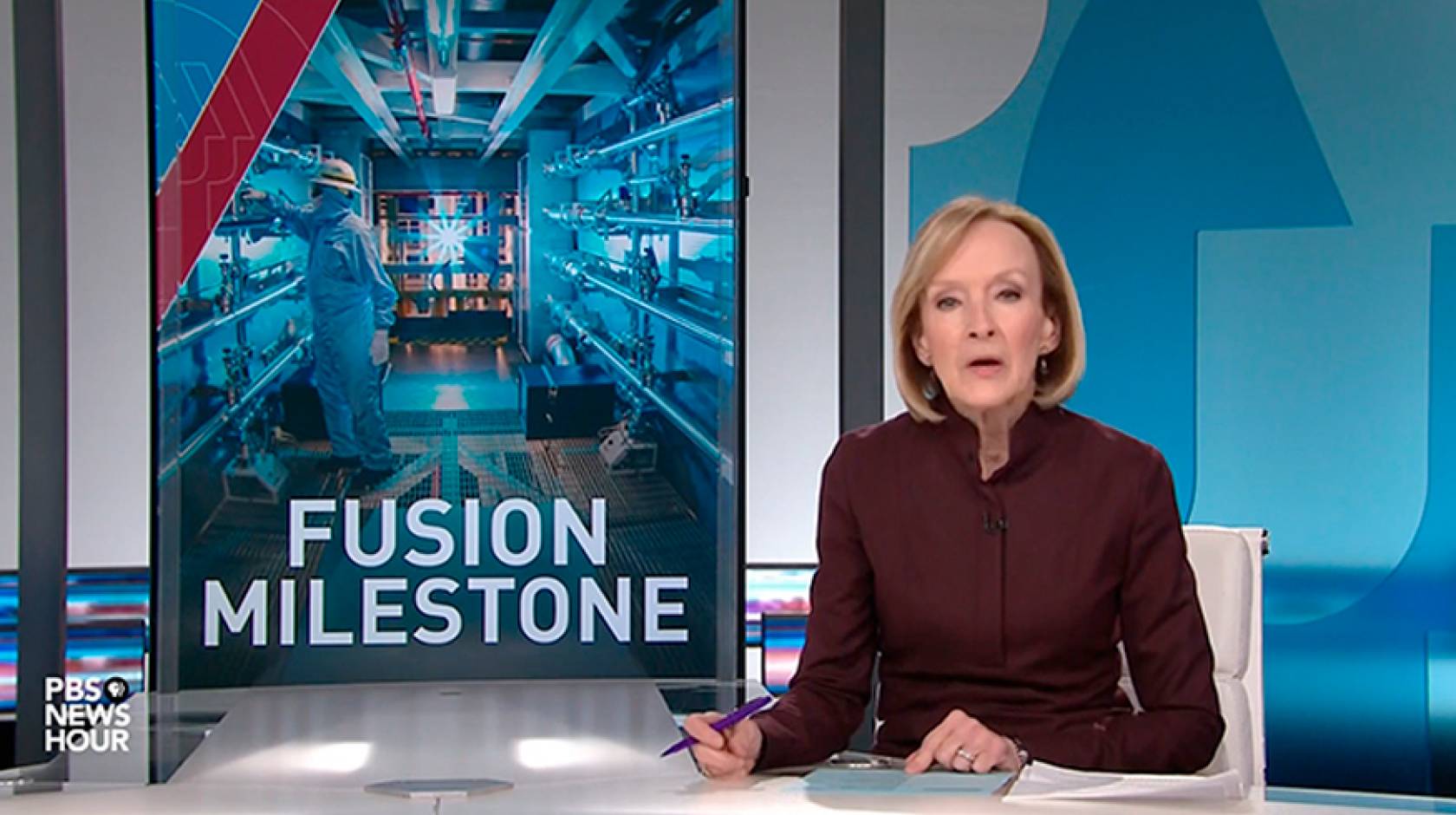 The headlines told the story:
"Scientists Achieve Nuclear Fusion Breakthrough With Blast of 192 Lasers," The New York Times.
"U.S. announces milestone on fusion energy, sparking hopes for clean power," The Washington Post.
"Breakthrough in nuclear fusion technology could dramatically alter clean energy landscape," PBS NewsHour.
The official announcement on Dec. 13, 2022, that Lawrence Livermore National Laboratory achieved fusion ignition with an experiment at the National Ignition Facility generated a media blitz, with tens of thousands of news stories that reached billions of people around the globe.
"Scientists reveal 'holy grail' breakthrough to create 'limitless clean energy,'" The Mirror.
"Breakthrough in nuclear fusion energy announced," BBC News.
"Could nuclear fusion energy help fight climate change?" France 24.
For months afterwards, hardly a day went by without a story published somewhere in the world mentioning the historic milestone. The news was covered by national and local print, digital and broadcast media outlets, science magazines, technology and various industry sites.
During the first week alone, media tracking data showed the announcement generated more than 103,000 mentions in print and digital news stories that had a combined audience reach of about 57.6 billion, and an additional 3,000 television spots with a potential viewership of 2.7 billion.
"This is extremely exciting, it's a major breakthrough," MIT plasma physicist Anne White told Science magazine.
"It's like the fire has been lit," Steven Cowley, director of the Princeton Plasma Physics Laboratory, told IEEE Spectrum. "This is the first controlled fusion ignition that we've ever seen, and that's spectacular."
"So it's probably premature for anyone to dance around the house in their bathrobe, singing 'Clean, green energy for everyone!' but … nope, actually, going to do the happy dance anyway," wrote Washington Post opinion columnist Megan McArdle. "Scientists have accomplished a net energy gain from a fusion reaction. This is potentially the biggest news of the decade."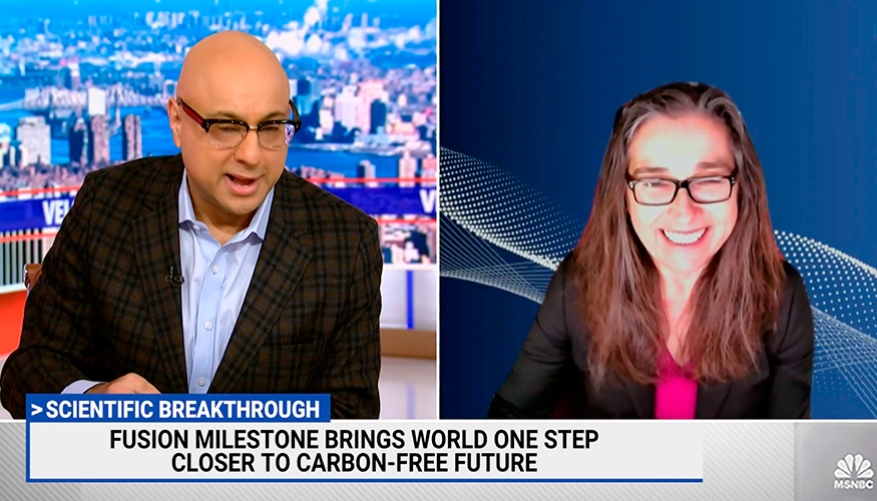 Meanwhile, an editorial in The Independent newspaper based in Livermore congratulated the many LLNL "scientists, engineers and technicians who made history.
"NIF won't be the instrument to pursue fusion power," The Independent wrote. "Maybe that will happen in future decades, maybe not. In the meantime, NIF has strengthened our national defense program and opened a door to further scientific advances. That's a great contribution for a major research facility, and we are proud that it happened in our backyard."
The science behind the breakthrough is complicated to explain to general audiences, so the network news shows called on popular science pundits like Bill Nye "The Science Guy" and astrophysicist Neil deGrasse Tyson to break down why this was a big deal.
"If this is a harbinger, if this is really the beginning of something huge," Nye told the audience on CNN. "It would change the world."
"I see it akin to the transition from horses to automobiles," Tyson said on Fox Business. "It's a pivot in civilization."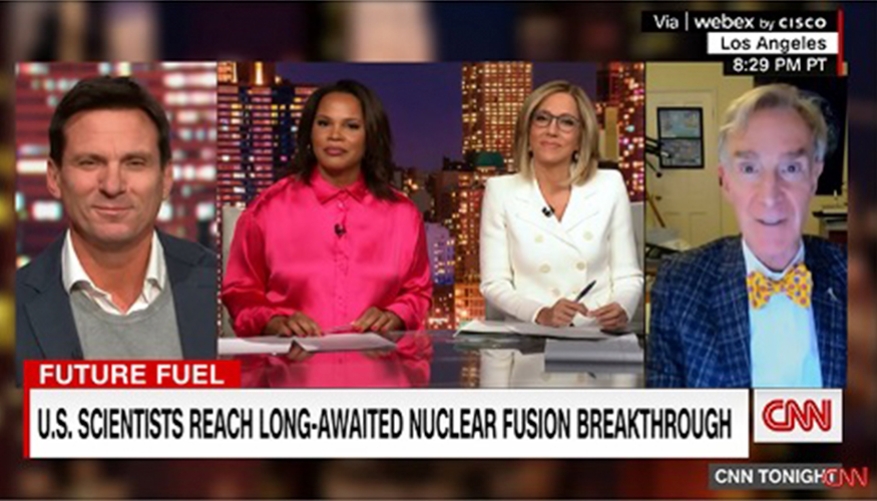 "Livermore looks nothing like the center of the sun, but this East Bay city, surrounded by pastoral vineyards and ranches, is where scientists have re-created the production of energy the way the sun does: through nuclear fusion," said San Jose's Mercury News.
News this monumental was hard to keep under wraps. Word began to circulate through the world's scientific community soon after the Dec. 5 shot, but LLNL scientists wanted to first verify the data obtained by NIF diagnostics to make absolutely certain the results were what they appeared to be. Once the data were verified, the official news was announced Dec. 13 by Energy Secretary Jennifer Granholm, NNSA Administrator Jill Hruby, LLNL Director Kim Budil and NNSA Deputy Administrator for Defense Programs Marv Adams in a Washington, D.C., news conference.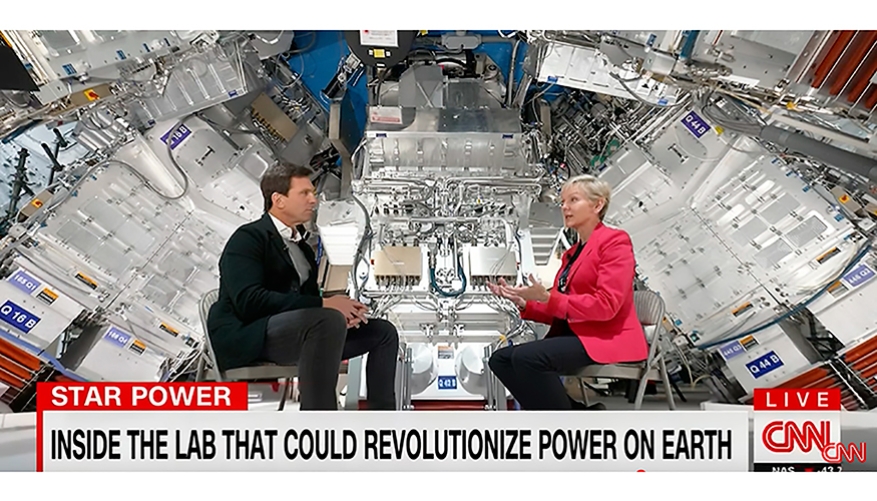 News outlets, however, had picked up on that early buzz and published speculative stories in the days before the official announcement.
So by the time the official news conference was ready to start, more than 20,000 people were in the queue waiting and more than 227,000 watched. About 387,000 viewers watched the video stream of a subsequent panel discussion by LLNL scientists.
Across all DOE, LLNL, and National Nuclear Security Administration (NNSA) platforms, the announcement had about 11 million views. A LLNL ignition video garnered about 3.5 million views.
In the weeks and months that followed, news media interest remained elevated. LLNL was inundated with requests for interviews and visit requests, including from countries such as Japan, South Korea, Taiwan, Finland, Portugal, France, Slovenia, Austria, Germany and the United Kingdom. The media sought to learn from Lab scientists what would come next.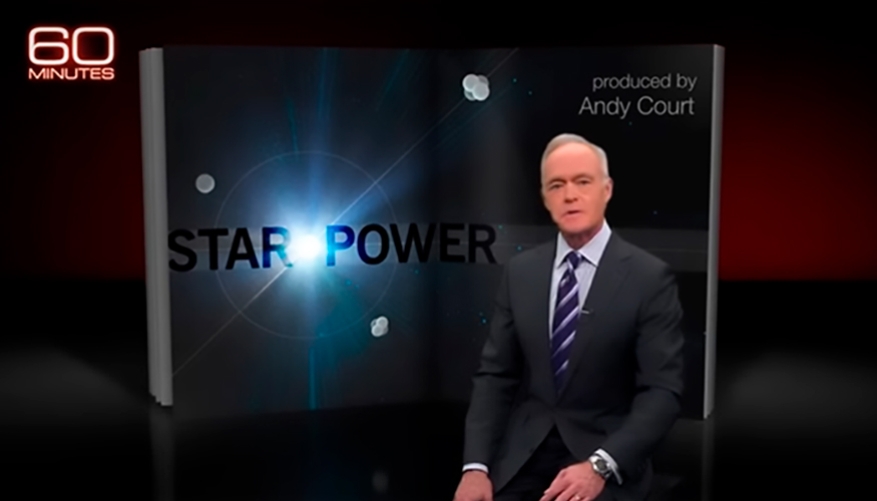 In January, a crew from CBS-TV's "60 Minutes" visited NIF. Scott Pelley, one of the news magazine's hosts, interviewed Budil and several scientists who worked on the ignition campaign. Pelley also received what he described as "the first look at what's left of the target assembly that changed history, an artifact like Bell's first phone or Edison's light bulb."
"We liken the first ignition to the first Wright brothers flight, which covered only 120 feet," Pelley said in the broadcast. "It was 44 years from a puddle jump to supersonic flight. Whether fusion power is 10 or 50 years away is now mainly an engineering problem. Lawrence Livermore has proven that from a machine, a star is born."
In April, Time named design physicist Annie Kritcher to the news magazine's annual Time 100 most influential people in the world. In July, Fast Company named Budil one of the magazine's "Most Creative People in Business" for 2023.
The news coverage thrust LLNL, NIF and fusion ignition into the cultural zeitgeist so much that the venerable NBC-TV comedy show "Saturday Night Live" mentioned ignition in its Weekend Update segment.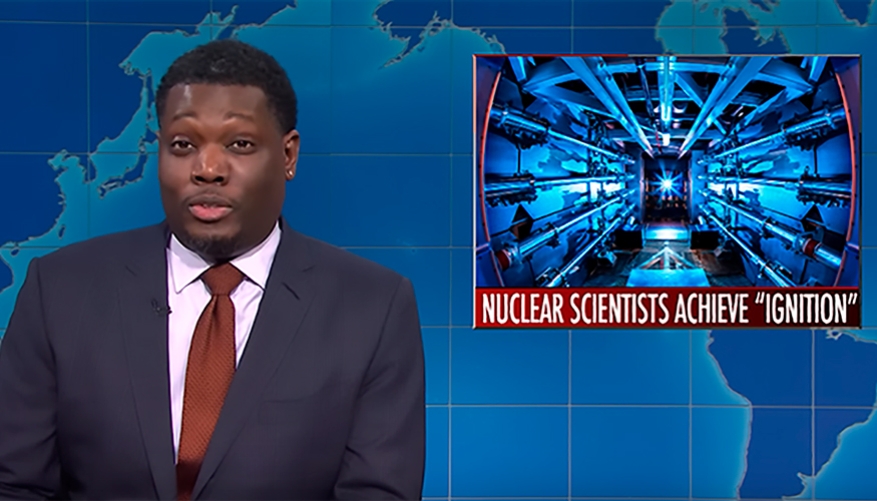 Also, an SNL sketch that was cut for time (but posted online) featured actor Austin Butler portraying a NIF fusion scientist.
The news even topped a sports column posted on ESPN.com.
"Last week, scientists studying fusion power at the National Ignition Facility of the Lawrence Livermore National Laboratory in California announced they'd finally made a breakthrough," the story read. "I wonder, though, if any of the scientists have ever tried converting all of the power put into another seemingly renewable and insatiable energy resource: the debate on the Internet about whether Lionel Messi or Cristiano Ronaldo is better at soccer."
And naturally, the satirical outlet The Onion had to weigh in by posing and answering questions in its own inimitable style:
Q: What's the primary benefit of nuclear fusion?
A: We can finally declare victory over the sun.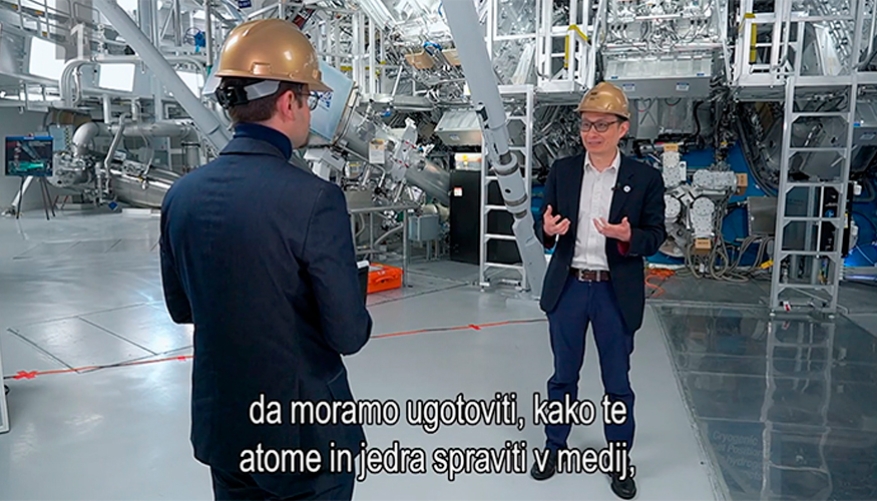 Representatives from media outlets from around the world continue to visit LLNL to learn more about the next steps for fusion research and fusion energy, and requests for interviews with Lab experts remain high. For example, a crew from RTV Slovenija included NIF as part of a documentary on U.S. decarbonization efforts that aired in Slovenia in May.
Even the youth-oriented TV network Nickelodeon brought the news to its audiences with a segment on its "Nick News" program that covered emerging clean energy technologies.
"Wave, solar, and fusion are game changers that could be the keys to saving our environment," Nick News correspondent Tejas Hullur said after touring NIF.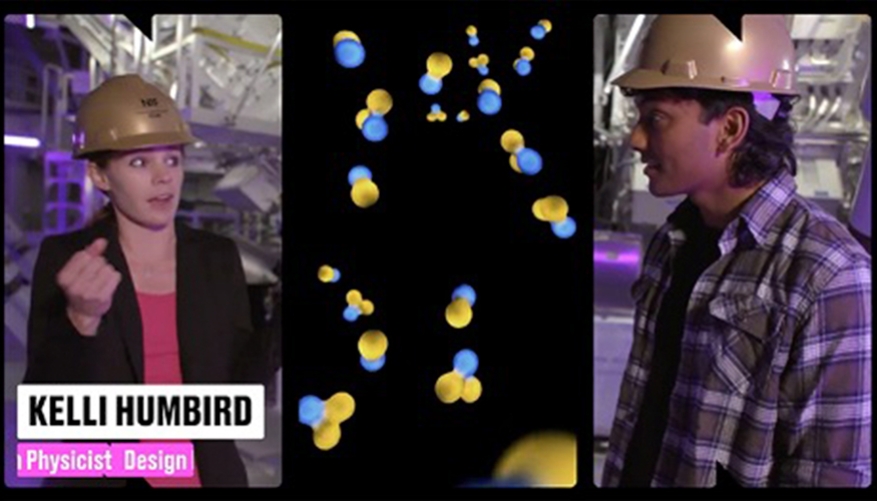 And several local and national media outlets came to the Lab on May 8 to cover an ignition celebration. One story by public broadcasting outlet KQED noted that while commercial fusion energy may still be decades away, achieving ignition has already paid benefits to the nation.
"NIF's ignition discovery simulates the uncontrolled fusion of a nuclear bomb explosion," the KQED story said, "and researchers hope doing this in a controlled lab setting can corroborate their computer models, which they use instead of the live test explosions."
Part 11 of a series of articles describing the elements of Lawrence Livermore National Laboratory's fusion breakthrough.