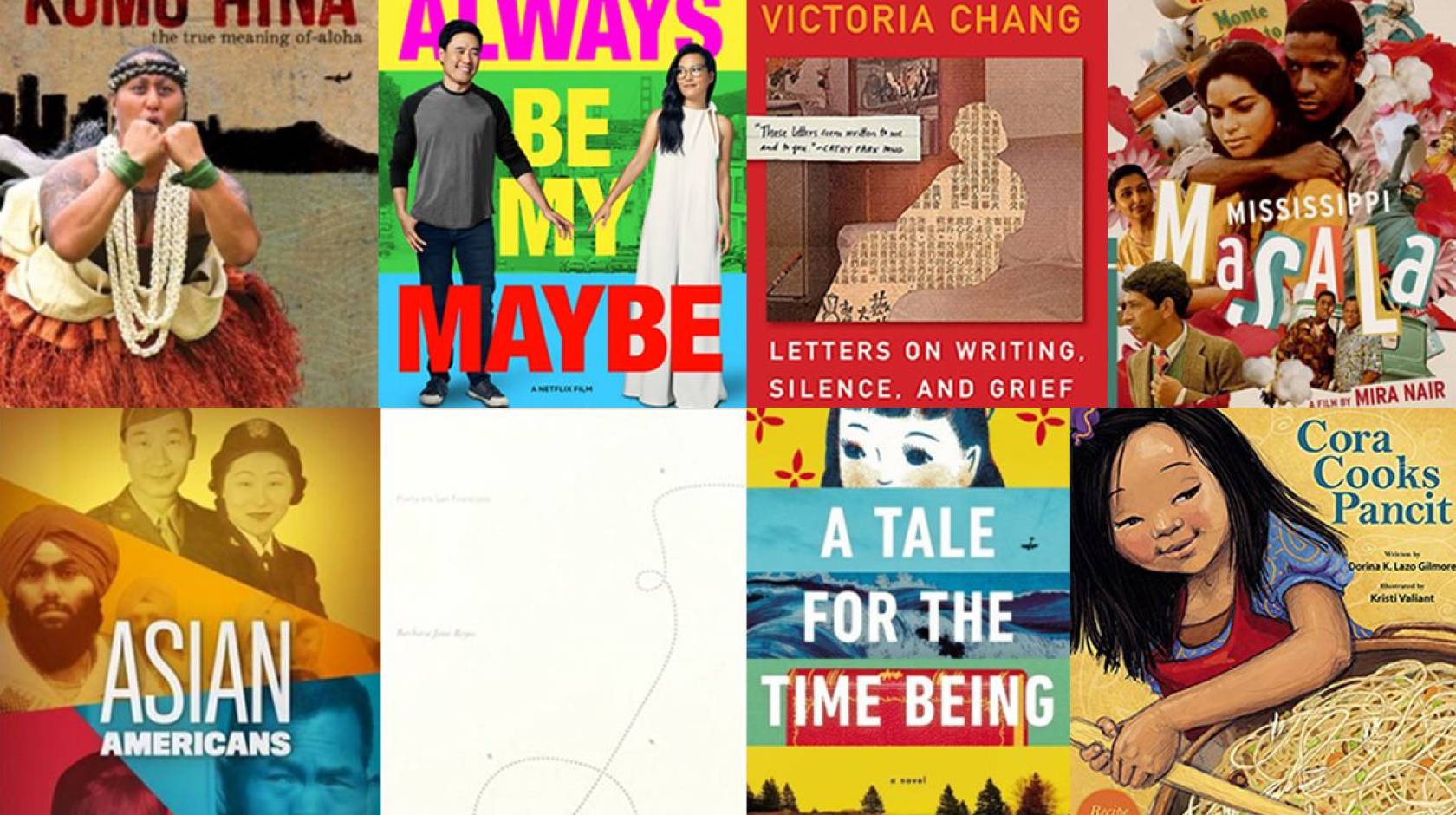 Media enables people to share stories that not only make us laugh, cry or become angry but also educate, entertain and inspire us. Whether through books, movies, music or everything in between, these experiences can help us connect with each other.
As part of Asian American, Native Hawaiian and Pacific Islander Heritage Month, we reached out to staff from across campus for recommendations of things to read, watch or listen to that celebrate the history, culture, struggle and contributions of Asian Americans, Native Hawaiians and Pacific Islanders.
Here are the recommendations, which range from a children's book to poetry to a Spotify playlist to a film starring two UCLA alums. We hope this list will serve as an introduction and a starting point for further discovery.
---
Lindsey Anthony-Bacchione, Communications Manager, Geffen Academy at UCLA
Read: "Dear Memory: Letters on Writing, Silence and Grief" by Victoria Chang. "Dear Memory" is a masterful work that births a new genre-bending narrative, a true experiment in capturing the experience of the generational effects of losing a language to migration, a culture to assimilation, silence, grief, and the profound effects of racism. After the death of her mother, while concurrently losing her father to dementia, Chang uses the epistolary form to write letters to the living and the dead, former teachers, fellow poets, high school bullies, her body, memory, silence. In these letters, she engages with the experience of absence, burrowing deep into that which is lost, questions unanswered, stories now buried with the dead. She reflects on her upbringing as a Chinese American, being "remarkably Chinese" with no idea what that meant, nor what being American was. (Excerpts from a published book review Anthony-Bacchione wrote on the memoir.)
Pamela Liu, Senior Project Manager, UCLA Strategic Communications
Watch: "Always Be My Maybe," a Netflix film starring Randall Park and Ali Wong. It's fun and refreshing to see a light-hearted rom-com with Asian American characters in the lead, handling love, life and careers as everyday Americans. The ethnic backgrounds of the characters are touched upon in the storyline, but that isn't the focus. It's also written and performed by UCLA alumni Wong and Park.
Alex Scholnick, Social Media Copywriter, UCLA Strategic Communications
Read: "Poeta en San Francisco" by Barbara Jane Reyes. Reyes' poetry is an intersectional reflection into the experience of a member of San Francisco's Pinay community by weaving English, Spanish and Tagalog. She covers themes ranging from bodily autonomy to the refugee experience, weaving back and forth between several languages throughout the collection.
Azsa Abito, Event Manager, UCLA Strategic Communications
Read: "Cora Cooks Pancit," a children's book by Dorina Lazo Gilmore, illustrated by Kristi Valiant. I think my recommendation of the storybook "Cora Cooks Pancit" is important because it shows that Filipino Americans can have our unique stories told from a young age.
Shantel Brodhead, Writer/Editor, UCLA Strategic Communications
Listen: AAPIHM Playlist on Spotify, curated by Jennifer Chung. "Growing up as an Asian American, I wasn't sure if being a musician would pan out for me. By God's grace, I'm here to this day creating. This playlist is to celebrate Asian American Pacific Islander Heritage Month with some of my own tunes as well as artists who've inspired me while repping #AAPI." — Jennifer Chung
Sally Marquez, Assistant Director of Communications & Digital Content, UCLA Library
Read, Watch, Follow: 2023 Asian American Pacific Islander Heritage Month: Read, Watch, Follow. In collaboration with members of the Asian Pacific Coalition, its Board of Representatives and Asian American Studies students, the UCLA Library has assembled a list of Asian American Pacific Islander content. From short stories to documentaries, this comprehensive collection gives a variety of content to choose from in order to celebrate AAPI Heritage Month!