Blum poverty initiative launches in fall 2015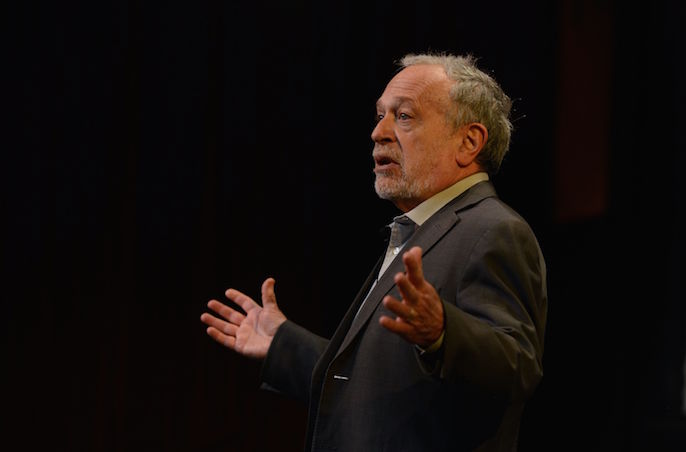 The UC Riverside School of Public Policy will launch the Blum Initiative on Global and Regional Poverty in fall 2015, thanks to a generous gift from Richard Blum, former chairman of the UC Board of Regents, and matching contributions from the UC Office of the President and UC Riverside Chancellor Kim A. Wilcox.
The initiative, which was announced during the campus appearance of former U.S. Labor Secretary Robert Reich on Feb. 10, will support research focused on solving poverty-related issues in Riverside and San Bernardino counties, courses on global and regional poverty, internships, a monthly seminar series, and an annual poverty policy forum.
"The mission of the Blum Poverty Initiative resonates well with the overall mission of UC Riverside," Chancellor Wilcox said. "We work hard to ensure that the world-class education we offer is accessible to all, including those from poverty-stricken areas. The Inland Empire has some of the highest poverty rates among the nation's largest metropolitan areas. In fact, 58 percent of UCR undergraduates receive need-based Pell grants, the highest percentage among the nation's research intensive universities. More than half of our students are the first in their families to attend college. This initiative will help us conduct research, teaching and outreach that focuses attention on poverty in the region and will help policymakers and community-based organizations improve the lives of the poor in the Inland Empire."
Blum's gift of $250,000 has been matched with $250,000 seed funding from the office of UC President Janet Napolitano and $250,000 from UCR Chancellor Wilcox. Blum has funded similar research initiatives at other UC campuses.
"A program that builds on Riverside's strengths and seeks to address local and regional poverty issues in the context of global lessons is an important endeavor that will benefit California and provide intellectual challenges and opportunities for UCR faculty and students," Napolitano said of the poverty initiative.
Anil Deolalikar, founding dean of the UCR School of Public Policy and a developmental economist, noted that one in five San Bernardino County residents lived below the federal poverty line in 2012. In eastern Riverside County, the Coachella Valley includes some of the poorest towns in the nation, inhabited primarily by migrant agricultural workers, that coexist alongside some of the most affluent communities in the country.
The Blum Poverty Initiative will enable the establishment of an interdisciplinary, undergraduate minor in poverty, development of a lower-division course on global and regional poverty designed to meet a general education requirement, and a specialization in poverty and sustainable development within the Master of Public Policy program. The School of Public Policy will enroll its first class of graduate students in fall 2015.
"There is a large and growing demand among undergraduates for new majors that relate to the big challenges facing the world today," Deolalikar said. "We see this in the growth of the public policy undergraduate program at UCR, which has grown from only two students in 2007 to nearly 200 now. Likewise, the School of Public Policy is developing plans to offer a minor in global health. A new minor in poverty will be very timely, and will provide synergies with existing majors and minors at UCR, such as public policy, global studies, labor studies, and Latin American studies."
The initiative will support competitive seed grants to faculty "with the best ideas for poverty-based action research," the dean added. "We will solicit ideas for poverty-related research in Inland Southern California that draw upon policy lessons from around the world. In this way, we hope to cross-fertilize the field of domestic U.S. poverty policy, which has evolved independently of the rich literature on – and innovative experiences of – global poverty."
Interdisciplinary collaborations on problem-focused research with community partners also will be supported, Deolalikar said.