June 8, 2017
Nina Bai
,
UCSF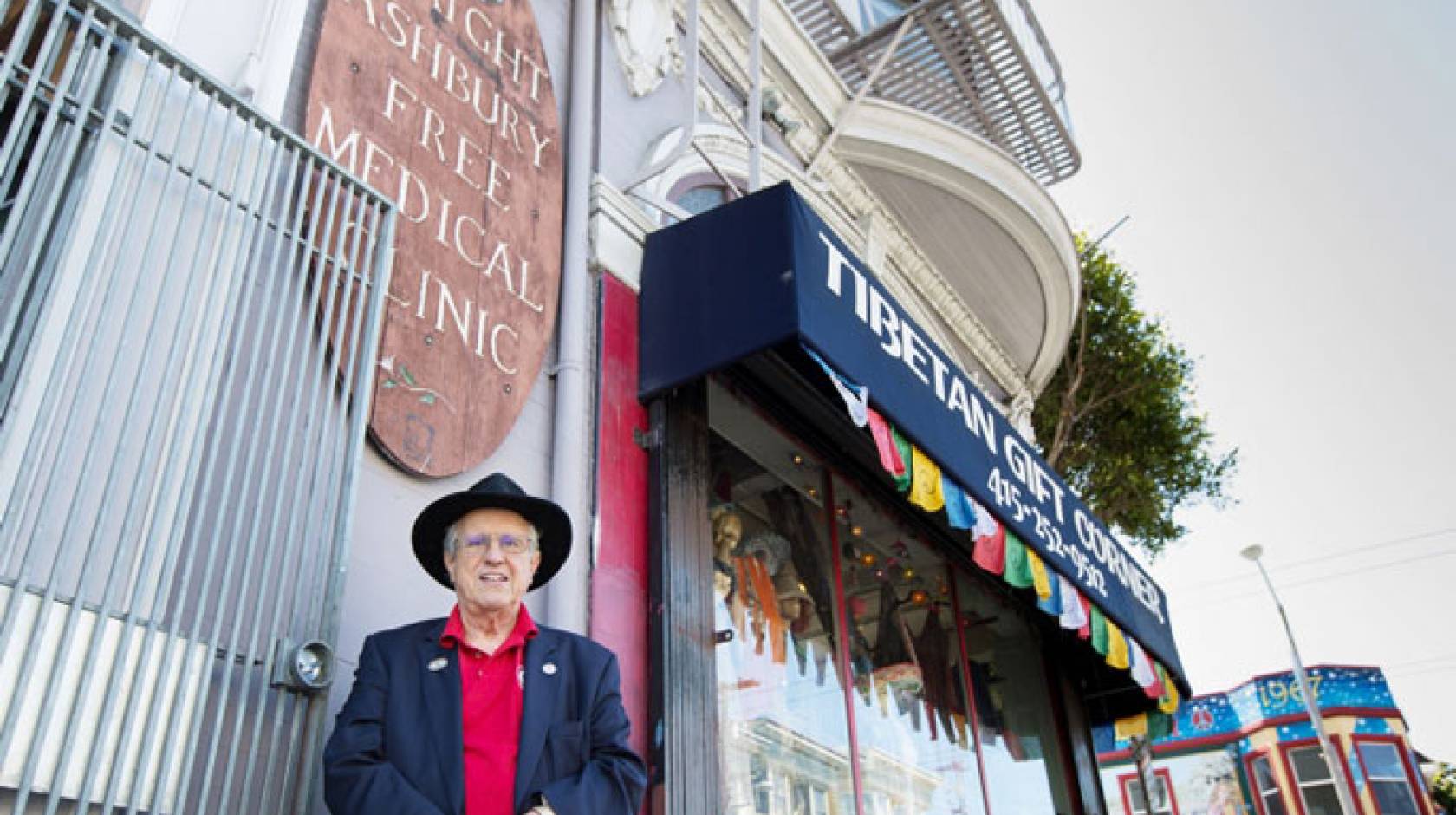 As a straight-laced zoology student at UC Berkeley in the 1950s, David Smith never imagined himself as a drug expert giving free medical care to ailing hippies in the middle of the Summer of Love.
His role in founding the Haight Ashbury Free Clinic was a world away from Oklahoma, where his grandparents were farm workers during the Dust Bowl era, and Bakersfield, Calif., where his mother became a nurse and inspired him to go into medicine.
Both his parents died young and Smith was an orphan by 19. With some money he inherited, he bought an apartment in Haight-Ashbury in 1960, which then was a working-class neighborhood. He enrolled in medical school and pharmacology graduate school at nearby UC San Francisco, graduating in 1964.
By the summer of 1967, he was directing the Alcohol and Drug Abuse Screening Unit at San Francisco General Hospital. That was the Summer of Love, when the streets of Haight-Ashbury filled with tens of thousands of itinerant, indigent and intoxicated flower children, and Smith suddenly found himself a drug expert in the center of a massive drug epidemic, pushing to provide health care to a population shunned by the mainstream.
The need during the Summer of Love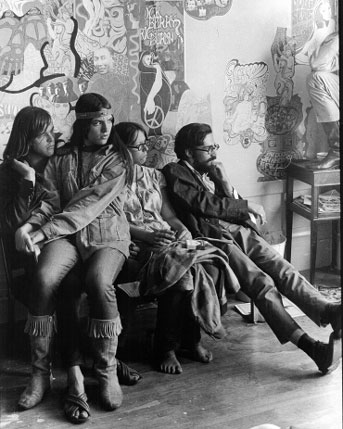 The hippies flowing into San Francisco in 1967 weren't embraced by everyone with open arms, and city health officials at the time thought that a clinic in the Haight would only encourage them to stay. Smith, who had never been involved in activism before, saw the suffering in his neighborhood, and inspired by other free movements like the Diggers (who served free meals) and a bit of drug experimentation of his own, decided he had to do something.
During a public meeting with city health officials that took place on UCSF's Parnassus campus, Smith first declared, "Health care is a right, not a privilege," which would become the slogan for the free clinic movement.
He leased a former dentist's office at 558 Clayton St., near the corner of Haight Street, and called it David E. Smith, M.D., and Associates. He paid for the lease with $100 he earned as a lecture fee and $500 from a church donation.
The clinic opened its doors on June 7, 1967. Shivering hippies lined up down the street and the clinic treated 250 people the first day, 350 the second day. "They came in with gonorrhea and cut feet and colds and pneumonia, because they came from all over the country, and they thought it was sunny in San Francisco in the summer, and it wasn't," said Smith. There were also injuries from botched abortions, gastrointestinal disorders from eating rotten food, not to mention hallucinations and bad trips from the plentiful drugs.
To Smith and his supporters, free meant more than no fee, it meant nonjudgmental health care. "'Health care is a right, not a privilege,' was basically in its beginning a civil rights statement that you can't discriminate against a population that you stigmatized and don't like," said Smith. "Of course, one of the most stigmatizing of political acts is the refusal to give health care."
Grassroots beginnings
At first, the reactions Smith received were mixed. One of his professors said to him, "David, where did you go wrong? You were always such a promising young medical student." But he also found grassroots support throughout UCSF.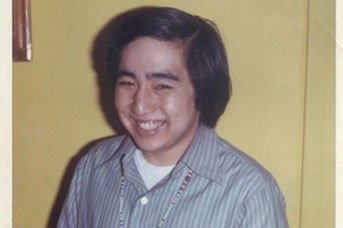 Many UCSF students, nurses and faculty volunteered to help at 558 Clayton St. A psychopharmacology student group he led at UCSF became a de facto organizing group for the clinic.
The expertise from people at UCSF helped to revolutionize how drug treatment was offered.
Darryl Inaba, doctor of pharmacy, then a first-year pharmacy student at UCSF studying psychopharmacology, was initially drawn to the Haight-Ashbury scene as a scientific case study — the largest-ever human experiment with psychoactive drugs. But he was soon convinced by the free clinic ethos.
"The concept was very attractive," he said. "We wanted to be free not just of economic costs, but also free of prejudice and free of bureaucracy. It was a much more forward way of thinking."
Inaba would spend the rest of his career at the free clinic, eventually serving as its president and CEO from 1988 to 2006.
Inaba helped set up the clinic's drug treatment program, which began as a converted walk-in closet that was "painted up in all colors, with black-light posters, pillows on the floor and lava lamps." People would show up with acute anxiety attacks from new street drugs whose chemistry was barely understood.
At first, Inaba and other clinic volunteers could do little but sit them down in the closet, reassure them that they would be OK, that there would be no cops, no parents, and that they could enjoy the music and posters as long as they needed.
Eventually, as the drug addiction problems became more grave, the clinic began symptomatic treatment, providing medications for seizures, pain and diarrhea, even though it was illegal at the time for physicians to give controlled medications to addicts. Addiction was still seen as a criminal activity and a moral weakness, and even treating the symptoms of addiction was thought to enable bad behavior. Despite a cease-and-desist order from the attorney general, the volunteers persisted.
"We were jammed from day one running 24 hours a day," said Smith. Soon, the volunteer staff was overwhelmed and their supplies were running out.
Gaining support
As director of the free clinic, Smith made important connections, and his work gathered more support as the years went by. An early friend was Bill Graham, the concert producer, who put on two benefit rock concerts that first year, one at the Fillmore Auditorium and another featuring Jefferson Airplane, that each raised $5,000 for the free clinic.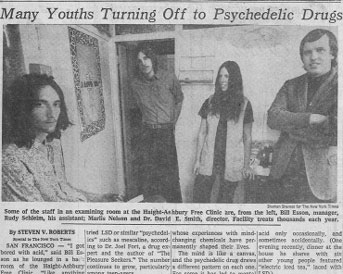 Another friend, the producer Lou Adler, donated $25,000 from the Monterey International Pop Festival that summer, a lot of money in those days.
These funds were crucial to the clinic's early survival. "We literally built this clinic on rock 'n' roll," said Smith.
A turning point came in 1969 when Dr. Philip Randolph Lee became chancellor of UCSF. "The pivotal person is Dr. Phil Lee," said Smith. "I think that there was an evolution of leadership at UCSF, and Lee became a member of our board of directors, always supported our cause."
His endorsement would help turn the free clinic from a rogue upstart into a legitimate operation. Sen. Dianne Feinstein, then a member of the San Francisco Board of Supervisors, whose father had been a surgeon at UCSF, also gave her support.
An evolution and spreading the ethos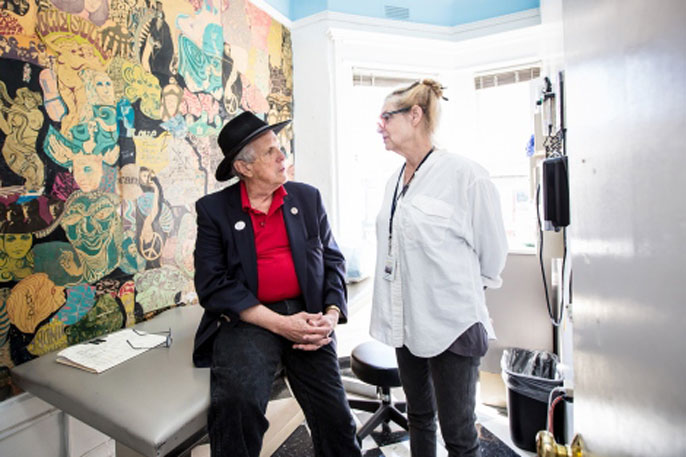 Over the years, the patients using the Haight Ashbury Free Clinic shifted from young, idealistic hippies, to people who were caught up with serious drug use, and in the 1970s, many were Vietnam veterans who returned home with an addiction to heroin. As the clinic treated more veterans, they were finally able to get government funding.
The small office at 558 Clayton St. helped launch the free clinic movement, which has expanded to over 1,200 clinics around the country, all built upon Smith's principle of health care as a right, not a privilege. Another lasting legacy is the treatment of addiction as a medical disease and a public health issue, rather than a criminal activity.
The clinic continues to operate today, now part of a larger organization called HealthRIGHT 360. UCSF remains involved, sending medical students and residents every year. "We became a part of the DNA of San Francisco," said Smith. In many ways, he says, nonjudgmental health care, a radical idea championed by young people 50 years ago, has now become coded into the mainstream at UCSF — but still has far to go in broader society.