November 4, 2016
Carli Million and Jaron Zanerhaft
,
UC Berkeley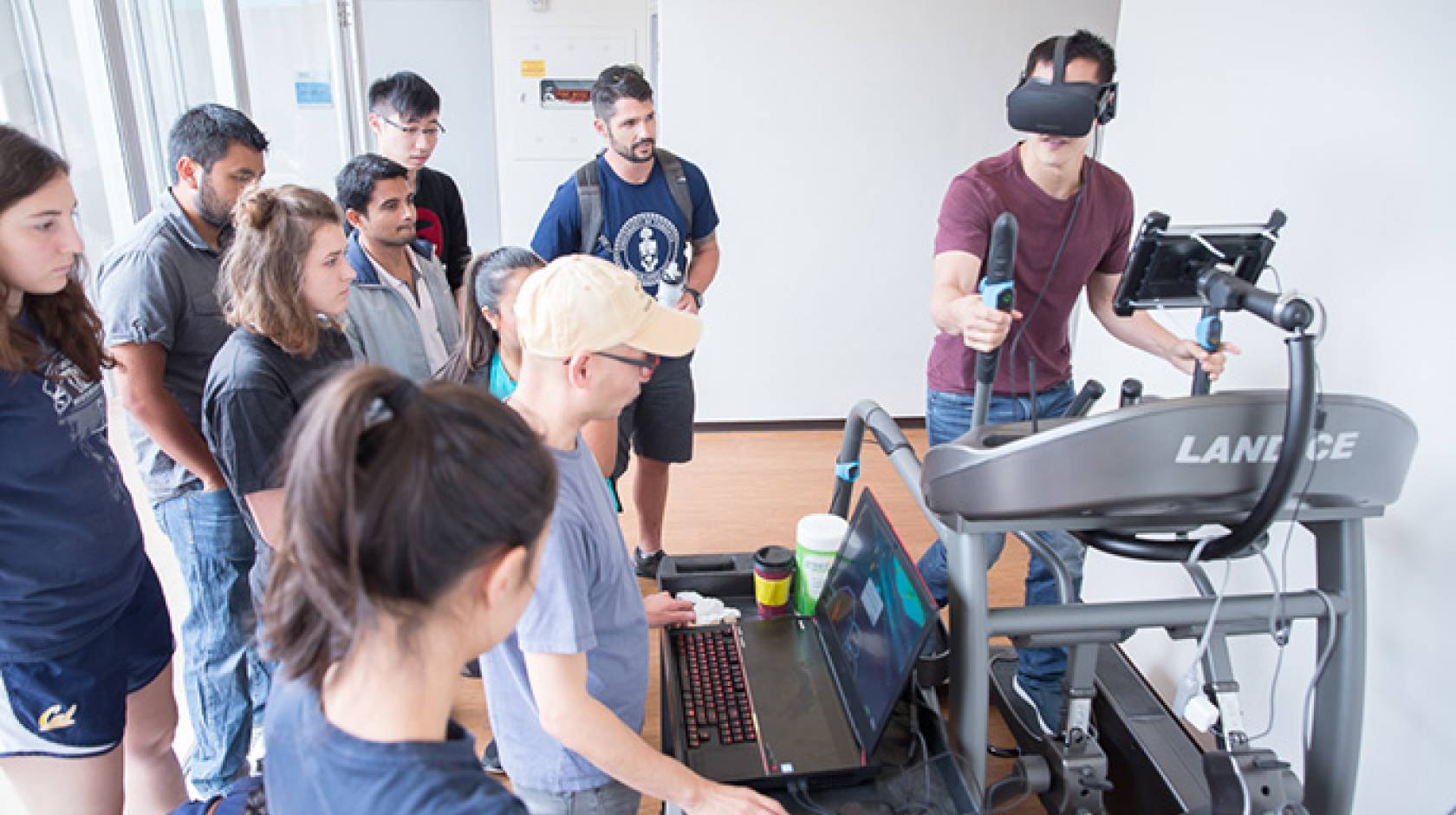 How can students from diverse majors such as engineering, architecture or Middle Eastern studies find ways to contribute to public health? Where does a public health major fit into an increasingly technological world? And what can these students learn from each other to build a better future for all of us and discover more about themselves?
With these questions and more in the minds of its co-creators and participants, the Fung Fellowship launched this fall on its own path of self-discovery. A new collaborative venture between the UC Berkeley School of Public Health and the Fung Institute for Engineering Leadership, the two-year undergraduate fellowship's goals are threefold: advancement in wellness technology, community outreach and cross-disciplinary learning.
Students will create digital tools and platforms to impact health and wellness and execute team-based community projects targeting specific at-risk populations — all while participating in a free-flowing exchange of skills and ideas. That free exchange includes giving the fellows a part in creating their own curriculum. As the inaugural class, the current fellows say they are truly "building the ship as they're sailing it."
The fellowship seems to be sailing on waters once charted by its namesake and co-founder, Coleman Fung. A 1987 graduate of the UC Berkeley College of Engineering, Coleman Fung is the health technology innovator behind Blue Goji, a company that creates cardio-based apps and games. After realizing success in the private sector through technology startups, Fung sought to make exercising a more engaging and entertaining activity. He has pioneered a field which he calls FAM: Fun Activities as Medicine. In using his engineering and business backgrounds to bridge the gap between new technologies and public health, Fung serves as a role model for the Fung Fellows.
"We need to change the traditional model of higher education," says Fung. "I want to give students the experience of real life, of working with people of all backgrounds to try and solve problems."
Strength in diversity
This August, 45 undergraduate students — the first cohort to participate in the Fung Fellowship — gathered at a weeklong immersive bootcamp. The group included Alankrita Dayal, a junior double majoring in computer science and business administration who won the Team FIRST World Robotics Championship and has already co-founded a wearable technology startup. Also in attendance was Jennifer Shearer, an molecular and cell biology student who researches apolipoproteins at the Children's Hospital of Oakland Research Institute and teaches a DeCal course, "Tech Entrepreneurship in Nutrition and Health."
"Our students aren't just the best, they're the best of the best," says Jaspal Sandhu, design and innovation lecturer at the School of Public Health and faculty lead for the 2016 Fung Fellowship. Sandhu also pioneered PH 290: Designing Innovative Public Health Solutions (Eat.Think.Design.), another hands-on, innovative learning experience for Berkeley students.
While Sandhu, Fung and the rest of the staff have a specific vision for the fellowship, they value keeping that vision malleable. To expand the range of life experiences that its fellows can bring to the program, the Fung Fellowship recruits rising juniors along with veteran, transfer and re-entry students. Diversity is treasured, and new perspectives are a valuable resource.
"It's not just interdisciplinary, it's massively interdisciplinary. We have students from mechanical and electrical engineering, computer and cognitive science, public health, architecture, Middle Eastern studies, rhetoric and psychology. Across our cohort of 40 fellows, there are at least 15 different majors," says Sandhu.
The interdisciplinary nature of the fellowship is part of what Fung and Sandhu believe will drive the success of the program, particularly when it comes to providing real value to particular at-risk communities. "There's a diversity that people bring in terms of their academic focus, which is very important to us, but there's also a very deep diversity of personal life and cultural experiences that people are bringing to bear here," Sandhu says.
Fung Fellow Katie Decker, a mechanical engineering major, is excited about community involvement. She explains how one of her classes piqued her interest in utilizing engineering skills to tackle social and health issues. "I took a social justice and engineering class, 157 AC: An Exploration of Race and Gender. American Cultures classes are usually humanities classes, and it was interesting to see it in an engineering setting," says Decker.
She felt inspired by this course and began to envision the ways she can incorporate engineering into real-life solutions for health disparities. "Something my professor from that class said really stuck with me," she recalls. "He said, 'Not only are you engineers and can solve these problems, but you're Berkeley engineers. People will listen to you and you can speak up for people who can't.' In the Fung Fellowship, we're going to be working with leaders in health, and we can actually make a difference and speak up for those without a voice. This resonates with me."
For Decker, the technical side of her career is only part of any solution. The fellowship will allow her to apply her many skills and tools to create new approaches in reducing health disparities.
"I want to use my engineering skills and technical expertise, but I feel like if I'm not working with people in communities I'm only tackling half of the problem," she says.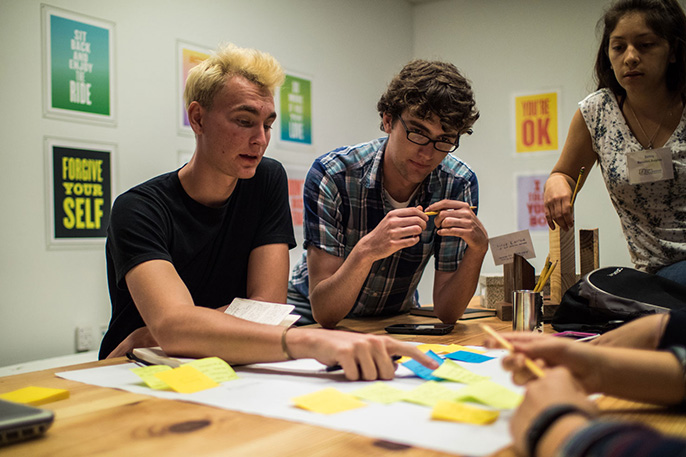 Student-driven learning
During a morning session of bootcamp, Ian Erickson a transfer student majoring in architecture and minoring in geospatial information science and technology — led a small group to identify specific skills the fellows hoped to learn from their peers during the fall semester, hopefully through student-facilitated courses modeled after DeCals. Erickson was drawn to the fellowship in part due to the opportunity for cross-discipline learning.
"The fellowship at present is somewhat vaguely defined, but that is actually one of the things that excites me the most about it," Erickson says. "As we're figuring out the curriculum for the fall, people get the chance to step up and step down, to focus on what they want to get out of the program. That's potentially a challenge, but I also see it as the biggest opportunity in this program."
At the two-week bootcamp, the fellows started to exchange skills and knowledge by taking part in design challenges. In these exercises, fellows respond to a prompted scenario from their own particular perspective, then work together to understand other people's ideas and come up with a product that synthesizes all of those different viewpoints.
The knowledge transfer does not exclude program leaders. "As the staff, we are co-pilots with the fellows," says Sandhu. "We have the master control, but we're handing it over to the students to tell us what they need and to even craft what the future of the program may look like."
In fact, Sandhu admits, "We've already trashed the curriculum a few times as we got to know the students a bit more. We've recognized different ways to position some of the content to really emphasize student-driven learning."
Following the fellowship's model of corporate/campus partnership, participatory learning, and immersion in specific communities, the Fung Fellows have the potential to achieve their dreams of original, real-world solutions benefiting the world of public health.
Coleman Fung himself has worked with the fellows directly in the bootcamp, and even took time to do a deep dive on technology with his team. He also noticed how quickly the students took to the more collaborative, problem-solving focused environment. "I was thrilled!" says Fung. "Early in its development, I fought to make the program unlike typical classes, to make it less prescriptive, and unbeknownst to me, the students shared my intent."
"He is lending, through his company and himself, a lot of technical expertise and vision," says Sandhu. "This is what he does, so it's a unique opportunity to have a philanthropist who works in this space and who understands. He has experience both as a veteran and a Cal alum, and that really speaks to what our students are learning."
Megha Majumder, a triple major in molecular toxicology, public health, and sociology (with an additional interest in biostatistics), applied to the Fung Fellowship in the hopes of gaining a broader perspective on how technology and code can be better used in the policy arena.
"I'm interested in the intersection between technology and public health, specifically with regards to policy," Majumder says. "How, in forming policy, can we use big data in a way that would leverage our current systems to work more effectively?"
Bootcamp speakers — such as Judy Li, Joint Venture Health director — already have had an impact on Majumder. "A lot of great people are coming to speak and inspire us. They've been giving me a lot of ideas in particular about companies I might want to start and my own model of entrepreneurship," she says.
Along with this, Majumder is excited for the expertise she may develop in the fellowship by learning from experts outside of the typical undergraduate academic setting. "A lot of people want to learn how we use the technology we have, but I want to learn what it has the potential to do."
As the inaugural class traverses the projects and learning experiences they will be subject to in the next two years, the faculty hopes, according to Sandhu, that the fellowship will come to define the undergraduate careers of the students. Thanks in no small part to Coleman Fung.
"In this generation, everything is fragmented. Younger people are everywhere and into everything! But I want to see sustained engagement," Fung says. "This fellowship is an experimental effort. I'm hoping we can make it more permanent."
Says Sandhu, "We want our students to be so passionate and excited about working with each other that this fellowship really becomes what defines their time at Berkeley. Anywhere outside of Berkeley for the next few years, when people ask, 'What do you do?' we want them to say, 'I'm a Fung Fellow.'"