February 14, 2017
Alex Morales
,
UC Newsroom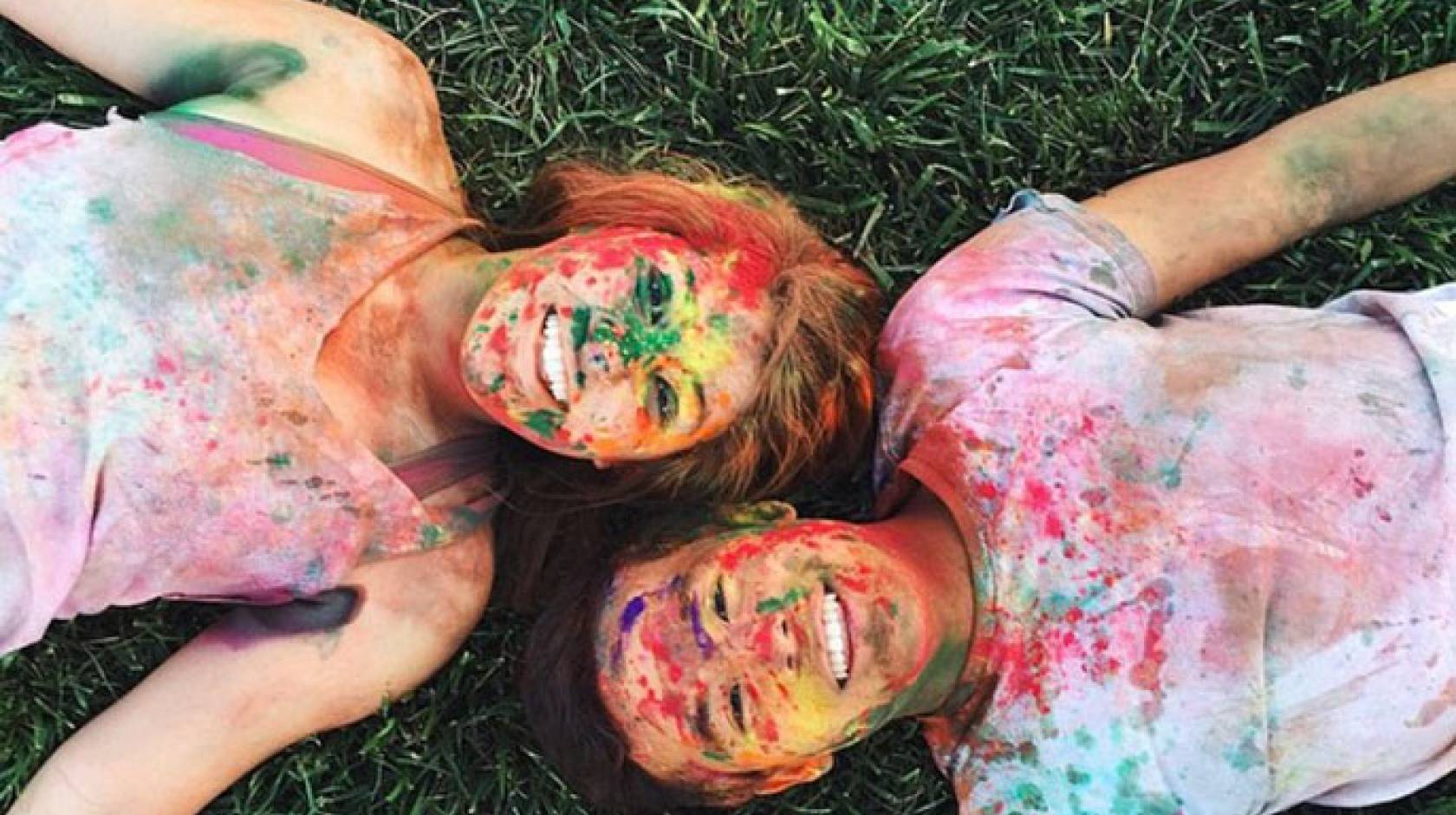 They say absence makes the heart grow fonder. For Valentine's Day, we wanted to figure out how true this really was by asking you for the seemingly impossible: Real love stories that transcend individual campus bubbles — ones that were made to last.
We can happily report that intercampus romance is alive at UC: We heard about rekindling a band camp crush, despite the 300-mile distance between UCLA and Berkeley; the chance encounter through Pokémon Go that kindled another long-distance romance; the couple who connected over making the world a better place and are now keeping it going at two different UCs; and ways to sustain a relationship at campuses that are total opposites.
Being in love means making it work, no matter what. And one thing's for certain: These four UC couples are letting the distance keep them together as their hearts grow fonder along the way.
Finding love at a food summit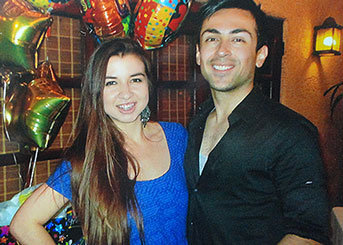 Meeting someone who truly gets you is sometimes all it takes to build a strong relationship.
An undergraduate at UC Irvine, Karina Lopez's passion for sustainability prompted her to volunteer for the university's second annual California Higher Education Food Summit.
As luck would have it, she was placed to work alongside her now-boyfriend, Demitri Fierro.
Hours passed in preparation for the summit, and each learned that they shared similar (and very UC) interests: health, public policy, food security and sustainability. Their mutual interests and time spent volunteering together was the perfect recipe for what happened next: A standard Southern California date at the nearby Irvine Spectrum mall.
Over lunch, Karina quickly discovered that they were more than just volunteer buddies.
"We both just vibed off of each other," she says.
Needless to say, there were sparks.
Fast forward to now — Demitri has since graduated and is attending UCLA as a postbaccalaureate student. Though the convenience of being on campus together is gone, the two opt to talk on the phone often (yes, their communication extends beyond texting). Every weekend, they put in the hour-or-so journey to Irvine or Los Angeles, depending on the traffic.
She hopes that in the near future they'll both be attending the same UC to pursue their master's degrees with an eye on the arts.
Band camp sweethearts, reunited
Bonding over the alto sax in high school marching band might not be the standard place to meet a love interest, but for Tristan Phipps and Nishi Intwala, it was certainly the case. On their first day of camp, Nishi, a senior, made quite the impression on Tristan, a freshman. They felt an immediate connection.
Since Tristan was a nervous freshman, he found that Nishi initiated most of the conversations in the beginning stages of their friendship. Nishi also happened to be his section leader, which was intimidating.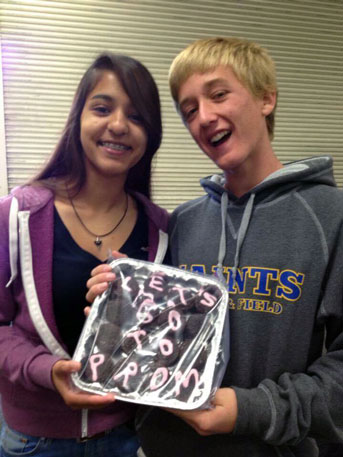 As the trajectory of high school crushes goes, one of Tristan's friends suggested that he ask Nishi to prom. Before that, it hadn't even occurred to him to think of her romantically. But after much internal debate, he baked her brownies and wrote "Let's go to prom" in frosting.
Though he was scared by the possible outcomes, he remembered a quote from "We Bought a Zoo":
"You know, sometimes all you need is twenty seconds of insane courage. Just literally twenty seconds of just embarrassing bravery. And I promise you, something great will come of it."
The next day at school, with homemade brownies in tow, he asked her and she said yes. Nishi's friends quickly welcomed him into their circle.
Their romance fizzled out once she graduated. Tristan saw her just a handful of times before she started at UCLA. He was stuck in high school, without a driver's license and before long had a new girlfriend. As he wrapped up senior year, he decided to end things with his then-girlfriend.
At UC Berkeley, he continued his musical tradition and joined the marching band. One fateful weekend, the band traveled to Los Angeles for a football game at USC. When a former bandmate asked if anyone wanted to go to UCLA, Tristan decided to text Nishi.
"I'm coming over to UCLA right now. Are you busy?"
She was free and he was excited. It had been ages, or felt that way at least.
"I was blown away," he says. "Gone were the braces and the high school awkwardness. As I got out of the car on the front steps of the dorm, I was floored by how beautiful she was."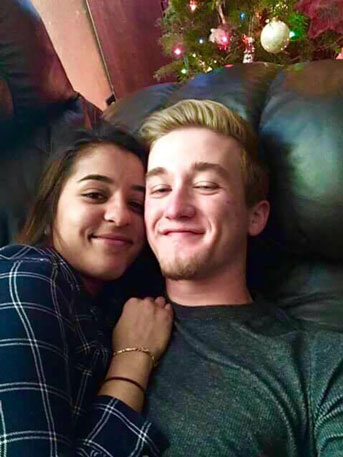 While they walked around campus, she made a few offhand comments that he thought could be taken as flirty hints. Later that night, Tristan texted her from behind the safety of his phone.
It turns out Nishi had had feelings for him for a very long time. When he thought about it, he felt the exact same way. He wished he had told her how he felt in person but that moment had passed.
They counted down the days until their next meet up over Thanksgiving break. Once they reunited, they picked up right where they'd left off in high school.
Every moment they've been able to spend in person has only made their relationship stronger. For Tristan, the stress of school, marching band and finals vanish when he's with her.
"It feels like every love song that comes on the radio and every poem I read is about her. She's too perfect," he says.
Band brought them together twice. And though they're apart again, he's insistent that this time, he's not going to lose her.
Meeting halfway at three UCs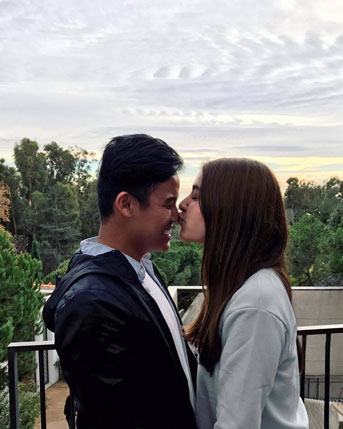 Who knew that a packed, stuffy room would be the catalyst for a uniquely UC love story?
For Ary, it all started at a pre-med freshman seminar at UC Merced. Surrounded by a bunch of sweaty freshmen in the heat of the Central Valley, she noticed one boy in particular — Thi. She decided to sit next to him and could even see herself walking down the aisle with him ... the graduation aisle that is, four years down the road.
From that day on, they did everything together: lived in the same dorm, had the same friends, and transferred to different UCs at the end of sophomore year.
With Ary at UC Santa Barbara and Thi at UC San Diego, the two often make fun of each other as their respective campuses are on opposite ends of the social spectrum. She'll visit him for a restful weekend of studying and vacation-worthy life in San Diego, and he'll visit her when he wants to dance the night away, alongside the ocean.
Ary has found that both distance and their different schools bring a balance to their relationship, making it even stronger — at least when they're not arguing about who attends the better public university.
Although they can't see each other every weekend, the coastal couple has found ways to make it work.
Her advice for any inter-UC couple is: 1) Find halfway meeting points 2) Have epic adventures when you're together, as it will fulfill you until the next time you meet.
Although every goodbye is harder than the one before, they find comfort in the fact that their experiences are shaping them into exactly who they want to be.
The two recognize that they're together because of their shared values, passions and worldviews. UC Merced brought them together over their love of STEM, traveling and learning. Attending three campuses collectively has taught them to be open-minded, socially just and hardworking individuals, traits that have carried over into their relationship.
This pair brings a whole new meaning to "triple threat."
A fateful Pokémon hunt
For Damaris Solis, catching Pokémon was the only thing on her radar on a warm summer day in July. At the time, Pokémon Go was the must-have app, prompting users to get outside more as they stumbled upon new places, while reminding some to watch where they were going, for better or worse.
A student at UC Berkeley, Damaris was interning at UC Davis for six weeks. Out of curiosity, she downloaded the app and decided to go Pokémon hunting in downtown Davis.
"I was a total noob," she says, "When I heard people [nearby] talking about a lure I [walked] up to the group and asked what a lure was."
Kevin Huang, her now-boyfriend, was in this group and explained to her not only what a lure was, but the basics of the game. She caught his attention with a force much stronger than any Pokémon. Afterward, he asked her out.
For almost the entirety of their first date over sushi, they talked about Pokémon Go. For Damaris, it felt as though they had known each other for much longer than a few hours.
When they first started dating, Kevin would drive from Berkeley to Davis so they could hang out during the weekends.
But the stars aligned and a few months later Kevin graduated, landing a job in Berkeley, where Damaris is currently a student. Now they're only a seven-minute drive away from each other and just celebrated their six-month anniversary. They still go on Pokémon Go adventures and will occasionally visit their Davis sushi spot for the memories.