December 21, 2022
Stephanie Winn
,
UC Davis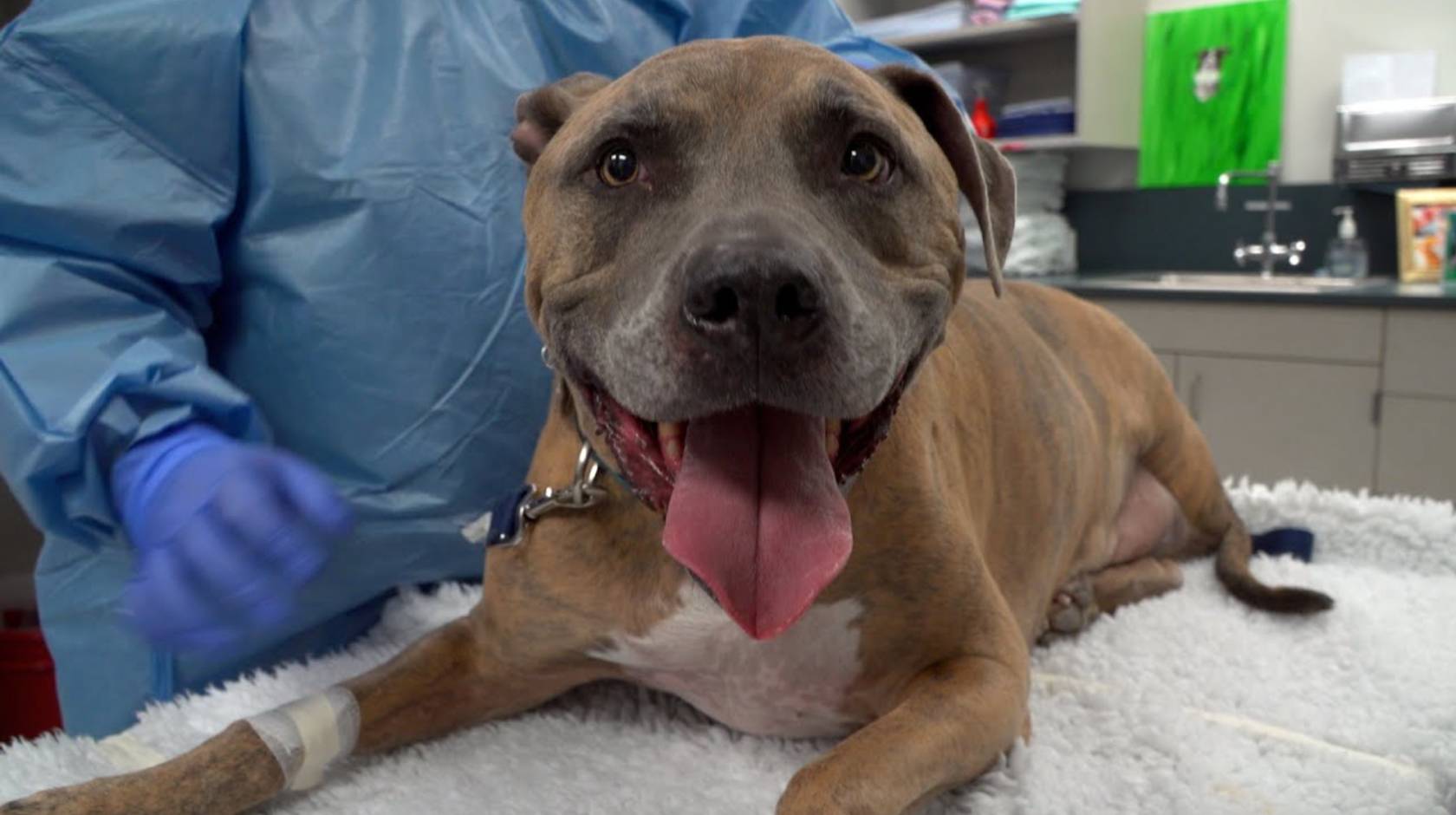 It takes a certain type of dog to weather cancer treatment with a smile, but Tyson isn't just any dog. Part English mastiff, part pit bull, he has a huge smile and falls in love with everyone he meets. Now, he's starring in a YouTube video produced by UC Davis Health to show how dogs with cancer can help humans with cancer.
Tyson is helping bring attention to the science of comparative oncology, which is creating a unique partnership between UC Davis Veterinary Medicine Center for Companion Animal Health and UC Davis Comprehensive Cancer Center. Located only 30 minutes away from each another, the two campus centers — one for people and the other for pets — are collaborating in the fight against cancer in both species. 
Director of the Center for Companion Animal Health, Michael Kent, said the concept of comparative oncology is multi-faceted. It means studying not only tumors, how they form and the genetics behind them, but also running clinical trials for the benefit of animal patients and then taking that information and applying to human clinical trials.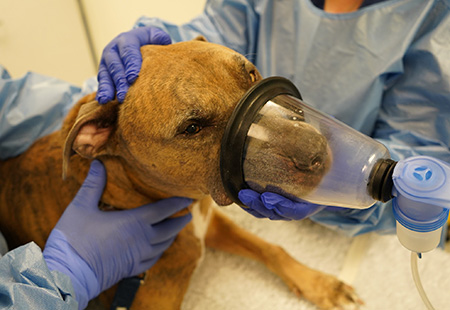 "These are companion pets," said Kent, a veterinarian who specializes in medical and radiation oncology. "They are people's family members, and we treat them as such." 
As a participant in the clinical trial, all of Tyson's expenses were covered, including conventional chemotherapy, scans and exams. A year later, Tyson can hardly contain his zest for life.
Tyson took part in a clinical trial involving amplified concentrations of the protein interleukin-15 (IL-15). Recently, the two oncologists who conducted the trial, human surgical oncologist Robert J. Canter and veterinary oncologist Robert B. Rebhun, published their findings that showed that IL-15 can stimulate immune system defenses against some cancers in dogs. The dogs inhale a mist containing IL-15, a type of immunotherapy, twice daily. Within a few weeks, some of the dogs exhibited significant responses that lasted well beyond the two-week course of treatment. 
"We are grateful to the extremely dedicated clients who sought any and all possible care for their pets, elected to enroll them in this study, and even delivered the inhaled IL-15 to their dogs at home—in hopes that it could benefit their dog, other dogs, or possibly even people with advanced metastatic cancer," said Rebhun. 
Tyson's story
Owner Brianna Fizulic said her beloved pet Tyson is thriving a year after initially being given no hope.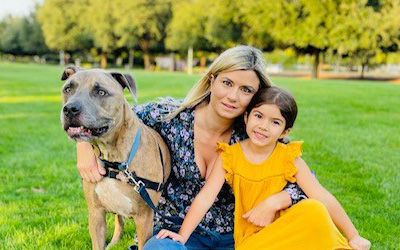 Born to a stray at the Sacramento SPCA, Tyson's life wasn't easy from the start. He seems to take defying the odds in stride. Diagnosed in 2020 with osteosarcoma, or bone cancer, the nearly 90-pound Tyson had to undergo a leg amputation. A week later, he was hopping around, wagging his tail and playing with his "little sister," 6-year-old Sophia. "He is my daughter's playmate and constant companion," Fizulic remarked.
Unfortunately, the outlook wasn't good for Tyson. Even with the leg removed, he was likely to live only a few months because his type of cancer spreads quickly.
"I was devastated at the news," said Fizulic, a single mom who said she didn't know how she would pay for further cancer treatment but didn't want to let the dog she calls "my boy" down. "He has helped get me through so many of life's milestones," she said.
These are companion pets. They are people's family members, and we treat them as such.
Michael Kent, director, UC Davis Veterinary Medicine Center for Companion Animal Health
"That's when UC Davis suggested that I consider enrolling Tyson in a new clinical trial to test an inhaled immunotherapy using a treatment that might someday be used with humans," Fizulic said.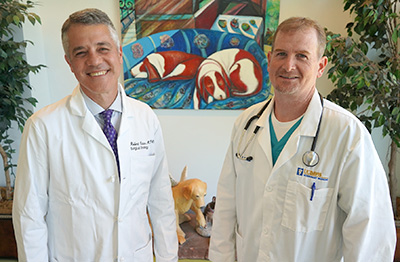 "We are strong advocates of clinical trials in dogs, especially for immunotherapy, as a way to speed bench-to-bedside translation," said Canter, a professor of surgery in the UC Davis Division of Surgical Oncology. "Cancers that afflict dogs, including sarcomas, brain tumors, lymphoma and melanoma, are incredibly similar to cancers that humans develop." 
A year after starting Tyson on the inhaled immunotherapy misting treatments and conventional chemotherapy, Rebhun sees the happy-go-lucky Tyson for follow-up visits and continues to give the dog's family good news. 
"I definitely believe that the clinical trial has, in my eyes, improved his quality of life," Fizulic said.
She added that it feels good knowing that Tyson is also contributing to cancer research.
"We all have one goal in mind," said Kent. "Ending cancer."