Trans and nonbinary students get a great, free place to shop at UC Santa Cruz's Cantú Clothing Closet.
A few shelves and a rack of clothes can be all it takes to help people blossom.
That is what is happening at the Cantú Clothing Closet, located in the Lionel Cantú Queer Resource Center at UC Santa Cruz. In just a few years, the closet has become a nationally known resource for students, particularly non-binary and trans students, who want a place where they can try on clothes and not feel judged.
The idea behind the closet is simple: anyone can come to the center to donate or pick out an article of clothing, no matter their gender expression.
"Everything is very gendered, right?," says Jay Gauthier, a lead peer educator at the Cantú Queer Cultural Center. "There's like a women's section and a men's section. People who maybe want to shop in both or want to shop in one but feel like people will tell them they're in the wrong section — the closet is important because it gives people the space to explore, where they can try on anything they want."
It's important to have places where the sometimes fraught shopping experience can be fun for members of the LGBTQ community, Gauthier says.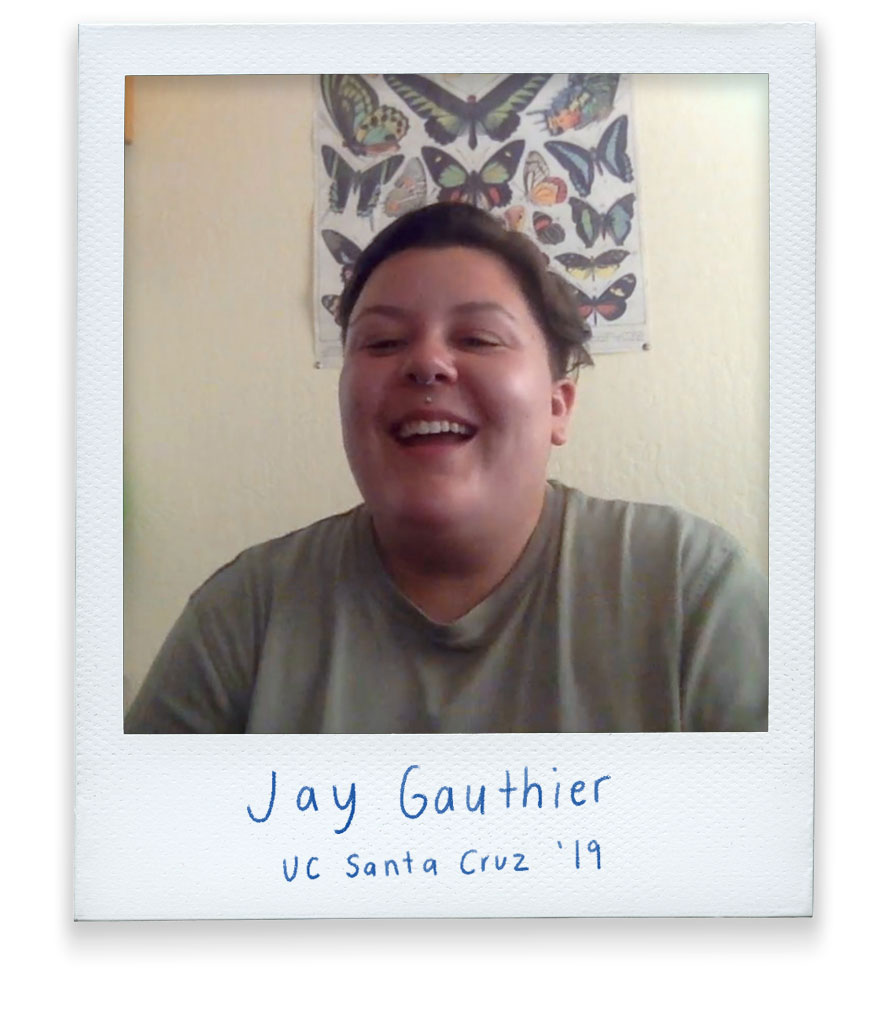 "I personally don't really like shopping that much, even if I'm in the mood to shop, and I'll end up at the end of it like, hating it and wanting to go home. So I think it's really fun being surrounded with people that I know really well and people that I know are all like queer and trans and then people are very honest like 'oh I don't know if that really is that cute on you, honestly.'"
"I'm like 'Cool, I appreciate that,' because it's more fun to have people sharing their opinions with you honestly than just being by yourself and feeling overwhelmed."
Items at the closet range from umbrellas to binders to seasonal garments to the kind of formal wear you might need for a job interview. They're also free, which is a big deal for college students, especially marginalized students, who may not be able to afford what they want to wear, or feel they have to hide their purchases from their families.
"For me, this was an opportunity to really think about the way in which the Cantú Queer Resource Center could be a space that reimagined itself to really meet some of these basic needs for our students," center director Travis Becker told NBC News.
Becker has been pleasantly surprised by how many students have come to shop. Some are trying on items for the first time, and receiving instant validation as they do so.
"I live for those moments," Becker told NBC News. "There's something particularly moving about seeing a trans woman try on her first skirt."
Donations often come in from members of the queer community on campus, because they think someone else would get more out of a piece of clothing than they have. The result is a range of clothing that can help people find things that fit their personality.
"I think a lot of the donations come from the desire to make people in your community thrive as much as they can," Gauthier says.
Gauthier has a favorite piece: a thick green button-up that's 100 percent cotton. "It's kind of a boring piece," they laugh, "but it's something that if I saw that at the store I would want it so badly."
And they got it — for free — at the Cantú Closet.