September 22, 2017
UC Newsroom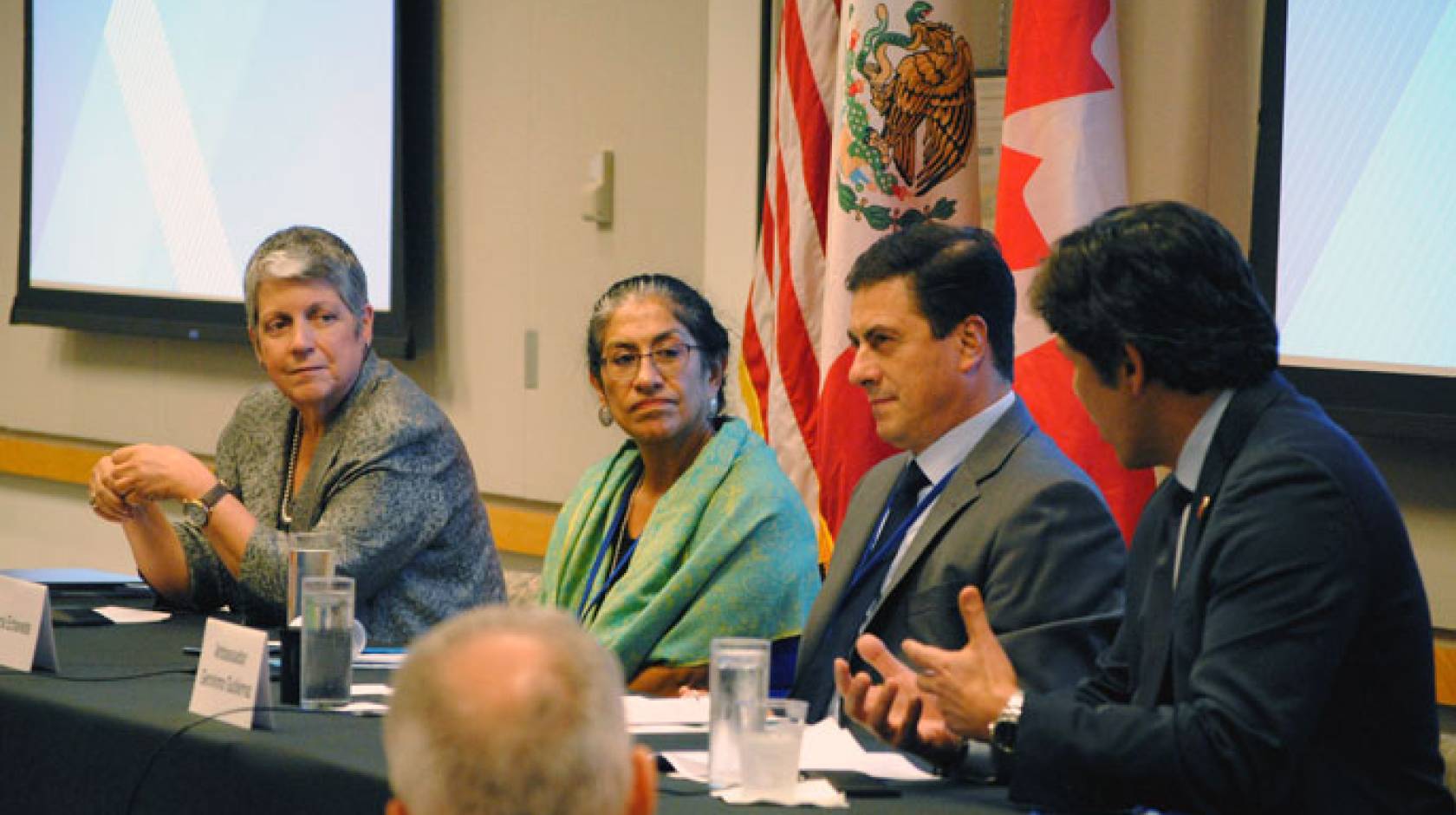 Credit: University of California
If there is one thing that leading experts on the North American Free Trade Agreement all seem to agree on, it is this: It needs to be modernized to reflect the realities of the trillion-dollar global digital economy.
That was one consensus to emerge today (Sept. 21), at a forum on NAFTA and U.S.-Mexico relations co-hosted by the University of California and Tecnológico de Monterey.
The other widely held view: the United States, Mexico and Canada gain strength and prosperity by continuing to work collectively on shared issues, including trade, climate change, immigration and education.
UC President Janet Napolitano, in a conversation with Alejandro Poiré, dean of the School of Social Sciences and Government at Tecnológico de Monterrey, moderated by Ron Brownstein, senior editor of the Atlantic and senior political analyst at CNN, noted that if California were its own country, it would be the sixth-largest power in the world.
Not only does California share people, history and culture with its neighbor to the south, but it has deep and growing business ties with Mexico.
"Half a million [California] jobs are directly tied to NAFTA," Napolitano said. "As a result, it's more evident to Californians, the value that NAFTA brings."
Close alignment on education, immigration, science
Despite heated rhetoric from the Trump administration about building a wall between the U.S. and Mexico and renegotiating — or possibly even scrapping — NAFTA, UC is more committed than ever to research and educational collaboration with its Mexican counterparts to solve common problems, she said.
"The issues that affect the U.S. know no physical boundaries," Napolitano said.
Poiré agreed, and called the University of California one of its closest allies in developing science-based and evidence-based ideas for charting a positive future for both nations.
"We have built this close partnership for positive change," Poiré said.
The two were also aligned on the difficulties posed by the Trump administration's changing policies on immigration, including the decision to end the Deferred Actions on Childhood Arrivals (DACA) program.
Roughly 800,000 young immigrants who came to the U.S. as children could find themselves facing deportation to countries where they don't speak the language and have never lived.
"These are American kids," Poiré said. "You're effectively expelling them from home."
The University of California has sued the Trump administration, challenging the constitutional legality of the decision, and is working to provide practical and moral support to the roughly 4,000 undocumented students on its campuses, Napolitano said.
"The decision (to end DACA) was wrong both as a matter of process and as a matter of law," said Napolitano, who, during her tenure as secretary of homeland security, authored the DACA memorandum. "If you're going to take executive action, you have to take it on some rational basis that holds water."
'Vital, critical relationship'
The forum brought together academics, policymakers, business leaders and diplomats for discussions about both the risks and the opportunities presented by the current political and economic environment.
Kevin de León, California Senate president pro tempore, in a discussion about the relationship between California and Mexico said that it is a "vital, critical relationship" that goes beyond economic and strategic ties.
There are roughly 13 million people of Mexican descent who call California home, he said, making them California's largest immigrant group.
"They have helped build California into the sixth-strongest economy in the world," de León said. "Whether you are a housekeeper or an entrepreneur and the founder of Google or Intel, this type of human capital has been very good. We have benefited greatly from immigrants from all over the world."
Revamping for a digital economy
On the trade agreement itself, there was strong consensus that NAFTA needs modernizing. For example, the internet didn't even exist when NAFTA took effect on Jan. 1, 1994.
Today, the global digital economy is valued at about $4 trillion dollars, said Peter Cowhey, dean of UC San Diego's School of Global Policy and Strategy.
The digital revolution has upended and transformed global communications, commerce — even how products are manufactured and food is grown, he said. Polices are needed to address how digital services flow across international borders. Cyber security issues are also part of that changing landscape.
The other modern day reality that ought to be reflected as NAFTA is reconsidered is how to expand its scope to reflect and incorporate women's rights and indigenous people's rights, said Thomas d'Aquino, the Canada Co-chair of the North American Forum.
It adds complexity to the task of revamping the trade agreement, but would ultimately reap big dividends for all of North America, he said.
"We're trying to build one of the most competitive economies the world has ever seen," d'Aquino said.