June 22, 2022
Robyn Schelenz
,
UC Newsroom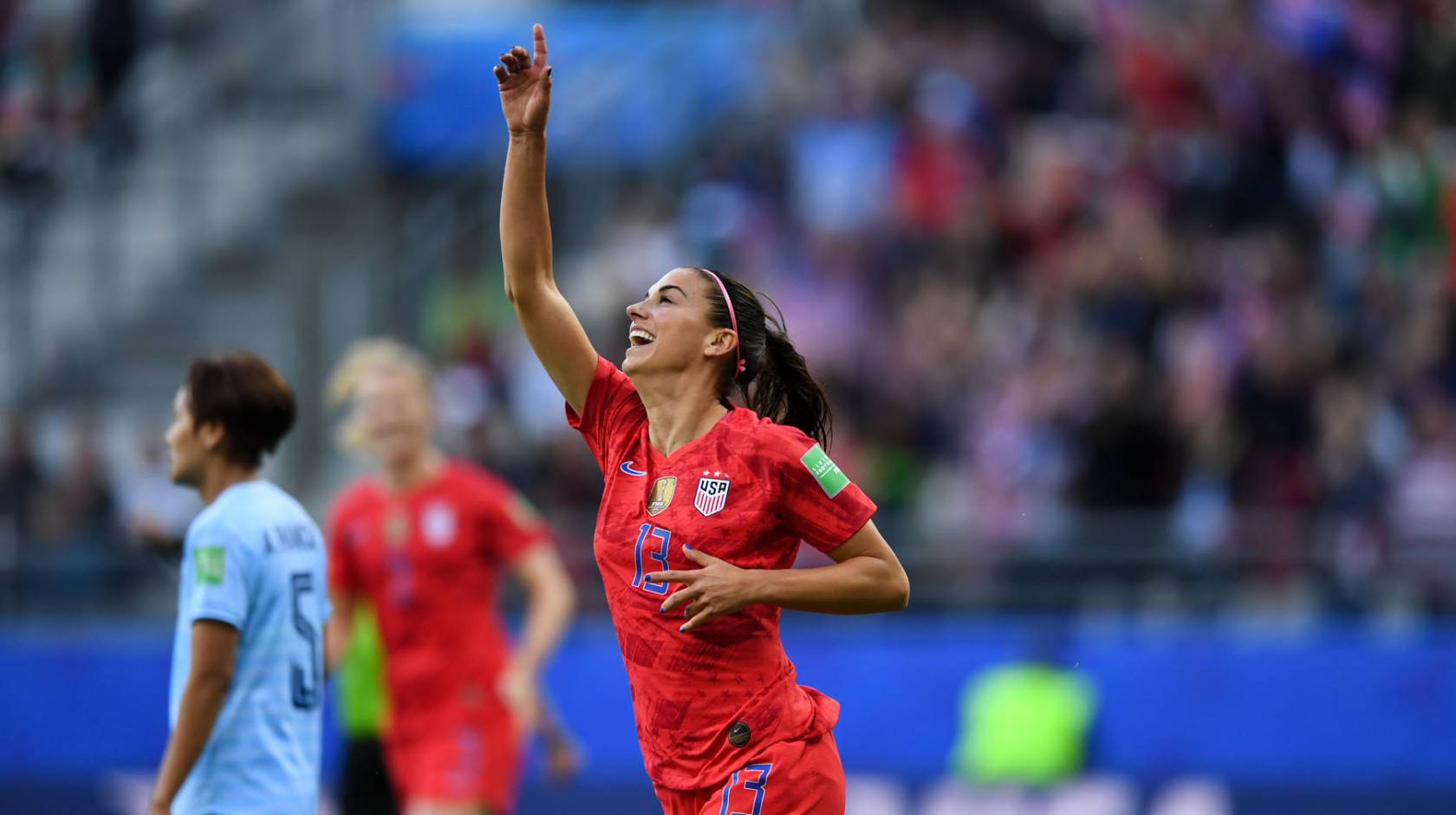 Credit: via alexmorgansoccer.com
June 23, 2022, marks the 50th anniversary of Title IX, the landmark civil rights legislation that, in a single sentence, transformed higher education across the United States.
Only 37 words long, Title IX barred discrimination on the basis of sex in programs and activities at schools that receive federal funding. It was signed into law in 1972 by President Richard Nixon. Women had earlier won protection in employment as part of the Civil Rights Act of 1964 — in a last-minute addition — but education had gone unaddressed, and the disparities based on sex were glaring.
—
No person in the United States shall, on the basis of sex, be excluded from participation in, be denied the benefits of, or be subjected to discrimination under any education program or activity receiving Federal financial assistance.

–Title IX
—
Before it passed, more than 80 percent of U.S. college professors were men and less than 10 percent of medical and law degrees went to women. Some campuses barred women from enrolling at all — or required them to have higher SAT scores than men.
Title IX has been like a slow-moving tsunami, sweeping away the old status quo. Today, women make up 43 percent of full-time tenured or tenure-track faculty members and 54 percent of full-time, non-tenure-track professors. In 2019, for the first time, women made up more of the medical student population than men. Today, more women than men enroll in college; women also make up the majority of law school students. Title IX didn't just transform college education, either — the law applies to grade school and high school as well. But it didn't happen without a fight, and today Title IX continues to inform how institutions ensure gender equity.
One of the most visible — and celebrated — arenas of Title IX's impact has been collegiate sports.
Students at UC Berkeley formed the first women's team to play a basketball game as the representatives of their school in the fall of 1892. The first intercollegiate athletic event for women was held on April 4, 1896, at San Francisco's Page Street Armory, where UC Berkeley took on Stanford in front of 700 women spectators and reporters. (Alas, the Cal women lost).
Women's participation in sports was the exception, not the rule until Title IX came along. In 1972, only one in 27 American women played sports, and just 2 percent of college sports budgets went to programs for female athletes. Even the idea of women competing in athletics wasn't taken seriously or kindly. In 1967, twenty-year-old Kathrine Switzer, the first woman to register for the Boston Marathon, was physically attacked by a race official two miles into the run in an attempt to pull her off course.
She finished the race — and made history.
Out of this environment, Title IX slowly reshaped women's participation in athletics, producing some incredible sports heroes along the way, including more than a few UC athletes whose feats have made them legendary. Today, according to the Women's Sports Foundation, women make up 44 percent of all NCAA athletes.
In celebration of all that Title IX has accomplished, here are some of the standout athletes and programs flourishing across UC campuses:
UC Berkeley — women's soccer
Among the top women's collegiate soccer programs in the country, UC Berkeley regularly sends its athletes on to play at the highest level of the sport. Joy Fawcett and all-time national team great Alex Morgan are both Olympic gold medalists for the U.S., while Daisy Cleverley and Betsy Hassett represented New Zealand in the most recent Olympics. (Alumna Miranda Nild has played for Thailand). The U.S. Women's National Team, of which Morgan is a part, recently settled a lawsuit with the U.S. Soccer Federation for $24 million and a requirement that male and female soccer players be paid equally in the future. While Title IX has paved the way for more participation in athletics and other educational spheres, their fight shows that pay parity still lags behind.
UC Davis — women's equestrian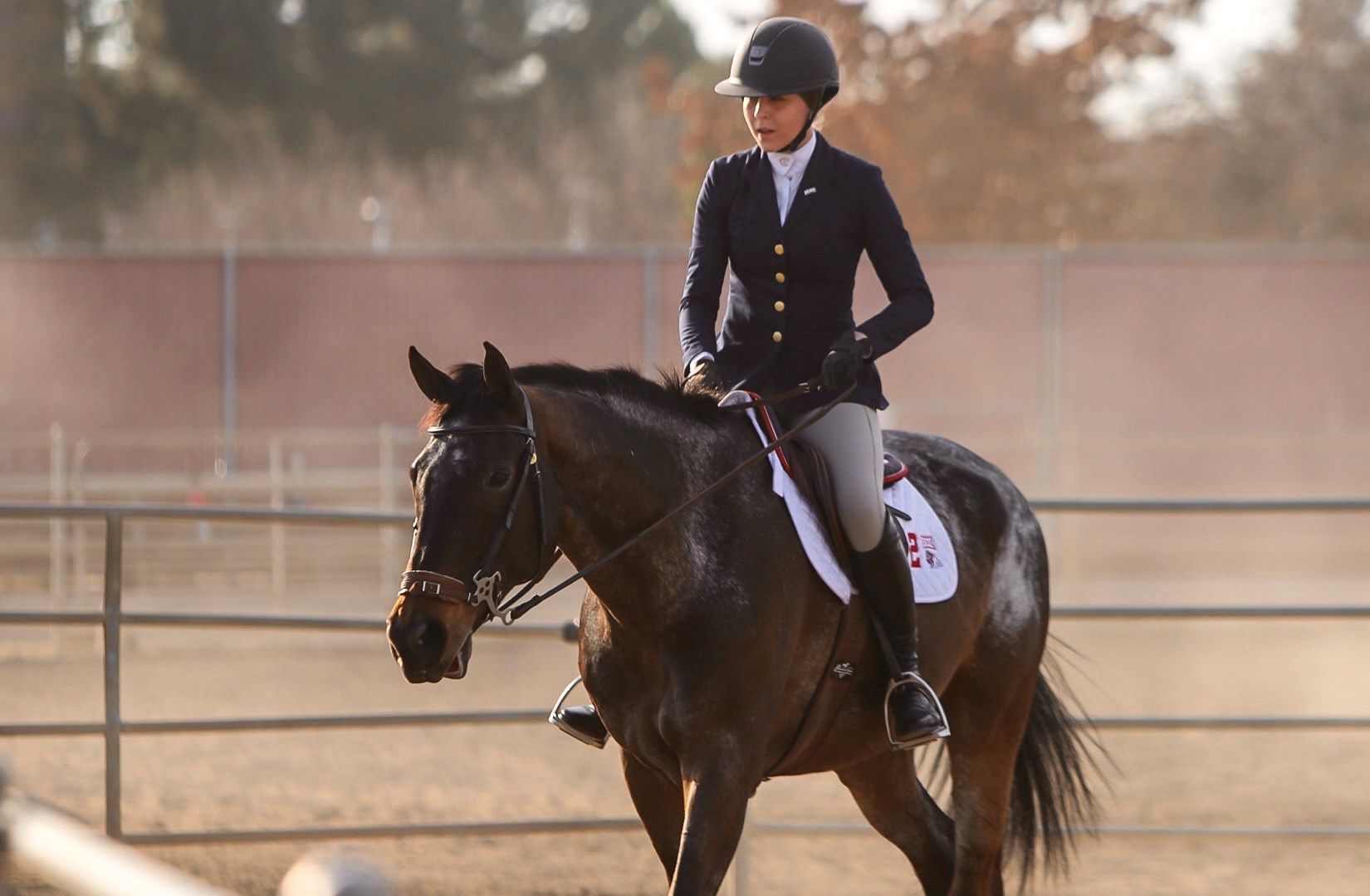 Home to one of the top veterinary schools in the country, UC Davis also has one of just 26 women's equestrian programs in the nation — and the only UC. The program allows student-athletes to compete at the highest college level as a member of the National Collegiate Equestrian Association. Sierra Gundersen recently became the first Aggie to make the National Collegiate Equestrian Association Ariat All-America team and helped lead them to a semifinal finish at the ECAC Championships this season, the highest conference finish by UC Davis in program history.
UC Irvine — women's water polo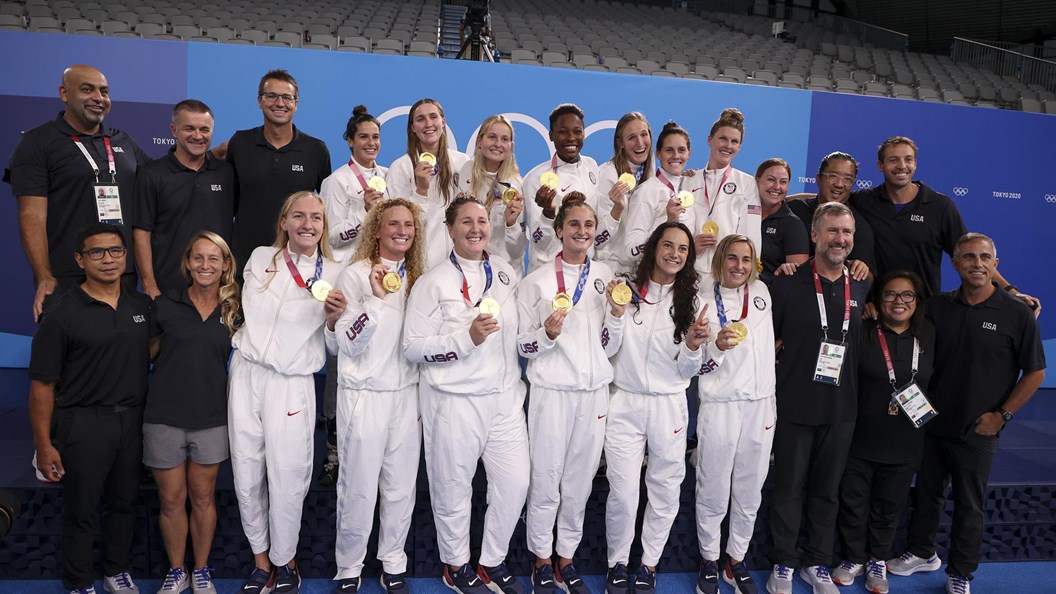 Did you know the U.S. women's Olympic water polo team has won the gold medal in three back-to-back Olympics, a historic feat? UC Irvine athletes and coaches were at the heart of those victories. At the most recent summer games in Tokyo, Kaleigh Gilchrist, Jamie Neushul, Melissa Seidemann and Alys Williams, helped bring home the  gold medal, together with UCLA alums Maddie Musselmann and Rachel Fattal. Seidemann and coach Dan Klatt, head coach of the UC Irvine women's water polo team, were part of all three winning teams.
UCLA — Ann Meyers Drysdale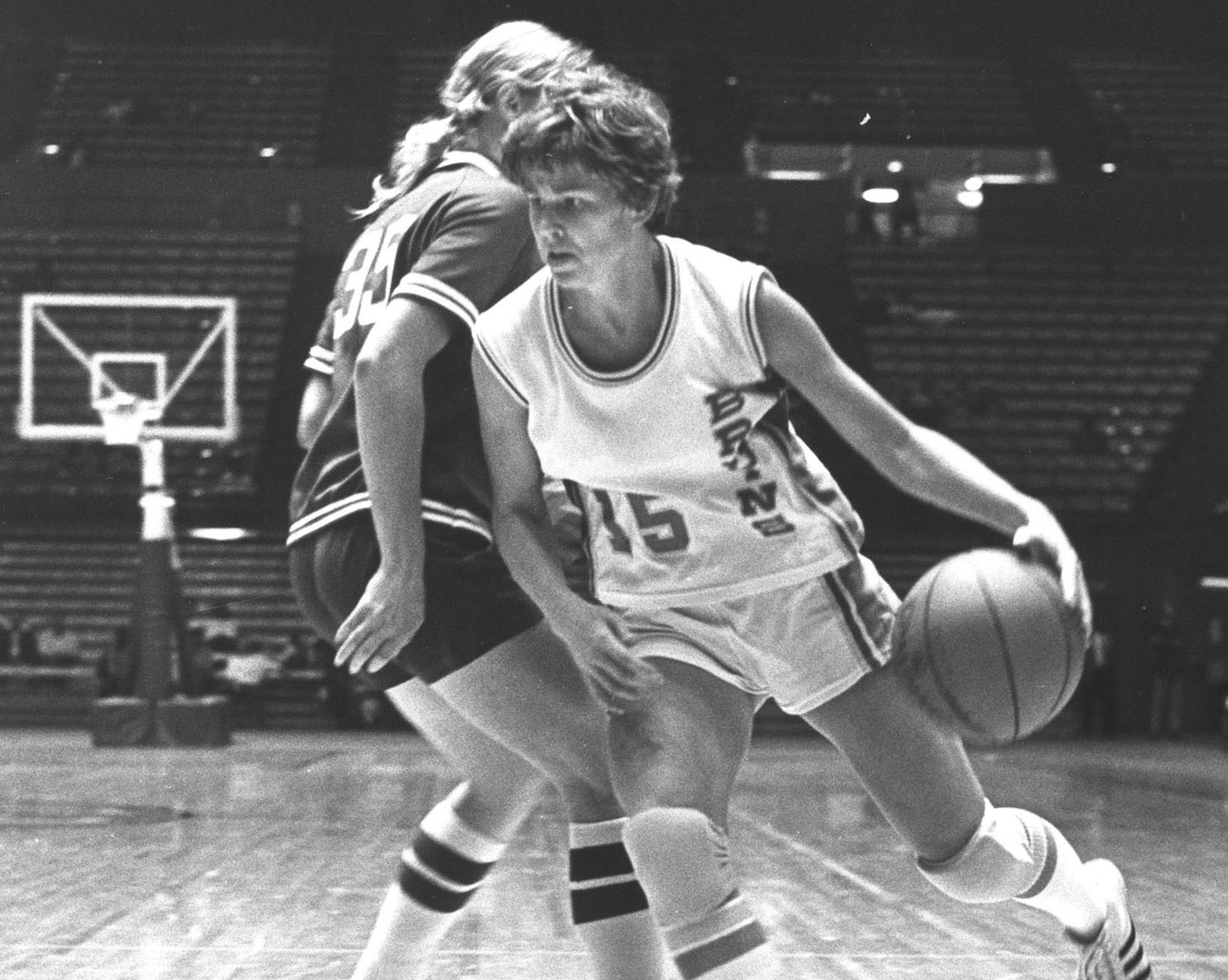 It's hard to know where to start with UCLA — their softball program, which has won more championships than any other school? Their gymnastics program, which has not only produced champions and Olympic medalists, but became a pop culture sensation? Soccer, water polo, track (Olympic legend Florence Griffith Joyner is an alum), the list of programs goes on and on. UCLA provided opportunities before Title IX for women athletes, too. But in honor of Title IX's 50th, it seems appropriate to honor one of the most outstanding athletes of the era, and a first in many ways — Ann Meyers Drysdale.
Meyers Drysdale was the first woman to be awarded a full athletic scholarship at any university, in any sport, in 1975; the first player selected to the U.S. national basketball team while still in high school; the first woman inducted into the UCLA Athletics Hall of Fame; and the first player in NCAA history — male or female — to record a quadruple-double (the term for when a player registers 10 or more in four of five categories: points, rebounds, assists, steals or blocks). These are just a few of her accomplishments. A true collegiate pathbreaker for women in sport, she is now a TV analyst and basketball executive and continues to promote equal access for women in sports.
UC Merced — women's basketball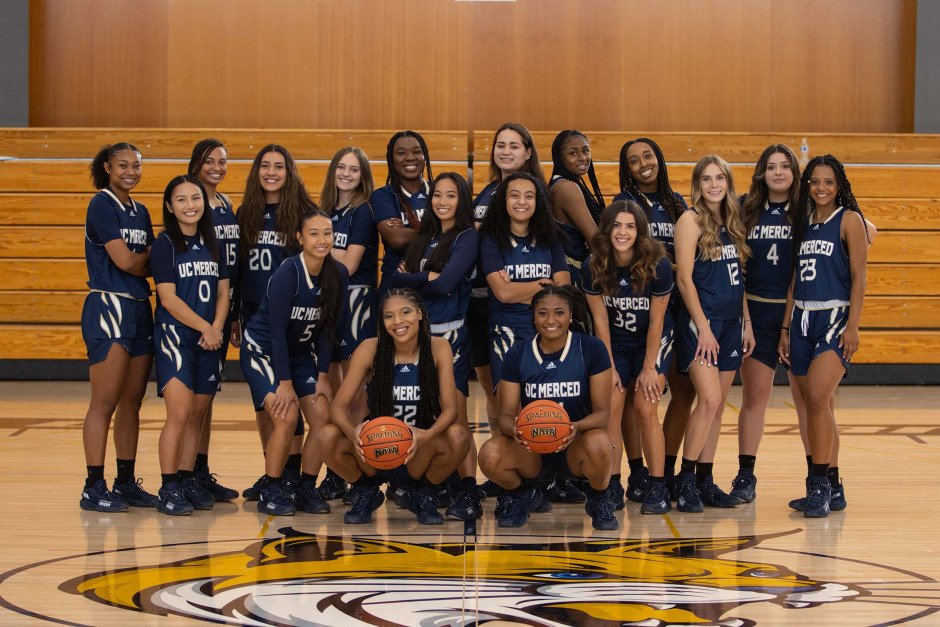 The UC Merced Bobcats women's basketball team is stunningly accomplished for such a young program, established in 2005, the same year that the campus opened. They have been four-time Cal Pac tournament champions and have been invited to the National Association of Intercollegiate Athletics Division II National tournament four times. They are also a four-time scholar athlete team. Essex, England native Sarah Hopkins-Chery coaches the program, and since she took over in 2015, no other active coach in the conference has more wins or conference tournament appearances.
UC Riverside — women's track and field
Student-athletes at UC Riverside go on to do great things — just look at Vesta Bell and Brenda Martinez, for example. In 2016, Vesta Bell won UC Riverside's sole NCAA Division I national championship, in indoor weight throw; in the process she broke the school record AND the facility record with a top mark of 73' 6.75". That same year, UC Riverside alum Brenda Martinez clinched a spot at the Olympic Games, running the 1500 meters; she finished second at the NCAA Women's Outdoor Track and Field Championships in that event while at school.
UC San Diego — women's rowing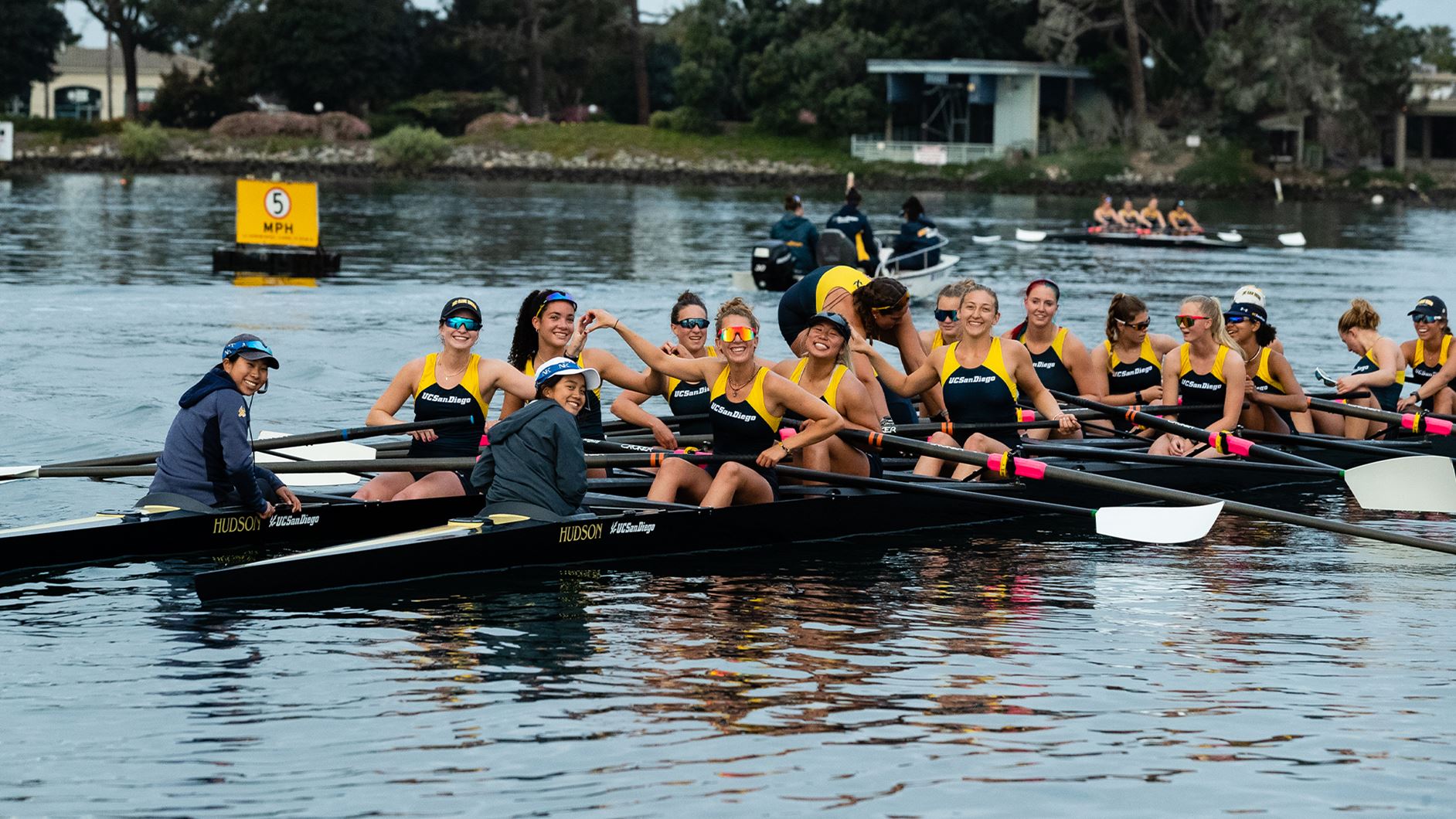 After two decades as one of NCAA Division II's most successful programs, UC San Diego recently made a leap to Division I, the most competitive division. Already their teams, including women's rowing, are having success. The UC San Diego Tritons took three boats to their second-ever Colonial Athletic Association (CAA) Championship at Cooper River in New Jersey this year. Senior Hailey Caldwell-Meurer was one of 14 rowers named to the 2022 All-CAA Team after the event.
UC Santa Barbara — women's tennis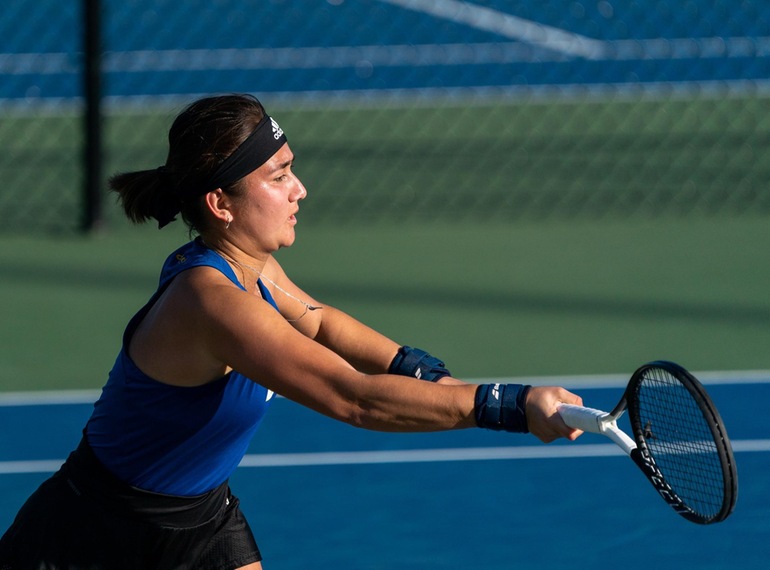 The UC Santa Barbara Gauchos are a force in women's tennis. Just this year, the No. 24 ranked women's team notched their second-ever win at the NCAA Division I team tournament. Singles player Shakhnoza Khatamova is among the top 100 players in the country, currently ranked No. 76. She is the two-time defending Big West Player of the Year and competed in the NCAA Singles Championship as well.
UC Santa Cruz — women's soccer
Athena Del Rosario is not just a passionate multisport athlete, currently on Team USA for women's handball. At UC Santa Cruz, she was the goalie for the women's Division III soccer team, helping the team to a Great South Athletic Conference title. And she did this without anyone knowing, or noticing, she was transgender.
"I was scared. I worried that they would begin to look at me differently or think less of me, and I couldn't bear the thought of losing this family of amazing people that I had come to be a part of," Del Rosario wrote in Outsports about her collegiate journey. "Despite the fear, something inside me also knew that this would never happen. In true UC Santa Cruz women's soccer fashion, I was shown nothing but love from my teammates who thanked me for sharing my story with them."
Today, Del Rosario continues pursuing her passion for athletics and also, for the role of transgender athletes in sport, in the hopes that "any transgender people who want to be involved in sport or athletics will be able to train and compete in peace."
Read a statement from President Drake on Title IX's anniversary here.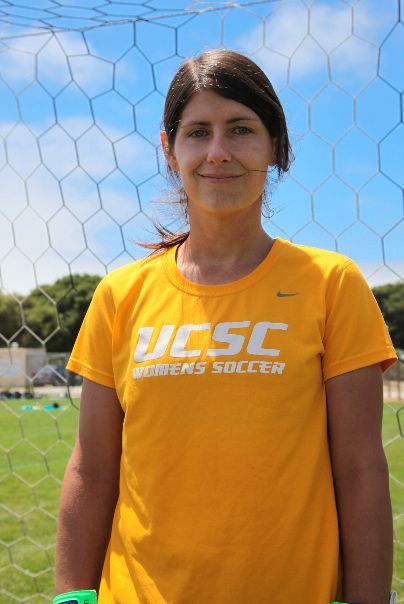 Credit: Carolyn Lagattuta/UC Santa Cruz