September 19, 2023
UC Newsroom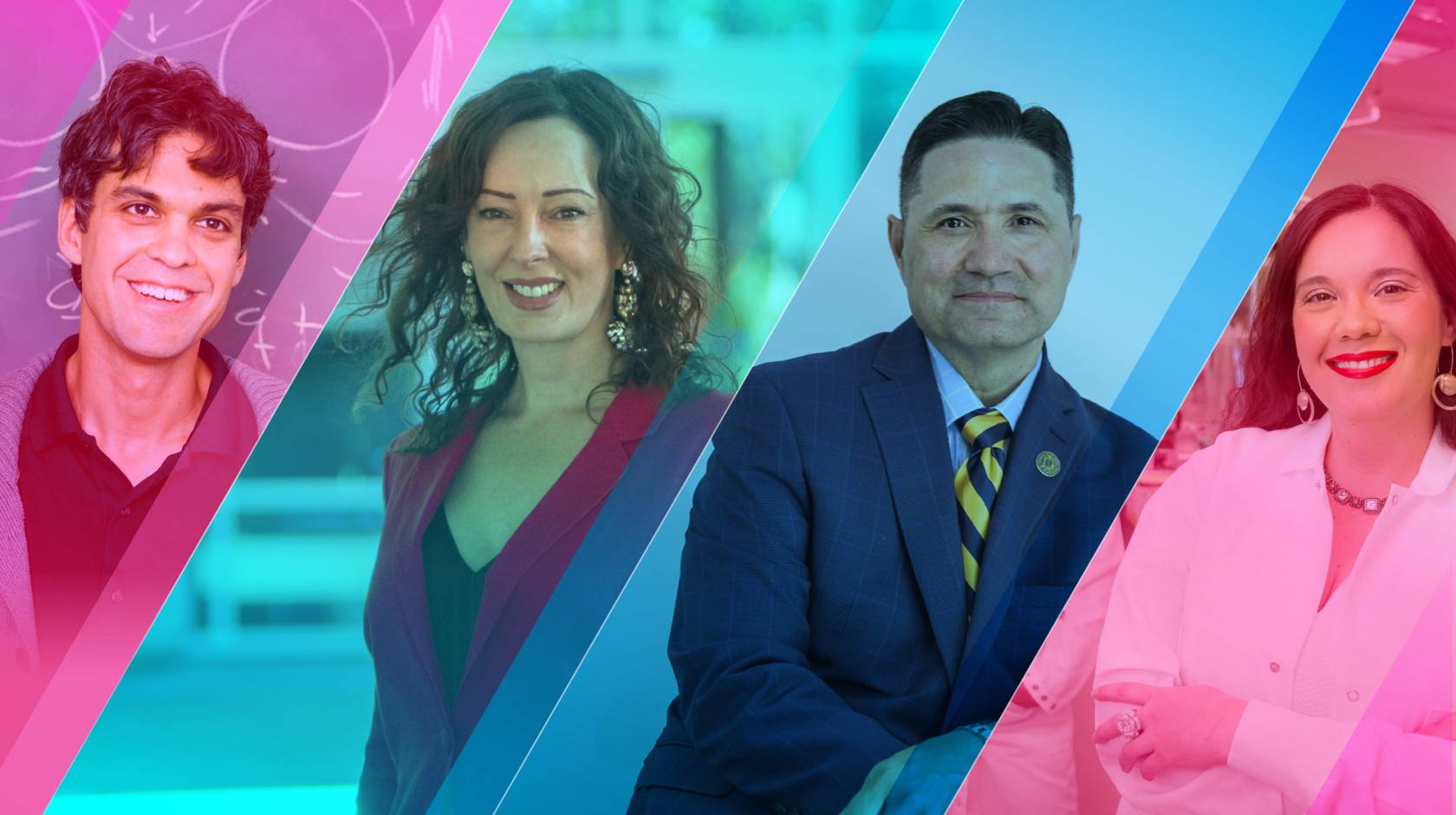 Credit: University of California
A doctor who recognized COVID-19's disproportionate impact on the Latino community and took action to help. A scientist devoted to helping underrepresented students succeed at the highest levels in STEM. A civil rights icon who shaped fundamental policy and law.
Across disciplines as diverse as education, science, medicine, engineering, law, business and politics, Latino leaders from the University of California have made outsized contributions to UC and the world, helping to create a more equitable future for all.
We're celebrating Hispanic Heritage Month (September 15 to October 15) by highlighting a few of these UC visionaries. One thing they all have in common: Their life's work has focused on building greater opportunity for those who come next. As vital members of a university that was created to serve Californians, these 10 leaders represent the true spirit of UC. (Click the links for a shortcut to each.)
Anita Casavantes Bradford, UC Irvine faculty, UC San Diego alum
Alicia Fernández, UC San Francisco faculty
Lupé Gallegos-Díaz, UC Berkeley staff & alum
Jazmin Garcia, UC Riverside student
Olivia Graeve, UC San Diego faculty & alum, UC Davis alum
Juan Sánchez Muñoz, UC Merced chancellor, UC Santa Barbara & UCLA alum
John A. Pérez, UC regent
Enrico Ramirez-Ruiz, UC Santa Cruz faculty
Cruz Reynoso, UC Davis & UCLA faculty, UC Berkeley alum
Jennifer Uribe, UCLA student
Some 40 percent of UC undergrads are among the first in their families to go to college. But "first-gen" students often feel out of place in academic culture, without mentors to help leverage their strengths to succeed as students. A professor of Chicano/Latino studies and history and associate dean of UC Irvine's School of Social Sciences, Anita Casavantes Bradford has walked in their shoes. To make the transition easier, in 2014 she founded the First-Generation Faculty Initiative, connecting students with first-gen faculty, peer mentors and resources. Within three years her model was adopted across all 10 UC campuses, as well as by other institutions around the U.S. It also inspired a systemwide initiative to help UC's first-gen students thrive.
As a doctor, teacher and the founding director of the UCSF Latinx Center of Excellence, Alicia Fernández has made deep contributions to our understanding of health care equity and racism in medicine. Her work has increased awareness and generated actionable research to address the needs of vulnerable populations. Early in the COVID-19 pandemic, for instance, Fernández recognized that the disease disproportionately affected Latinos. In response, the center launched the Street Team, which provided accurate scientific information about COVID to the community, and hosted bilingual Facebook live workshops with community-based organizations. In addition to her patient advocacy and care, Fernández has also inspired scores of students, residents and faculty members, working to increase equity in medicine on both individual and systemic levels.
A champion for equity and access in higher education, Lupé Gallegos-Díaz has shaped UC's approach to Latino issues over her 30-year career. A UC Berkeley alum, Gallegos-Díaz is the director of the Chicanx Latinx Student Development Center at her alma mater, where she also teaches graduate and undergraduate students in Chicanx Latinx studies. Gallegos-Díaz was instrumental in unifying UC's 10 campus Chicano/Latino alumni networks for the establishment of the Chicanx Latinx Alumni Association. Her decades of commitment to developing and supporting Chicano and Latino students as leaders, as well as to advising and advocating for the social, educational and economic needs of Chicano and Latino students and communities of color, earned her the Council of University of California Staff Assemblies's 2021–22 Kevin McCauley Memorial Outstanding Staff Award.
When Jazmin Garcia transferred to UC Riverside, she already knew how to balance complex family demands with the life of a full-time student. As a former teen parent, she'd earned her A.S. from Mt. San Antonio community college, where she founded the Parents in College Club. At Riverside, she worked with Black and Latino scholar-mentors to study how systems of racism and violence impact the ability of young mothers to access education resources, and she was co-president of Underground Scholars, a student-led organization supporting students impacted by incarceration. Now a Ph.D. student in ethnic studies, Garcia researches how young Chicana mothers are affected by harmful policies and incarceration. When she completes her degree, she wants to teach and direct a university student support center.
Olivia Graeve is a standout leader in engineering — and not just for her internationally recognized research in materials science. She is also a one-woman force for opening more doors in STEM, particularly for Latino youth. A fifth-generation Baja Californian and first-generation college grad, Graeve was the first-ever Latina engineering professor at her alma mater, UC San Diego. She founded the school's CaliBaja Center for Resilient Materials and Systems, a hub for research collaboration between the U.S. and Mexico. Among other accolades, her commitment to supporting underrepresented students and mentoring the next generation of leaders, whether at UC San Diego, binational high school programs or through the Society of Hispanic Professional Engineers, earned her the Presidential Award for Excellence in Science, Mathematics and Engineering Mentoring from the White House.
Dr. Juan Sánchez Muñoz took the helm as chancellor of UC Merced in July 2020, leading the campus through the pandemic and into an era of rapid expansion and growth. The son of Mexican immigrants who settled in Los Angeles, Muñoz is a first-generation college student who earned his bachelor's degree from UC Santa Barbara and his Ph.D. from UCLA. He has dedicated his career to increasing access to the transformational power of higher education across racial and social lines. Muñoz was a high school teacher and college adviser before moving into higher ed. Appointments at Cal State Fullerton and Texas Tech led to his tenure as President of the University of Houston-Downtown prior to returning to UC.
John A. Pérez has spent his career fighting for working families and students. Over his more than a decade of service on the UC Board of Regents, accessibility and affordability for all Californians regardless of background, income or zip code have been among his top priorities. From eliminating biased standardized tests like the SATs to challenging the Trump administration's unlawful repeal of DACA in the Supreme Court, Regent Pérez has been a leader in bringing equity and equality to the University of California. As chair of the Board of Regents he appointed the most diverse Special Committee to consider the selection of a president in UC history, which resulted in the hiring of UC's first Black president. A similar search effort led to UC Merced's first Latino chancellor. Throughout his leadership term the University hired more people of color into its highest positions. During his service as Speaker of the California Assembly, Regent Pérez authored the landmark Middle Class Scholarship Act, which today provides roughly $589 million in financial aid to more than 284,000 UC and CSU students. The historic California Dream Act also passed the legislature under his leadership.
A professor of astronomy and astrophysics at UC Santa Cruz, Enrico Ramirez-Ruiz uses computer simulations to explore phenomena like stellar explosions, gamma-ray bursts, black holes and neutron stars. Originally from Mexico City, he is also dedicated to helping underrepresented students succeed in STEM and has personally mentored more than 200 students, postdocs, and junior faculty. In addition, Ramirez-Ruiz has worked to create systemic change, establishing a research internship for Mexican physics undergrads, for example, and creating a mentoring program to increase the number of underrepresented students in astrophysics. This work has earned him recognition at the highest levels, including a Presidential Award for Excellence in Science, Mathematics and Engineering Mentoring.
The son of Mexican immigrant farm workers who himself worked in the fields as a child, Cruz Reynoso (1931–2021) dedicated his career to fighting injustice. After graduating from UC Berkeley Law in 1958, Reynoso spent the next five decades advocating for civil rights as a lawyer, judge and jurist. From his early work protecting agricultural workers to his tenure as the first Latino on the California Supreme Court, Reynoso was steadfast in his focus on countering discrimination and giving voice to the underrepresented. After retiring from the bench, he became a beloved law professor, first at UCLA, then at UC Davis. His achievements were recognized in 2000 with a Presidential Medal of Honor, the nation's highest civilian award.
Jennifer Uribe grew up in the Bronx, a member of New York's Afro-Dominican community and one of three children in a powerful single-parent home. Now a Ph.D. candidate in Sociology at UCLA, Uribe describes their current research as "a little bit punk." By considering language discrimination, civic injustice and the ongoing impacts of colonialism, their work centers the experiences of Black disabled women within the Latinx community. Faculty mentors from the Black Feminisms Initiative at UCLA, a role as a senior policy fellow at the UCLA Latino Policy and Politics Institute and time spent as a student educator at UCLA's Hammer Museum have all helped Uribe think creatively and stay nimble as a changemaker and scholar.