January 13, 2016
Sean Nealon
,
UC Riverside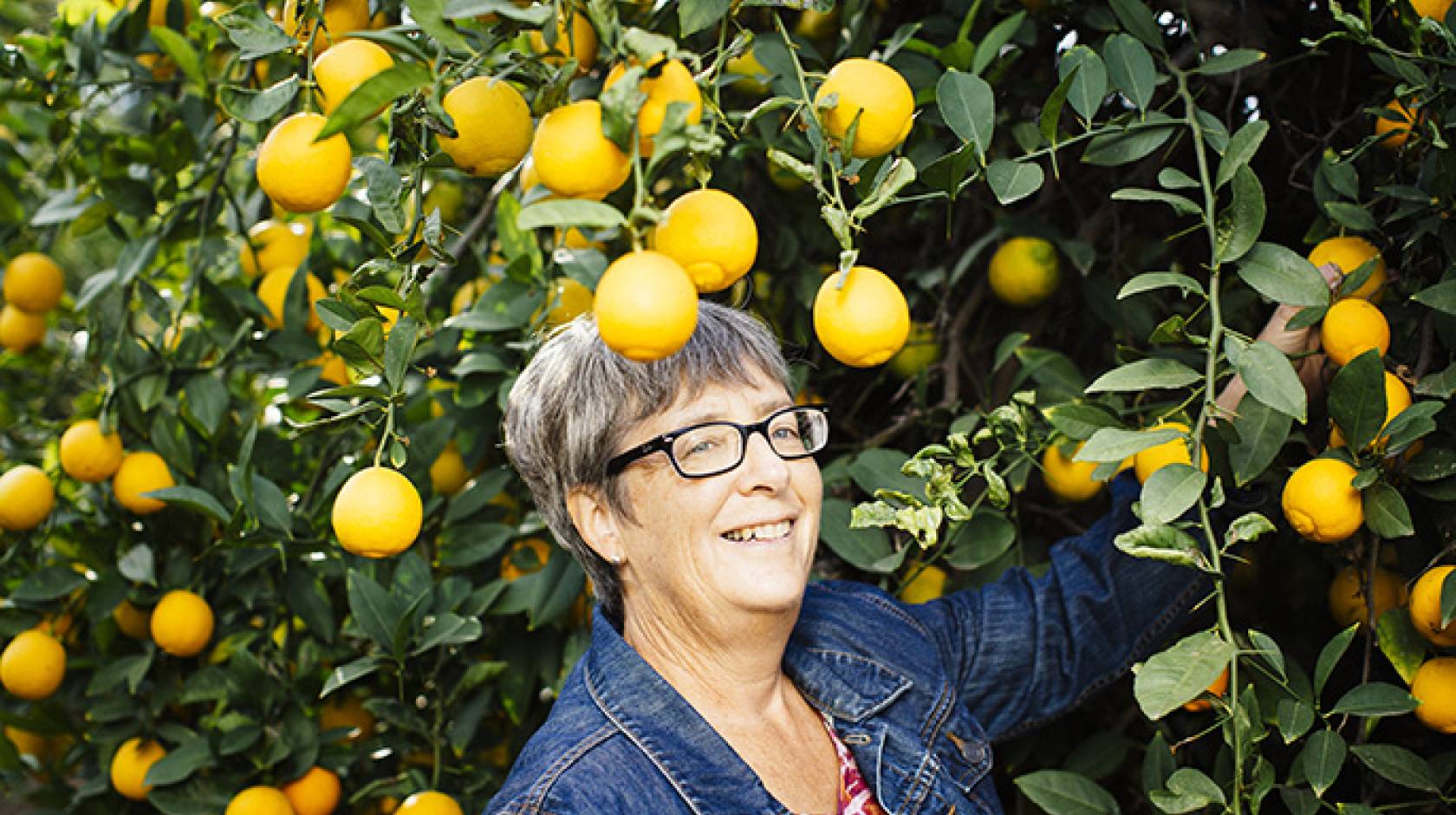 Tracy Kahn, curator of UC Riverside's Citrus Variety Collection, has been appointed the Givaudan Citrus Variety Collection Endowed Chair.
The appointment, which went into effect July 1, 2015, and runs through June 30, 2020, allows the collection to be supported and maintained in perpetuity. It was made possible by a $1 million endowment from Givaudan, a Swiss-based company that is the global leader in the creation of fragrances and flavors.
Kahn has been the curator of the Citrus Variety Collection, one of the world's most diverse assemblages of citrus cultivars and their relatives, since 1995. The collection consists of at least four trees each of more than 1,000 citrus cultivars, including cultivars developed at UC Riverside, new and heirloom cultivars and citrus relatives introduced from around the world since the collection was established in the early 1900s.
This diversity can be seen, smelled and tasted. There are fruits that are as big as a person's head and as small as a green pea. There are fruits that are orange, red, green and purple in color. They have a wide range of aromas especially in late February and early March when many of the trees are in full bloom.
As curator, Kahn oversees the care of the collection, research on citrus diversity and facilitates research by other researchers who utilize the collection. The collection is a resource for citrus growers, nursery owners, produce providers, chefs, students and the public.
In addition to being the curator, Kahn has funding from the Citrus Research Board, the market board for California citrus growers, to provide initial evaluations of newly introduced cultivars and conducts field trials of selected promising cultivars to provide information for growers so they can make informed choices about which new cultivars are most likely to be successful and sustain productivity and profitability in California.
Kahn received her bachelor's degree in botany from the University of Michigan and her Ph.D. in botany from the UC Riverside in 1987. She has been an employee at UC Riverside for 30 years.
The gift from Givaudan comes on the eve of the 10th anniversary of the company's collaboration with the UC Riverside's Citrus Variety Collection. In 2006, Givaudan began a focused program at UC Riverside called TasteTrek Citrus that has since spread to groves in countries around the world.
Dawn Streich, Givaudan's global product manager for citrus said, "All of us at Givaudan would like to congratulate Tracy on her appointment. We have worked closely with her for many years and we are excited that our collaboration on citrus will continue for many more years to come."
Over the years Givaudan has worked in close collaboration with Kahn. She and her staff are experts in citrus, and her detailed understanding of citrus has made her an invaluable partner enabling the TasteTrek program and the Givaudan collaboration to thrive. Kahn also noted that working with Givaudan has helped her and her team learn a lot about fruits in the collection that are not commercial cultivars.