Civil rights in the spotlight at UC legal conference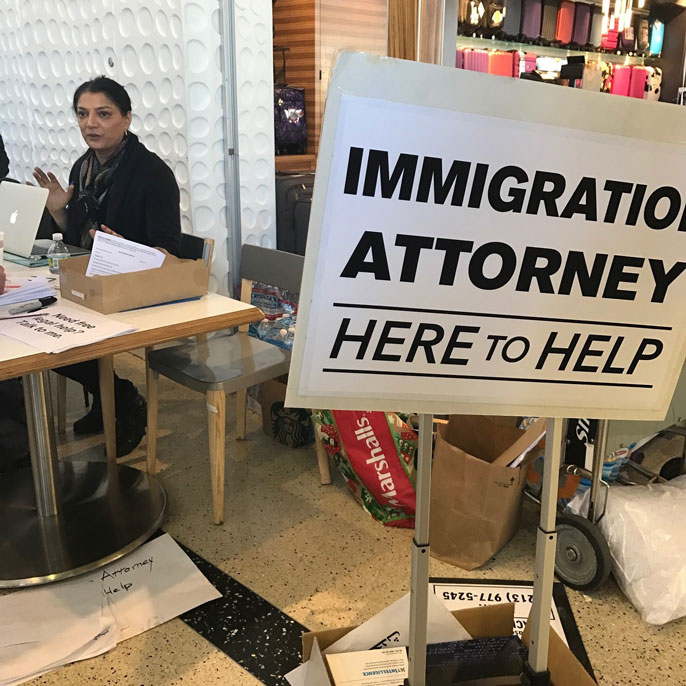 Civil Rights in the 21st Century
UC Public Service Law Conference
September 23–24, 2017
UCLA's Luskin Center, CA
When people look back at 2017, it will be clear that civil rights were at front and center in all of the most contentious public issues, from questions about executive power to debates over free speech and challenges to state voting laws.
University of California's law schools, and their world-renowned legal faculty and students, have been right in the thick of virtually all of these issues. When the Trump administration announced an immediate ban on people from six Muslim-majority countries entering the United States, for example, UC law students turned out by the dozens to assist immigration attorneys at airports.
In the months since that initial flurry, UC law students have continued to step into the fray, holding free legal clinics to help immigrants file for citizenship to working with the ACLU on a Supreme Court brief related to immigration.
And just last week, the University itself went to court on an issue of constitutional rights, suing in federal court to block the Trump administration from ending the Deferred Actions for Childhood Arrivals program (DACA), arguing that the decision was made without adequate due process.
UC's inaugural public service law conference
That's the backdrop as the University of California and its four law schools come together for their first combined public service law conference, to be held Sept. 23–24 at UCLA's Luskin Center and co-hosted by Continuing Education of the Bar (CEB).
The inaugural UC Public Service Law conference, with its theme of Civil Rights in the 21st Century, is expected to draw hundreds of lawyers and legal scholars from around the country, including leading voices from the law schools at Berkeley, Davis, Irvine and UCLA, together with students who plan to pursue careers in public interest law. Discussions will range from immigration and homelessness to water rights and veterans' issues.
UC President Janet Napolitano will provide the keynote address. The event couldn't be more timely, but it came about from a more foundational interest in helping law students pursue careers in public interest law, she said.
"Lawyers who serve the public interest can use the power of the law to promote positive change and strengthen our democracy, and we believe training the next generation of public service lawyers is now more important than ever," Napolitano said. "We hope to bring together a wide array of students, academics, and professionals and to inspire current law students and young lawyers to become leaders in advancing vital civic causes."
Napolitano last spring created a Public Service Law Fellowship program. It provides $4.5 million annually for promising students at UC's four law schools who are pursuing postgraduate work and summer positions related to public interest legal careers.
An annual public service law conference is a capstone event that all the fellows are invited to attend. UC brings together legal experts from across California and UC to network and share expertise, and help the law fellows build a supportive network of public interest lawyers.
Training the next generation of public service lawyers
Kelly Lake, the executive director of the Continuing Education of the Bar, which is co-hosting the event and providing continuing legal education credits to participants, said the event goes right to the heart of CEB's mission of public service and training the next generation of legal leaders.
"As our nation continues to evolve, lawyers and the legal profession are playing an increasingly important role in protecting civil rights and serving the public good," Lake said.