As classes kick off, UC students and advisers share secrets to succeeding in an unprecedented year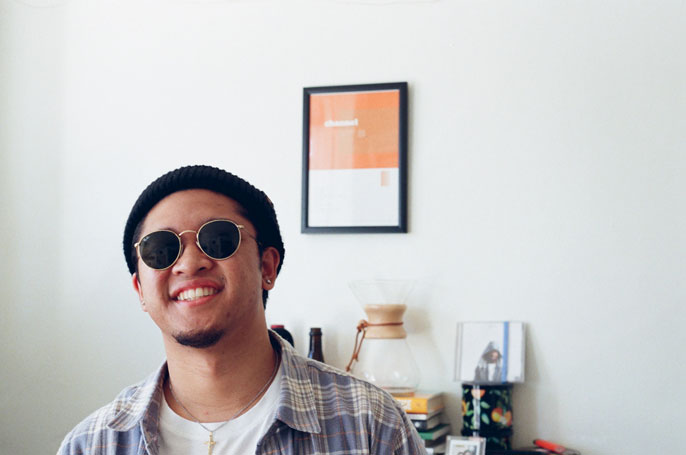 Remote learning resources to know about
UC Berkeley and UC Merced are committed to helping students succeed despite the pandemic.
Find resources for computer equipment and technology, financial aid, mental health, student activities, student success and more.
As fall semester begins, UC Merced student Keanu Velasquez is preparing for an exciting and challenging senior year — although one very different from what he would have imagined.
An avid dancer and performer who also works as a peer mentor, tour guide and a member of numerous clubs, the sociology major has had to shift gears with some of his pastimes and adapt as both classes and activities have moved online. Yet even in a remote environment, Velasquez has found plenty of ways to stay active in campus life and enable his creativity to flourish.
"My experience as a student has been about: how can I maximize my opportunities at UC?" said Velasquez. "And that hasn't changed." While dance productions are on hold, he's taken up a new art form: photography. This summer, working from the Bay Area bedroom he shares with two siblings, he continued his work as a peer mentor, helping freshmen and transfer students get a taste of campus life — albeit from their computer screens.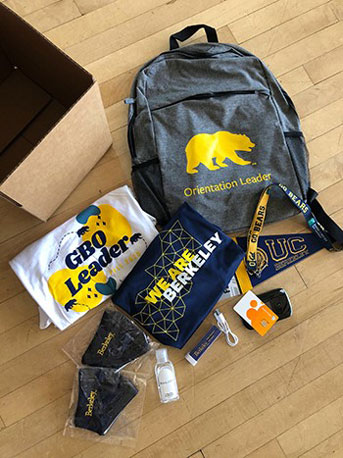 His advice: College this year may be different, but opportunities for learning, self-discovery and friendship abound.
"I'm trying things I didn't have time to do before because I've always been so busy. I'm thinking about what I really value, and where I want to take those values," he said. "I don't know what's ahead, and it can be nerve-wracking. But I'm focused on making this a great year at UC Merced, and enjoying every last moment."
As UC Merced and UC Berkeley kicked off classes this week with remote instruction (with the rest of the UC campuses to begin instruction in late September, in various remote and hybrid forms), officials have worked hard to ensure that the core aspects of a college experience — not only robust academics, but opportunities to socialize, pursue arts and athletics, participate in community service, build networks and have fun — are as available as ever.
One thing all incoming students should take heart in: This year, everyone's a newcomer.
This unprecedented learning environment is a new experience for the most seasoned faculty members just as it is for students taking their first UC class, said Stephanie Garcia, coordinator of the Success Mentor Program at UC Merced.
"We may not all be in the same boat, but we're in the same storm. And we're drawing on our strengths and our ability to support one another," she said. "Our students are going to come out of this year so much stronger, both as individuals and as scholars."
As the school year kicks off, Velasquez and Garcia and other UC advisers had tips for making the most of an unprecedented year.
Prepare your learning space — wherever it is
As students log onto classes from couches and bedrooms across the country, they are coming from a wide variety of environments — some better suited to learning than others.
Incoming UC Merced student Christopher Arroyo, for example, shares a Bakersfield apartment with his mom and four siblings. "The place is full of distractions: my mom cooking and cleaning, the TV running. I find playing white noise is really helpful. If I have to study, I find the one room that's quiet, or even go outside to read books. It's all about finding a space with the least distractions."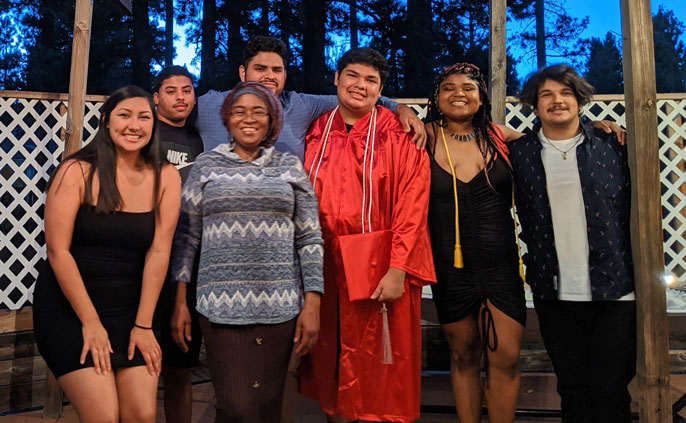 "Students may live in crowded or chaotic households, and may not have lots of space to themselves," Garcia said. Yet there are still things students can do to be school-ready and set themselves up so they're ready to learn.
If you can, she said, find a go-to place to study — and communicate to your housemates the time and the space you need.
Especially for first-generation college students, parents may not be aware that, unlike high school, college classes can be held into the evening — and studying can stretch late into the night.
Students can help their families understand these commitments, said Garcia.
"Write out your schedule and put it on the fridge, and put up a 'Do not disturb' sign when you're studying. Make sure your family understands: I have class during this time and can't take care of my little sister. I will gladly watch her after 6 p.m."
And remember, many other students — and even many faculty members — are dealing with similar challenges. "I've had times where family members came into my room during a meeting," Velasquez said. "Even if I don't have a private area, I try to keep a space where only I work. And I don't play video games in the same place I study."
Students who lack reliable computers, high-speed internet, or other virtual learning necessities can plug into programs to hook them up with the tech they need. UC Berkeley's Student Technology Equity program provides students free loaner laptops, WiFi hotspots and peripherals; UC Merced students can request equipment through the Technology Resources Program or get grants to purchase it through the financial aid office.
Don't log out once class is over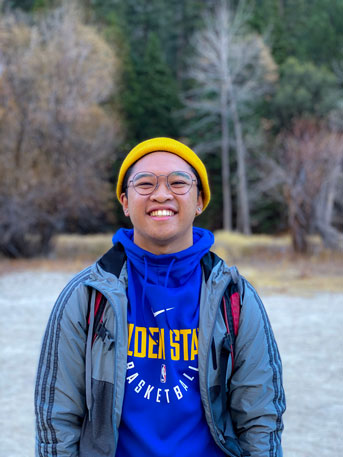 College is about so much more than classes. Though students may not be tabling on Sproul Plaza or the Merced green, the same dizzying array of clubs, events and organizations can be found at UC Merced's and UC Berkeley's online campus life hubs.
"Don't let your passions become your side project, especially now that you're at home," Velasquez advised. "That's part of your identity. Maybe it's why you made it to college."
From culture and dance to academics and community service, student clubs can be found for every interest. UC Merced's Catlife and UC Berkeley's Callink are places to start for events and activities from comedy shows to fraternity and sorority recruitment.
And while in-person gatherings may be off-limits, campuses are hosting all manner of virtual parties and meetups to foster the friendships and fun that are an important part of college life.
At UC Berkeley's Golden Bears Orientation last week, a team of 500 orientation advisers served as tour guides through "Blockeley University," a Minecraft-inspired virtual recreation of the campus, from Sproul Hall to the Campanile. The packed week of activities was focused on creating a tight-knit community among classmates many miles and even time zones apart.
It's our job not only to help students navigate the college experience, but to help them find the people to navigate it with, said Micki Antovich, director of Golden Bears Orientation. "Students don't just learn from their teachers, they learn from each other, from the people they meet, and the things they do together. That's how they process information. That's how they come up with all these great ideas to change the world."
Get good at virtual schmoozing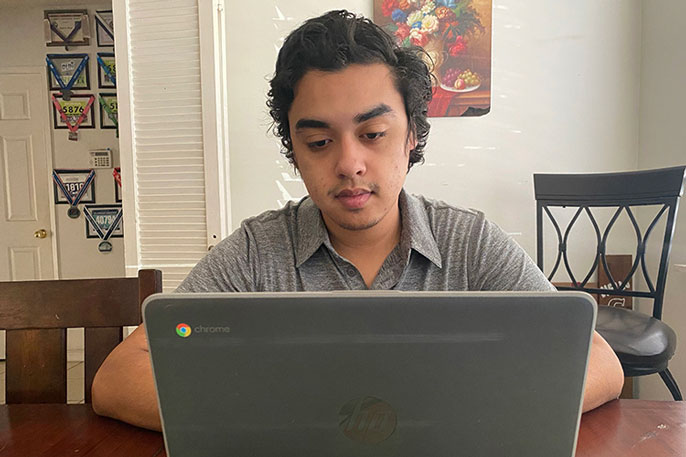 Just like stepping up to meet new people in person, figuring out how to reach out virtually is a skill that takes time — and a little courage — to build. But the payoff is worth it.
Turn on your laptop's camera if you can. Even if not, reach out through chat, suggests Velasquez. In class, if somebody brings up something that interests you, drop them a message to further the discussion.
And, tempting as it can be to log off after class is over, go to the trivia nights, the bake-offs and Netflix parties.
Arroyo went to a karaoke night and ended up connecting with Andrea, a fellow student, about a song they both loved. Another student, Mayra, was having trouble with a paper and messaged him to see if he wanted to join a study group. Now the trio are studying and going to events together.
"I was surprised how quickly we clicked and made that bond because it takes me a long time to make connections," he said. "I already know these are people who I'm really going to be able to count on in the coming year."
Get to know your professors — and their dogs
Going to office hours has always topped the list of how to get the most out of a college education. Making those connections may be even more valuable during the period of remote instruction — and will really pay off when it comes to opening doors to research and other opportunities once in-person classes resume.
Showing up at office hours doesn't even require a walk across campus — professors' offices are just a Zoom link away.
Anthony Garrison-Engbrecht, UC Merced senior adviser and chief of staff for student affairs, notes how remote learning has broken down some barriers that can make faculty seem unapproachable.
"The big halls, the ornate buildings can be intimidating if they're unfamiliar," he said. "Even the layout of the classroom is hierarchical. With Zoom, everybody's the same-sized square.
And, he added, "It's humanizing to hear a faculty member's dog barking or see their kid wandering into the frame. We see that we're all in this together."
Plug into critical resources — and know where to go for help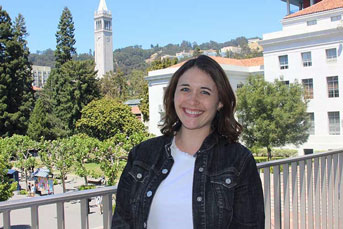 Mental health centers, tutoring and academic support, peer mentorship, financial aid and hardship assistance — all are available and open for business. Contact your student life office for help.
If you need assistance, reach out. You'll find a host of people dedicated to your support. "Nobody gets through college entirely on their own — and especially not this year," Antovich said.
Students may not be living close to campus, so UC has made some services available across the system. Basic needs centers, for example, are open to any UC student or community member — so students who need it can pick up food and essential items at whichever campus is closest to them. Libraries are also available to check out materials through self-checkout kiosks or curbside pickup. UC is looking to establish opportunities for students to do local community service through a campus near them.
Remember this isn't forever
The experiences, connections and study habits that you establish this year will form a powerful foundation to build on when you get to campus.
A year unlike any other will also create a class of students unlike any other: one that is known for its ability to adapt and thrive under challenging and changing circumstances.
As California copes with not just the effects of the pandemic, but wildfires and widespread social unrest, this year's freshmen and transfer students enter a different type of university: one in which thriving depends less on competing to be the best and more on working together in a community of mutual support.
"Our UC students are so well-primed for this. They are some of the brightest, most creative, most innovative young people in the nation, and they have the opportunity to co-create their learning experience with us," said Garrison-Engbrecht.
"This will be a defining moment that really speaks to their resilience and courage. And when these students graduate, the world better watch out!"
---
Remote learning resources to know about
Computer equipment and tech support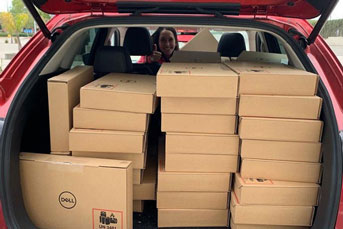 Laptops, WiFi and other tech gear
Resources for navigating digital learning platforms
Clubs and student life
Success and wellness
Food and other basic needs
Students can access emergency food aid at any UC campus. Contact your campus basic needs office to learn more.
COVID-related financial aid needs
Returning safely to campus