May 11, 2021
Nicole Freeling
,
UC Newsroom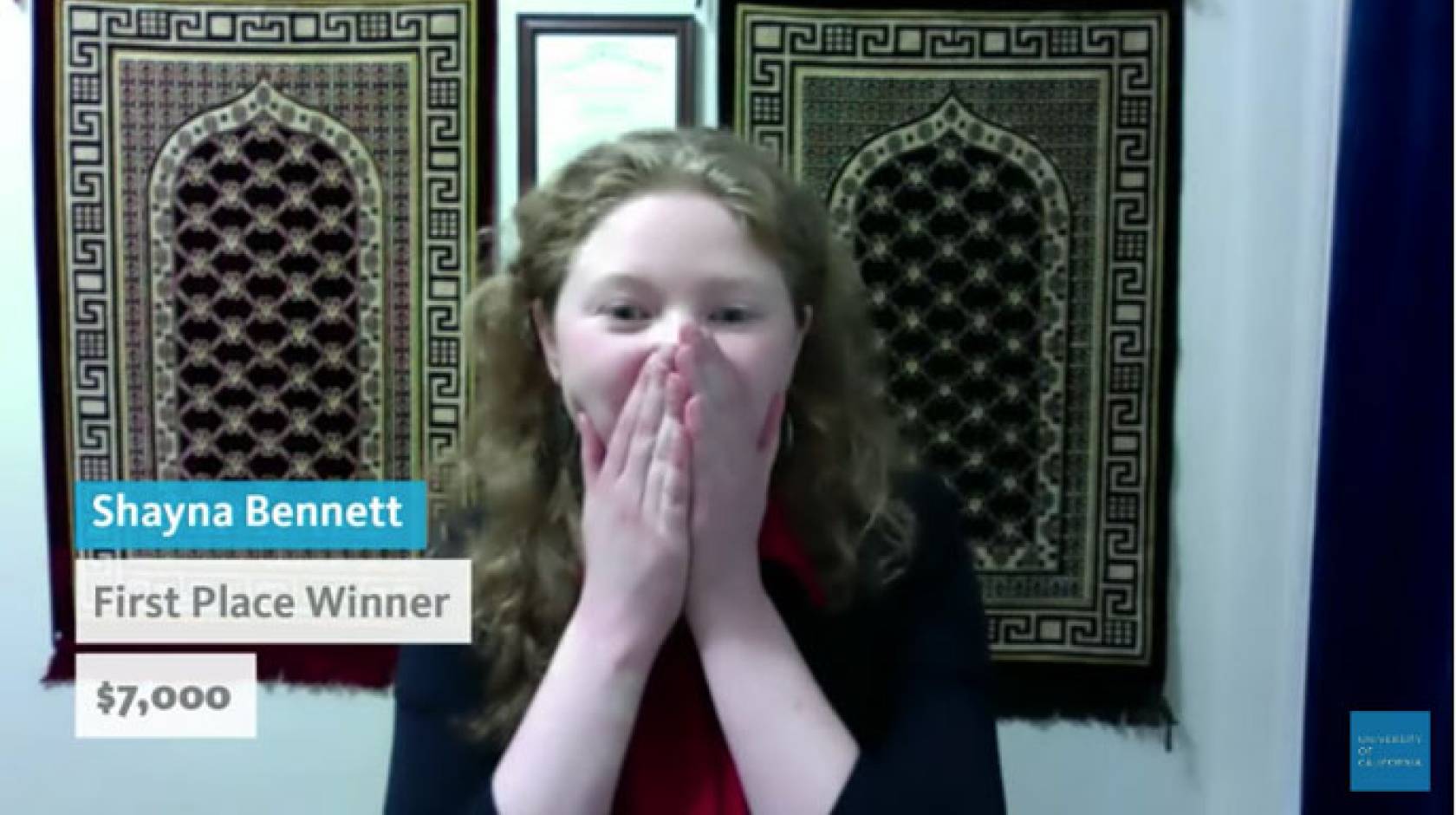 Credit: University of California
Invasive species arrive in California every six weeks, costing California $80 million a year and causing untold damage to crops and ecosystems. But UC Merced grad student Shayna Bennett believes she can halt these unwanted invaders with simple (and not so simple) math.
Her quick talk on how she is doing just that earned her the systemwide title at UC's sixth annual Grad Slam on Friday, May 7. Contestants have just three minutes to sum up their research, and are judged on being engaging, concise, and able to convey why their work matters.
Bennett described how species arrive by hitching a ride on trucks or boats, then quickly spread through the environment, wreaking havoc on local flora and fauna.
"What if we could predict and contain them?" Bennett asked. "If you're a farmer, my model can help you protect your crops by letting you know which are at risk. If you're an environmental agency, my model can help you predict which containment strategy is most effective."
The applied mathematics graduate student, a fourth-year, joined a talented array of other Ph.D. candidates, all of whom had won the Grad Slam contest at their individual UC campuses, competing to entertain and enlighten the public with their research. Their work spanned fields as diverse as music and metabolic biology,
UC Riverside music Ph.D. student Eric Johns presented research about the African roots of Argentine tango and how popular Black performers and their music have been erased from music history, replaced with recordings by white, European-style orchestras. UC Davis researcher Amelia Munson discussed how carefully introducing stresses and challenges to protected fish species could help them adapt and thrive in the wild. (Hear each of the finalists' talks by clicking the link or watching below.)
But it was Bennett's talk that triumphed in wowing the judges, a distinguished panel that included Cal Matters publisher Marcia Parker, opera singer and chorale leader Alexander Taite, UC Board of Regents vice chair Cecilia Estolano, LinkedIn senior director of community development Katie Ferrick and Alan Sachs, chief scientific officer at Thermo Fisher Scientific, whose company provided funding for the award money.
"This has been a dream since I first heard about this contest," said an ecstatic Bennett, who spent years perfecting her winning presentation. She first participated in Grad Slam in 2019, finishing in the top 10. She was a runner-up in the 2020 contest before snagging first-place in UC Merced's contest a few weeks ago. As the UC-wide winner, she received $7,000 in prize money and the coveted systemwide trophy, the "Slammy."
"You can have amazing research, you can know how to break it down, but if you're not passionate, there's no magic."
"When I first decided to participate, I didn't know where to start," she said. "How do I take something that is very technical and that I think about every day, and pull out the details of what's interesting to people outside the field?"
Over time and many, many hours of practice, she learned how to break down difficult concepts into terms anyone could relate to and understand. Her best tip: Let the love of the work shine through. "You can have amazing research, you can know how to break it down, but if you're not passionate, there's no magic."
"I try to explain the math visually and connect it to things we see in everyday life, like how it looks when you put dye in water," Bennett said. "When you do it well, people don't think you're connecting the dots for them; they feel like they are making the connections themselves. They get to experience that sense of excitement and discovery."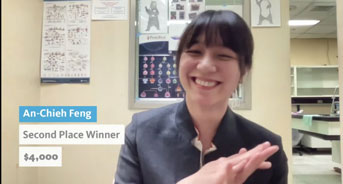 Joining her in taking home prizes were UCLA's An-Chieh Feng, who described the therapeutic possibilities in harnessing regions of DNA once thought to be useless, and UC Berkeley's Adélaïde Bernard, with a talk on why it's so hard to lose weight, and how antennas in our neurons work to control appetite.
The audience also had a chance to weigh in and vote for their favorite speaker. UC Santa Barbara grad student Logan Kozal claimed the People's Choice Prize. Her research focused on ways to help marine aquaculture species like mussels adapt to heatwaves and climate change.
"I want to go into education, so being able to communicate what I do is really important to me," Kozal said. A fifth-year Ph.D. student in ecology, evolution and marine biology, she plans to stay at UC Santa Barbara next year to complete her credential in K-12 teaching.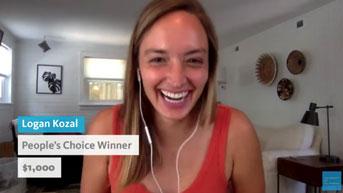 "I took a lot of lessons from how everyone else told their stories," said Kozal. In this year of pandemic isolation, it has been especially valuable to connect with people outside of her own research sphere — and her own living room.
"It's been incredible to hear about the work other graduate students are doing," she said. "You see how much stronger research is when people can find space to communicate with one another and connect and share their resources."