The UC community shares their stories of a year of hardship, courage and resilience
As we mark a full year since the global pandemic upended all of our lives, we asked members of the UC community to share their reflections on how these past months have changed them, and what will stay with them about this unprecedented time in the years to come.
The picture that emerges is one of hardship, courage, gratitude and resilience. For many of us, the last 12 months have meant long hours and rising to meet new challenges with our teammates, families, communities and bubbles. We helped support others in their grief and were helped by others when grief came home to us. We found new strengths in loneliness and formed new practices and bonds to ward off despair.
Now, as we begin to see a little light at the end of the tunnel, here in their own voices, members of UC's community look back on a year like no other.
On never falling off the treadmill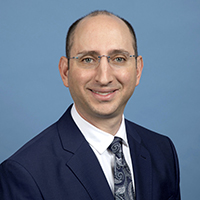 In the early days of 2020, two doctors, Daniel Uslan and Annabelle de St. Maurice, had already begun preparations with their colleagues in the command center at UCLA Health for the looming pandemic. As clinical chief of infectious diseases and co-chief infection prevention officer at UCLA Health, Dr. Uslan was working alongside Dr. de St. Maurice, pediatric infection control lead and co-chief infection prevention officer, nearly every waking moment. Their work spanned planning for patients, emergency preparedness, communications, and more.
Dr. Uslan:
"By the time California shut down non-essential businesses, I had already been working on COVID-19 for several weeks and my day-to-day life had already been thrown into chaos. In the early days I hoped, perhaps naively, that we would all hunker down for a few months and then the crisis would pass us by."
As more information became available, that hope dimmed.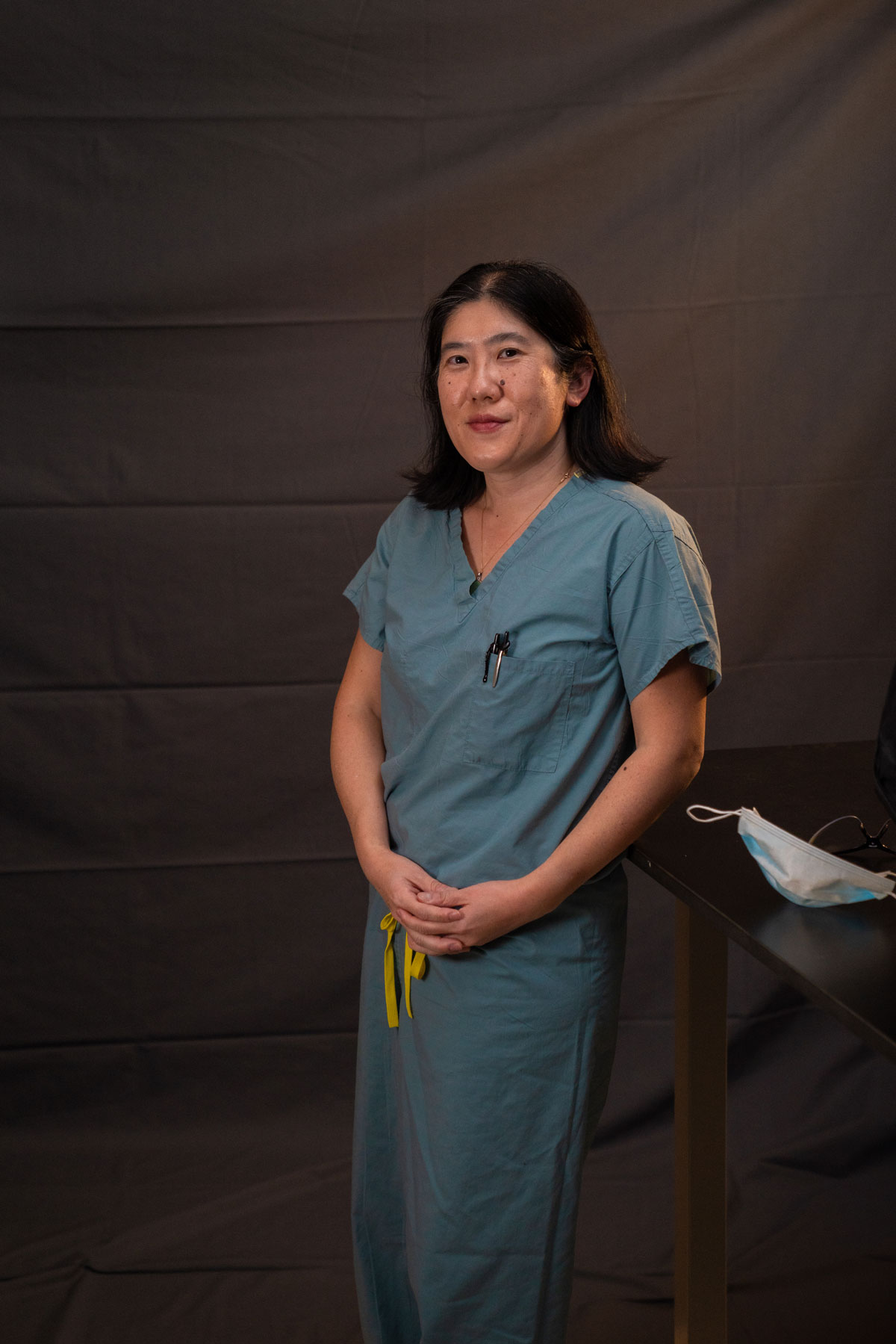 Dr. Tisha Wang put her entire life on hold when the pandemic hit — as the person overseeing pulmonary and critical care faculty and trainees for UCLA Health, she had no other option. It was clear, early on, that protecting health care workers from infection would be absolutely vital for saving the lives of the critically ill patients showing up at the hospital.
She describes those last three weeks of March 2020 as the worst three weeks of her career. Protecting the workforce, so they could protect the critically ill, was a heavy burden to carry. And as we know, that burden was carried for far longer than those three weeks (Dr. Wang speaks about the difficult experiences of saying goodbye to patients during the COVID-19 pandemic, here). Dr. Wang:
"We wondered if it was ever going to end — the deaths, the grieving, the suffering, the stress and anxiety compounded by the social isolation. In our minds, how could this possibly go on for months to years? I felt like I was constantly running on a treadmill and close to running out of steam. To my disbelief, after 9 months of running, the speed of the treadmill was turned up by 50 percent when Los Angeles became the epicenter of the pandemic. I had no choice but to keep running, but was I going to fall off?
"What have I learned? This is actually a team-based marathon. I was never going to fall off of that treadmill. Someone was going to come along and tag me out and let me breathe and rest for a moment. And as soon as I got some water and air, I was going to jump back on and do the same for them."
Now there is time, and hope, we can address this situation better in the future. Dr. de St. Maurice has begun to reflect:
"The pandemic has taught us many lessons about preparedness and health equity, among other things. What can we do better in the future to prevent pandemics like this from occurring? What modifications have we made in our lives as a result of the pandemic that are positive and how can we continue these in the future? What health care inequities have intensified as a result of the pandemic and how can we work to improve those inequities?
"In the past many physicians and health care workers would work when they weren't feeling well and I think that will change going forward."
On living in a bubble year
Steven Pease has been working part-time at home in his capacity in IT asset management, in a bubble with his wife, their children and her parents, one of whom, her father, passed just before turning 100 in October. Planning the funeral and sharing mourning in the pandemic was challenging, an experience shared by many. Still, Pease felt gratitude for his connection to his family.
"To be certain, some of this will go down in our collective memories as the worst of times. That said, to have been locked up in our little 'bubble' together; forced to navigate together uncertain and new waters, but to get to do so with someone I love was in some ways very, very special. I believe that someday I'll look back on this time and see it as some of the best."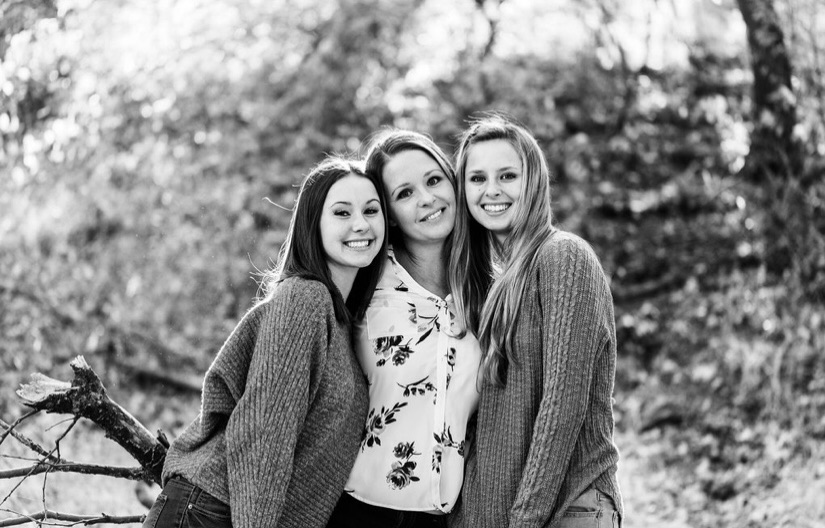 Valerie Simmermaker has been working remotely for the UCPath Center near Riverside and finding silver linings in the pandemic as a single mom.
"I would say for us the stay at home order — working and schooling from home has ultimately been really good for us. I have always been a single parent and my children were used to coming home from school alone, and helping with chores and cooking, sometimes even doing grocery shopping while I worked. This has allowed us to really bond, I am finally able to help them with school work and we eat dinner before 7 p.m., we have really gotten close during this time together."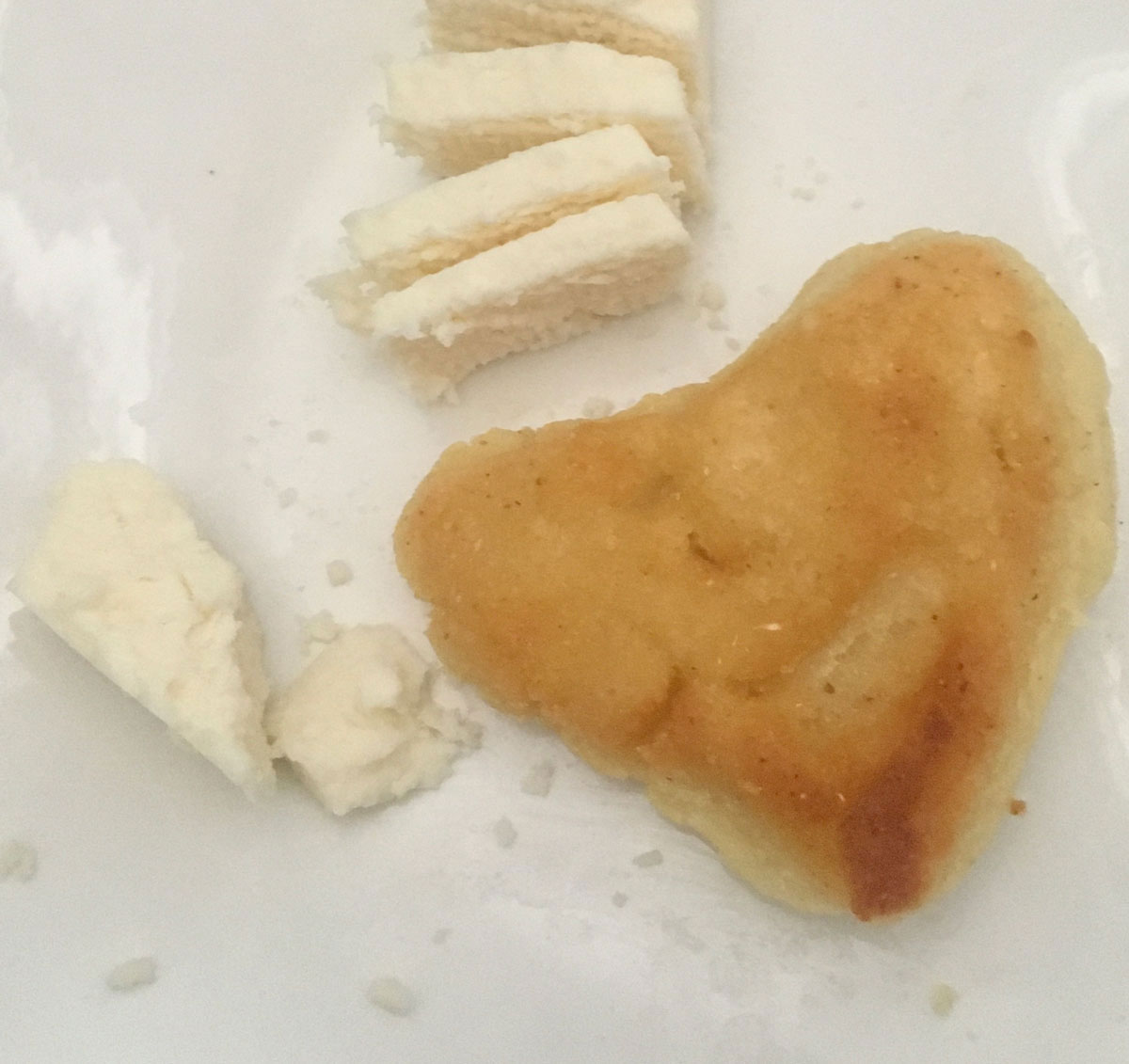 Darlene Alvarez at the UC Retirement Administration Service Center (RASC) has had similar experiences with her children, trying to juggle work and keep her children motivated and focused on their school work. One thing that has helped is carving out 30 minutes a day to read for pleasure or dance along to music videos (current favorite is "Levitating" by Dua Lipa featuring DaBaby)!
"Another way we cope with challenges is through creative expression. For instance, we've made parols (Filipino Christmas ornamental lanterns) and foam mosaic art. We're also making more homemade dishes, like arepas (Venezuelan cornmeal cakes)."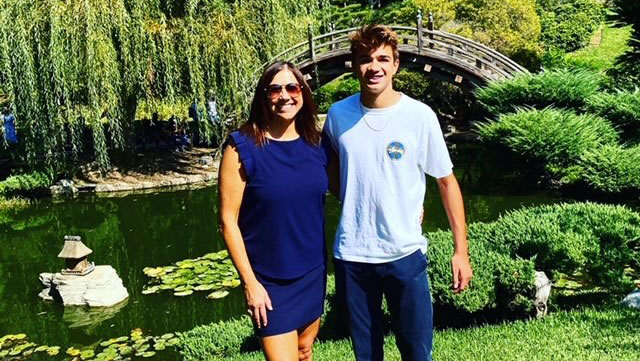 Helping to guide our kids through the pandemic hasn't been easy. Jennifer Mushinskie, a senior communications officer/interim operations liaison at the UCPath Center in Riverside and her son grappled with the loss of high school experiences you can't get back, while still dealing with the social anxieties that are rampant in the teen years.
"It's heartbreaking to see a screen with 30 kids and only the teacher is on video. The kids aren't required to be on camera, per the district, so the teachers are frustrated, and the kids won't go on camera. I have tried to get him on video but he won't – saying "Mom, that's embarrassing if I go on and no one else does.
"Waiting has been exhausting on the kids mentally and physically. It's been a rough road. Our kids witnessed area businesses and mall parking lots filled with cars and shoppers, but they weren't allowed to play in a high school football game or another type of school sport. We watched the Superbowl, with fans in the stadium, but our children in California weren't in school or on the field. My son was so frustrated with this and it broke my heart. I'm grateful things are starting to get better."
For Annette Dwyer, an accounts receivable associate at UCPath in Riverside, the pandemic brought her husband to her, then took him away, before returning him again.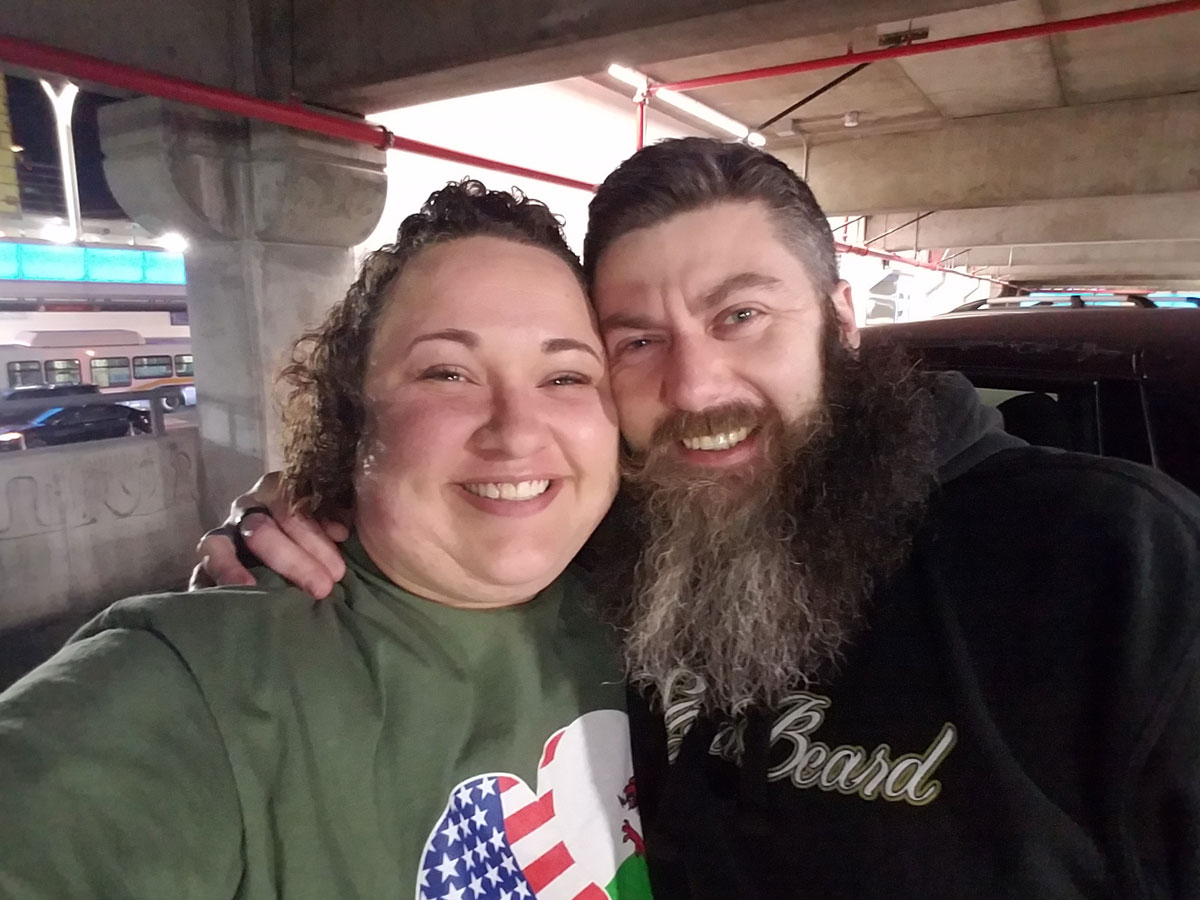 "I married my Welsh boyfriend in July 2019, and had barely started the immigration process for my husband in January 2020, which was expected to take 12-18 months. We planned to pass the time with short visits. He was scheduled to visit in March 2020 to spend time with us during spring break, and for us to have a mini-honeymoon of sorts. That all changed when the executive order was issued on international travel to the U.S. (He barely made it on the plane and through customs thanks to a photocopy of my passport.) He was locked down with us in March, 'getting stuck' here for almost four months. We were devastated when my husband was called back to work and had to return to the U.K. in July. We did not know when we would get to see him again and hoped his immigration interview would be soon. (At that point, we were waiting to hear from the embassy.) He ended up receiving his interview in August and his immigrant visa was approved within an unheard of seven-month timeline. He immigrated here at the very end of August."
On finding strength in community/new families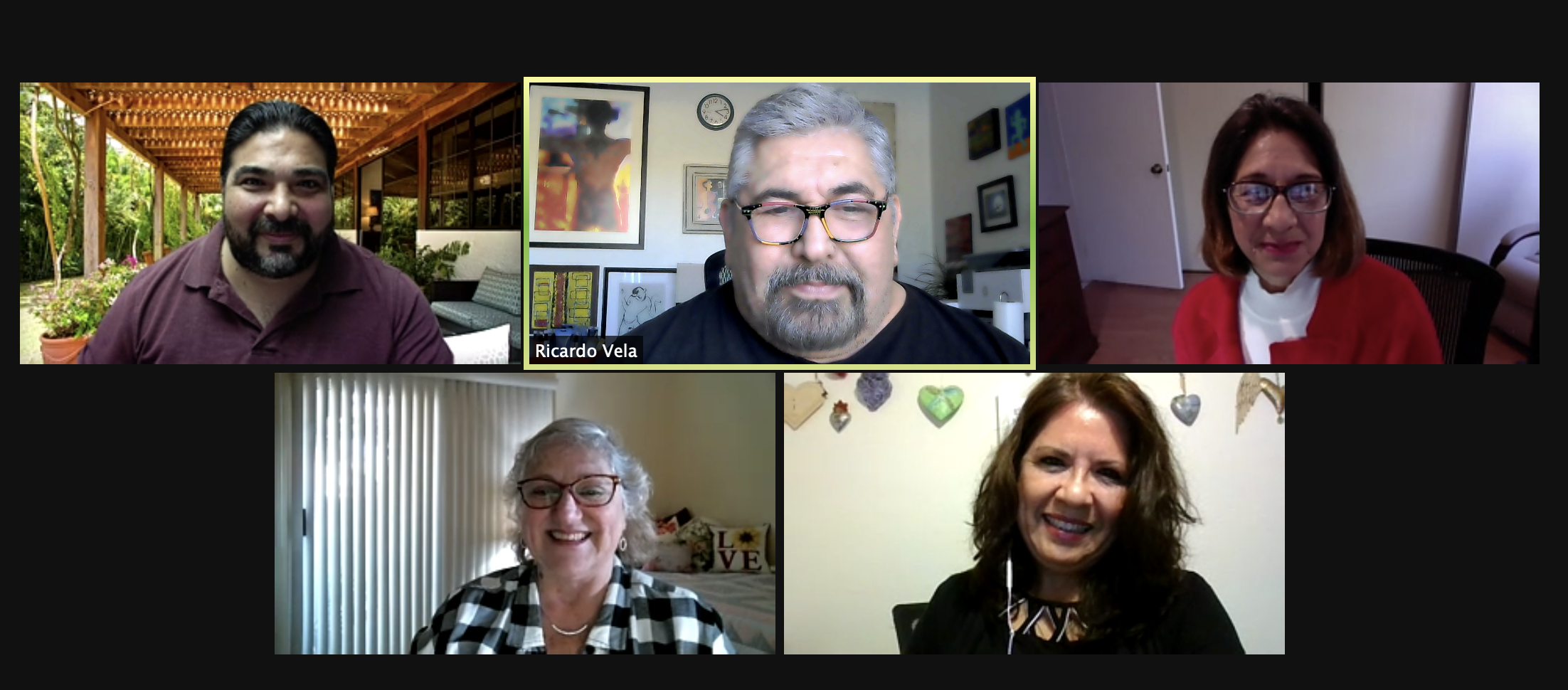 Ricardo Vela, who leads Spanish language news and outreach for UC's Agriculture and Natural Resources division, has seen the pandemic turn his co-workers into family, the result of the intense bonds developed as they helped each other through the crisis. Several of his family members fell seriously ill with COVID-19, but recovered. Some of his colleagues were not so fortunate, and he and his team struggled through those moments together.
"As a team, during the pandemic, we have grown closer together. Even when we have not been in the same place for over a year, we pushed each other to think outside the box to accomplish our work's goals. We did better than ever before.
"But despite our success we fell at times into depression and anxiety, for days. When one of my staffers lost her father, we fell into despair, wondering "who is next?" We saw how personal the pandemic could get. It stopped being another headline and became real and painful.
"We shared tears of despair, impotence, and at times of joy! As a team, we pulled it together, we stopped being co-workers, and we became a family.
"A year after, I can say we are stronger, resilient. We learned that distance is only a click away, that we can express that love in many ways. We are ready to face the 'new normal.'"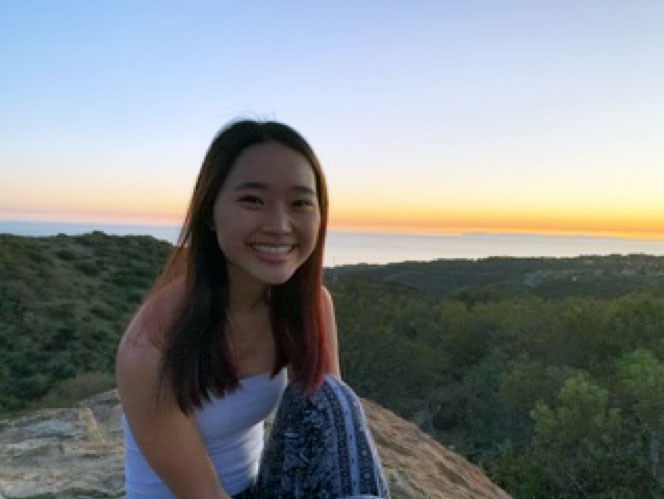 Azure Otani, a second-year business administration major at UC Riverside, felt "scared, lonely and claustrophobic" when the pandemic began. To cope, she pushed herself to become more (virtually) involved on campus — and in doing so, found a new sense of community. Today she holds officer positions in several student groups and has even mentored freshmen via text message.
"When the virus basically shut down the world at the snap of a finger, I thought I wasn't going to be able to accomplish anything. Instead, I've been able to teach and learn from other people, and help bring meaning to their lives, just like they've brought to mine. I've never met any of them in person, but I know that many of them would have my back. I feel a true sense of community and am grateful for what I've learned in the process — what I value, how I like to work and the importance of taking time to reflect.
"I will forever be more conscious of the people around me — whether that is recognizing that I don't know what others are going through or keeping my mask on when I'm sick. Life is extremely short and we don't know when we're going to lose everything we have. I know how important it is to spend my time with loved ones and reach out to give back as much as I can."
On embracing change — and science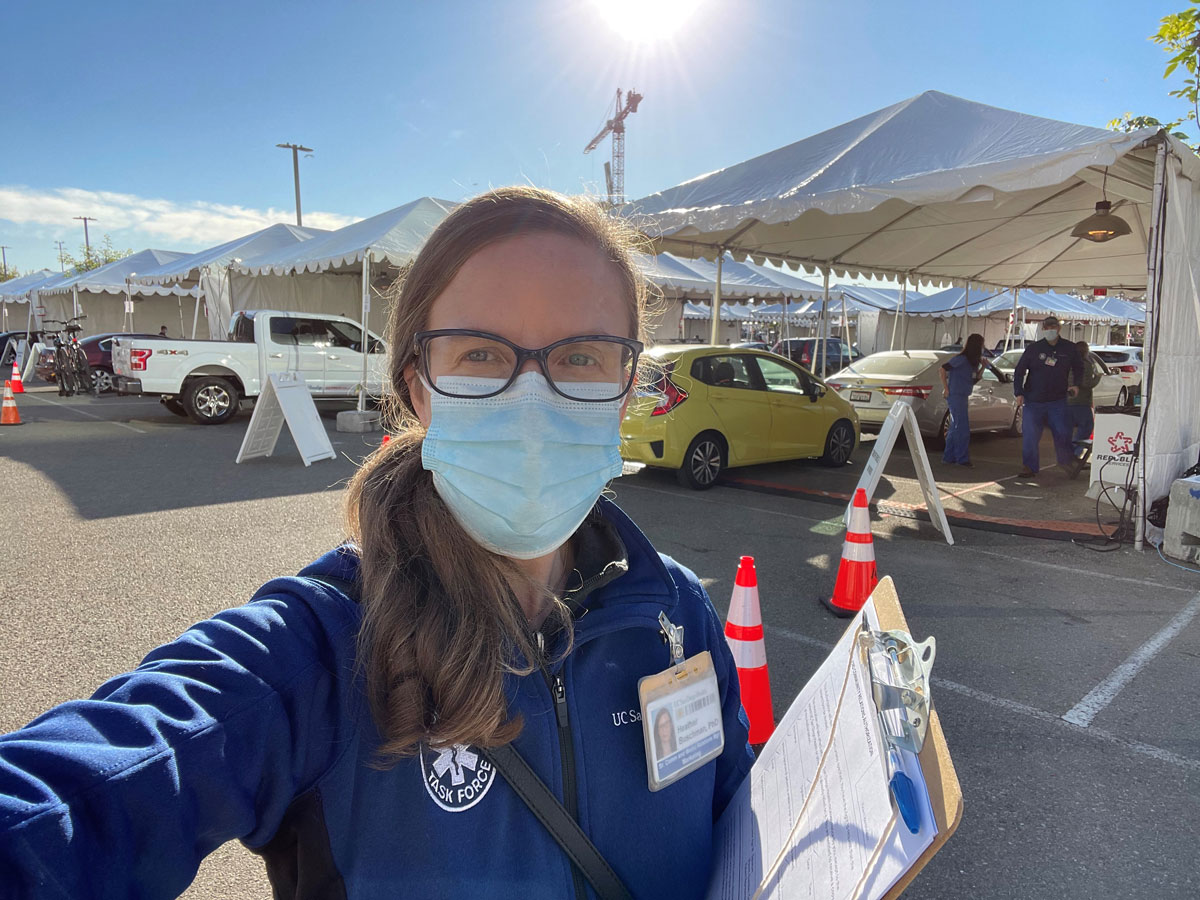 Heather Buschman, Ph.D., is assistant director of Communications and Media Relations at UC San Diego Health and an instructor at UC San Diego Extension. Since the start of the pandemic, her team has shared scientists' stories and fact-based public information. She also volunteered at a vaccination site. From her unique perspective, Buschman has seen the magnitude of the pandemic, and the remarkable strides we've made.
"I was in my office when I heard that schools were closing. I ran to tell a coworker and choked with emotion over the gravity of the situation. For more than a month, I'd been serving shifts as a public information officer in our incident command center, which activated to manage coronavirus patient care and protect health care workers. But until then the pandemic hadn't really affected my family.
"Until they arrived at UC San Diego Health, I never believed we'd have COVID-19 vaccines by early 2021 — and yet here we are, administering multiple, highly effective vaccines since late 2020. I'm blown away by what the scientific community has accomplished with so many people working together, focused on a single problem, with appropriate funding. I'm proud to tell scientists' stories and play a small part in distributing vaccines to our community. It's truly historic."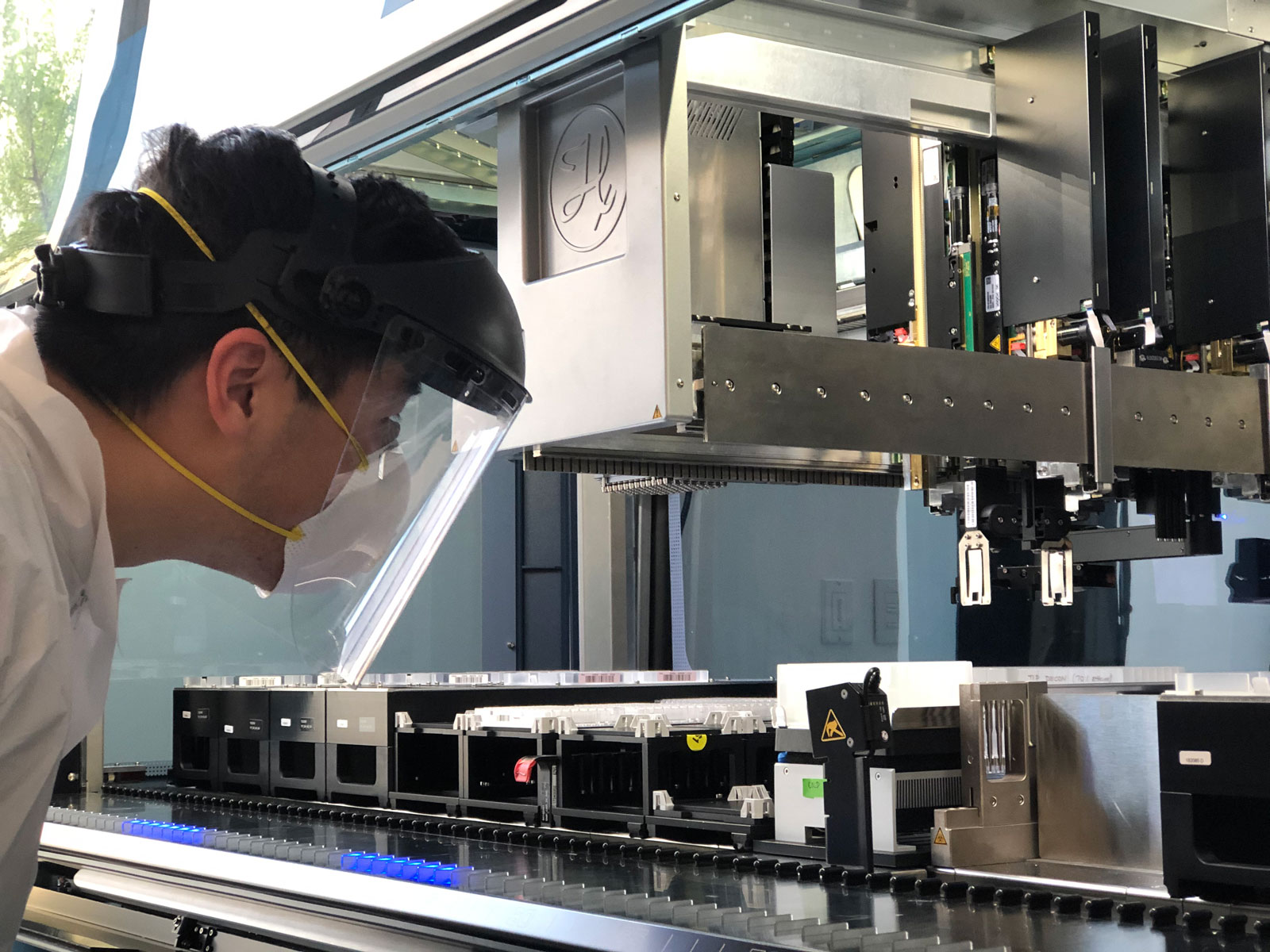 Connor Tsuchida is a graduate student in Jennifer Doudna's lab at UC Berkeley, working on research related to the gene-editing technology known as CRISPR. When the pandemic hit, he and his colleagues at the Innovative Genomics Institute put aside their regular research to stand up a COVID rapid-results testing lab to meet the urgent need for COVID diagnoses. The transition from one new frontier of science to another wasn't easy.
"For a [disease] testing lab, the concepts are not the same as genetic engineering, but the skills and technology you use is similar. We knew some of the techniques and protocols of diagnostic testing, and we were familiar with the equipment. That gave us a leg up so we weren't starting from zero.
"One of the best things has been the opportunity to work with professionals from other fields: volunteer physicians from UC Berkeley's student health center, people from public health — it's a multi-disciplinary, team endeavor.
"For me, it's also been a lesson in setting something up and then being okay with transitioning it to other people. There's a controlling nature with research that if you are going to do it right, you need to do it yourself. It's a good experience to hand off what you helped establish and see it take on a life of its own."
Another bright spot: Tsuchida's work in biomedical research now seems more vital than ever — and not only to those in the field.
There was so much work done in science and research before the pandemic that we absolutely were able to build upon when developing therapies and vaccines for COVID-19. I hope this will bring home the importance of that research and encourage everyone to support putting money into science.
Teresa Andrews, M.S., is an education and outreach specialist at the Western Center for Agricultural Health and Safety at UC Davis, focusing on the workplace health and safety of farmworkers. Before the pandemic, Andrews and her team hosted in-person trainings for farmworkers and employers across California. COVID-19 forced them to reinvent their approach while maintaining connections with agricultural communities.
"We adapted our interactive activities to a virtual platform and started learning all we could about what farmworkers needed to know about COVID-19 and how employers could reduce workplace infections. Our goal was to be a resource, alleviate fears and empower workers and employers with the knowledge they needed to operate within this new reality.
"Since then, we've mastered the use of technology to fill the gap and stay connected. We offer more presentations and workshops than ever before and are reaching more people throughout our region, connecting with workers wherever they are. It brings me satisfaction to counter fears with science; to help explain concepts that can seem abstract to people — what a virus is, how your body responds, and what you can do to reduce the risk of infection — in language that's easy to understand."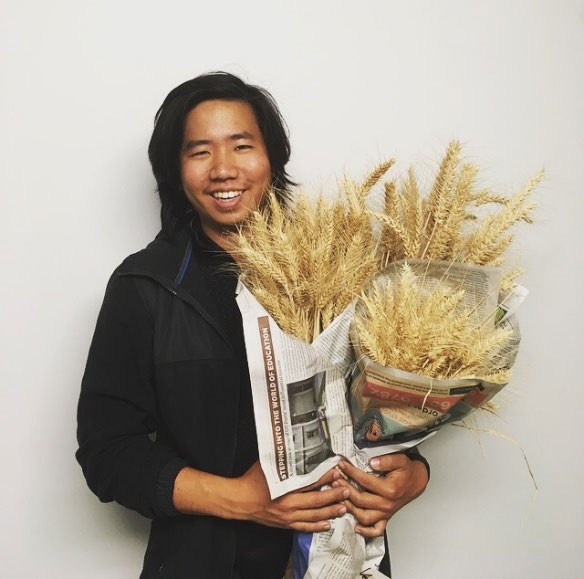 Paul Kasemsap, an international student from Thailand, stayed close to campus partially to care for the plants he studies. But he also found himself drawn to the local Davis community, volunteering with the food bank to bring groceries to those most at-risk for COVID-19, so they didn't have to risk trips to the store.
"After this is over, I hope we continue to take care of and check in with each other. I had indeed been taking in-person interactions and small talk for granted. But the pandemic showed me how powerful a role social support plays in our life. I hope we continue to tell our loved ones how much we love them and appreciate their support. Don't wait until the next pandemic!"
Aaron Zachmeier, UCSC Online Education instructional designer, helped hundreds of faculty put their classes online virtually overnight.
"Before the pandemic, the unit I'm in, Online Education, worked with a relatively small number of faculty on online and hybrid courses. We were kind of a boutique unit. When the shut-down happened, we started working with people all over campus.
"My colleagues and I created all sorts of resources to help with the transition to remote teaching and learning and remote working: workshops, self-paced courses, videos, text tutorials, checklists, infographics.
"We had a chat/discussion space that we opened up to all staff and faculty for the pandemic, and it has now become a lively place that spans departments and administrative units. People ask questions and have conversations about technology, teaching, and policy. Those conversations will continue.
"All of those people who started working together to facilitate the transition to remote are still talking regularly. They'll keep talking. That's a wonderful change."
On improvising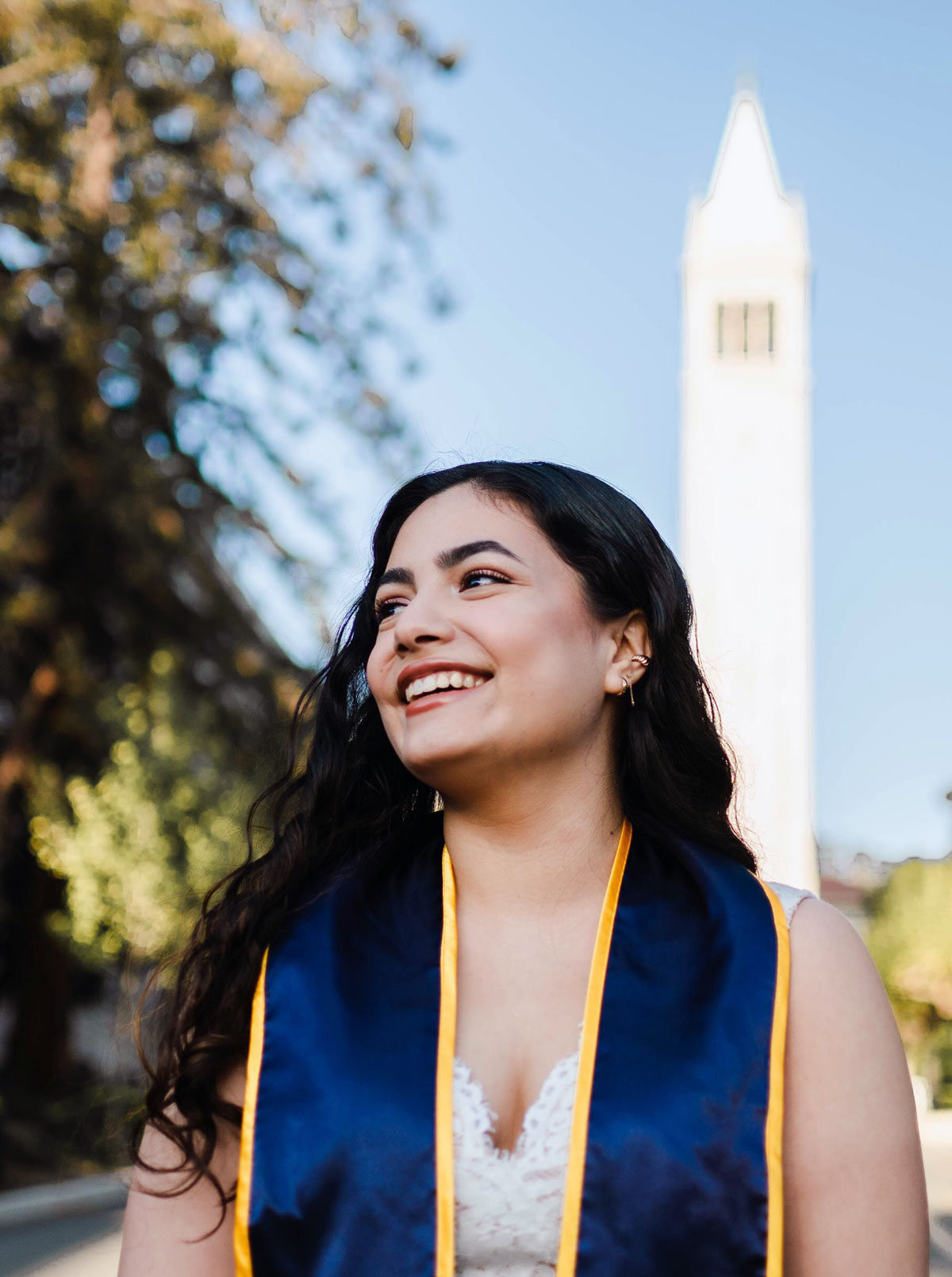 Frida Hernandez is a Class of 2020 UC Berkeley grad. As the first in her family to graduate from college, she was looking forward to celebrating her big day with her family. While a virtual graduation wasn't what she had hoped for, she was still able to share her accomplishments alongside her family at home in San Diego.
"Graduating in the middle of a pandemic as a first-gen student was tough because I felt the pressure to have my next steps all figured out to make my family proud. I have two younger siblings who are currently in high school, so I wanted to set a good example for them. Luckily, I was able to find a job in my field and I am so grateful I did. Landing my first full-time job in the middle of a pandemic gave me a new perspective on life because I was thankful to find some stability amidst all the chaos. I've really enjoyed spending time with my family (in my household) during this time. I moved back in with them after graduation and I'm grateful we have each other during these difficult times.
"As we begin to resume 'normal' life, I will live my life with more intention and gratitude. I hope to make up for all the celebrations I missed out on during this past year, such as my college graduation and numerous birthdays."
In normal times, UC Santa Barbara's Saameh Solaimani works as an early education specialist at the campus child care center. When the pandemic forced it to close, Solaimani quickly found new ways to help UC families by starting a website, www.ourchildrenscenter.org, that provided a high-quality resource for early child educators and those with young children.
"To see the pivot that so many teachers have made to ensure the healthy development of their students and learning communities, from pre-school all the way through higher-ed, has been incredible. These circumstances have reaffirmed what I knew to be true: That we, in the field of education, got into this work with hope for a better future and we are relentless with that hope, which is what keeps us going."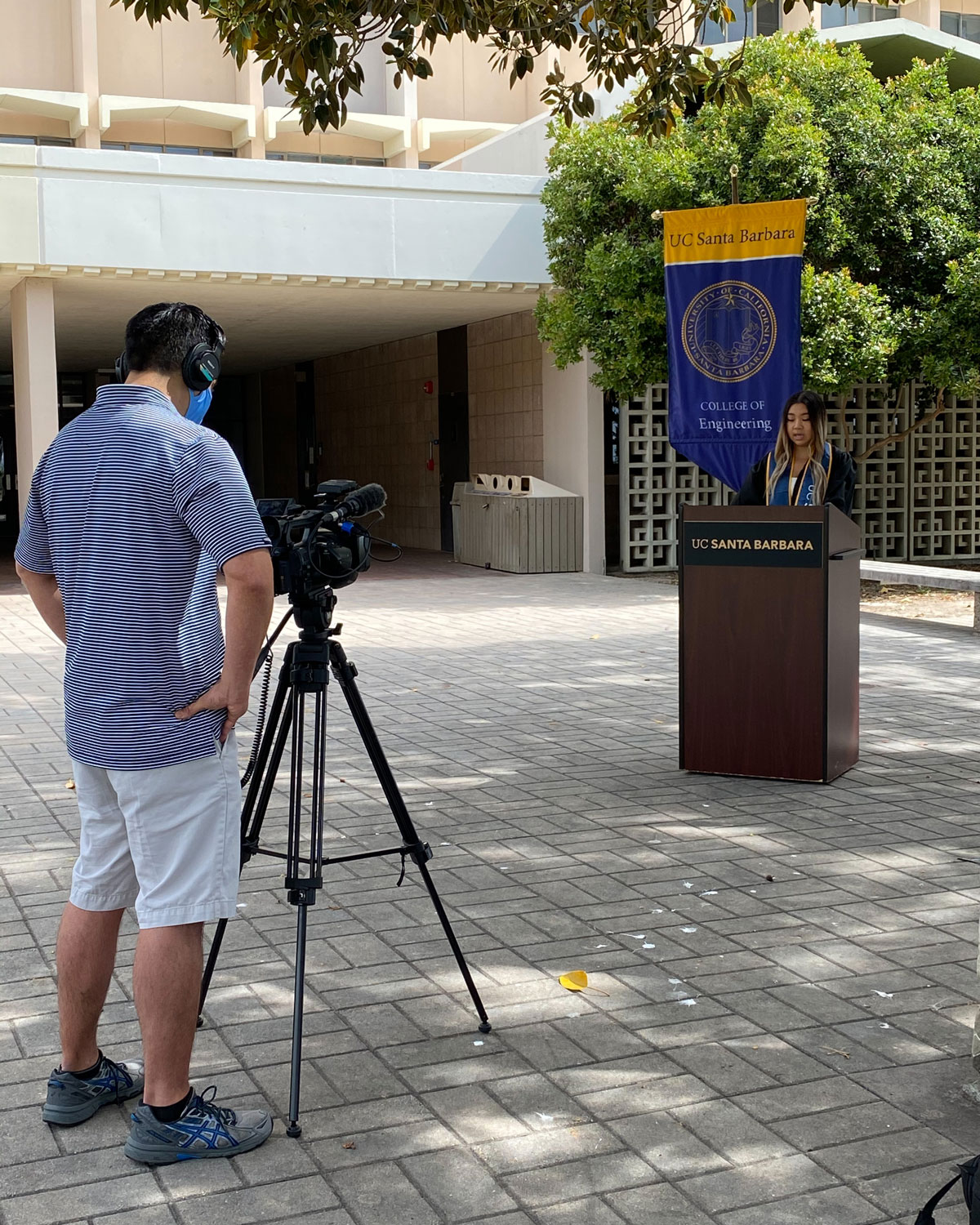 Glenn Beltz is a mechanical engineering professor and associate dean at UC Santa Barbara. When the pandemic first hit, he saw first hand that family circumstances made online learning difficult for many students — there were no simple solutions. He and his academic advising team rose to the challenge by providing individual guidance to help as many students navigate the situation as possible. The Academic Senate's decision at UC Santa Barbara to allow flexibility with pass/no pass grading was a huge help for students, allowing courses to count toward their degree requirements.
His own family faced different, but equally challenging circumstance with online learning.
"I am a parent so the kid aspect strikes a nerve. It has been rough. My wife and I have 2 kids, a daughter in 10th grade and a son in 4th grade. It has been particularly difficult with my son, who is autistic. Every autistic kid is different, but there is no way you could get my son to sit in front of a Zoom session for hours on end. No way at all. I fear that much of this past year will be a lost year in terms of his education. Fortunately, in January '21, his elementary school worked out a protocol to be able to take him and a few other special-needs kids back. That has been a godsend."
But he expects to take some positives forward.
"There are many aspects of teaching that I hope will remain in the long term. I think it's awesome that students can pull a set of notes online from whatever I taught on a given day or even pull a recording of the lecture. Sure, that kind of stuff occurred in former times, but it was not widespread. I don't think I will ever give a paper-based, sit-down exam again. I like being able to administer and grade exams online via various tools that are available."
Top photo: One of Frida Hernandez's journals from the pandemic.