July 30, 2014
Rebecca Vesely
,
Special to UC Newsroom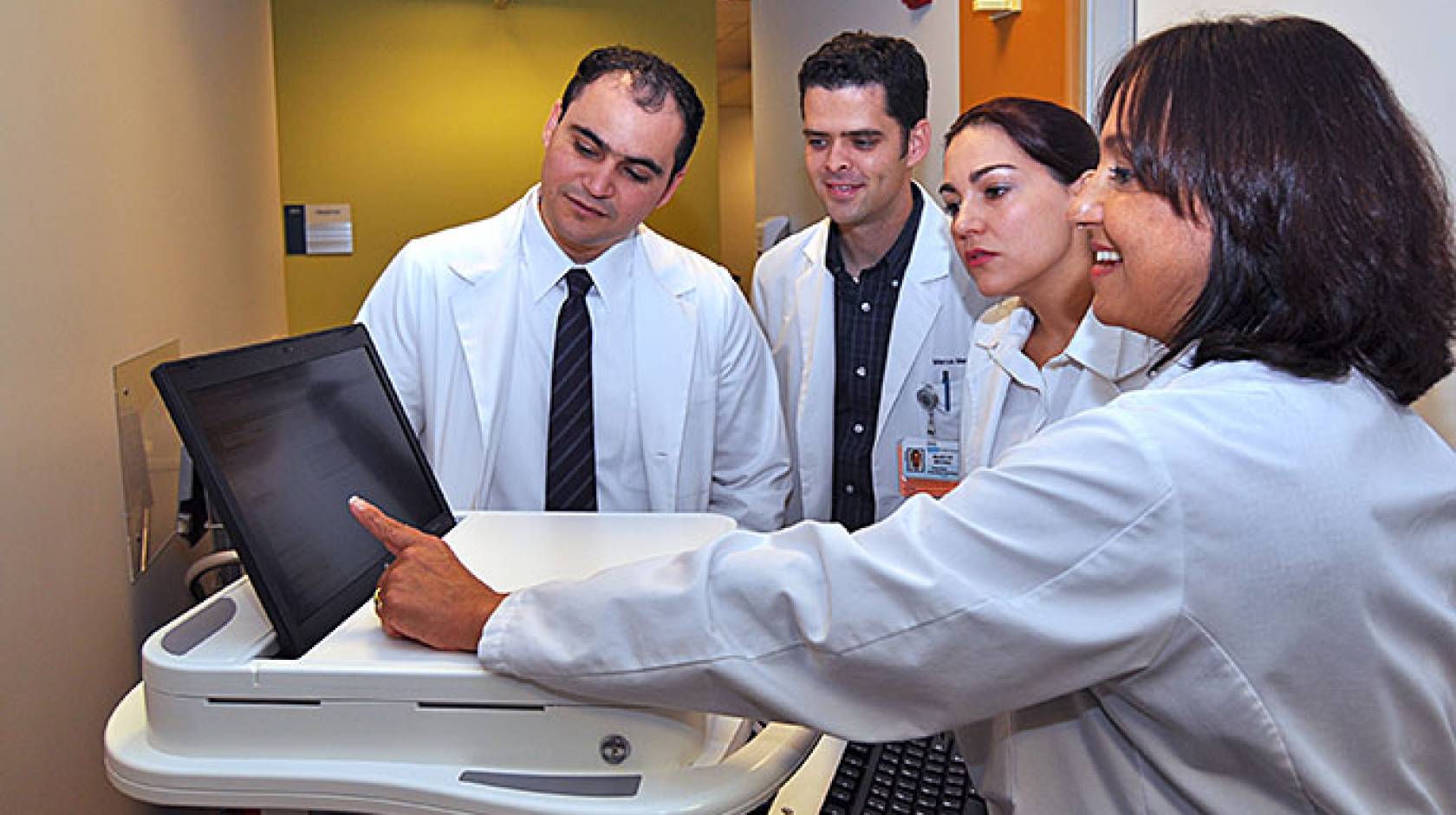 In Tulare County, located inland between Fresno and Bakersfield, 61 percent of the population is Hispanic, and many are monolingual Spanish speakers. And yet, there are only 42 Hispanic physicians out of a total of 486 physicians practicing in the region.
Across California, there is a dearth of Spanish-speaking, culturally adept primary care physicians. Currently, Hispanics account for 38 percent of the state's population yet less than 6 percent of the physician workforce. With support from the Delivery System Reform Improvement Program — a novel, pay-for-performance initiative in which California's 21 designated public hospitals receive Medicaid dollars in exchange for meeting pre-set milestones — an innovative UCLA project is seeking to address the gap.
The UCLA International Medical Graduate (IMG) program trains Hispanic international medical graduates from medical schools recognized by the Medical Board of California who are legally residing in the United States with permanent residency status. This program prepares these international physicians to become competitive candidates for family medicine residency training positions in the state. Once these IMGs complete a three-year residency program, these newly licensed family physicians will join the primary care physician workforce in this state.
"Before our program, these professionals were sidelined," as the IMGs are considered neither as students or licensed physicians in the U.S., said Michelle Anne Bholat, M.D., M.P.H., executive director of the program and vice chair of the UCLA Department of Family Medicine. "There's been a brain waste."
Physicians residing in the United States but who were educated abroad are classified as IMGs. Nearly 80 percent of IMGs also were born abroad. IMGs represent about 25.8 percent of the U.S. physician workforce and 24 percent in California.
Any physician who is not a graduate of a U.S., Puerto Rican or Canadian medical school (all of which are accredited by the Liaison Committee on Medical Education) is not eligible to practice in the United States without first completing at least two years of residency training and obtaining a U.S. medical license.
Expanding opportunities
Prior to the DSRIP funding, UCLA's IMG program had been a mere pilot project. However, the funding was fortuitous in timing, as new state legislation allowed participants to be more than just observers. UCLA IMGs enrolled in this program can now more fully participate with the health care team in that they can take medical histories and examine the patient — similar to a medical student trainee under supervision of licensed physicians affiliated with the UCLA IMG program. This change, embraced by the California Academy of Family Physicians, allows the IMGs to compete on a more level playing field for a residency position in the state. Signed by Gov. Jerry Brown in 2012, this important legislation, AB 1533, was authored by then-Assemblywoman Holly Mitchell and jointly sponsored by the UC Office of the President and the Medical Board of California; the bill is effective through 2019.
"The law expanded the opportunity for participants in our program to move from an observer status and go into the exam room without violating strict California Medical Board rules prohibiting IMGs from examining patients," Bholat said.
Patrick Dowling, M.D., M.P.H., chairman of the UCLA Department of Family Medicine and executive co-director of the program, said that keeping IMGs solely as observers was like "being a student driver but only allowed to sit in the passenger seat."
The duration of the IMG pre-residency program varies from three to 21 months, depending on the preparation the applicant has made, if any, to pass any of the three U.S. medical board exams with a competitive score. These tests are a prerequisite for acceptance into a residency training program. The IMG program operates under rolling admissions. A total of 16 graduates of the program were matched to residency positions in 2014. This graduating class was from the following countries: Cuba, El Salvador, Mexico, Puerto Rico and Venezuela. Graduates have included black and Asian Hispanics, some of whom are trilingual and tricultural. Each of these Latin American countries produces more physicians than they have positions for medical practice employment, and because of this "surplus" they emigrate.
Serving the underserved
Importantly, graduates of the IMG program are required to commit to two to three years of post-residency employment at a community health center in one of California's more than 500 federally designated shortage areas for primary care. Interest is growing in replicating the program elsewhere, with inquiries coming from other UC medical centers, Texas and Illinois.
DSRIP propelled the growth of the IMG program and "put it on the map as a program of substance," Dowling said.