David Geffen donates $100M to launch school for grades 6-12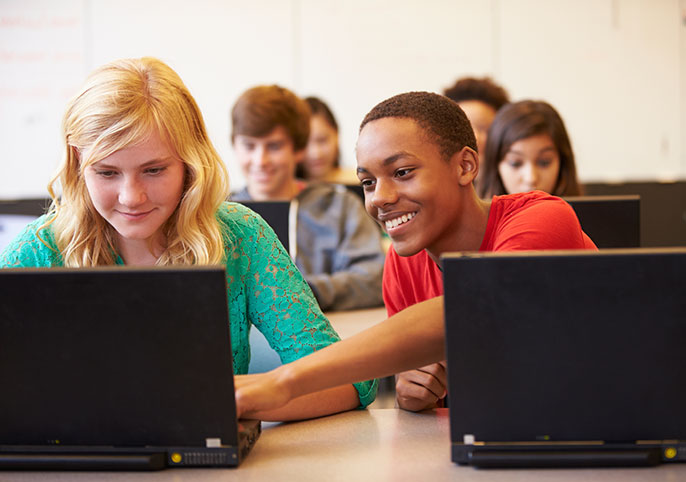 UCLA has received a $100 million gift from philanthropist David Geffen, allowing the university to move forward with plans for a new academy that will provide an innovative college preparatory education for Los Angeles-area students in grades 6 through 12.
The donation from Geffen provides immediate support for facility renovations, faculty and curriculum development, and other key strategic tasks needed to launch the school on UCLA's campus. Reflecting a shared priority to enhance access to high-quality education, the gift will help fund a financial aid program for low- and middle-income families, and UCLA projects that more than 40 percent of students will receive aid. In addition, part of the donation establishes a $30 million endowment, $5 million of which will allow the UCLA Graduate School of Education and Information Studies to link the academy with UCLA's existing network of primary and secondary partner schools.
The new secondary school will be named the Geffen Academy at UCLA.
With the gift, Geffen's total philanthropic support to UCLA exceeds $400 million. He is the largest individual donor to UCLA. In 2012, he established a $100 million scholarship fund to fully cover the cost of education for the very best students attending the David Geffen School of Medicine at UCLA. The scholarship program has inspired other medical schools and donors to increase student financial support. The medical school also received an unrestricted gift of $200 million from Geffen in 2002; at the time, it was the largest single gift to a U.S. medical school. Geffen also has contributed to theater and arts programs at UCLA.
"We are humbled by David's generosity and inspired by his visionary philanthropy," UCLA Chancellor Gene Block said. "The Geffen Academy at UCLA will enhance our ability to deliver on the mission that is at the core of our DNA – research that informs teaching, and service to our community."
Block noted that the Geffen Academy will help UCLA recruit and retain top faculty, whose career decisions are often influenced by the availability of college preparatory education for their children. That will in turn benefit the education of UCLA's undergraduate and graduate students and campus research programs.
"I'm happy to support UCLA in the creation of this unique educational opportunity for Los Angeles youth and the faculty, staff and students of the university," Geffen said.
The Geffen Academy at UCLA — which grew from Geffen's suggestions for a UCLA-run secondary school on campus — will aim to challenge its students to become critical thinkers who demonstrate competency not just in core intellectual pillars, but across a broad spectrum of transdisciplinary 21st century coursework. Students will have access to learning opportunities and university facilities beyond those offered by more traditional secondary schools. For example, UCLA has world-class cultural and athletics programs, a state-of-the-art medical school, cutting-edge research labs and a wide range of community service opportunities. Geffen Academy students also will be able to take college-level courses, when appropriate.
UCLA's current K-12 schools and partner schools are the on-campus UCLA Lab School (preschool through grade 6), the UCLA Community School (grades K through 12) and four public schools near campus open to the children of UCLA employees. The UCLA Community School has been especially successful at improving outcomes through innovative teaching techniques and enhanced curricula developed in partnership with the Graduate School of Education and Information Studies; in a neighborhood of largely poor and immigrant families, more than 90 percent of the most recent graduating class is headed to college, triple the rate before it opened.
Collaboration among the Geffen Academy, the network of partner schools and the Graduate School of Education and Information Studies will provide expanded opportunities for students, faculty and families.
"A philanthropic gift for this purpose and of this magnitude is a historic first at the University of California. We are grateful for Mr. Geffen's commitment and share his vision of educational excellence and opportunity as the bedrock for human flourishing and engaged citizenship," said Marcelo Suárez-Orozco, the Wasserman Dean of the Graduate School of Education and Information Studies.
"With the Geffen Academy and in partnership with our other schools, UCLA is building an educational network that bridges research and practice with residencies, mentoring and 21st century measures of improvement," Suárez-Orozco said. "We are working with the best teachers and scholars to adapt and broadly share 21st century innovations with schools across Los Angeles and beyond."
The university anticipates that the Geffen Academy will be open for the 2017–18 school year, with approximately 125 students enrolled in the sixth and ninth grades, eventually growing to more than 600 students in grades 6 through 12. To house the academy, UCLA plans to renovate the campus's Kinross Building. Later, as enrollment grows, the university plans to construct an adjacent building.
The application and admissions process, financial aid guidelines, curriculum, strategic partnerships within the university and other key elements are expected to be finalized over the next year. Enrollment in the Geffen Academy will be split equally between children from the Los Angeles community and children of UCLA faculty and staff.
"The Geffen Academy continues UCLA's strong history of supporting and improving K-12 education for a diverse array of students," said Sibyll Carnochan Catalan, who joined UCLA a year ago to direct the campus's college preparatory school planning efforts. "We are developing a cutting-edge, research-based curriculum that will help students become sophisticated, engaged, lifelong learners prepared for the challenges of the 21st century."
Geffen's $100 million donation is part of the $4.2 billion UCLA Centennial Campaign, which is scheduled to conclude in December 2019 during UCLA's 100th anniversary year.