June 11, 2019
Nicole Freeling
,
UC Newsroom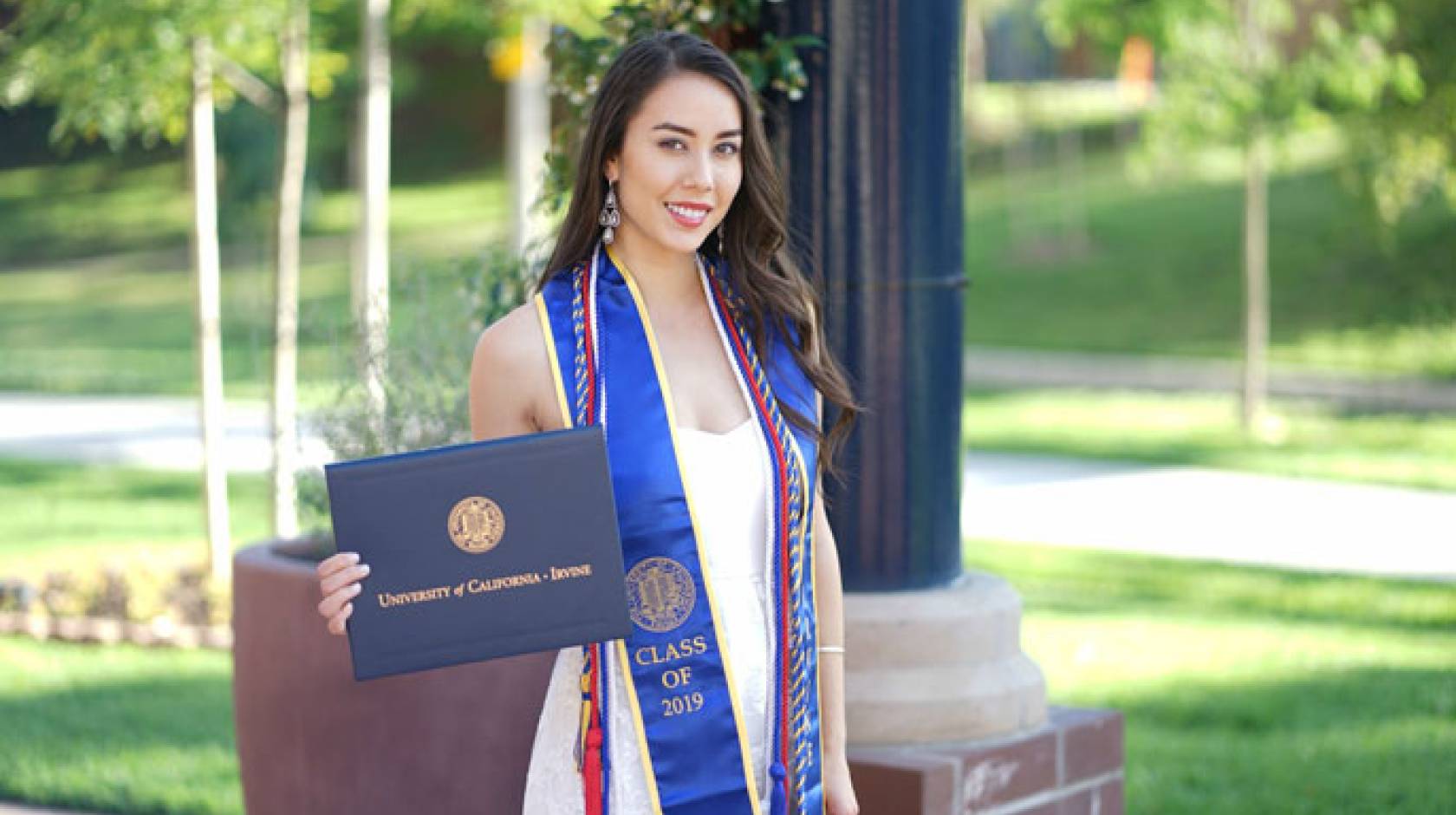 Credit: Photo courtesy Monica English
As tens of thousands of University of California students cross the stage in graduation ceremonies this weekend, they will have much to celebrate in terms of goals accomplished, effort invested, knowledge gained.
But this special moment will carry even greater significance for about 350 members of the Class of 2019 who were formerly in the foster care system. These students have transcended monumental odds to achieve their college diplomas.
"If I could have told my 14-year-old self where I would be now, I don't think I would have believed it," said UC Irvine graduate Monica Mary Xu English, who has just completed a degree in philosophy. "I thought I was doomed."
As a teenager, English was placed in foster care after escaping an abusive home. Over the next few years, she bounced between dozens of homes, sometimes for as little as two weeks and never for longer than two months. She crashed at homeless shelters for a while, and briefly dropped out of high school.
When she earns her diploma this weekend, English will count among just three percent of former foster youth nationally who make it to cap and gown.
Helping her beat the odds was a UC Irvine program called Foster Youth Resilience in Education (FYRE), which provides practical, social and academic services to students who were current or former foster youth.
"During those years [in foster care], I was going through a lot of shame," English said. That changed at FYRE. "I felt really accepted. Just being around other people who had gone through similar things — it was like, 'if they can do it, I can do it.' We can do it together."
Though they go by different names, programs to serve current and former foster youth exist at every UC campus, providing dedicated services — and surrogate family — to a population that is among the most vulnerable on campus.
The staff who run these programs provide a warm welcome when students first arrive on campus, and are still there, cheering them on, when graduation season rolls around.
"I can really state that if it wasn't for this program, I probably wouldn't be two weeks from graduation," said UCLA student Dayshawn Louden, an intern with UCLA's Guardian Scholars program for former foster youth. After getting his degree in African American studies, Louden plans to launch an organization building tiny homes and exploring other ways to house the homeless.
"You feel like you're not just another student. They care about you. You can sit down with the advisers and talk about anything, and they'll help you figure it out."
A population with hidden strengths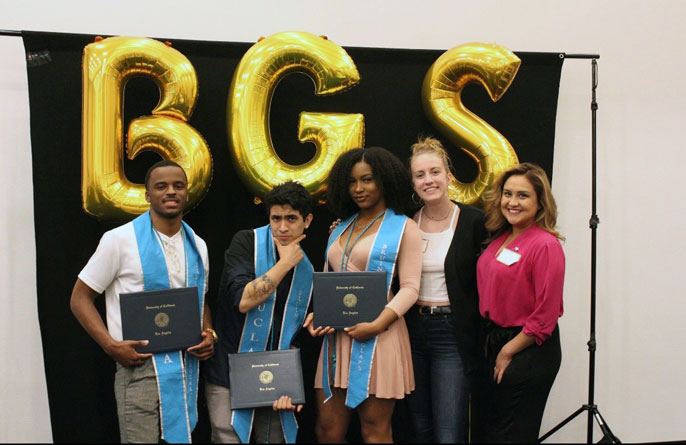 There are an estimated 1,700 undergraduates across UC campuses who have spent time in the foster system.
In contrast to the grim national statistics, almost 70 percent of former foster youth who enroll at UC as freshmen complete their degree. Those enrolled in dedicated programs post even better stats — matching or even exceeding their non-foster peers.
Alumni go on to contribute in fields such as medicine, law, social work, policy, education and other professions. For many, their foster care background is as much a motivator and source of strength as it is a challenge to overcome, said UC Riverside Guardian Scholars program director Tuppett Yates.
"Society needs these students," Yates said. "They are determined and resilient, and they are 100 percent in the fight to make the world a better place."
Rolling out the welcome wagon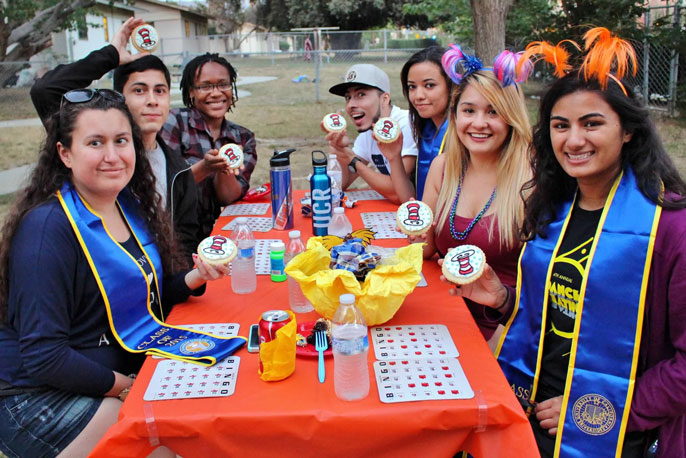 Students who come to UC from the foster system are eligible for benefits like enhanced financial aid, year-round housing, assistance with books and food, and priority registration that helps them manage their schedule and balance coursework with part-time jobs.
But the programs also fill many, less obvious gaps.
UCLA, for example, sponsors activities to help incoming students in the Guardian Scholars program settle in and adjust to their new surroundings.
New arrivals get welcome kits with comforters, lamps and other supplies to outfit their dorm rooms. Volunteers show up to greet them and help lug belongings up stairs.
"Move-in weekend is very family focused," said Brianna Harvey, program director at UCLA Guardian Scholars. "Our students don't necessarily have traditional family supports like other students here at UCLA. They're bringing themselves to campus maybe for the first time, or else their social worker brings them. We want to make sure their initial experience on campus is positive, not awkward and isolating."
Finding community with others who've been there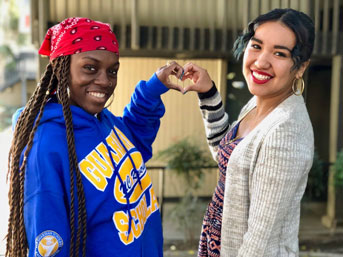 Once on campus, students have a dedicated spot where they can socialize and study, access tutoring and mental health services, load up on supplies from the food and hygiene pantry, get career advice and more.
The programs offer students a way to meet and form community with others who can relate to their experience.
"There's a foster care bond," said Latoya Patterson, who is graduating UC Riverside this weekend with a degree in psychology. She plans to log some work experience, then pursue a master's in social work. "When you're at Guardian Scholars, even if you might not have that much in common, 'it's like wow, you get it. You can understand.'"
Program staff help students file paperwork — such as proving California residency — that require documents that can be difficult for students to obtain.
The programs host social outings, camping trips and holiday dinners, such as the white tablecloth Thanksgiving feast that donors provide for UC Riverside Guardian Scholars. At Christmas, up to two dozen students join program director Tuppett Yates at her home for a home-cooked dinner and gift exchange.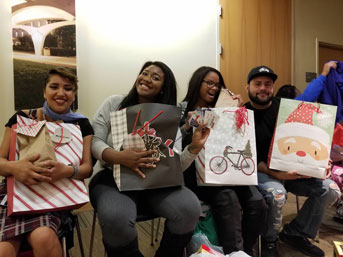 "The most salient feature of our program is that we really are family," Yates said. "The students become our family as much as we become theirs."
Sometimes that means playing the role of nagging parent — checking up on students to make sure they are meeting deadlines, completing their assignments and keeping up their grades.
It's oversight that students say helps to keep them motivated.
"If you're a foster youth, it's really easy to just quit and fall off the face of the earth," said English, who struggled academically her first year. Becoming involved with FYRE pushed her to work harder and seek out academic and emotional support.
Now English mentors other foster teens, hoping to be an example of what's possible. "I would tell my younger self: Everything I'm going through is making me stronger. It is teaching me lessons I will use in the future."
It is a future she is eager to start on as she heads into the world next week, diploma in hand.