A different way of seeing the world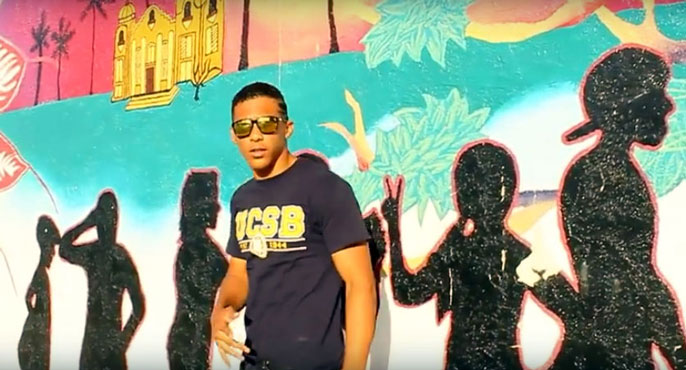 Just ten percent of foster youth make it to college, but Malcolm Rashid is used to beating the odds. Diagnosed with autism at age three, the Merced native also overcame learning difficulties to graduate at the top of his high school class.
Even so, being chosen for the Gates Millennium Scholars Program seemed like an almost impossible long shot. Less than two percent of those who apply are accepted — and that's after an arduous application process that includes nine separate essays.
A friend who applied and was rejected told him, "If you get a thin envelope, you didn't get it," Rashid said. He was walking to his next class when his grandmother called to give him the news: he'd gotten the thick packet.
"I never thought I would go to college," said Rashid. He had trouble early on with language development, and didn't speak until age five. In elementary school, he struggled to read and write – but he could tell time better than anyone.
"I had to work harder than average to have the ability to perform well," he said. "Over time, I've learned to use my disability to my advantage – I see the world a little differently. I was able to view the world in terms of shapes and sizes. I excelled at identifying patterns of numbers."
At home there were other struggles.
One morning when he was four, he came in from playing ball to see his house swarming with cops and officials from Child Protective Services.
"I remember seeing my little brother crying and my mom in handcuffs," he said. His mother, who struggled with substance abuse, had been charged with child neglect and taken into custody.
Once in the foster care system, Rashid was separated from his brother and other family, and shuffled among different households and schools.
"It's hit or miss with foster families. Sometimes it was the foster parents giving up and walking away from me," Rashid said. Other times his caseworkers thought he would be better off in a different household.
As a youngster, had trouble interacting with those around him, and could be rambunctious and hard to control. He was rebellious and got kicked out of class regularly – when he even bothered to attend.
In fourth grade he took a California standardized test and was among the top scorers. That was the first hint of his capabilities. But it took several more years to realize that potential.
That turnaround began in middle school, after a particularly bad episode with his foster family — in which, he says, they left him on his own for days without food or supervision. That led him to reach out to his grandmother. She was almost 70 and not physically up to the task of raising a teenager, but she began arranging to gain custody.
Focused on self-improvement
As someone who herself had come from nothing and was left to fend for herself by 15, she helped to motivate him. She gave him the message that his future was about more than his past, and stressed the importance of a good education.
Once he set his mind on going to college, his motivation hit the gas.
He went from barely passing his classes to being a straight-A student. In his final year of middle school, he was the only male in his class to earn a 4.0.
On the side, he taught himself to code and earned extra money doing programming for various news and gaming websites.
At Chowchilla High School, Rashid was one of the few kids that fit in equally well with the jocks and the brainy kids. He was part of the Academic Decathlon, medaling in speech and math competitions. The team went to the state championship for the first time in 25 years. He also played basketball and ran track, part of the relay team that broke records as the second-fastest in the school's history.
He fell in love with video production. His junior year of school, he spent time doing volunteer work in Guatemala with a project through his church, and produced a video documenting their efforts.
"I didn't want to choose between being really physically athletic and doing everything straight by the book," he said. "It's self-improvement that I'm a big supporter of, whatever way that can be."
When he finished high school — fourth in his class — his grandmother threw a big party: massive cake, balloons, 35 family members — including his mother, who is in school and working to turn her life around.
"My grandma has never done anything like this before. She told me, 'It's not that you graduated. It's how you graduated.'"
Finding a college to call home
When his grandmother took him around the area to visit colleges, Rashid was ambivalent — until he laid eyes on UC Santa Barbara and Goleta Beach. "I said to my grandma, 'I'm staying,'" he joked. "'I'll see you sometime.'"
Classes are just now getting underway, but Rashid has already been at UC Santa Barbara for almost six weeks. He is part of a summer bridge program, which provides low-income and socio-economically disadvantaged students the opportunity to take classes that prepare them for college-level coursework, make friends and connections, and learn about the many campus resources available.
"Being five minutes away from the beach is nice. And the people here are just so open. Resources are easily accessible, and the library is amazing — I just love the whole ambiance here."
He has begun finding his way around campus and is feeling comfortable navigating the culture of academia. He's excited to start a videography internship and join the Black Student Union.
He also draws confidence from his experience in gaining strength through adversity.
"My grandmother taught me a lot of life lessons," he said. "But probably the most important thing she taught me is this: Your life will begin at the end of your comfort zone."