February 9, 2023
Annie Pierce
,
UC San Diego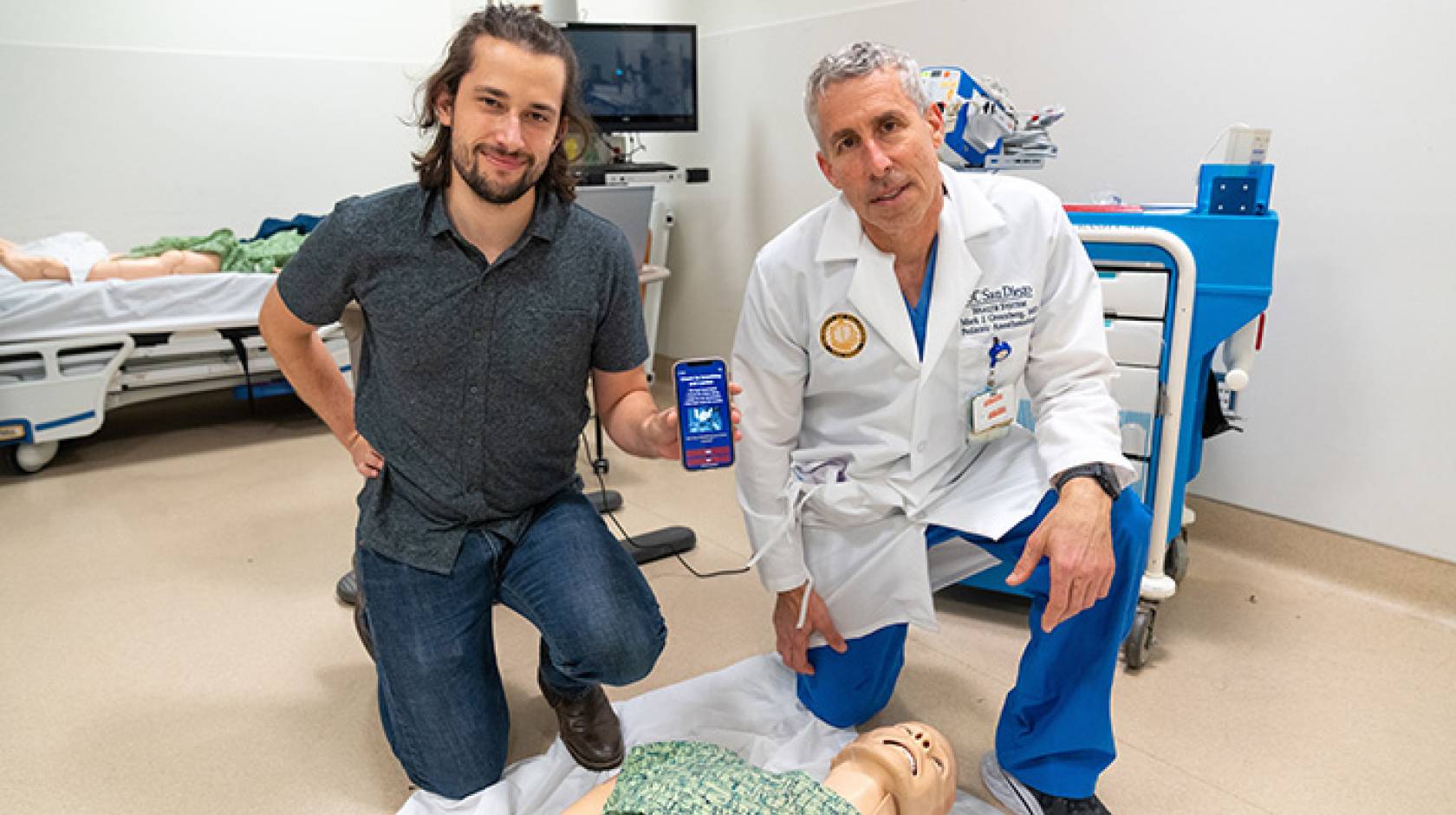 Would your kids or family members know how to save someone who stopped breathing due to an opioid overdose, or for any reason? When Mark Greenberg, M.D., discovered the answer to that question was no for his two adult daughters, he decided to do something about it.
"My oldest daughter saw someone turn blue at a party after taking a pill, and she said nobody knew how to help," said Greenberg, a pediatric anesthesiologist at UC San Diego Health and professor of anesthesiology and pediatrics at UC San Diego School of Medicine.
They called 9-1-1, which should always be the first step in any emergency situation. Thankfully, paramedics arrived in time, but when asked what may have helped, his daughter said she wished there was an app that could have walked them through exactly what to do.
"So, I said, 'I'm going to make one,'" Greenberg recalled.
Fast forward to six months later, and Greenberg and his UC San Diego School of Medicine research team members have created the free Rescue Me CPR! app — a potentially lifesaving tool that they hope will end up in everyone's back pocket.
"Anyone can use this app to attempt to save a life," Greenberg said, while he demonstrated how to do cardiopulmonary resuscitation (CPR) by following the step-by-step prompts on the new app in UC San Diego School of Medicine's simulation lab.
"Download it for your children, your parents and forward it to all your friends. The app provides a real time tool that can be used in a variety of situations like choking, a heart attack or for any unconscious victim. It's especially effective for people who have had a drug overdose."
Anyone can use this app to attempt to save a life.
Mark Greenberg, M.D., anesthesiologist, UC San Diego Health
One pill can kill
In 2021, more than 107,000 people died from drug overdose in the United States — the majority of which involved opioids and young adults, according to the Centers for Disease Control and Prevention. 
"That's 300 kids a day," Greenberg said, adding perspective to the sobering statistic. "I knew we had to do something to arm people with the technology to help someone who has overdosed."
The opioid epidemic has devastated the country for the past two decades. According to the United States Drug Enforcement Administration (DEA), of the fentanyl-laced fake prescription pills analyzed in the DEA's laboratory in 2022, six out of 10 contained enough fentanyl to kill someone.
"If you take just one pill, that could be the end," Greenberg said. "There's been an explosion of fentanyl, and it's being added to many other substances that are labeled as other drugs, such as Adderall, Ecstasy and Oxycodone. All it takes is a very small amount of fentanyl for you to stop breathing because it's ultra-potent. It paralyzes the respiratory system."
No CPR experience? No problem
When Greenberg's daughter sparked his idea to create the app, he teamed up with UC San Diego third-year medical student Brennan Marsh-Armstrong, who had app coding expertise. The goal was to create an app that would walk anyone — trained or untrained in CPR — through all the steps of CPR to use on a person experiencing an opioid overdose, or any type of cardiac event. 
While Greenberg and Marsh-Armstrong found numerous smartphone applications that already existed to pre-train bystanders in CPR, they could not identify any that effectively assisted an untrained user in real time to perform basic life support, as defined by American Heart Association guidelines.
The Rescue Me CPR! app uses videos, simple instructions and a series of prompts and beeps to show how to resuscitate someone on the spot. 
"When we designed the app, we focused on ease of use above everything else," Marsh-Armstrong said, while he demonstrated the series of intuitive prompts on the app. "It's a set of yes/no questions that guide you through assessing the situation. It then walks you through very simple instructions on how to perform CPR so that you're never having to think about what to do next — it's telling you exactly what to do." 
Added Greenberg, "This isn't something you have to put on your phone and study. This is something you can literally just pull up for the first time, coming onto an unconscious victim, and start CPR."
"I highly recommend downloading this app —even if you are experienced with CPR — because from our research, we've found that oftentimes people miss some of the crucial steps, such as calling 9-1-1." 
The Rescue Me CPR! app currently has approximately 3,000 downloads. Greenberg and Marsh-Armstrong hope that number will grow exponentially as people learn about the free app.
"We'd like to see a million downloads, and we're hoping it's going to lead to many stories of lives saved," Greenberg said. "Our goal was to decrease the barrier of entry for people administering CPR, because there isn't anybody who wouldn't want to save a life."
"You just need to know what to do, in the shortest number of steps. And that is what we've created."
The Rescue Me CPR! app is available to download for free on the Apple App Store and Google Play Store.