Entrepreneurship: Open for business at Berkeley Law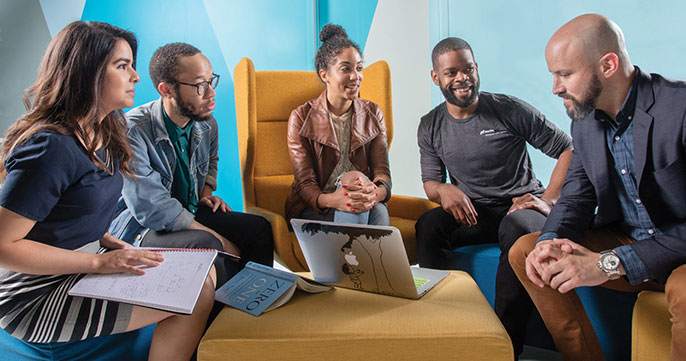 It started with a yearning to scratch the entrepreneurial itch, a symptom usually associated with Silicon Valley. High-achieving students, savvy faculty, and alumni with startup or venture capital credibility helped Berkeley Law bring the goods to San Francisco and the East Bay.
Today, school-supported innovation is blooming in new businesses like Indiegogo, the largest global crowd- funding site; Magoosh, a growing outlet for online test prep; and RealtyShares, an innovative online portal for real estate investment. The school also helped launch entrepreneurship-for-social-good companies such as Noora Health, which pioneers family involvement in hospital patient care; and Alterna Foundation, which introduces new health-related technologies into developing countries. Students in Berkeley Law's New Business Practicum provided creative legal help when each of the nascent startups was operating on a shoestring.
"Now these businesses have grown to the level of affording the heftier fees most transactional attorneys charge," says Bill Kell, director of the program, "and that's part of the plan."
Hoping to facilitate many more such partnerships—and to exploit notable geographic shifts in the technology landscape—the school last year created Startup at BerkeleyLaw, an umbrella for all business startup work across the law school. The initiative trains Berkeley Law students to help startups succeed, guides new business ventures as they navigate tricky legal and organizational issues, and offers entrepreneurs access to top experts, courses, and workshops.
"We train students for practice with the involvement of firms like Cooley, Wilson Sonsini, Gunderson Dettmer, and Orrick, so they become informed advisors, not technocrats," says former startup attorney Adam Sterling '13, now executive director of the Berkeley Center for Law, Business and the Economy (BCLBE). "We provide legal education and services to startups on campus. And we connect UC Berkeley with Silicon Valley."
Each startup has a business model, but all share Berkeley Law's philosophy that innovation thrives when lawyers are involved at an early stage. A joint initiative of BCLBE and the school's Berkeley Center for Law & Technology (BCLT), Startup at BerkeleyLaw signals what BCLBE faculty co-director Robert Bartlett calls "a determined effort to confrm our position as the country's leading law school for aspiring startup lawyers."
Read the full story at Transcript Magazine.