November 19, 2015
Harry Mok
,
UC Newsroom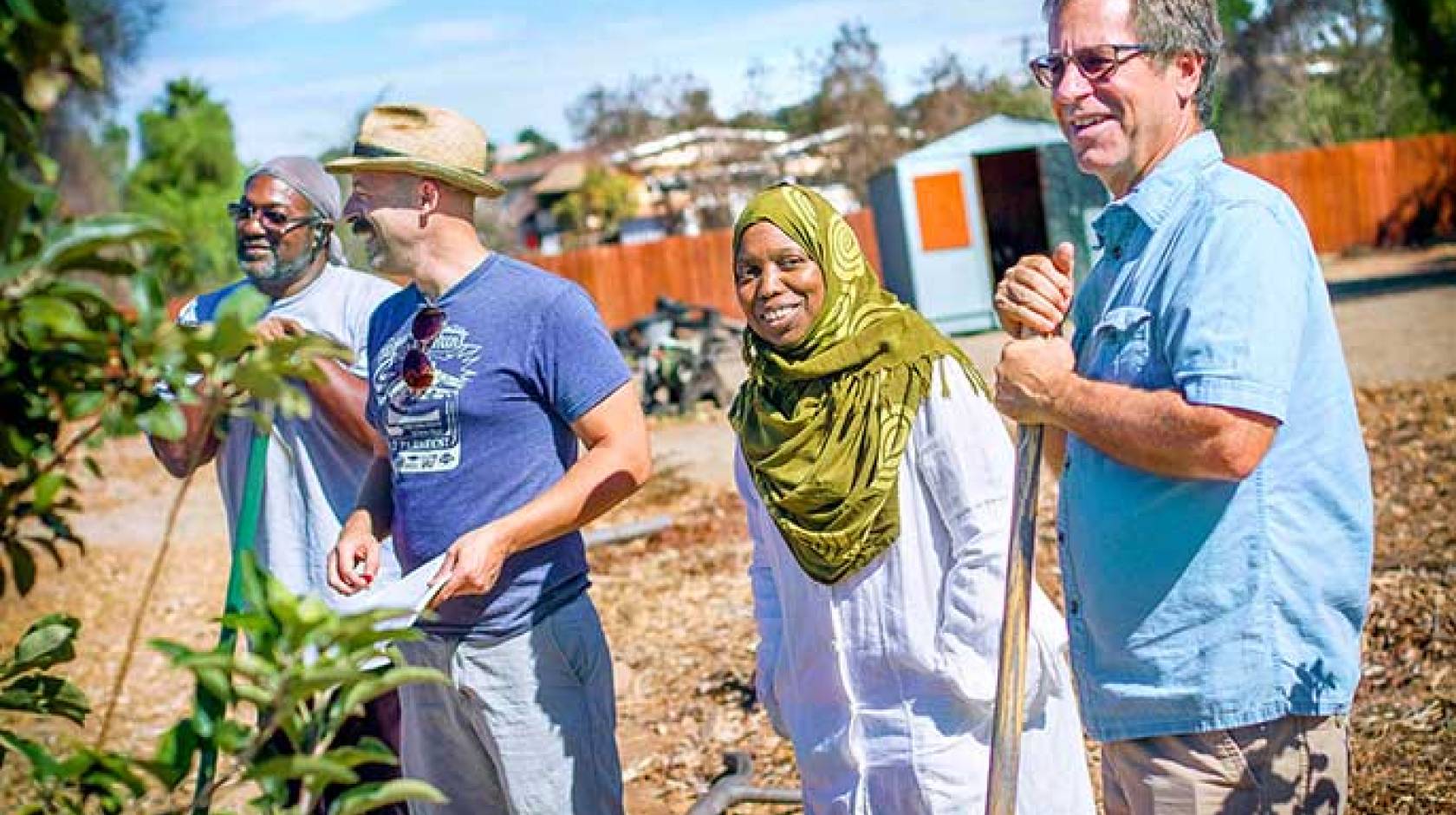 Credit: Erika Johnson/University Communications, UC San Diego
Ten University of California faculty were honored today (Nov. 19) for demonstrating outstanding leadership on President Janet Napolitano's systemwide initiatives, which range from increasing student access and diversity, enhancing campus entrepreneurialism, achieving carbon neutrality, promulgating healthy and sustainable food systems around the world, and furthering UC's engagement with Mexico.
UC President Janet Napolitano announced the winners of the Award for Outstanding Faculty Leadership in Presidential Initiatives during her remarks at the UC Board of Regents meeting.
"The brainpower and creativity of these 10 faculty members represent one more proof point of the tremendous difference the University of California makes in our state and beyond," Napolitano said. "I look forward to congratulating them in person when we recognize their achievements in the New Year."
Award winners will receive $3,000 and will be honored by Napolitano in person at a dinner she will host in early 2016.
The winners are:
Paul Barber, UCLA professor of ecology and evolutionary biology: Barber's "Pathways to Ph.D.s in Marine Science" summer program for students from historically black colleges and universities focused on coral reef ecology. Participants conducted field studies at the UC Berkeley Gump Research Station in French Polynesia and completed research projects at UCLA. Three participants in the summer program are now doctoral students at UCLA.
Gentry Patrick, UC San Diego professor of biological sciences: The "UC San Diego/Howard University Partnership for Graduate Success Program" created by Patrick is designed to increase the number of graduate school applicants from Howard to UC San Diego. For the past two years, 10 Howard students in various disciplines spent eight weeks during the fall at UC San Diego on a research internship. Four alumni from the internship have enrolled in UC San Diego graduate programs.
David Auston, executive director, UC Santa Barbara Institute for Energy Efficiency: Auston is a member of Napolitano's Global Climate Leadership Council and co-chair of the council's Applied Research Working Group. Within months of the creation of the council, he helped to convene two workshops on how UC research could be deployed to help meet the systemwide goal of achieving carbon neutrality by 2025. He also played a leading role in organizing a carbon neutrality research summit that included Napolitano, Gov. Jerry Brown and other state leaders, and top administrators, sustainability managers and researchers from UC.
Innovation and Entrepreneurship
Martin Kenney, UC Davis professor of community and regional development: Kenney's research has focused on the economic impact of UC innovations. Through the initiative, he is creating an extensive data set on startups based on UC research that will form the basis of an economic impact report commissioned from the Bay Area Council Economic Institute.
Sue Carter, UC Santa Cruz professor of physics: Carter created an action plan for increasing entrepreneurship at UC Santa Cruz that led to increased entrepreneurial interconnections across campus and reinvigorated the Center for Innovation and Entrepreneurial Development, where she was recently named director.
Wendy Slusser, UCLA associate vice provost: Slusser is a member of the Global Food Initiative Steering Committee and is a key leader in its K-12 subcommittee. She works with Los Angeles-area school districts to develop healthy and sustainable dining options for their students. She also is involved with projects to help small farms develop the capacity to supply the local food chain and working to develop experiential farming, food education and healthy living programs for high school and UC students.
Keith Pezzoli, director, UC San Diego Urban Studies and Planning Program: Pezzoli is a member of the Global Food Initiative Steering Committee and leads a subcommittee on urban agriculture and food disparities. He is actively involved with community youth development workshops focused on urban agriculture and health. He also leads a project called CLEAR (Communication, Literacy and Education for Ag Research), a partnership with UC Davis that is helping prepare the next generation of science communicators in food and agriculture.
Laura Schmidt, UC San Francisco professor of health policy: Schmidt is a leader of the Global Food Initiative policy subcommittee, which produced a report on best practices for UC faculty on how to leverage their research to inform public policy on food and agriculture. She co-hosted a workshop with 70 UC faculty and state lawmakers to discuss the report and how to better communicate research to policymakers.
Patricia Gandara, UCLA professor emeritus, co-director of The Civil Rights Project: Gandara is chair of the UC-Mexico Initiative Education Working Group, which is focused on addressing the needs of the more than 500,000 K-12 students who shift between Mexico and the United States. She leads a pilot project that is a partnership between the Los Angeles Unified School District and the University of Guadalajara that seeks solutions to the challenges facing cross-border students.
Kevin Johnson, dean of the UC Davis School of Law: Johnson is a member of the President's Advisory Council on Undocumented Students. He proposed the creation of the Undocumented Legal Services Center, which provides support for undocumented students at UC campuses that don't have a law school. The center offers access to the legal system for undocumented students and also serves as a training ground for law students.