Feeding the needy, one swipe at a time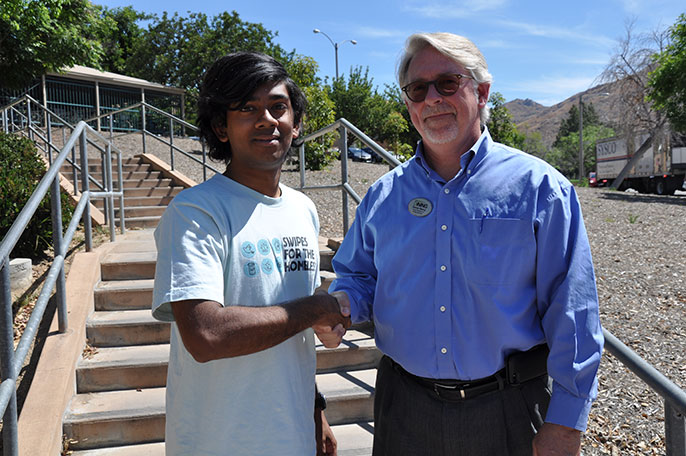 It started out as an idea, and now they're seeing the impact of the fruits of their labor. Students at UC Riverside worked with Dining Services to launch a campus chapter of Swipes for the Homeless, and after two years of working toward that goal, they finally kicked things off during the 2014 winter quarter. And on April 30, the chapter donated about $5,000 worth of food and products to charity. How did they make that happen? Here's a little background. …
Students who live in the residential halls have meal plans and dining cards. At the end of every quarter, the remaining meals on those dining cards "disappear." That's where Swipes for Homeless comes in. During the 10th week of every quarter the chapter asks fellow students to donate the meals they have left on their dining cards, and those meals are turned into cash by Dining Services. That cash is then used in two ways – it's used to purchase food that's donated to Feeding America, and it's used to buy products for R'Garden, which are planted and grown, and then donated to community homeless shelters.
"It's a huge sustainability and socially responsible project," said Dave Henry, senior director for dining services. "So many people hear and see the problems our communities face, but don't act on it. These students decided to do something about it, and that's inspiring."
UCR students are allowed to donate up to three meals at this time. During the 2014 winter quarter, Swipes for the Homeless collected nearly 2,000 meals from more than 600 students.
Rafid Sikder is the co-founder of the UCR chapter of Swipes for the Homeless. He said he wanted to start the organization after noticing the poverty issues facing the community. "I feel fortunate that I got to start it, get it done and work with passionate people – I'm incredibly happy to see what we've accomplished in this one quarter," he said.
The chapter raised about $5,000 during winter quarter alone, using $3,700 of it to buy food for Feeding America and using $1,300 toward R'Garden.
For more information on Swipes for the Homeless, visit the UCR chapter page.