'First-gen faculty' campaign highlights professors who are the first in their families to attend college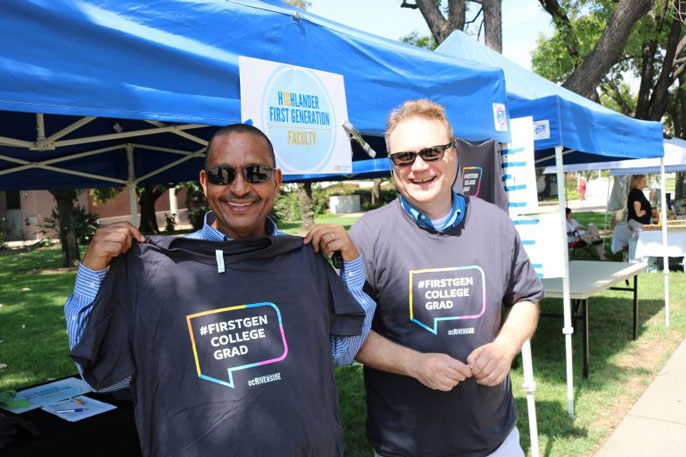 On Thursday, June 8, UC Riverside officially joined the UC-wide First-Gen Faculty campaign, meant to highlight and identify first-generation professors who can, in turn, serve as mentors for first-generation students.
This appreciation event was held at the weekly Farmer's Market by Hinderaker Hall. Faculty members who stopped by the First-Gen Faculty booth could pick up a T-shirt, a pin, and a ticket for a free Moo Moo ice cream cone.
So far, 88 UC Riverside professors have self-identified as first-generation — the first in their families to achieve a four-year college education. Systemwide, about 800 faculty members are participating in the campaign. First-generation faculty members are encouraged to wear First-Gen T-shirts, buttons, and are expected to share their college experience with students.
UC Riverside is taking the initiative a step further. This fall, the campus will launch an official First-Gen campaign to recognize first-generation staff members, as well as students. At UC Riverside, 58 percent of new and continuing students are first-generation, compared to 42 percent systemwide and 34 percent nationally.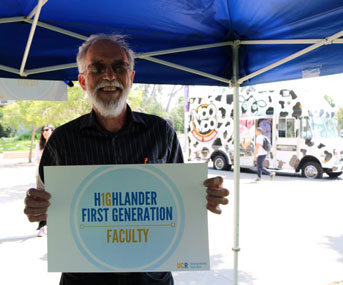 "At UC Riverside we wanted to do something a little bit different, to make the campaign a little bit more holistic," said Thomas Dickson, assistant vice provost of Undergraduate Education. Dickson is a first-generation college student himself; he understands what it means to balance college, several jobs, and home responsibilities.
First-gen college students are a symbol of strength and resiliency; they're not defined by deficits, but instead, seek challenges, Dickson said. He added that connecting faculty and staff members to support students throughout their college journey makes sense.
Anthropology lecturer Worku Nida and Shaun Bowler, distinguished professor of political science who began service as dean of the Graduate Division on July 1, were among the faculty members who stopped by the First-Gen booth.
Peter Sadler, a professor of geology who has been at UC Riverside for 41 years, is also participating in the campaign. "I would have never thought of going to college if a teacher wouldn't have bullied my dad to let me go," Sadler said after picking up his new T-shirt. "I can already see the effect when I tell this story to my AVID students when they stop by."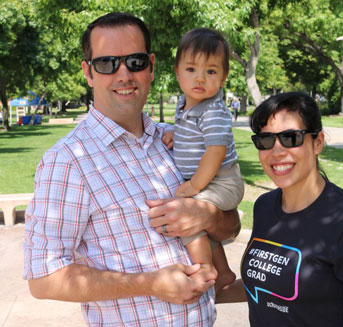 Not knowing how to maneuver through college as a freshman, or where to seek help, is something that Loralee Larios knows first hand both as an undergraduate and as a graduate student. The assistant professor of botany said she is glad UC Riverside is strategizing to offer the support and guidance students need. Larios said she, and her husband, Marko Spasojevic, an assistant professor of biology at UC Riverside, are excited to participate in the campaign and are ready to mentor students.
Both said they were attracted to UC Riverside because of its diverse student population, as well as its first-generation students.
"We're both here because of that. We both come from immigrant families, with similar stories. It's great to be able to contribute to a campaign like [First-Gen]," Spasojevic said.
Faculty interested in participating in the campaign can fill out a short survey.