First-generation students the majority of Class of 2017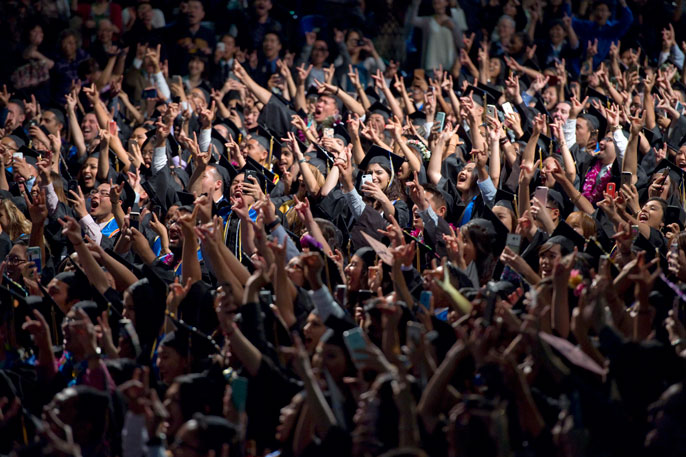 More than 7,500 students and their families will attend University of California, Irvine commencement ceremonies scheduled for Friday, June 16, through Monday, June 19, in the Bren Events Center.
Overall, UC Irvine will grant over 10,000 undergraduate and graduate degrees this year. And in a testament to the university's commitment to access and affordability, a record 54 percent of bachelor's degrees (4,880) will be awarded to first-generation college students. Last year, the figure was 48 percent. This high ratio of traditionally underserved students and their corresponding high graduation rates have twice earned UC Irvine the top spot in The New York Times ranking of universities that do the most in helping students achieve the American dream.
"This graduating class highlights how well UC Irvine is serving the people of our state by offering a world-class education to the best and brightest students, regardless of their financial circumstances, and acting as a powerful engine of upward economic mobility," said Chancellor Howard Gillman.
This year's commencement season follows last month's announcement that UC Irvine earned Hispanic-serving institution status for 2017-18. This designation is awarded to universities with more than 25 percent Latino undergraduates. It builds on UC Irvine's recognition earlier this year as an Asian American and Native American Pacific Islander-serving institution, demonstrating UC Irvine's dedication to providing a superior education to every qualified student.
The HSI and AANAPISI classifications are part of a federal program to help universities support first-generation and low-income students. They increase UCI's eligibility for federal funding and grants to boost financial aid and other student services, to purchase scientific and laboratory equipment, for faculty development and to improve classrooms.
These designations also add to the high value of a UC Irvine education. According to a Forbes 2017 Best Value College survey, the campus ranks eighth in the nation for delivering "the best bang for the tuition buck based on tuition costs, school quality, post-grad earnings, student debt and graduation success." And this year, Money included UC Irvine among "The 25 Best Public Colleges for Big Paychecks."
A schedule of graduation ceremonies, including cultural celebrations, is available on the UC Irvine commencement website. Diplomas to be awarded in 2017 total 10,199, with the following breakdown.
Bachelor's degrees: 9,068, with social sciences graduates accounting for more than 25 percent
Master's degrees: 770, with the highest number (200) in engineering
Doctoral degrees: 361 (including 100 M.D.s honored June 3)
Here are the stories of three outstanding graduates:
With a focus on giving back to others, Estrella Estrada has served as a peer coach at the UC Irvine Counseling Center and as an intern at Human Options, a social services agency for domestic violence victims. She starts a master's program in social work this fall at UC Berkeley. Estrada knows firsthand how social workers can change lives; their intervention helped her own family through difficult times. As a SAGE Scholar at UC Irvine, she gained leadership and professional skills, attended networking events and secured an internship. Estrada graduates this month with a degree in psychology & social behavior. Her advice to freshmen? "Ask a lot of questions, and get involved with student groups and clubs. Always stay hungry for information and knowledge."
Fireflies and a sprawling cemetery loomed large in Jason Yu's college career. Following in the footsteps of his scientist parents, who came to the U.S. from China with just $8 in their pockets, he majored in chemistry at UC Irvine. Specializing in the theoretical branch of the field, Yu developed an algorithm to help replicate the glow-in-the-dark properties of luciferin, the compound that animates lightning bugs. The synthetic substance could be used to detect tumors. Yu's Anteater journey — which also included singing in a campus a cappella ensemble — followed a sometimes difficult childhood. His father died when Yu was 10. A friend's church youth group provided emotional support, and the Rose Hills Foundation — a charity arm of Whittier's century-old graveyard — provided financial support for his college education. After graduation, Yu plans to earn a Ph.D. in theoretical chemistry at the California Institute of Technology and eventually work as a research professor.
With a bachelor's degree in public health policy, Kamilah McGuire will move on to a master's program in health administration at USC. The single mother of two balances her studies, internships and research with her sons' activities. Her goal is to be a healthcare executive in patient health and safety. She interns at UC Irvine Health in the patient experience department. McGuire credits three programs with helping her make the most of her time at UC Irvine: Discover UCI, SAGE Scholars and Transfer Edge. She learned about research opportunities and internships, developed relationships with mentors and received guidance in applying to graduate school. McGuire admits that so much responsibility can be stressful. She has taken to heart this advice from her pastor: "For every yes, commit to saying no to something else. It's OK to say no." And she's glad she said yes to UC Irvine: "I have it all here: a wonderful education and great schools and soccer programs for my kids."