March 6, 2014
Harry Mok
,
UC Newsroom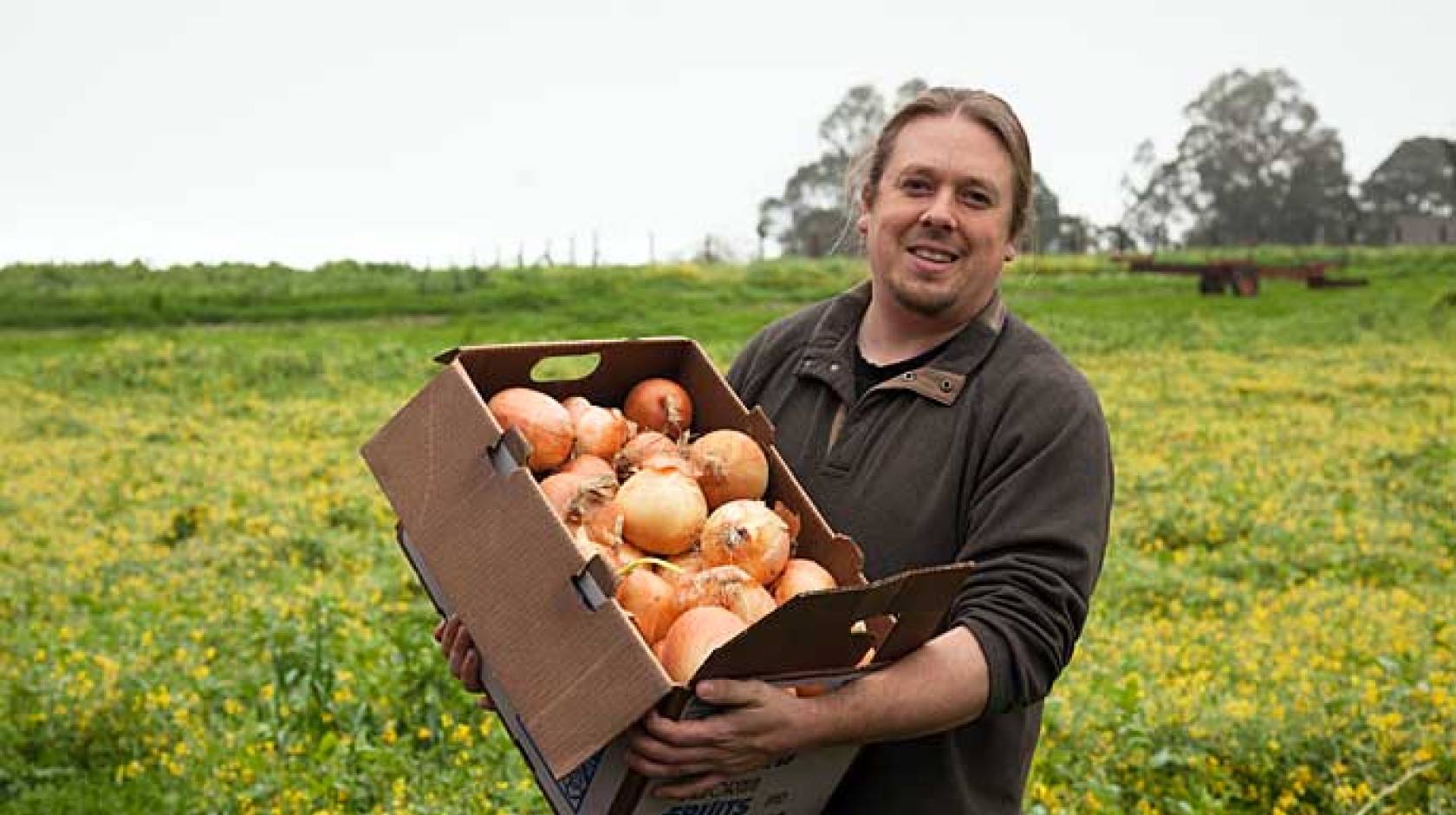 Credit: Carolyn Lagattuta/UC Santa Cruz
Can a tomato change your life?
For UC Santa Cruz's Tim Galarneau, his first bite of a ripe heirloom tomato was an epiphany — one that put him on the path to becoming one of the chief architects and a champion of UC's sustainable food movement.
"I had never eaten tomatoes like that. Growing up, I was used to those translucent beefsteak tomatoes," Galarneau said. "Here are these wild purple things that looked like a Rorschach blot. I bit into it and there was an explosion of flavor."
Galarneau was a teenager living in suburban Albany, N.Y., when he visited his uncle's Santa Barbara ranch and tasted fresh, handpicked produce for the first time.
His astonishment led to an interest in agriculture, food systems and how they are tied to environmental, economic, labor and social issues. He moved west for college and ended up at UC Santa Cruz, where beginning in 2002 he was instrumental in student movements to support sustainable practices and transform the campus dining halls into a model for sustainable food service.
Path to sustainability
"There was no going back once I came here. I found my path in life," said Galarneau, who is now a food systems education and research specialist at the UC Santa Cruz Center for Agroecology and Sustainable Food Systems.
As an undergraduate, Galarneau helped lead a campaign that passed a student referendum for a self-imposed fee that raises $250,000 annually for sustainability projects and programs.
After graduating, Galarneau advised and supported subsequent efforts to pass student referendums to fund additional sustainability initiatives, including programs for implementing sustainable food and farming practices on campus.
The campaigns fostered a culture of collaboration that helped UC Santa Cruz change its practices, Galarneau said. Part of that was the effort to develop a sustainable purchasing policy for campus dining halls.
UC Santa Cruz dropped the outside contractor that operated its dining facilities for more than 30 years. The campus began managing its own food service and created a pioneering program that established goals for buying food that is locally sourced, organic, fair trade and produced in a humane manner.
Spurred on by that success, Galarneau and others throughout the UC system set their sights on other campuses. In 2009, their efforts led to a university-wide sustainable food policy that includes sustainable food procurement, waste reduction and facility efficiency goals.
The policy commits UC campuses and medical centers to purchasing at least 20 percent of their food from sustainable or local sources by 2020. As a result, UC locations now offer more healthy meal options and work to reduce the environmental impact of their operations.
'The Alice Waters of campus foodies'
Galarneau's impact has not gone unnoticed. Mother Jones magazine has called him, "the Alice Waters of a burgeoning movement of campus foodies," and, in 2011, the California Higher Education Sustainability Conference named him the UC Sustainability Champion.
Galarneau's activism has spread beyond the University of California.
In 2010, Galarneau co-founded the Central Coast School Food Alliance, a partnership between UC Santa Cruz, the Second Harvest Food Bank of Santa Cruz County that promotes nutrition education and access to healthy, fresh food for children in the region.
Galarneau was also a facilitator for 40 Garden Enhanced Nutrition Education trainings across the state to more than 2,000 K-12 school staff members and educators. The UC Santa Cruz Center for Agroecology partnered on the farm-to-school training project with the California Department of Education's Nutrition Services, the Agricultural Sustainability Institute at UC Davis, the Resource Conservation District of San Diego County and the Community Alliance with Family Farmers.
Nationally, Galarneau helped launch the Real Food Challenge, which aims to convince thousands of universities and colleges across the country to set goals to buy 20 percent of their food from sustainable sources by 2020. The shift in purchasing would drive roughly $1 billion more annually toward sustainable food production by the next decade.
All the work is an effort to build community engagement and leadership to combat the more than $4 billion a year spent on food advertising, much of it marketing junk and processed foods to young people, Galarneau said.
"Schools don't have $4 billion to market healthy and sustainable food options," Galarneau said.
The constant barrage of food ads makes it even more important that schools can offer healthier alternatives, Galarneau said. And the foods themselves often provide a learning opportunity.
UC Santa Cruz's dining halls, for example, pioneered events such as Healthy Mondays, an offshoot of a national Meatless Monday initiative, and Farm Fridays, which brings farmers to campus to talk about how produce is grown.
Students enjoy a healthy meal, and in the process, learn about where their food has come from. And they gain a better understanding about why sustainable and locally sourced food is better for their health and the environment, Galarneau said.
"The more we provide the story behind food systems and the connections, the more people see where they fit in the food system and the more they see what kind of food system they want to be part of," Galarneau said.