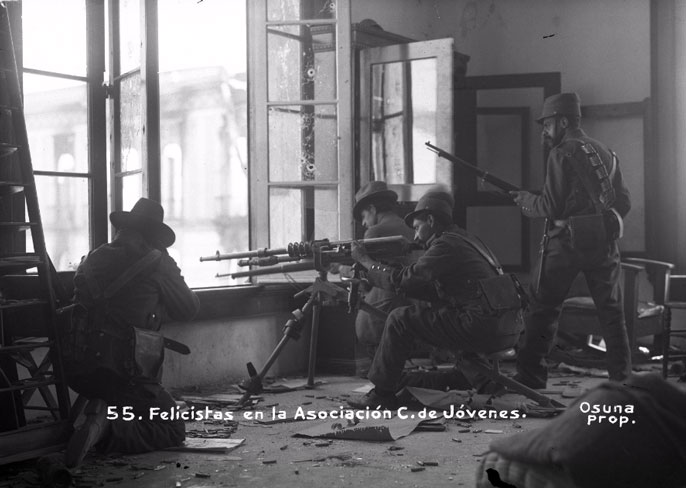 See the Sabino Osuna collection on Calisphere
Visit Calisphere to view more than 400 photographs from this historic collection.
Among the treasures housed within the special collections and archives at UC Riverside is a repository of 427 glass negatives depicting the early years of the Mexican Revolution.
This rare and fragile resource gives an up-close and personal glimpse of Mexico during a pivotal moment in its history. Captured by photographer Sabino Osuna, the collection features leading revolutionary figures like Pancho Villa and Emiliano Zapata Salazar, along with intimate scenes of soldiers engaged in battle on the streets of Mexico City, dating back more than a century ago.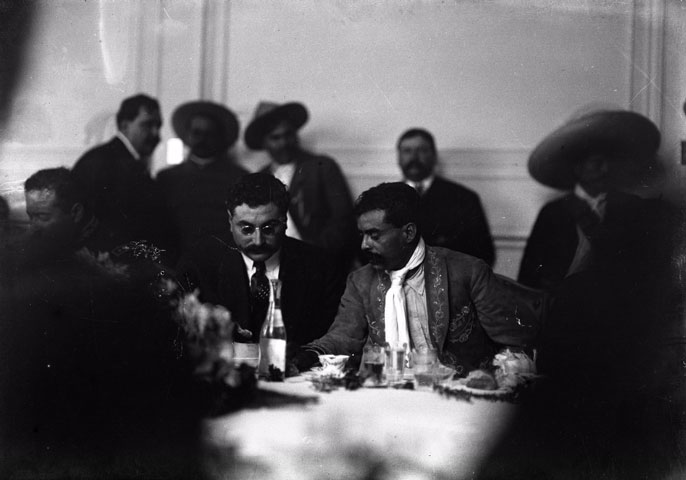 Mexican historians, students and others will now have access to this remarkable record through the country's Ministry of Culture.
UC Board of Regents Chair Monica Lozano presented Mexico's Secretary of Culture with a digitized, annotated copy of the entire Osuna catalog — along with a set of 56 prints and access to UC's online collections portal — during a March 29 reception at Casa de California, UC's facility in Mexico City.
"The Sabino Osuna collection is important in its own right, but it is also significant in that the Mexican Revolution was the first war to be extensively photographed, thus propelling the new medium of photography," Lozano said, as she announced the gift.
UC President Janet Napolitano, Lozano and other university leaders are in Mexico for meetings with government, education and business officials, as part of a three-day trip aimed at strengthening UC's partnerships with Mexico.
Napolitano launched the UC-Mexico Initiative in 2014 to foster strengthened and expanded opportunities for partnerships between UC and Mexico's universities, governmental agencies and foundations, and to work together on areas of mutual concern. The initiative focuses on five areas: arts and culture, education, energy, the environment and health.
"California and Mexico share a long and rich tradition of arts and culture," Napolitano said during the reception. "It's with great pleasure that we provide the ministry with access to the Osuna collection as a symbol of our continued partnership on issues of cultural significance."