August 17, 2017
Gretchen Kell
,
UC Berkeley
To freshman Angela Neally, the giant letter C she was helping to form on the football field Tuesday night with some 7,000 other new UC Berkeley students might have stood for "Ccccccold!" Temperatures had dipped, and summer fog swirled around California Memorial Stadium.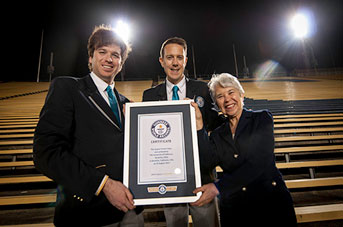 "It's really cold," admitted Neally, from Southern California. Next to her on the turf, new student Dani Goland agreed, recalling the warm nights this time of year in Israel, his home.
But at about 9:15 p.m., as the C finally took shape, there was no doubt what it meant to the thousands of incoming students who'd created it. All clad in dark blue and squeezed together on the field, they launched into a familiar Cal cheer: "Go!" yelled a pocket of students, and others replied "Bears!" The back-and-forth chant continued, filling the historic, 62,467-seat stadium.
"Cal is its people," said Chancellor Carol Christ, simply summing it all up, after an official photo was taken. She'd joined the students, shoulder-to-shoulder, at the Golden Bear Orientation (GBO) event, Bear Affair.
A few minutes later, the C dissolved, and students gleefully rushed off the field. They'd forgotten, it seemed, why their formation had needed to be so perfect, the letter's edges so precise, with all of them wearing the same color, with the right number of them participating, and why they'd been required to hold perfectly still for five minutes at the event's end.
Chancellor Carol Christ accepted the certificate of Berkeley's record from Guinness World Record adjudicators Michael Furnari (left) and Philip Robertson. (UC Berkeley photo by Keegan Houser)
A major announcement was about to be made. On the sidelines, two judges from the Guinness Book of World Records, the chancellor beside them, certified at 9:25 p.m. that Berkeley had just achieved the world record for the largest human letter. Its C was comprised of 7,196 students, eclipsing the University of Tennessee's T, formed by 4,223 students last March.
Philip Robertson said he and fellow Guinness record adjudicator Michael Furnari — both having flown in from New York City — had been forced to eliminate more than 100 Berkeley students for wearing the wrong color or for standing where edges of the C were "somewhat irregular," said Robertson, too lumpy, rather than crisp. The judges also discounted students whose paper wristbands they'd confiscated when the students left the C for the bathroom at a critical moment. All participants were required to wear the bands to help Robertson and Furnari count the number of people taking part.
But Berkeley had secured the record by a longshot, and, handing Christ a framed proclamation of the record-setting feat, Robertson heartily welcomed Berkeley to the Guinness Book of World Records as the media captured the moment and rushed it onto the nightly news.
That ended Day One of the new eight-day GBO, and it had been a day packed with big events — a morning press conference for the chancellor, new student convocation in the afternoon and Bear Affair, which began at 7:30 p.m.
Students like Meenu Pamula, a freshman from Fresno, said they appreciated the warm welcome they already were receiving from administrators, faculty and staff. "I've had a good experience coming in," she said. "It feels inclusive."
Pamula especially praised Christ, calling her "a girl boss. I Iike her!" She'd watched the chancellor personally greet students all day, engagingly share her goals for Berkeley and then spend hours on the field with students, helping them break the world record.
The Guinness World Record for the largest human letter was set by 7,196 incoming students. (UC Berkeley photo by Keegan Houser)
Neally said she was impressed with convocation and its personal touches — like Haas School of Business Dean Richard Lyons playing his guitar and singing to the audience. She added that she appreciated "the way (faculty) shake hands" to greet new students and how older students help newer ones.
Chrissy Roth-Francis, director of New Student Services, said she was proud of how Bear Affair at Memorial Stadium capped the day.
"Our staff did a great job planning it, the campus fully embraced it and the new students came in a sea of blue, excited to take part in history," she said. "We weren't sure how large the C would need to be, and I'm thrilled how large and beautiful it turned out."
"This is an example of what happens when students work together as one community — they can accomplish anything, and the future is bright for them," she added. "In just their first full day on campus, they've already left their mark on the world."
Other Guinness World Records set at Berkeley include:
Smallest radio receiver, 2007
Oldest known sample of weapons-grade plutonium, 1941
Longest career as a professor (Joel Hildebrand), 1981
Oldest remains of modern humans (Tim White discovery), June 2003
Slowest-flowering plant (Puya raimondii, UC Botanical Garden, planted 1958 and bloomed 1986)