November 4, 2022
Jennifer Karmarkar
,
UCLA Health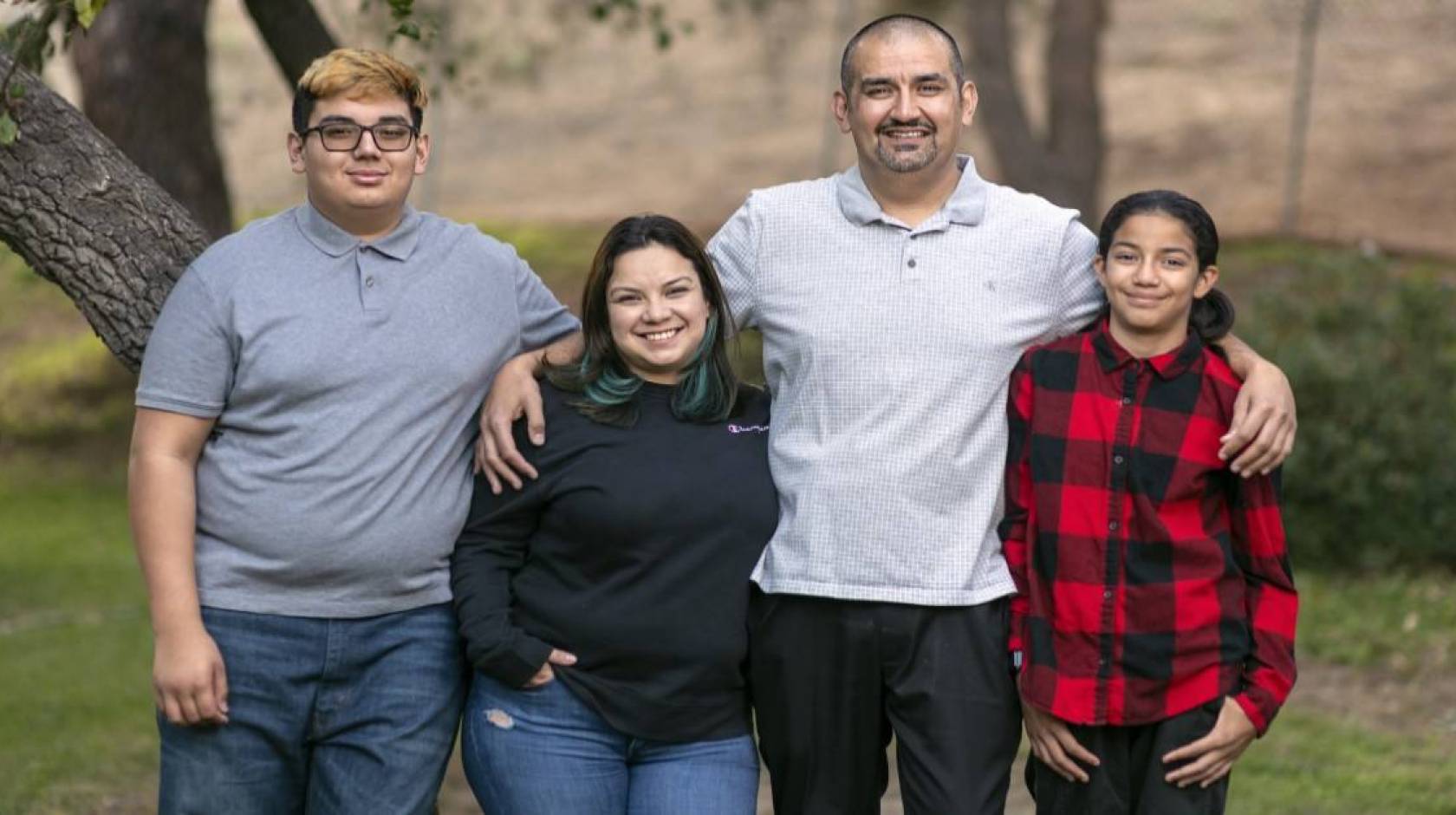 Credit: Joshua Sudock/UCLA Health
By all accounts, Lazaro Barajas was living a good life. At 40 years old he was married, had a good job as a general manager of a restaurant chain in Santa Clarita, and was saving to buy a first home for his family. A huge sports fan since childhood, he enjoyed attending his young son's and daughter's football and basketball games and cheering on his beloved Los Angeles Lakers.
Then, in 2019, Barajas' world was shattered when he was diagnosed with invasive colorectal cancer, a disease in which cells in the colon (the lower part of the large intestine) or rectum grow out of control.
While the majority of colorectal cancers are found during a routine colonoscopy — an imaging test for abnormalities in the colon — at 40 and with no family history of the disease, that screening wasn't on Barajas' radar. His only symptom — albeit, an alarming one — was a rapid weight loss of about 40 pounds over three weeks.
"My wife noticed it more than I did," Barajas says. "Losing that much weight I was still able to work, and I didn't feel drained or anything like that."
His wife persuaded him to visit a nearby medical clinic, and subsequently, a colonoscopy and biopsy confirmed the cancer diagnosis."
Barajas was referred to Anne Lin, MD, a colorectal surgeon and chief quality officer for the Division of General Surgery at UCLA Health. Dr. Lin removed his tumorous colon, and Barajas started chemotherapy at another medical facility.
Despite receiving several cycles of chemotherapy, however, Barajas' disease had spread to other organs, becoming metastatic (stage 4), which is usually considered incurable.
"When I found out it was stage 4, and the doctor said you've only got two years to live, it broke my heart, especially with my two kids. That's when my mind started scrambling," Barajas says.
Desperate for answers, Barajas recalled a conversation he had with Dr. Lin shortly after his surgery: "Dr. Lin said, 'If you ever need something, just call us here at my office and we'll get you the help you need. You're too young to give up.'"
Barajas made that call, and it changed the trajectory of his treatment and his life.
Early diagnosis is key
In 2019, the most recent year for which data is available, 142,462 new cases of colon and rectal cancer were reported in the U.S., and nearly 52,000 people died from it, according to the Centers for Disease Control and Prevention. Colorectal cancer is the fifth most common cancer in men and women.
Regular screening, beginning at age 45, is the key to catching colorectal cancer early.
"We have some theories but nobody really knows why — we're seeing an increasing number of younger patients with colorectal cancer, so it's extremely important for everyone to get screened, at least at age 45, and potentially earlier for patients with a family history or certain high-risk genetics," says Sidharth Anand, MD, MBA, assistant professor and head of quality improvement for the Division of Hematology-Oncology, Department of Medicine at the David Geffen School of Medicine at UCLA.
In addition to unexplained weight loss, signs of colorectal cancer can include abdominal pain, bloating, bloody stool (bright red blood or dark), and change in stool caliber, Dr. Anand says.
When Barajas reached out to Dr. Lin after his stage 4 diagnosis, she referred him to Dr. Anand, who met with Barajas and his wife to explain treatment options.
"From the day I met him, he put my wife, Gladys, and me in a great place," Barajas recalls. "He took the time to sit down with us, and he was very upfront. It's not just about a doctor and patient relationship — he actually cares. I can ask him questions and he answers me, and I feel so comfortable with him."
If there is a bright side to Barajas' cancer it's that his tumor is microsatellite unstable, Dr. Anand says. That means the tumor can possibly respond to immunotherapy, a treatment that harnesses the patient's immune system to fight the cancer.
Barajas had been started on a combination immunotherapy and had a few months of response, but his disease ended up progressing on standard immunotherapy, Dr. Anand says.
"At that point, having exhausted chemotherapy options and immunotherapy options, there was no choice but to look for a trial that would fit his tumor molecular profile," Dr. Anand says.
That trial proved to be the turning point for Barajas.
Getting his life back
Barajas is in the third year of a clinical trial to evaluate an experimental immunotherapy combination that was developed to assist in the destruction of cancer cells.
"The treatment looks at a different type of immunotherapy combination that works slightly differently to keep the tumor at bay," Dr. Anand explains. He notes that it's been working effectively for Barajas for nearly three years.
Barajas says he feels good and is relieved to be off chemotherapy treatments.
"They have my cancer under control, which is a beautiful thing," he says, adding that undergoing chemotherapy for a year was mentally, physically and emotionally draining. "Ever since I started doing the trial, I'm able to work my 40 or 50 hours, come home and still spend time with the kids. It's letting me live my life. I do have my days once in a while, but very rarely. Doing this is a blessing."
"I think it's pretty remarkable that he's had such a great response on a clinical trial with this new immunotherapy target," says Dr. Anand, who is part of the gastrointestinal cancer research team at UCLA Health, which includes J. Randolph Hecht, MD, and Zev A. Wainberg, MD, both members of the UCLA Jonsson Comprehensive Cancer Center.
"We try to see a majority of our complex GI cases and identify trials here or at other places that patients can benefit from," Dr. Anand says. "Because some cases, like this one, are just dramatic improvements in terms of survival if they get into a trial."
Innovative technology
Barajas' only setback was in late 2021 when a scan showed one area where cancer was growing despite his therapy on the clinical trial — specifically, a cluster of lymph nodes in the left pelvic region. He was referred to Michael Xiang, MD, PhD, a radiation oncology specialist and medical director of Santa Clarita Radiation Oncology.
To treat the tumors, Dr. Xiang used a type of focused, precision radiation called stereotactic body radiation therapy to deliver a concentrated dose of radiation to the tumor. The treatment was accomplished in just five sessions, he notes.
"Furthermore, we used a special kind of innovative, cutting-edge technology called adaptive radiation therapy, which allows us to tweak or finesse the design of the radiation, on the fly, in real-time, to adjust for day-to-day changes in the patient's anatomy," Dr. Xiang says.
"It allows us to ensure we're still delivering an effective dose to the tumor, while further helping to minimize radiation exposure to surrounding normal tissues and organs," he adds.
At the time, UCLA Health was one of only a dozen centers in the U.S. with this capability.
Staying mentally strong
Despite his diagnosis and the discomfort of treatment, Barajas has been able to maintain a positive attitude — vital, he says, to fighting his disease.
"It's a lot on your mind, and if you let yourself come down it's going to really affect you," Barajas says. "But if you try to stay positive – it's hard – but it's something you have to do. You have to train your brain not to think about it."
At first, Barajas and his wife tried to shield his illness from their son, now 14, and their daughter, now 11. Recently, however, they've started to be more open with them about their father's cancer, even attending a Relay for Life cancer walk in Valencia over the summer.
"I told my wife, that's the best thing we could have done. That way they don't feel like it's only daddy, but there are thousands and thousands of people who have cancer, and there are ways of fighting and dealing with it," Barajas says.
Emotion wells in his voice when he talks about what he is most grateful for: getting the opportunity to live and being able to watch his kids grow up every single day.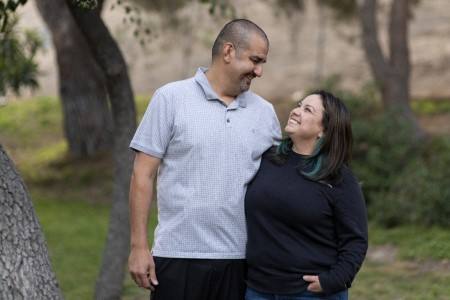 Photo by Joshua Sudock/UCLA Health
Laker For A Day
The Laker For A Day program at UCLA Health recognizes patients who face serious illnesses with courage, strength and determination. Participants, selected by UCLA Health, receive a pre-game tour of Crypto.com Arena and on-court recognition.
On Nov. 20, Barajas will receive that recognition, with his wife and children by his side. It's an unexpected honor, he says, but one that he is thrilled about.
"I can't believe it," the lifelong Lakers fan says. "I'm so blessed."
Barajas says he hopes his story will underscore the importance of getting screened for colorectal cancer when directed by a physician and paying attention to the warning signs. It's something that men — especially Latino men — often don't want to think about, he says.
"I think colon cancer is very scary for a lot of Latino men because of the whole process, because it's so invasive," Barajas says.
Still, when his brother and his uncles learned of Barajas' diagnosis, they got screened right away, he says.
Says Barajas, "They understand it can happen to anyone."
Learn more about colorectal screening options, including colonoscopy and FIT (fecal immunochemical tests), at UCLA Health.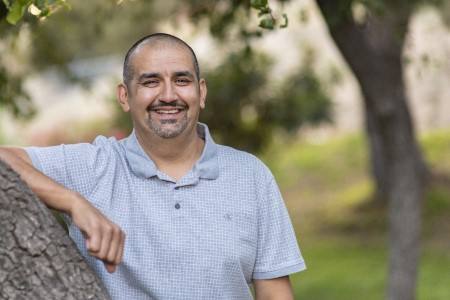 Photo by Joshua Sudock/UCLA Health