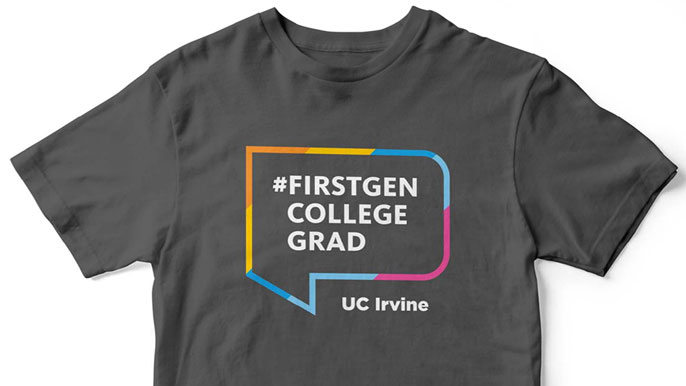 A simple cotton T-shirt can make a major statement. Just ask Glenda Flores, associate professor of Chicano/Latino studies and sociology at UC Irvine. On the first day of class — as she did last year — she'll wear a shirt that identifies her as a first-generation college graduate. It's a gesture that resonates with UC Irvine's student body, more than half of whom are the first in their families to attend college.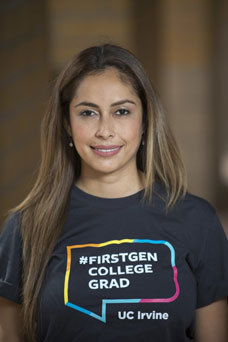 "The classroom dynamic changes when I wear the first-gen T-shirt," she says. "Students feel more comfortable participating in lectures and sharing their experiences. They're more likely to attend office hours, which has a significant impact on academic outcomes."
Flores was raised in Santa Ana by working-class parents who valued hard work and academic achievement. Her family encouraged her to attend college but couldn't help her navigate the application process.
Her story is similar to those of thousands of University of California graduates each year. In fact, 42 percent of UC undergraduates are first-generation college students. Their stories are part of a UC-wide effort to highlight first-gen successes among its students, faculty, staff and alumni.
And when it comes to helping students achieve the American dream, no university matches UC Irvine. The campus tops The New York Times' College Access Index of U.S. institutions of higher education based on their commitment to economic diversity. The ranking takes into account the number of low- and middle-income students that a university enrolls and the price it charges them.
First-gen experience an impetus for research
Flores' first step toward achieving her academic goals was enabled by her counselors at Santa Ana High School, who recognized her potential for success.
"Most of us had no real understanding of college," she says. "We were pulled out of class and coached on how to apply. I didn't even know of UC Irvine at that point."
She decided to become an Anteater because the campus was close to home and her father had once worked on a construction project in Irvine and noted that it was a "nice, safe" community.
Flores lived in Middle Earth housing during her freshman year. It was a bit of culture shock, as she and her roommate (a friend from Santa Ana) were the only Latinas on their floor. And as a woman, Flores felt pressure that her younger brothers didn't.
It's a topic she's explored in her research. She has published books and articles about gender roles in the professional lives of Latina teachers and physicians.
"I was definitely dealing with gendered cultural expectations, which is common for daughters of immigrants," Flores says. "Women are expected to fulfill family obligations and perform chores in a way that men simply aren't."
Mentorship boosts ambition
She balanced family and academic duties while working as a waitress, a teacher's aide and a department store salesclerk throughout her four years at UC Irvine. The campus's computer lab was like a second home since she couldn't afford her own PC at the time.
Flores graduated cum laude from UC Irvine in 2005 with bachelor's degrees in Chicano/Latino studies and Spanish, with an emphasis on education. She didn't originally intend to seek a doctorate and was planning to become a bilingual elementary school teacher. But she was motivated by a Latina history pioneer and UC Irvine professor to pursue academia.
"Vicki Ruiz opened my eyes to seeing the Latino experience as valuable," Flores says. "A lot of students aren't aware that their cultural background and knowledge is an asset, especially in the job market. It prepares them to work with diverse populations."
Another revelation followed.
"The inspirational comments that Vicki Ruiz wrote on one of my papers made me realize that my critical insights were respected and that I could become a professor one day too," she says.
In fact, a network of UC Irvine instructors affected Flores' career trajectory.
"I was also deeply influenced by Luis Aviles and Armin Schwegler, who had so much knowledge of Spanish literature and phonetics, respectively," she says. "It was when I took a Chicano/Latino literature course with Alejandro Morales that I was drawn to that area. The material spoke to me."
Welcoming home a new mentor
After earning a master's and a doctorate in sociology at USC, Flores applied for university teaching positions across the United States and was thrilled to return to her alma mater.
"On my first day of class, I felt nervous, but I kept saying to myself 'I can do this,' and it went really well," she says.
Glancing at a row of thank-you cards from grateful students, she reiterates the importance of becoming acquainted with your professors.
"When students come to office hours, they're able to get specific answers to their questions, but they also get to know us as people who may have faced similar life circumstances," Flores says. "Those connections can help them in the classroom and also for things like letters of recommendation for grad school."
And sometimes that connection starts with a simple T-shirt.