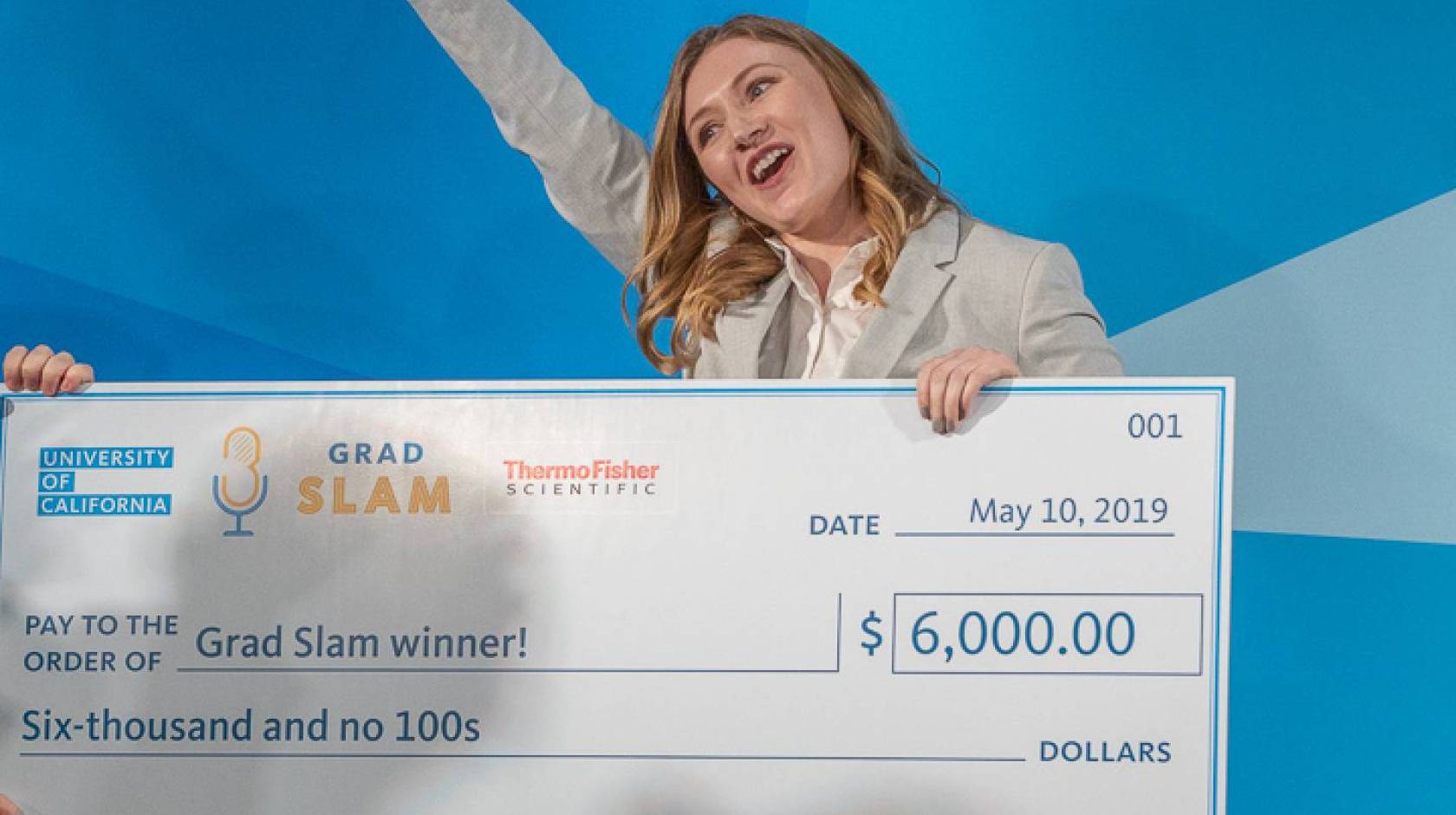 Curing cancer with math, probing the hype on CBD, foiling the virus that causes COVID: At UC's upcoming Grad Slam competition, graduate students will compete to explain their research into these and other weighty topics in just 3 minutes flat.
The event, open and livestreamed to the public at 11 a.m. Friday, May 6, provides a glimpse into the incredible breadth of graduate research happening across the 10-campus University of California system.
Expect to be wowed — competition at the systemwide Grad Slam championship is stiff. Each of the 10 contestants won first place in campus Grad Slam contests earlier this year with their entertaining, enlightening and thought-provoking presentations.
—
Tune in to Grad Slam at 11 a.m., Friday, May 6, and vote for your favorite 3-minute talk: gradslam.universityofcalifornia.edu
—
"Our 29,000 graduate students are an incredible intellectual engine, powering insights into who we are, how our world works and what makes us human," said Pamela D. Jennings, UC executive director of graduate studies. "We created this systemwide contest, in part, to give folks just a glimpse of the amazing talent we have in our graduate students and the value they bring to the university and the world."
Now in its seventh year, the contest gives the public an appreciation for graduate research while providing graduate students with the communication skills that can help them get research funding, land jobs and more broadly share the importance of the work they do.
The event will be held at LinkedIn's San Francisco headquarters and emceed by UC President Michael V. Drake. The public is invited to watch the livestream and vote online for their favorite talk.
The goal of the annual contest is to make graduate research more accessible by providing students training to effectively communicate their work. The challenge: explain their graduate research in terms that will amaze and enlighten a general audience — and do it in no more than 180 seconds.
Winners will receive a share of $14,000 in prize money donated by Thermo Fisher Scientific (plus bragging rights). The first-place finisher also takes home the systemwide Grad Slam trophy, or Slammy, as it is affectionately known.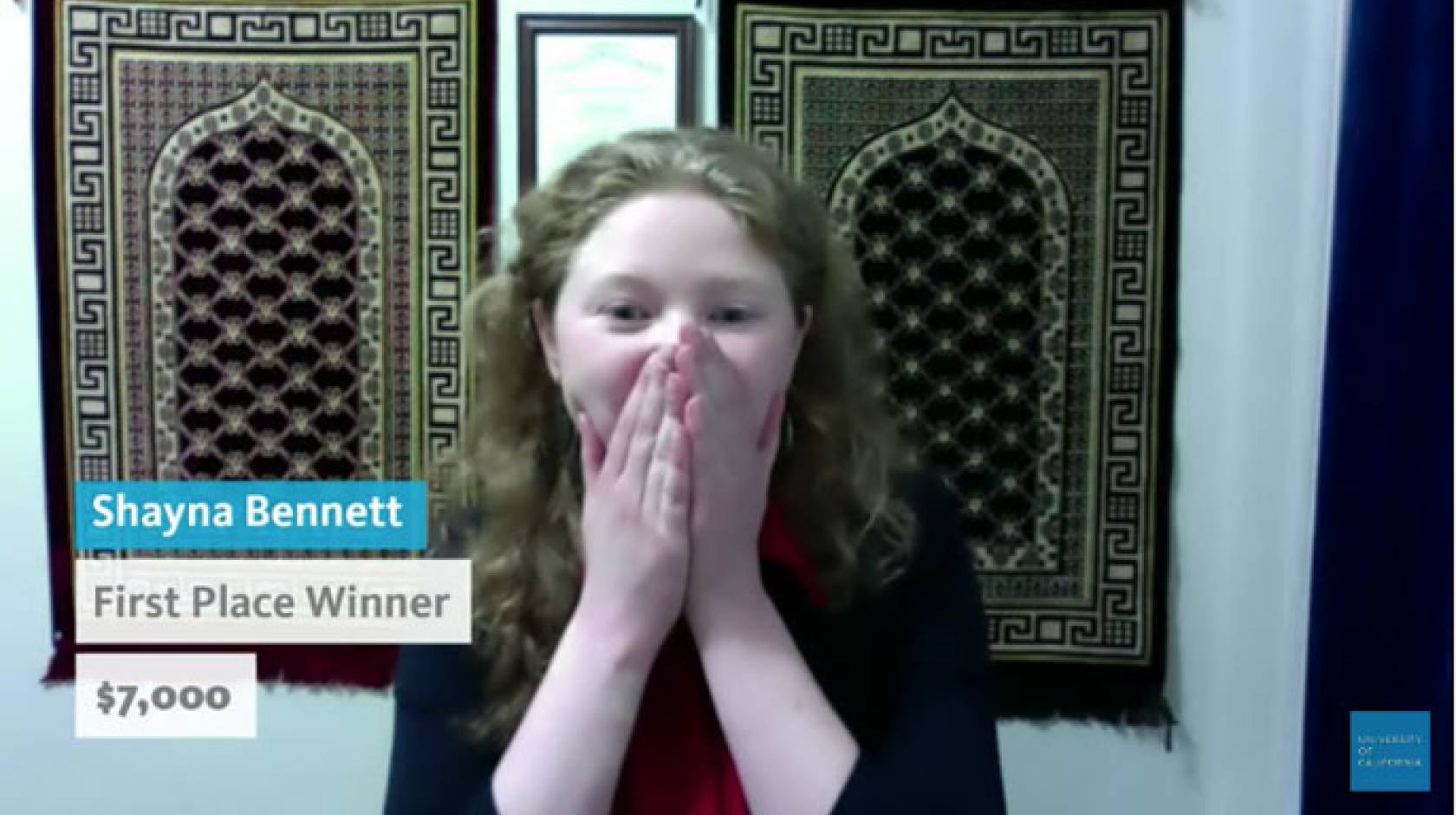 Contestants have put in months of preparation and training and won out against dozens or even hundreds of competitors on their own campuses to make it onto the LinkedIn stage. 
"I think the secret was practice, practice, practice — trying things over and over until I finally found the right combination,' said UC Merced graduate student and reigning champion Shayna Bennett, who won the 2021 contest with a talk on using math to halt the spread of invasive species.
Students who take part in Grad Slam are invited to participate in public speaking workshops and even one-on-one coaching to hone their skills. That is a big draw for students like Bennett, who hopes to one day become a professor and teach quantitative skills to students both inside and outside of the field. 
"I didn't just want to tell the audience the applications for my research. I wanted them to experience the thought process with me," Bennett said. "When you're able to do that, the audience feels that they've learned so much."
This year, the tough task of choosing the winner will go to a panel of judges that includes leaders in higher education, business and research, along with two local high school students chosen by their school to represent the next generation of scientists and scholars. The judges will award first, second and third place prizes.
The audience will also have a chance to cast their vote for People's Choice winner. Viewers can vote on the Grad Slam website as soon as the talks have concluded. 
As part of the event, UC vice provost Yvette Gullatt will interview NASA astronaut Jose Hernandez, an alumnus of UC graduate programs who (along with doing three space walks) is now a member of UC's Board of Regents. 
"Participating in Grad Slam totally changed how I talk about my research. It taught me how to connect with an audience who doesn't do anything like what I do, or even do research at all, and how to get people excited without sacrificing integrity," Bennet said. 
"It's thrilling to see other people get as excited about your work as you are," she said. "That's really my goal as a researcher and educator."
Tune in to watch the livestream May 6 at 11 a.m. and cast your vote for audience favorite.