May 1, 2015
Nicole Freeling
,
UC Newsroom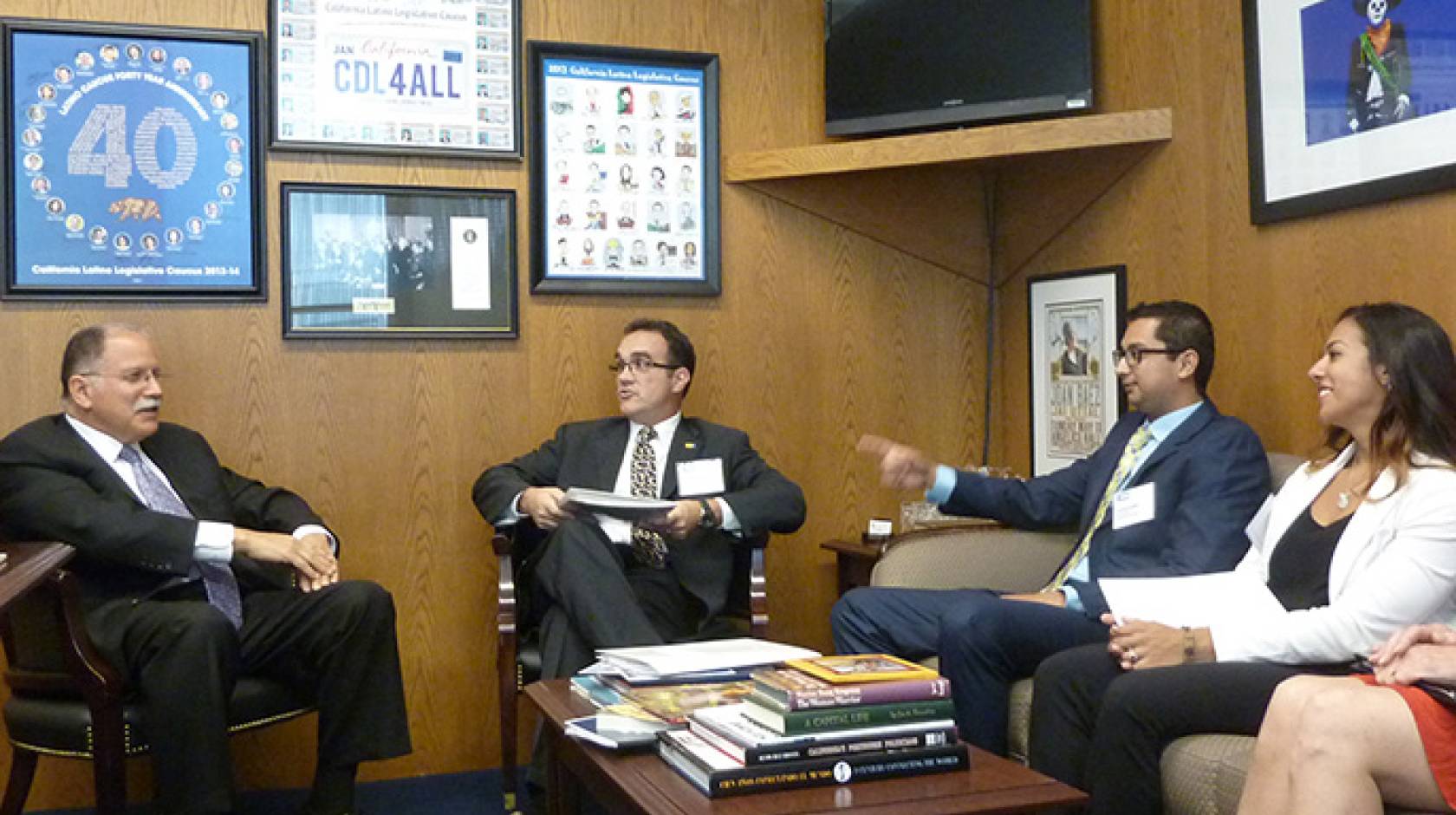 Seated around a coffee table with California state Assemblyman Jose Medina, UC Riverside graduate student Vicente Nuñez explained how his nanothechnology work could lead to more effective cancer treatments.
"What we're trying to find out is, can we load red blood cells up with materials that will help surgeons locate and target a tumor," said Nuñez. His research involves using fluorescent nanoparticles to pinpoint malignant cells.
Fellow student Jessica Diaz described her experiments tinkering with the hormones in rice to coax their leaves to grow more upright. The technique could eventually boost rice yields by allowing more crops to be planted in less space.
"I'm proud," Medina told them. "It speaks very well of the University of California to have students like you."
The students were there not there to give Medina a lesson in bioengineering and plant biology. Rather, they were seeking to educate lawmakers about what graduate students do and the value they bring to the state.
Nuñez and Diaz, both the children of Mexican immigrants and the first generation in their family to go to college, are not only advancing research on critical California issues, they also founded an outreach program aimed at sparking a love of science and education among Central Valley Latino youth.
"I fell in love with science, but my parents didn't know how to help me with it," said Diaz. "It's really important to me to get students to participate in research and believe in their ability to 'get' science. I tell them every day, 'If I can do it, you can do it.'"
Nuñez and Diaz were among 22 graduate student delegates who visited the Capitol on Tuesday as part of Graduate Research Advocacy Day. The annual event aims to give students a sense of the legislative process and illuminate for lawmakers the deep pool of talent that UC graduate programs give the state.
A source of knowledge on critical issues
"As I look around the room, I can see the immediate policy impacts of your research, for California and for the country," UC President Janet Napolitano told the grad students at a lunch reception.
UC's 26,000 Ph.D. students are an important part of what distinguishes UC as a research university, she said.
"The secret sauce we have at UC are the students like yourselves," Napolitano said.
In addition to research with practical and policy applications, students also shared examples of basic research into the nuts and bolts of how things work. These small insights lay the groundwork for major leaps forward down the road.
In a meeting with Veronica Badillo, legislative director to Assemblyman Rocky Chávez, UC San Diego grad student Kara Finzel described how she is seeking to understand the exact protein mechanisms at work to create components critical to the production of biofuels.
Better insight into that process could pave the way for using bacteria and algae to produce an alternative to fossil fuel.
"Using algae to make fuel. Who thinks of stuff like that?" Badillo said. "Well, clearly, you guys do."
In the engine room of university research
It is that kind of blue-sky thinking, free from the need to produce a quick profit, that makes the work of graduate students so valuable.
UC graduate students are "in the engine room of the research being done at the University of California," said Bill Tucker, interim vice president for research and graduate studies at the UC Office of the President.
They are charged with bringing the fresh approaches and new ideas to advance the research being done across more than 600 disciplines. Together, the students represent an unmatched resource of new knowledge, solutions and expertise for the state.
They shared that expertise with officials they met with on Tuesday.
UC Berkeley students André Carrel and Rachel Gordon spoke to transportation committee representatives about their research on increasing use of bus transit and zero-emission vehicles.
UC Santa Cruz student Harmony Reppond, who assesses programs to reduce homelessness, was able to clear up some data questions for an aid to state Sen. Bill Monning, who is putting together a low-income housing bill.
UC Merced student Ryan Lucas, who is looking at how mountain wetlands can increase their ability to hold groundwater, was invited to provide data to inform a meadow restoration effort led by state Sen. Anthony Cannella. He was encouraged by another to apply for a state research grant to improve California's groundwater supply.
"We're looking at a lot of short-term solutions because of the drought, but there hasn't been a major effort to increase long-term water security," Lucas said. "The level of interest is exciting to see."
Students also got a firsthand look at the competing demands and priorities facing lawmakers, an experience that would help them make their research more actionable for policymakers.
"After hearing about our research, one [official] asked, 'Well, do we fix our aging levees or do we cut education for kindergartners?" said UC Irvine student Menglu Yuan. "Hearing that gave me insight into the issues and realities legislators are dealing with. That perspective helps us as researchers to word our message more effectively."