April 12, 2017
Nicole Freeling
,
UC Newsroom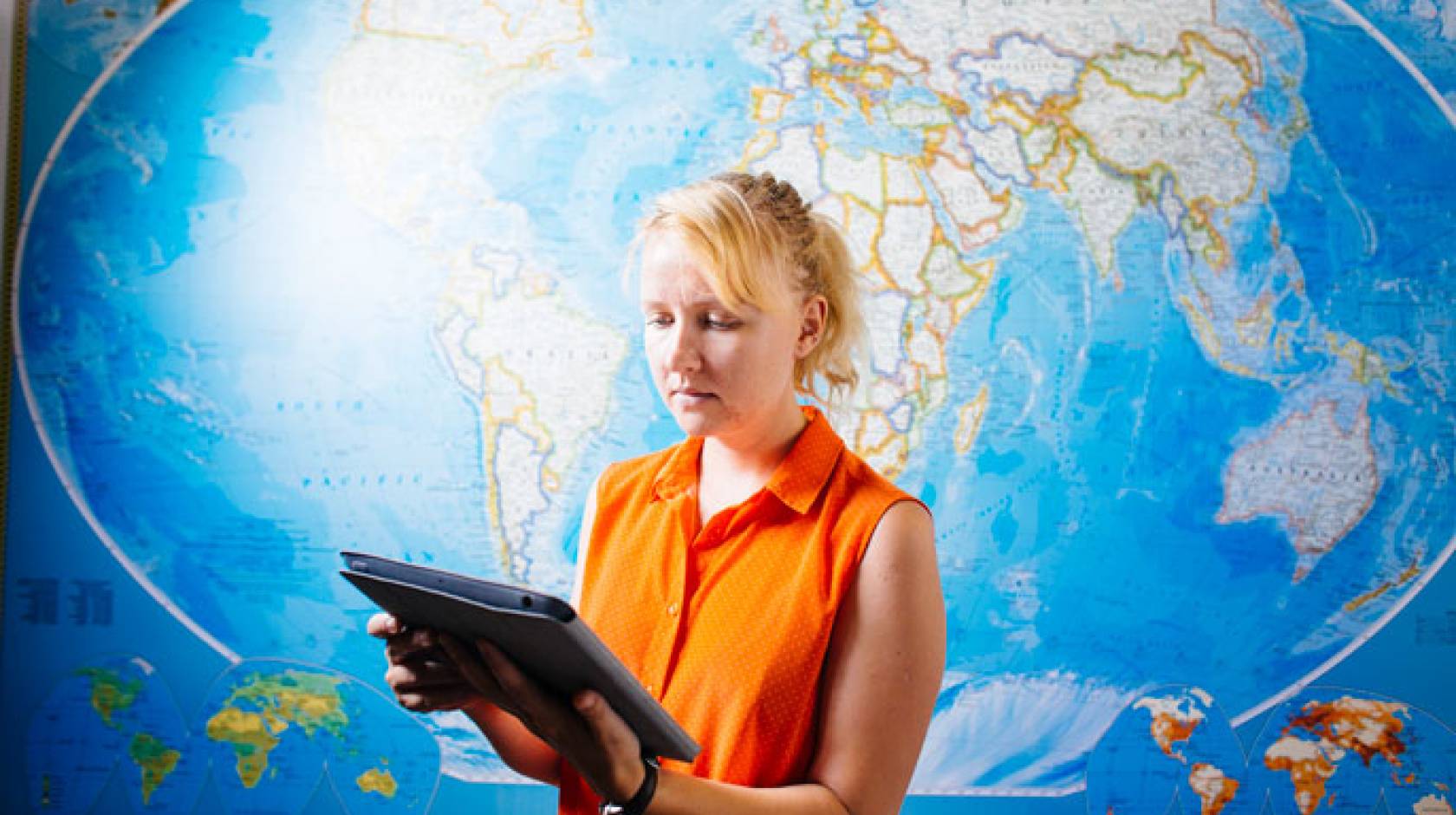 Non-academic jobs were once considered Plan B for students like Nicole Robinson.
As a UCLA graduate student in Italian literature, Robinson studied the writings of modernist women exiled under Italian fascism. "I didn't go get a Ph.D. to cure cancer — I did it to delve really deeply into a subject," Robinson said. "I was probably, for a brief while, the world's leading expert on my topic."
But she was also leader of the Graduate Student Association and found the practical, collaborative problem-solving associated with those responsibilities to be just as engaging as her academic research.
When it came time to enter the job market, she said, "I looked at all that would be required of me if I wanted to get a job as an Italian scholar. When I weighed that against the excitement and benefits of a job outside of academia, it just didn't pencil."
Today, Robinson holds a job she loves: management consultant at McKinsey & Company, where her graduate study has proved surprisingly relevant.
In making the transition to the private sector, Robinson got support from Humanists@Work, a UC-wide association of graduate students looking to explore non-academic careers. Started in 2014 with a grant from the Andrew W. Mellon Foundation, the group hosts online forums, conferences and networking dinners for those with ambitions beyond the ivy walls. The effort is an initative of the UC Humanities Research Insititue, which aims to connect research in the humanities to public life.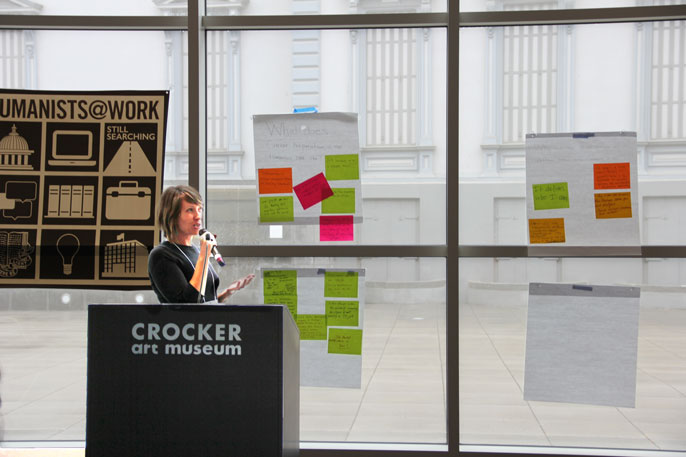 It is part of a growing effort on UC campuses to support Ph.D. students in exploring non-academic careers and to connect the wealth of talent emerging from the university's graduate programs with California industry's needs.
As a humanities scholar, "what we do is look very closely at something tiny and see how it relates to something big," Robinson said. Now, rather than spend six years on a problem, she tackles a new issue every few weeks. "It could be anything: work for government, nonprofits, the Vatican. I don't have to worry about things getting stale. I always have the opportunity to hit refresh."
Going where the jobs are
Robinson is not unique.
UC has begun collecting placement data on where its Ph.D. graduates end up, and has found that 42 percent of recent doctoral graduates go on to teach at four-year institutions, 2 percent teach at community colleges, and 5 percent go to national or university research labs. The other 51 percent leave academia for other kinds of careers — whether in the arts, public service, or something else. Nearly one-quarter of grads land in private industry.
Once considered a fallback option to the holy grail of a tenure-track university position, many grad students now see these alternatives as equally attractive — offering greater flexibility about where they want to live, what they want to do, and the ability to change career tracks as they progress professionally.
But making the leap can be difficult.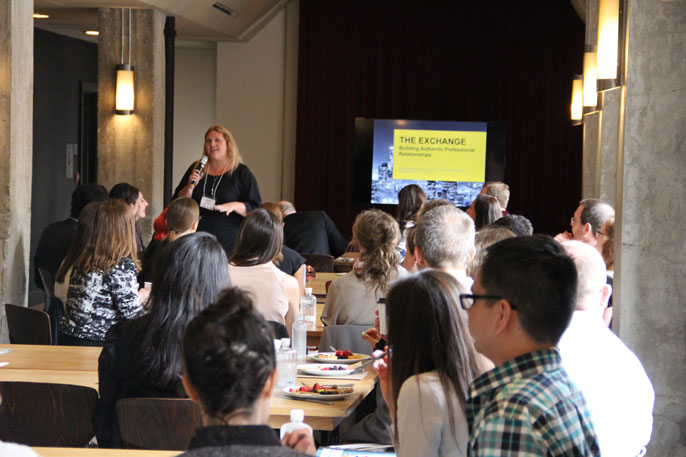 Boning up on 'soft skills'
In today's complex global marketplace, Ph.D. students bring both aptitude and ability when it comes to tackling big questions, thinking creatively about solving problems and finding approaches that no one else has tried.
What they lack is a familiarity with workplace culture and the range of career possibilities open to them. Many struggle with how to market themselves to potential employers and how to translate a narrow research niche to the broader abilities the workforce needs.
"Grad students have tons of great, hard-to-get skills and expertise," said UC San Diego chemical engineering Ph.D. Lindsay Freeman, who helped start a program in response to student demand. "What they are often lacking are the soft skills industry wants to see: things like communication, teamwork and time and project management — skills local businesses reported they were looking for."
Programs like UC San Diego's GrAdvantage are one of the ways that UC is helping grad students develop those skills. Doctoral alumni come to campus to talk about their professions and how they made the leap. There is also a year-long certificate program that lets grad students develop and complete a project on campus.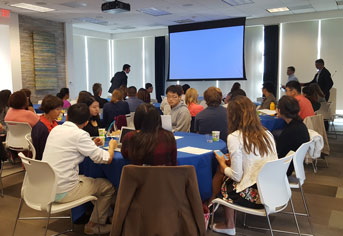 Offered in partnership with UC San Diego Extension and the campus career services unit, the course helps students build out their heavy-duty academic CVs with the professional experiences that can help them land jobs.
Over the course of three quarters, students identify a need, do feasibility studies and work with campus personnel to design and implement a solution. That course was an eye-opener to biochemistry grad student Nathaniel Cohan, who studies the functioning of a protein implicated in Parkinson's disease.
He was part of a team charged with helping campus facilities managers develop a better solution for disposing of hazardous waste.
The collaborative project was a welcome change from the often solitary and slow pace of work in the lab — and it opened Cohan's eyes to career opportunities for scientists in private industry, which he believes would be a better fit for him.
He now hopes to work as a representative of manufacturers of high-tech research equipment. "It's really tangible," he said. "You get to do the meaty part of solving a scientific problem without the years of follow-through."
What can't you do with a history degree?
Graduate education has traditionally focused almost exclusively on gearing students up for academic careers. But academic departments are starting to take notice of the need to prepare their students more broadly.
UCLA history department chair Stephen Aron is among them. He tracked where the department's Ph.D. students ended up, and the results surprised him. Only 17 percent landed in the four-year, research-intensive universities that their training focused on.
"If only one-sixth of your graduates are getting the positions you've prepared them for, something is amiss," he said.
He has begun to reframe the curriculum so students can explore a wider range of career paths. He and fellow history professor Karen Wilson developed a graduate seminar called "The Many Professions of History," in which students get to hear from Ph.D.s in jobs as varied as museum curator, government historian and intelligence analyst.
As part of the class, students work on a project to take a piece of UCLA history and bring it to life, be that through podcasts, installations, oral history or other means.
"The question isn't what can you do with a history degree. It's what can't you do with a history degree?" he said.
"If you think about the skills history gives you, it's not simply that you know what date something happened. It's that you can digest and synthesize complex information. It's that flexibility and adaptability that comes from thinking across cultures and across time."
Losing the jargon, learning the lingo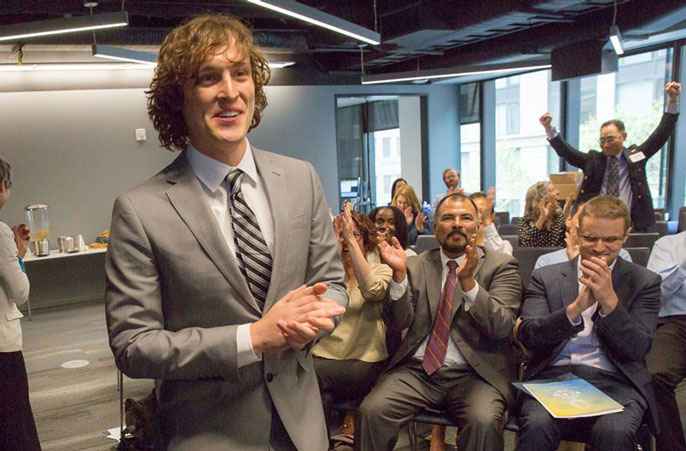 For many students, it is hard to frame expertise honed over years in the lab or the library in terms outsiders can understand.
UC recently developed a systemwide contest to help grad students learn to do just that. Known as Grad Slam, the contest challenges students to present their research in three jargon-free minutes. Several hundred students across UC's 10 campuses participate in the event, which offers cash prizes along with training in public speaking and research communication.
Others efforts are also helping graduate students learn to market themselves.
Humanists@Work hosts professional resume workshops that teach students to frame their academic experience in ways that will resonate with employers. Students also get a crash course in professional lingo.
"They learn things like what is program development versus project management versus product management; external relations versus external affairs," said Humanists@Work director Kelly Anne Brown. "It can be like a foreign language."
Finding a calling over the salad course
Another challenge: how to help students build the professional networks that can lead to great opportunities.
Brown throws elaborately orchestrated networking dinners to help students make those kind of connections.
Participants describe the dinners as a wedding reception with musical chairs: Students sit down to a meal with Ph.D. alumni from a variety of professions. After every course, the alums switch tables. At the end of the event, the students have made a number of professional connections — and gotten a better sense of the possibilities open to them.
"They see that they have worth and value in the professional world," said Brown. "They feel like they have real options."
Programs like these provide students with support for what can be a hard decision: to leave an environment to which they have spent years being dedicated, body and soul.
"When I decided to change tracks, I went through a bit of a mourning period," Robinson said. "There is something very identity-based about being a Ph.D. It is hard to think, 'a big part of who I am right now is going to be something else.'"
Robinson has continued to stay involved with Humanists@Work, and now mentors others who are wondering what possibilities lie beyond the campus gates.
"Looking back, I can say with absolute certainty I made the right choice."