April 23, 2015
Nicole Freeling
,
UC Newsroom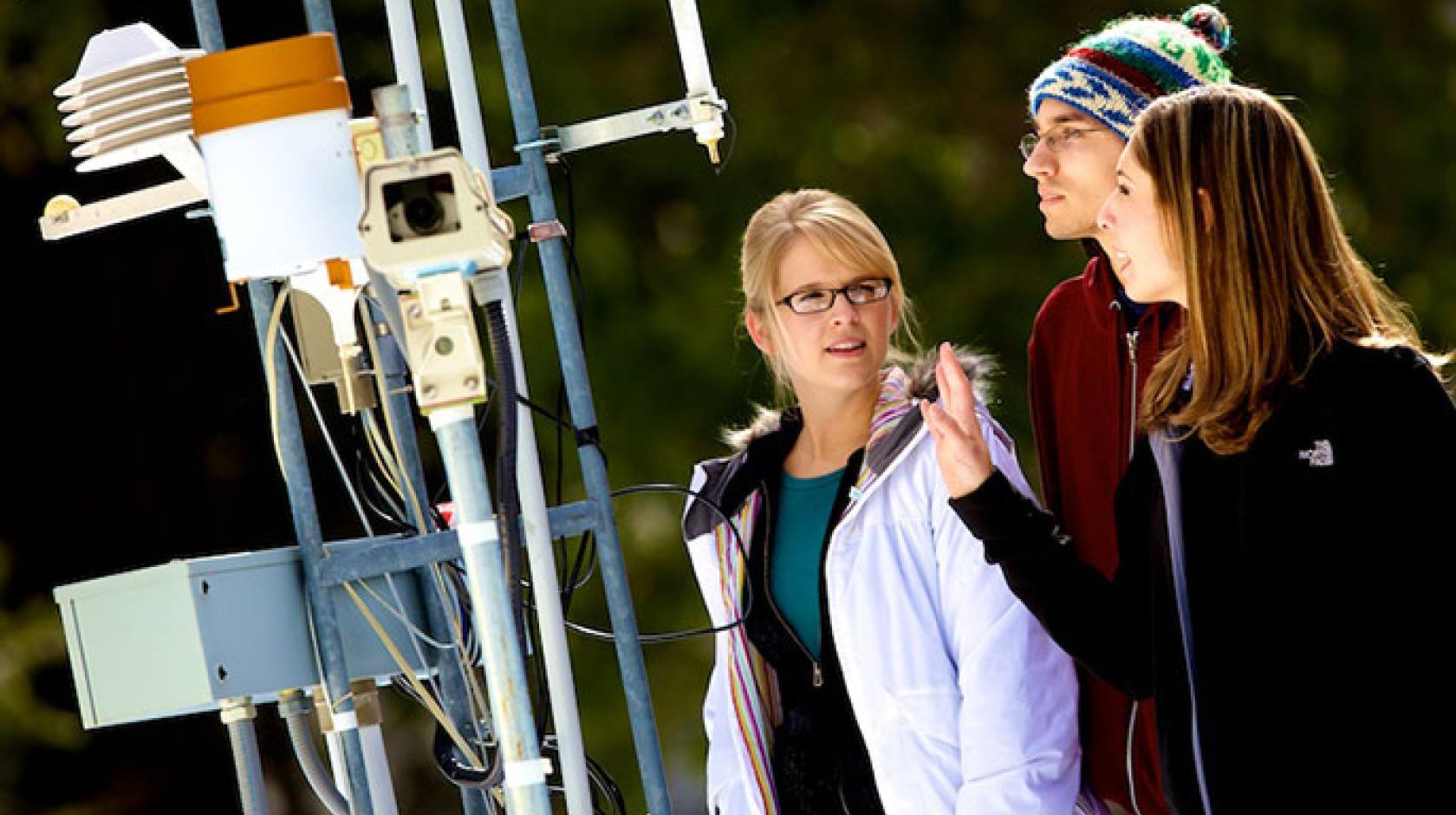 Credit: University of California
While they don't garner as much public attention as undergraduates, the University of California's graduate students are a driving force behind UC's leadership in research and education.
With 50,000 master's and Ph.D. students, UC graduate researchers are a major source of the solutions, startups and big ideas that keep California strong. These emerging scientists and scholars, among the most accomplished in their fields, amount to a brain trust matched by few other institutions in the world.
On April 28, 22 of UC's graduate students will join UC President Janet Napolitano at the state Capitol to highlight the value graduate research brings to the state.
An annual event, Graduate Research Advocacy Day brings delegates from each campus to the Capitol for a day of informal chats with lawmakers. The visits have established valuable relationships between graduate students and elected officials, who have often invited researchers back to Sacramento to tap their expertise on critical issues.
"By meeting with students and learning first-hand about their research, policymakers get a glimpse into the enormous reservoir of talent we have within our Ph.D. and master's programs," said Pamela Jennings, director of graduate studies at UC Office of the President.
"These are individuals who are starting companies, creating inventions and breaking new ground in arts and humanities. They also bring an ability to understand complex issues and identify creative approaches and solutions that is increasingly needed in today's world."
Delegates will share work that ranges from conserving wetlands to taking aim at childhood obesity. Here is a sampling of their research: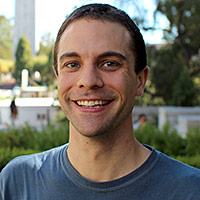 How bus reliability affects ridership
Efforts to improve transit have often overlooked a simple factor: how does reliability of service affect whether people choose to take the bus? UC Berkeley civil engineering grad student André Carrel studied approximately 800 passengers on San Francisco Muni buses to find which reliability issues were most likely to cause the system to lose riders. He found that being left behind at a stop and having unexpectedly long travel times had the biggest impact in discouraging riders and causing them to switch to other modes of transportation.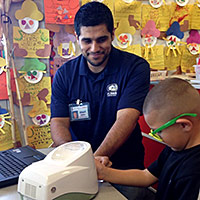 Testing whether kids eat their veggies
Imagine a Fitbit for measuring children's eating habits: As part of a multifaceted effort to minimize obesity among children of migrant workers in the Central Valley, UC Davis nutritional biology grad student Alberto Aguilera is field-testing a simple device that can tell if kids have increased their vegetable intake. The test looks for biomarkers on the skin to help researchers understand how well various programs and incentives are working to actually change the way kids eat.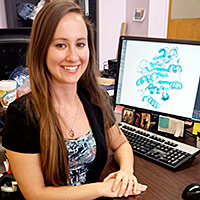 A greener way to make drugs
UCLA chemistry graduate student Crystal Valdez is helping to engineer naturally-occurring enzymes to improve drug manufacturing by making it cheaper and less toxic. Through the design and use of computer modeling, she aims to give scientists a recipe for how to modify particular enzymes to spur the chemical reactions they need. Those enzymes provide an alternative to harsh chemicals, and cut cost, energy use and toxic byproducts associated with current drug production.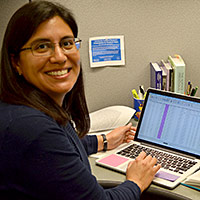 Understanding adolescents' health choices
Why do adolescents engage in risky behavior? UC Merced psychological sciences grad student Anna Epperson is seeking answers to a question every parent asks. As a member of the Choctaw tribe, whose adolescents are almost twice as likely to smoke as the average California youth, Epperson is investigating how peers, family, culture and class influence teens' health decisions. "The disparities in negative health behavior are well known, but there is a real lack of insight into what's driving those choices," Epperson said.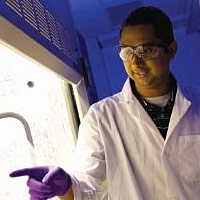 Technology to target cancer cells
Imagine being able to use a body's own cells to identify every trace of a tumor and target it with cancer-fighting drugs. That is the goal of work by UC Riverside graduate student Vicente Nuñez. Working with particles 10,000 times smaller than the width of a human hair, Nuñez infuses red blood cells with fluorescent material, enabling surgeons to see the precise area and location of the tumor. The approach could be further developed to deliver chemotherapy precisely targeted to malignant cells.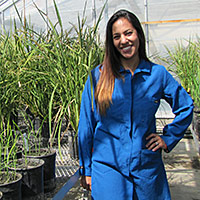 Engineering greater grain yields
Could changing the way rice grows help feed an increasing world population? UC Riverside plant biology grad student Jessica Diaz is engineering the leaves on the rice plants to grow more upright, enabling them to be planted more closely together, increasing the amount of grain yielded per acre and ultimately feeding more people in a smaller amount of space. "The world population is increasing, and we can't come up with more land," Diaz said. "We need to find other ways to increase the food supply."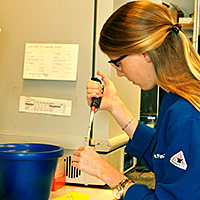 Paving the way for biofuel advances
Organisms naturally make long strings of hydrocarbons — known as fatty acids — that are essential in the production of biofuels. UC San Diego chemistry graduate student Kara Finzel is trying to unlock a basic mystery: how proteins interact to produce those bonds. It is the kind of basic research that rarely grabs headlines — yet it could unlock clues to enable major advances in production of biofuels. "No one has really been able to engineer bacteria to successfully produce the materials we need because no one really understands what is going on at this protein-to-protein level," said Finzel. "We need to go back to the basics to move forward."
How climate affects politics
UC San Diego political science graduate student Nick Obradovich documents how extreme weather shifts the political winds. In the United States, Obradovich has surveyed Twitter and other social media to see how weird weather influences people's views on climate-related legislation. In Africa, Obradovich's research points to more immediate impacts: climate shocks make incumbent leaders more likely to be thrown from office.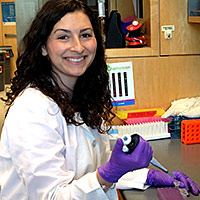 How cells talk to the body
UCSF graduate student Alison Leaf is seeking to solve a mystery about the way our cells work to communicate with the body. Her work is focused on how cells function to deliver proteins called signaling receptors, which receive and communicate messages, to the correct place on the cell's surface. Malfunctions in this part of cell operation are suspected to play a role in conditions such as blindness and kidney disease. "We're not just studying one disease or problem, Leaf said. "If we know how the cellular machinery works, we can potentially manipulate that machinery to fix a diseased state."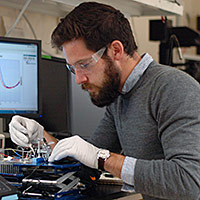 Smart sensor keeps drug dose just right
Some drugs, like those used in chemotherapy, have a narrow margin for an acceptable dose: too little and they are ineffective; too much and they have dangerous side effects. UC Santa Barbara materials graduate student Peter Mage has developed a micro-sized sensor that acts like a thermostat — continuously measuring the presence of the drug in the bloodstream and cranking the dose up or down accordingly. The device is able to tailor doses to each individual's unique response. "What is exciting is that the sensor platform is universal," Mage said. "You can swap out the sensor molecules to detect any drug you're interested in. The applications are almost limitless."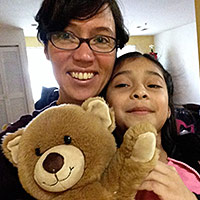 Using language as a window into the immigrant experience
UC Santa Barbara graduate student Lynette Arnold is using an usual source of data to offer officials insight into the concerns and experiences of immigrant families: what they talk about at the dinner table. Focusing on arrivals from Central America — the fastest-growing segment of the immigrant population — Arnold has taped hundreds of hours of casual, family conversations, serving as a fly on the wall to identify common issues and threads. "In order to make good politicies, we need to understand people's actual, everyday lives," Arnold said. "Language offers a unique window into the lived experience."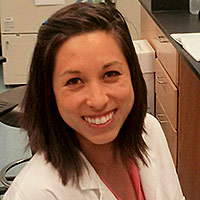 Finding AIDS' Achilles' heel
As a retrovirus, HIV is constantly mutating. The virus looks different each time the body encounters it, making it difficult for researchers to develop a vaccine. UC Santa Cruz graduate student Rachel Doran is focused on finding the virus's weak points — proteins or parts of proteins that remain fairly consistent. Doran, who studies biochemical sciences and engineering student, is trying to find these proteins and figure out how they could safely be used to activate the body's natural defense systems, priming antibodies to attack.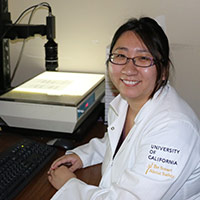 E-cigarettes and the adolescent brain
UC Irvine pharmacology and toxicology grad student Menglu Yuan investigates whether the nicotine consumed in e-cigarettes alters brain chemistry, particularly in adolescents. Yuan studied adolescent rats and found that, after being exposed to nicotine for several days, they had a three times greater interest in and appetite for cocaine than rats that had not consumed nicotine. Her findings suggest that the nicotine in e-cigarettes could make the brain more susceptible to drug abuse.