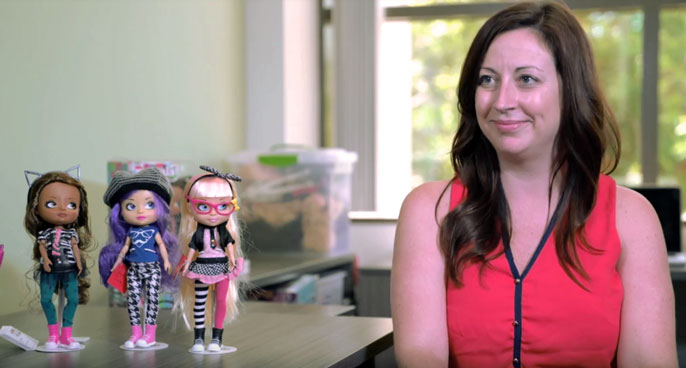 Glittery pop stars. Pink princesses. Wholesome, high-priced American Girls, and frivolously rude Bratz.
When it comes to the doll market, UC Irvine entrepreneur Gina Heitkamp and her sister Jenae Heitkamp are betting that young girls are hungry for something a little more clever and a little more real.
This week, the pair launched Middle School Moguls, a line of diverse, crafty, tech-savvy dolls that come with integrated online games that tell the story of a group of middle school friends whose internet startup becomes an overnight success.
The dolls hit the shelves of Target this week before rolling out with other major retailers in the coming year. The sisters' goal: beat down tired stereotypes and encourage entrepreneurship among girls aged 6 -10.
The product grew out of Gina Heitkamp's own frustration with how few women were in tech.
Real role models
While working toward her MBA at UC Irvine in 2014 and consulting for local tech companies, Heitkamp noticed she was in the minority at the the myriad industry events she attended.
She took the issue up with her sister Jenae, a seasoned marriage and family therapist and mother of a young daughter, who diligently researched the question of why more females weren't going into technology and entrepreneurship.
The answer: By middle school, girls were buying into gender stereotypes that steered them away from business and technology fields.
It created both an opportunity and a challenge – one the sisters have taken on with their line of dolls, books and online entertainment that tests the gender gap with what they call "aspirational play."
Each Middle School Mogul comes with her own backstory, a unique personality, special skills and interests, "everything from coding to art and graphic design and finance," Heitkamp said.
One Mogul has foster parents. One is with a military family; another is raised by a single parent — backgrounds more inclusive than the seemingly flawless nuclear family often depicted in children's narratives.
"The important thing about showing weaknesses and vulnerabilities is that it makes them not only easy to relate to but also shows you don't have the perfect life or IQ to reach the goals you want to reach if you work hard," Heitkamp said.
Mogul mentorship
It took two years of incubating, bootstrapping and fundraising within the nurturing environment of UC Irvine startup hot spot The Cove to develop Middle School Moguls and get it on store shelves.
The moment when the Heitkamp sisters decided to quit their day jobs and focus full-time came after their company, iBesties, won first place and $15,000 in the 2014 Business Plan Competition at UC Irvine's Paul Merage School of Business.
The OC Cove Fund is one of its main investors, chipping in $250,000 of its $1.3 million Series A round. But crucial support from The Cove didn't start nor stop there.
"The list just goes on and on of the people here who have helped us," Heitkamp said. "The Cove offers mentorship in the area you need it, for the time frame in which you need it — marketing, finance, operations. It's like a la carte mentorship."
'Checks for chicks'
One of those mentors is Kirsten Mangers, CEO and self-described "mother hen" of ChickLabs, a hybrid incubator and accelerator at The Cove that focuses on female entrepreneurs and gender-diverse teams.
"I'm in her office almost every day asking for help and advice," Heitkamp said.
A tech entrepreneur who has fundraised up and down Sand Hill Road in Palo Alto, Mangers has seen it all firsthand.
"I was a first-timer, a female in tech when there were very few females in tech and very few female VCs," she said.
While fundraising, she faced questions about whether or not as a woman she could lead a large-scale company. As an executive with a child on the way, Mangers said a superior wanted to "wait and see" how she did as a working mom before offering her a promotion.
Mangers, who runs the business plan competition that iBesties' won two years ago, said these experiences didn't give her a chip on her shoulder, but rather motivated her to develop a framework for mentoring entrepreneurs with similar uphill battles.
She telephoned friends and peers in Silicon Valley to talk off record about "why checks for chicks were not written as frequently." At first the venture capitalists denied it, she said, but in time some honesty seeped through.
What she heard was that while many female entrepreneurs are extraordinarily passionate and eloquent about their business ideas, they are less likely to speak the language of the investor.
"There is a certain nomenclature and inner sanctum you have to break through," she said. "You must always remember your audience."
ChickLabs helps female entrepreneurs build companies that can connect with financiers and scale, Mangers said. She personally helps the startups pitch on point and earn the trust of financiers.
"We have a lot of work to do," Mangers said. "But the community of really phenomenal women in tech leadership and entrepreneurship is growing by leaps and bounds."
And with a new generation of female "moguls" coming up, the future looks bright.