January 30, 2018
Nicole Freeling
,
UC Newsroom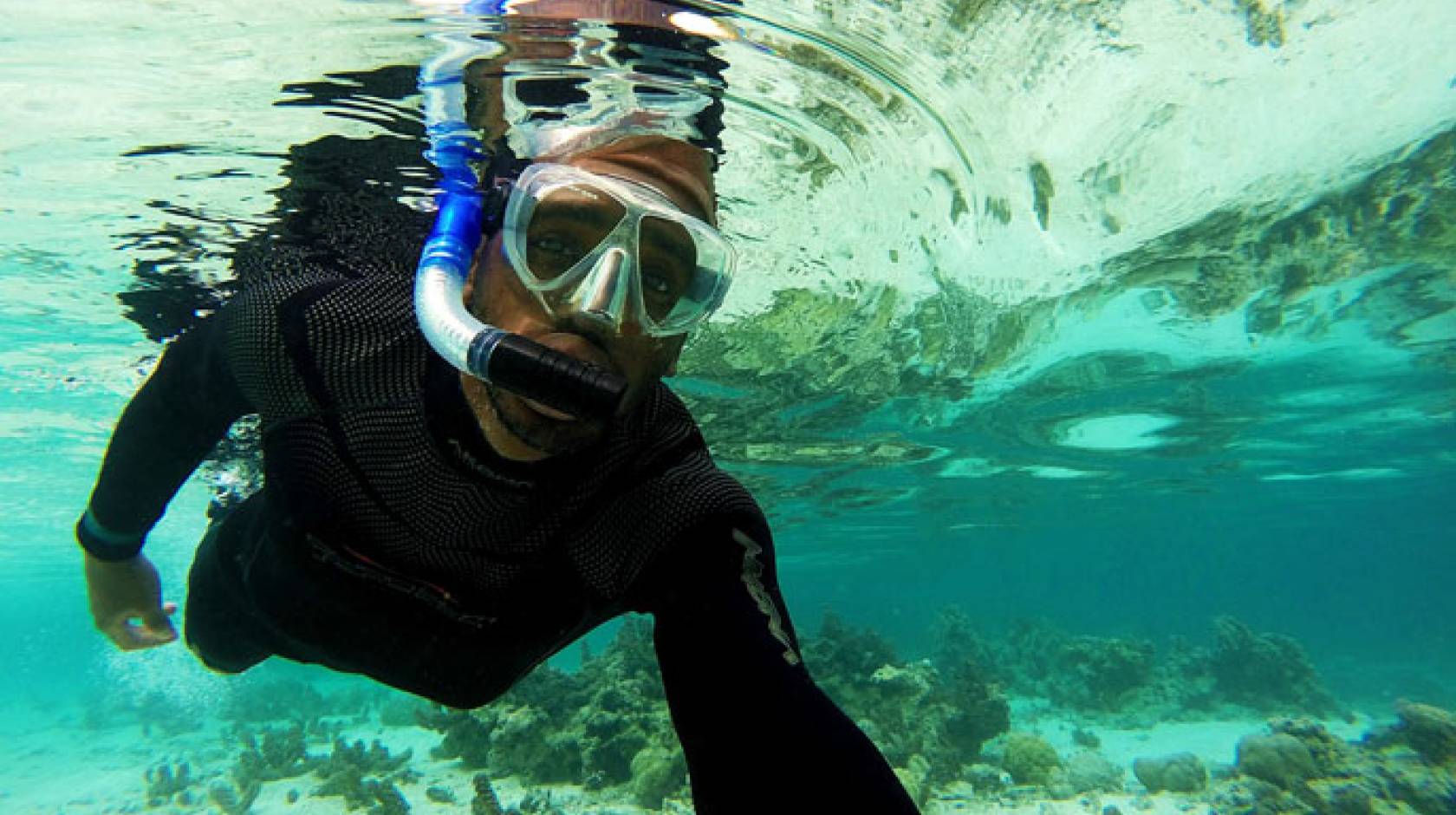 As universities around the country strive to diversify their graduate and faculty ranks, one University of California effort is proving highly successful.
A UC initiative that strengthens research ties and collaborations with the nation's historically black colleges and universities has helped more than 400 students to participate in a UC summer internship. The result: More than 10 percent of participants have gone on to a UC Ph.D. program.
In addition to getting a taste of campus life, participating students work alongside faculty and graduate students to design and conduct research. They live on campus, make connections with prominent researchers in their field, and take workshops on preparing for and applying to graduate school and competing for national fellowships.
"You can't underestimate the importance of having students see and experience for themselves what graduate school might be like," said Pamela Jennings, executive director of Graduate Studies at UC Office of the President, which developed the program. "And they find faculty and graduate student mentors who are invested in their success."
UC has hosted over 400 HBCU summer interns since the program's first summer in 2012. Some 44 of them are now enrolled in UC graduate programs, and five have successfully completed graduate degrees.
These students are making contributions in a wide array of fields that are most acutely lacking in diversity across the nation, such as electrical engineering and evolutionary ecology.
Many wouldn't have come to California — much less enrolled in graduate school — without the tools and experiences they gained through the UC-HBCU Initiative.
Here are a few of the talented scientists and scholars who have enrolled at UC as a result of the partnership:
Tsegereda Esatu, electrical engineering, UC Berkeley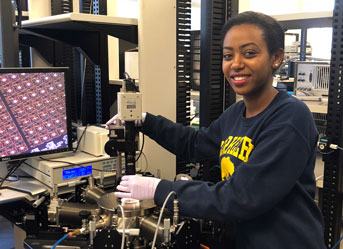 Growing up in Addis Ababa, Ethiopia, Tsegereda Esatu was less interested in what was on the TV than what was inside it. "I was always asking my parents, how did the TV work? How did the calculator work?" said Esatu. Today, she focuses on how to increase the efficiency of tiny, micro-sized devices such as mechanical switches and relays to reduce the power consumption of electronics.
While studying engineering at Jackson State, Esatu had the opportunity to participate in a summer research program for HBCU students at UC Berkeley's Center for Energy Efficient Electronics Science (E3S), doing research on micro-sized light sensors and optical devices. "Participating in the program helped me to see myself as capable of doing something beyond what I realized I could do," she said.
She's now enrolled there as a Ph.D. student. "As the only black female in my department, I was a bit nervous at first. But I realized no one is looking at the color of my skin or what nation I'm from," she said. "It's the work I do that matters."
Jeremy Prim, sociology, UC Davis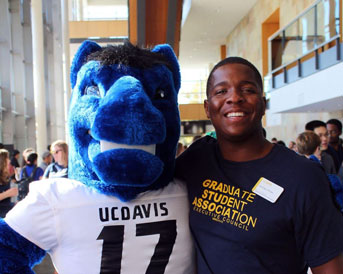 Now in his second year of a UC Davis Ph.D. program in sociology, Jeremy Prim wasn't always the model student. In elementary and middle school in Los Angeles, he was regularly kicked out of class and was even suspended a few times.
"I remember looking inside the window when I was sent out of class, and seeing other kids learning and wanting that," he said. "But that opportunity was pretty much being ripped away from me continuously and I didn't understand why."
Now Prim is doing research that he hopes can inform more constructive approaches to disruptive student behavior.
The Morehouse College graduate looks at the academic and social costs of disciplinary measures that remove kids from class, and their disproportionate use with impoverished male minority students. He also looks at the benefits and best practices of an approach known as restorative justice, in which students and teachers work collaboratively to resolve problems and repair harm. The approach has been shown to reduce discipline problems and increase student engagement in the classroom.
"I asked myself, 'where can I have the largest impact?'" he said. "If this research can be used to change and inform educational practice, it could make a difference in the lives of thousands of kids."
Daril Brown, electrical engineering, UC San Diego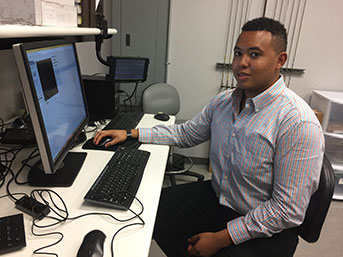 As a kid, Daril Brown would often wonder why his skinned knees would heal, while his grandfather, who had been paralyzed in a shooting, was confined to a wheelchair.
"I saw the limitations it put on his life and the people around him," he said. "I thought, 'if I can help to understand what causes that, maybe I can help others like him regain function.'"
The precocious elementary school kid was also fascinated with animals — at 8 years old, he loved to visit zoos, and could spout thousands of facts about the various species.
Those same areas of interest consume him today. A fourth-year Ph.D. student, Brown works on the development of prosthetic devices to help people with disabilities regain function. He studies the way birds make sounds to communicate and how that relates to brain activity, with the ultimate goal of creating brain wave-reading devices to help people who, through stroke or other injury, have lost the ability to speak.
He also teaches a summer class for 9th to 12th graders to ignite their interest in mechanical engineering.
"I want people to have a chance to experience science and engineering no matter where they are from, whether it's Silicon Valley or South San Diego," he said. "If I am able to inspire someone and give them the perspective that this is a great field and they can do it, that's really important."
Lavaisa Ezell, English, UC Riverside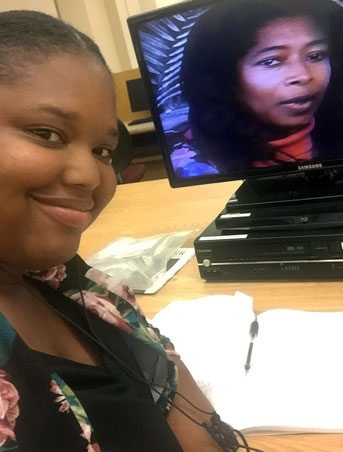 As an English Ph.D. student at UC Riverside, Lavaisa Ezell is looking to broaden understanding of the role that women played in the Black Power Movement of the '70s and brings their overlooked writings and voices to light.
The image of the movement has often been one of male-dominated and chauvinist — but in digging into archives and speaking to women who were involved, Ezell has found a more nuanced picture.
"Women were deeply involved in these movements. They produced all kinds of writing that reflected their plight as black women and their relationship to the politics of the day. But that's largely missing from the historical record."
Ezell searches out archives across the country to unearth examples — not only novels, plays and poems, but also texts such as pamphlets and posters — that reflect women's role in the movement as writers and activists, and the literary forms they used to express themselves.
The summer experience at UC Riverside, where she designed her own research under the direction of faculty and graduate mentors, helped Ezell, a curious college student, confirm her belief that she was Ph.D. material.
"It made imagining myself in a field where I would be potentially under-represented much more believable and achievable," she said. "I was definitely convinced that I could see myself here and it would be a great fit."
Christian Henry, ecology and evolutionary biology, UCLA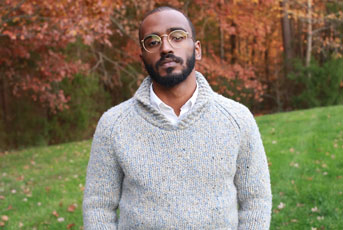 A scuba diving adventure in French Polynesia may seem more suited to a photo spread in Travel + Leisure than to training for the rigors of graduate school. But for the half-dozen HBCU students who participate in this summer research intensive, the experience is a crash course in what it takes to design, conduct and publish research.
Hampton University graduate Christian Henry had been unsuccessful in his first attempt to apply to grad school, so he enrolled in the summer program to strengthen his research chops. For two months, he lived with fellow scientists at a research station on the remote Pacific Island of Mo'orea, earning his scientific scuba certification and spending hours each day collecting and analyzing samples of algae and bacteria.
"The program gave me a huge amount of insight into the rigors of collecting data, meeting deadlines, creating a research plan and sticking to it," said Henry. He is now a third-year Ph.D. student in ecology and evolutionary biology at UCLA, where he studies plants and drought resistance. "The summer program is a huge part of what got me here."
Kallie Brown, psychology and social behavior, UC Irvine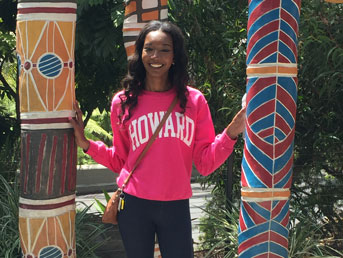 Kallie Brown studies how perceptions of racism affect academic outcomes for students of color, and whether a strong sense of racial and ethnic identity can minimize those impacts.
"Understanding how discrimination affects academic outcomes for minority youth can lead to interventions that can eventually contribute to closing the achievement gap," said Brown.
As an undergraduate at Howard University, Brown, who is the first generation in her family to college, was intrigued by the idea of grad school, but had little idea of what to do to get there.
When she learned about a UC-HBCU summer program in her field of study, she jumped at the chance. She fell in love with the UC Irvine campus and its psychology department almost right away.
"Working in a lab eight hours a day was really intense but it was great. It really prepared me for a typical day in grad school."
Before beginning her studies this fall, Brown participated in Competitive Edge, an NSF-funded summer program for incoming Ph.D. students from underrepresented backgrounds, that helped her develop a support network from the start.
"I love it here," she said. "Besides the beautiful weather, I like how diverse the community is that makes up UC Irvine. There is always an opportunity to get involved in something new and exciting, whether it's on campus or through exploring California."
Raheem Jessop, education, UC Santa Barbara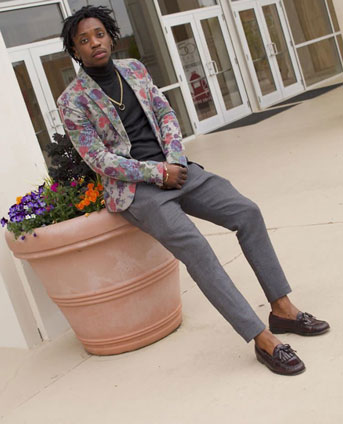 Brooklyn native Raheem Jessop felt his life changed when he arrived on the Morehouse campus. Being part of a community of ambitious, black intellectuals felt to him like coming home.
"I came from a place where a lot of people didn't even graduate high school," he said. "At college, I watched my roommate study for the LSAT every single day from summer to October. I really admired that drive. I thought, 'Wow, this can also be me.'"
Now, as a Ph.D. student in education at UC Santa Barbara, Jessop is looking at how students of color make decisions about where to go to college and the benefits of HBCUs in promoting the success of students like him.
As a junior, Jessop participated in a UCLA summer research program, and took a field trip with the group to UC Santa Barbara.
"I met with Dr. Richard Duran and we spent the next 40 minutes just talking and bouncing ideas off each other," he said. "I didn't even notice the rest of the group had gone off on a tour."
He decided to apply to the Ph.D. program in Duran's department before the day was out.
"I found it intriguing that there was a professor who did not look like me but also shared similar passions regarding students of color in the education system," said Jessop. "He supported my ideas from the moment we met and that support was all I needed."