April 15, 2020
Nicole Freeling
,
UC Newsroom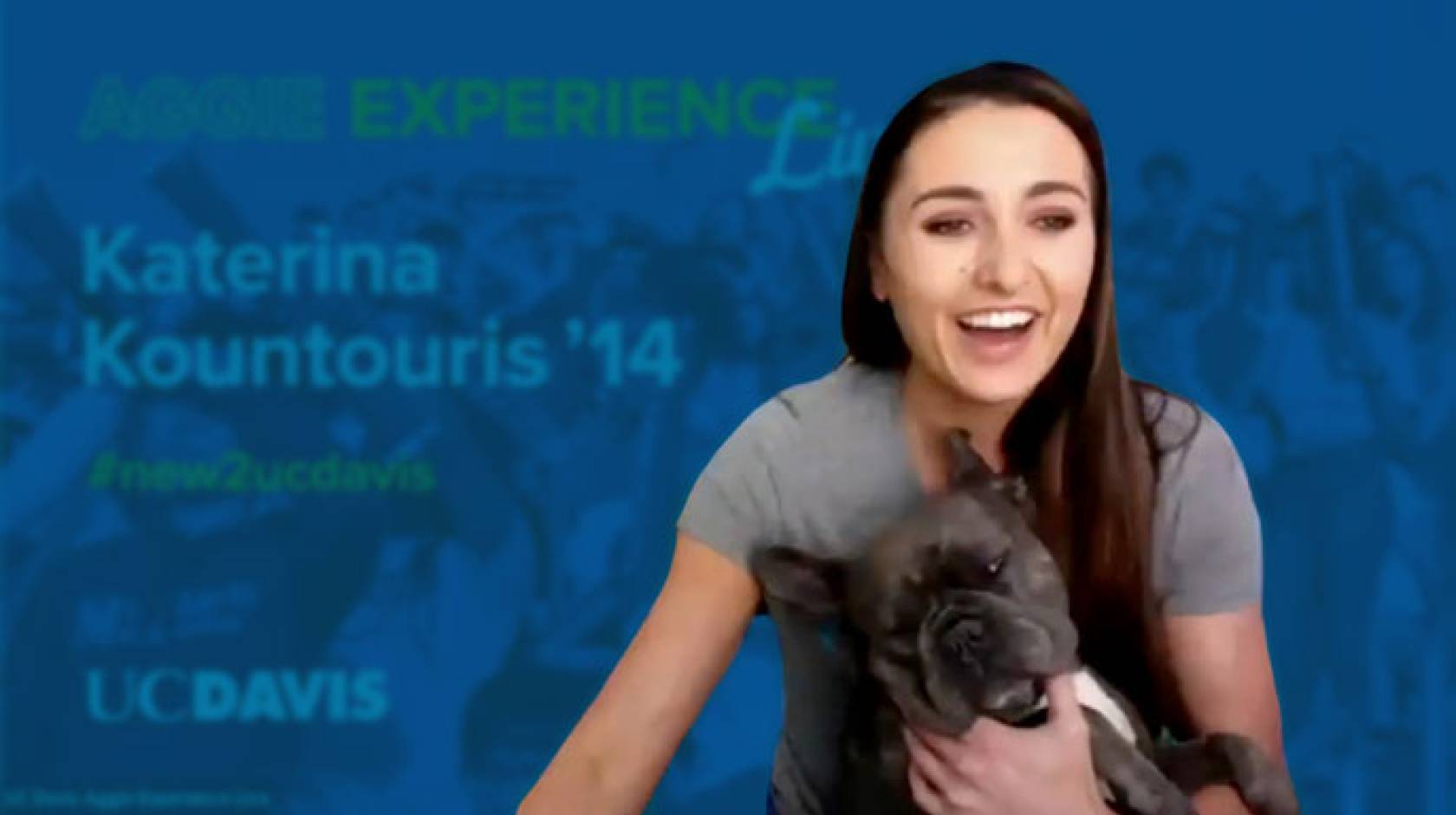 For students making the major life decision of where to attend college, social distancing presents a special challenge: How do you get a feel for the school without being able to explore the campus, rub elbows with professors and fellow classmates, check out the dorm rooms and libraries, drop in on the club fairs, and taste the grub?
At this time of year, admitted students would usually be flocking to campus to see what the school has to offer. But since prospective students aren't able to visit, UC folks have come up with all kinds of creative ways to bring the campus to them.
Students can soar like a bird on an aerial tour, join fellow students on Zoom or Facebook, drop into an online class, check out a day in the life of a student or go on TikTok to learn the campus clap.
At Aggie Experience Live in early April, more than 700 incoming students socialized with each other and current students, toured dorm rooms, watched the head chef cook up dining hall favorites and checked out sports and campus clubs — all while staying safe at home.
"It's not the way we would typically do it, but it's created some magical moments in its own way," said Sallie Poggi, social media director at UC Davis, which launched Aggie Experience Live April 6. So many students and faculty wanted to take part in showing all UC Davis has to offer that what had been planned as a one-day celebration has now been extended to two weeks of online events and festivities. New friendships, inside jokes and even a few virtual celebrities — like Aggie alumnus dog Winston — have emerged from the chats and Zoom panels.
Another benefit of going digital: After live panels have concluded, the content remains online for students to explore at their convenience.
All UC undergraduate campuses have built fun, interactive ways to get a feel for what it's like to be a student there. Here's how admitted students discover the unique culture, quirky traditions, world-class academics and local highlights that make each UC unique.
UC Berkeley
Cal Week, April 18-24
https://admit.berkeley.edu/events
Highlights: During the course of over 60 events, ranging from virtual classes on sculpting and the French Revolution to panels for first-generation students and on paying for UC, admitted students are invited to ask questions and dive into the UC Berkeley adventure.
UC Davis
Aggie Experience Live, April 6-20
https://www.ucdavis.edu/admissions/undergraduate/events/aggie-experience-freshman
Highlights: Current students and faculty share what they love most about UC Davis with a comprehensive series of videos, webinars and filmed panels that explore all aspects of housing and campus life. Students can take virtual tours, contact a campus expert, explore dining rooms and meals plans, and learn about clubs and student services.
Kudos, #FutureAnteaters & admitted students!
This year, we are taking #CelebrateUCI online! Join us for this virtual open house experience April 13-18.
Info: https://t.co/tPK3W8WeA7 pic.twitter.com/WmYkUmRgCN

— UC Irvine (@UCIrvine) April 13, 2020
UC Irvine
Celebrate UCI, April 13-April 18
https://admissions.uci.edu/discover/visit/celebrate.php
Highlights: This week of discussions and interactive events includes presentations on financial aid, housing, undergraduate research and what students love most about the local SoCal community, plus a chance to meet virtually with current UC Irvine students to get the inside scoop on campus life.
UCLA
Bruin Bound, April 2-17
https://bruinbound.ucla.edu/
Highlights: Explore Bruin Life from the comfort of your own phone. Prospective students can take virtual aerial tours of campus, take a selfie with the Bruin bear, join the #8ClapChallenge on TikTok to perfect the signature Bruin cheer and find other events and resources to make UCLA their new home.
UC Merced
Virtual Bobcat Day, April 25
https://admissions.ucmerced.edu/admissions-events/bobcat-day/
Highlights: UC Merced welcomes new Bobcats with a day of live chats and panel discussions to speak with faculty, attend presentations by academic schools, discover campus housing and residence life, and much more. Ongoing webinars and one-on-one Zoom video appointments let students learn about the many resources and opportunities available to UC Merced students.
UC Riverside
Highlander Week Live, April 13-17
https://highlanderday.ucr.edu/
Highlights: A week of live activities and webinars will explore financial aid, various UC Riverside colleges and other valuable academic, wellness and career resources. Visitors can also join UC Riverside student guides on virtual tours of campus, housing and dining facilities and explore the local Riverside community, getting a Zoom background to put them right there.
UC San Diego
Virtual Triton Day 2020, April 4 - ongoing
https://tritonday.ucsd.edu/
Highlights: "The complete campus experience, minus the sand in your hair," lets admitted students surf through the best of UC San Diego, from its most celebrated aspects to its hidden gems. The virtual experience includes welcome messages from campus leaders to in-depth looks at each of the colleges, to a video exploring the non-typical day in the life of a UC San Diego student. It can all be explored and relived online at any time.
UC Santa Barbara
Virtual open house, April 22
http://admissions.sa.ucsb.edu/visit-ucsb/open-house
Highlights: Students can log in for a day of live panels covering all aspects of academics and campus life, or sign up for webinars, chats and virtual tours, which are available at any time on the admissions website. Prospective students are invited to drop in to online lectures Mondays and Thursdays on subjects from the Higgs boson to the hit musical "Hamilton."
UC Santa Cruz
Admitted student events, ongoing through April 30
https://admissions.ucsc.edu/visit/admitted-student-virtual-events.html
Highlights: "Meet a Slug" chats let students connect live with UC Santa Cruz students every weekday in April for Zoom meetups on a variety of topics. Students can also celebrate their admissions at live virtual receptions with campus leaders and campus affinity groups, take a virtual tour of the campus, and watch video testimonials from current students of why they said "Yes to UCSC."