February 9, 2017
Alec Rosenberg
,
UC Newsroom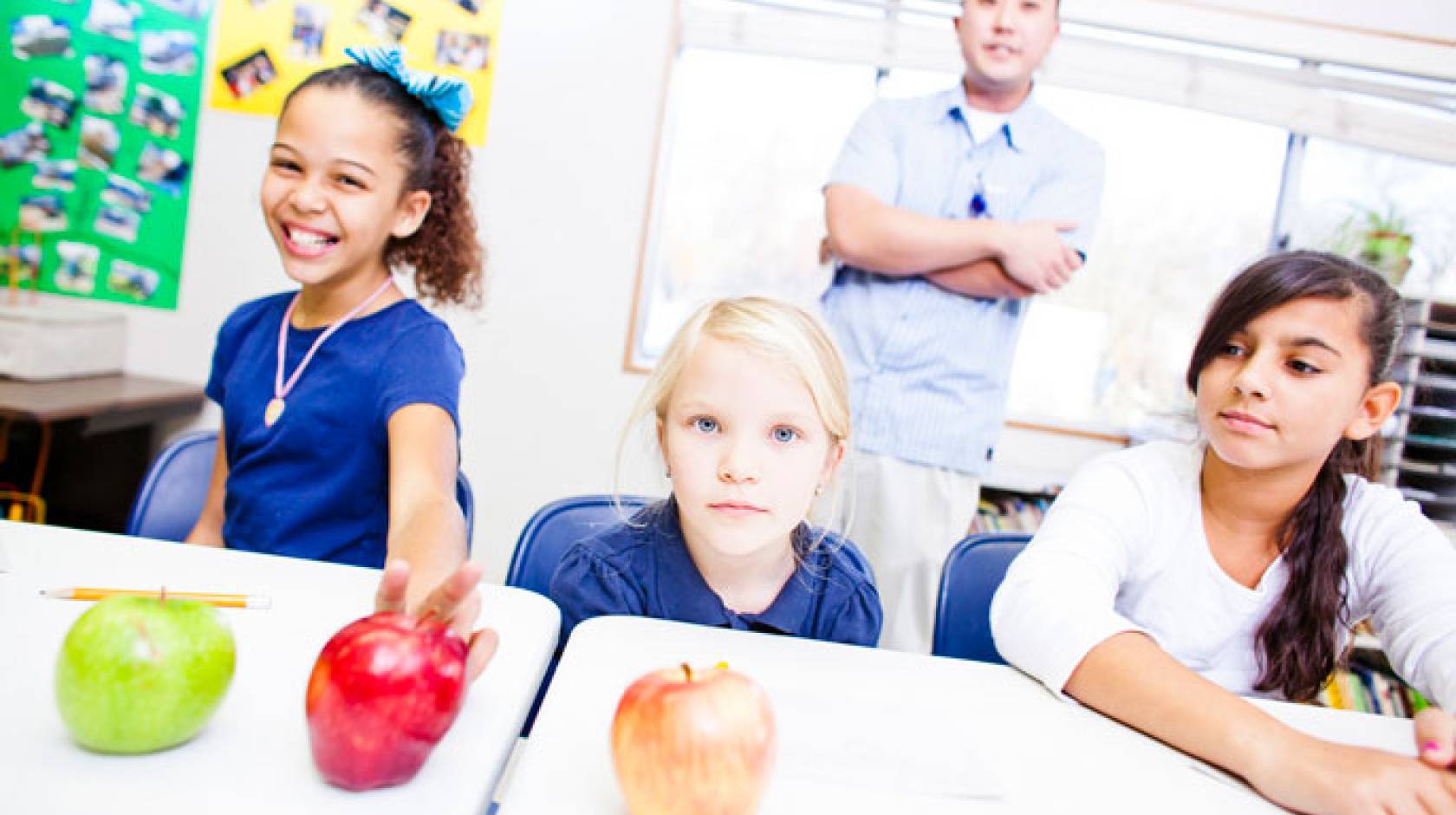 For more than 70 years, school lunches have been a staple of American education.
If that gives you flashbacks to frozen fish sticks and mystery meat, think again.
Prompted by concerns about childhood obesity and diabetes, school meals have gotten a makeover. Across California, school lunch is fresher, healthier and tastier than you remember. These days, kids are more likely to chow down on antibiotic-free rotisserie chicken and fresh fruits and vegetables than deep-fried burritos or Sloppy Joes.
School lunch matters
The stakes are high: Nationally, about 1 in 5 school-aged children is obese and nearly 1 in 4 teens has diabetes or prediabetes.
At the same time, more than 30 million students rely on the National School Lunch Program, and roughly half of those children also take part in the School Breakfast Program. Those statistics mean that school cafeterias are on the frontlines of feeding America's kids, and play a huge role in their health and nutrition.
The Obama administration in 2010 enacted stricter nutrition standards for school meals, but experts say those rules could be rolled back in the near future.
"I would be very surprised if we don't see some major changes on the school lunch program," U.S. Rep. Robert Aderholt of Alabama, the Republican chairman of the House subcommittee that oversees Agriculture Department spending, told an Associated Press reporter late last year.
There's no doubt that running a school cafeteria is a complex business. It takes creativity, collaboration and commitment to serve healthier fare on federal food subsidies that allocate around $3 per meal.
In California, however, schools have stepped up to the challenge, and found that providing healthier, more sustainable fare can pay off.
School sustainability pioneer Zenobia Barlow, executive director and co-founder of the Center for Ecoliteracy, has seen the power of focusing those efforts.
While working with Oakland Unified School District to rethink its school lunches, the center in 2014 launched California Thursdays, a partnership with schools to serve freshly prepared meals using California ingredients at least one Thursday a month. The program began with Oakland Unified and has since grown to 71 districts that serve one-third of the state's school meals. The program also has inspired similar efforts in Minnesota and New York City.
"It tells you how much interest and commitment and concern there is about school meals," Barlow said.
The center offers recipes, training and promotional help with California Thursdays. Popular dishes include halal chili lime chicken drumsticks and penne pasta with chorizo and kale.
"The first day they served it in Oakland, a cook said, 'The kids love it!!!!!' They came back for seconds," Barlow said.
Building on such successes, the center has partnered with the University of California's Global Food Initiative to launch Good Food for Local Schools, a free online toolkit of resources to help schools teach healthy eating habits and provide nutritious, sustainable food to students.
"If you want kids to be able to learn, they need to eat as well as possible," Barlow said.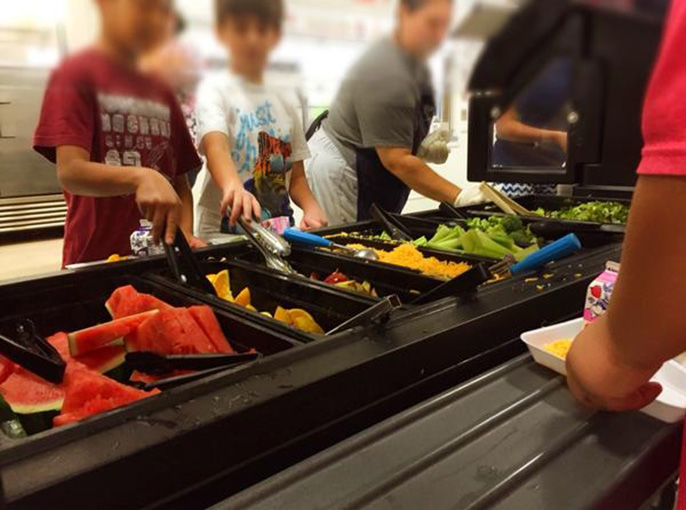 Making the healthy choice the easy choice
To combat America's childhood obesity epidemic, the Obama administration enacted the Healthy Hunger-Free Kids Act in 2010, setting new standards that require more fruit, vegetables and whole grains in school meals, and less fat and sodium, among other improvements.
"I encouraged kids to eat school lunches even before the new requirements since my research showed even in the 1990s that children in Los Angeles ate healthier foods at school compared to outside of school," said Wendy Slusser, a pediatrician and associate vice provost for UCLA's Healthy Campus Initiative, a health and wellness initiative envisioned and supported by Jane and Terry Semel.
Slusser, the Good Food project leader, remembers getting resistance when she piloted a salad bar in a Los Angeles Unified elementary school. But the salad bar was a hit.
Resistance to the new standards centers on whether they cost too much to comply with or create too much food waste. The argument is that the produce costs will go up while kids don't eat the fruits and veggies they're being served and also won't drink low-fat and non-fat milk.
Give kids a chance, Slusser said. The trick is to make sure healthy food is appealing and tasty.
"Kids are open to eating foods that are delicious," Slusser said. "The belief that you have to sweeten the milk or fry the chicken … that's not the case."
Saying goodbye to pizza pockets
When Scott Soiseth started working in Turlock Unified School District 25 years ago, school meals consisted of soda, chips, pizza pockets and deep-fried burritos.
The 14,000-student district now serves antibiotic-free rotisserie chicken and fresh fruits and vegetables grown locally in the Central Valley.
Under Soiseth's leadership, Turlock began a "Real Fresh" marketing campaign in 2006, which tripled student participation in the school meal program — and boosted his budget. That success continues today, as does his focus on making healthy eating the tastiest choice. More than 90 percent of the district's food is sourced locally. Soiseth joined the California Thursday effort and now uses produce from schoolyard gardens in his cafeteria menus.
"You can't compare the food now to then," Soiseth said. "We are completely opposite to what we were. We get excited to create a healthy meal. We know quality food is going to cost a little more."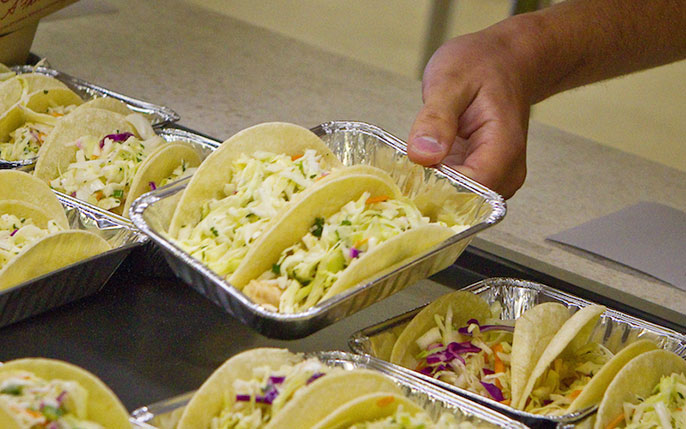 Finding unlikely partners
When Jenn Gerard was nutrition services director for Monterey Peninsula Unified School District, she wanted to connect students to the region's fishing heritage. But how could she serve students local fish instead of frozen fish sticks made out of pollock from the Bering Sea?
Gerard, now with the Center for Ecoliteracy, found a willing partner in Alan Lovewell, founder and CEO of Real Good Fish, who wanted to increase local access to sustainable seafood.
In 2014, Lovewell started Bay2Tray, which delivers local fish to schools to serve in lunches in tacos and soups, joining in with California Thursdays. The fish is affordable — it's grenadier, a species caught while fishing for black cod that otherwise would be tossed overboard. Grenadier may be "ugly," but it's also tasty — "a mild, white, flaky fish, like a wild version of tilapia," Lovewell said.
Bay2Tray piloted in Monterey Peninsula Unified and has expanded to other school districts and to UC Santa Cruz, Lovewell's alma mater.
"Bay2Tray is good for everybody," Gerard said. "It's delicious. It's a healthy protein. It's wild. It's abundant. It's creating a new market for fishermen."
With the local fishing industry struggling, Bay2Tray has provided an economic and ecologic boost.
"We see it as a bright light at the end of the tunnel," Lovewell said.
Buying local
The Center for Good Food Purchasing in Berkeley aims to do for the food system what LEED certification did for energy efficiency in buildings. Its Good Food Purchasing Program encourages large institutions to direct their buying power toward local economies and environmental sustainability while supporting workers, animal welfare and nutrition. After adopting the policy in 2012, Los Angeles Unified has redirected about $12 million to purchase local produce.
Smaller districts also are turning green. UC Santa Cruz has worked with 10 school districts in Monterey and Santa Cruz counties to start collective buying of local fruits and vegetables through joint contracting.
"It's a win-win for the health of our children and the earth," Slusser said.
Improving the dining experience
A San Francisco Unified School District pilot program seeks to make school dining more enjoyable. Goodbye, institutional cafetorium. Hello, smart meal app, mobile carts, comfy seating and warm colors.
"It's set up to be more friendly to students, like at a restaurant," said director of UC Agriculture and Natural Resources' Nutrition Policy Institute Lorrene Ritchie, who is evaluating the effectiveness of San Francisco's changes with UC Berkeley colleague Kris Madsen. "You only get 20 or 30 minutes to eat lunch. If you spend half of that time in line, that's a problem."
Increasing nutrition education
U.S. schools average only four hours of nutrition education a year.
"We don't teach reading that way. We don't teach math that way. We don't teach science that way. We can do a lot better," Ritchie said. "You can't just make environmental change without education."
As part of Bay2Tray, fishermen visit schools to discuss their work and build awareness about fishing.
"They get treated like rock stars in the classroom," Lovewell said.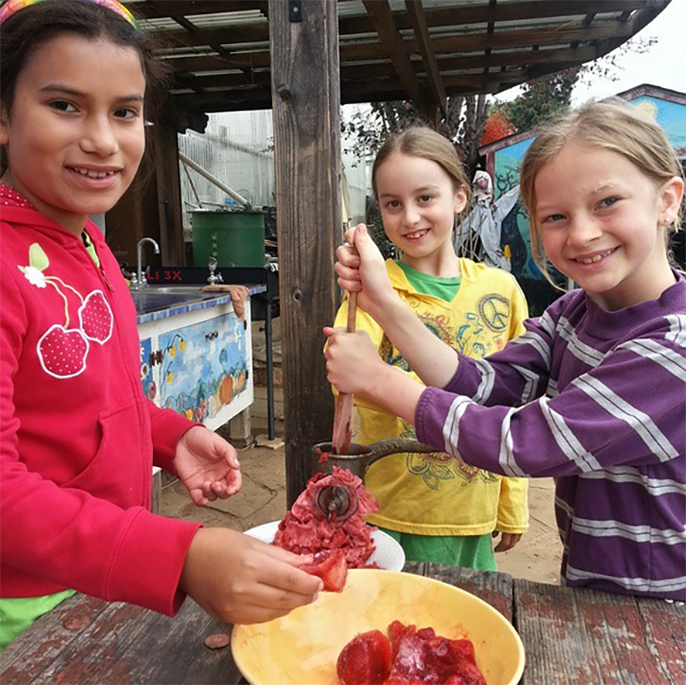 Inspiring a love for fruits and veggies
A quarter of U.S. public elementary schools have school gardens, but the biggest challenge now is to integrate gardens into the core curriculum.
For decades, California has pioneered the way. UC Berkeley alum and chef Alice Waters developed The Edible Schoolyard Project to help schools around the country integrate gardening and cooking into the classroom.
Life Lab, another California nonprofit, has trained tens of thousands of educators in garden-based learning, hosts field trips for thousands of students a year at gardens in Watsonville and its headquarters on the UC Santa Cruz farm, and offers school garden resources online, with a curriculum designed to engage today's kids. Life Lab views school gardens as classrooms for lessons about science, nature, nutrition and more.
"When kids get to be hands-on with food, to see it growing and harvest it, that creates a connection that makes them want to try it and more likely to enjoy it and leads to lifelong changes," Executive Director Don Burgett said.
The changes can be profound.
Life Lab surveyed 452 Watsonville students who participated in produce tastings during its garden-based nutrition lessons last year and found that 48 percent were trying beets, carrots, chard, kale or tangerines for the first time and more than two-thirds liked or loved what they tasted.
"They're tasting raw beets and loving them," Burgett said. "Their parents are flabbergasted. When they go shopping, their kids now want them to buy beets."
Better than brown-bagging it
The nutritional quality of school meals is often better than meals brought from home, Ritchie has found. She studied the period before the stricter nutrition standards took effect, which means the gap is likely larger now.
For children who bring meals from home, Ritchie recommends that parents make better choices: Avoid soda and chips. Try fresh fruit and baby carrots. And consider giving school meals a chance.
"School meals used to be big glops of artificial mashed potatoes with heaps of gravy and meatloaf," Ritchie said. "More fruits, vegetables and whole grains are on school menus now."
Taking the long view
It remains to be seen whether the Trump administration will seek to roll back some of the healthier school meal rules enacted under the Obama administration.
School nutrition experts will be watching Congress as well as former Georgia Gov. Sonny Perdue, Trump's nominee for secretary of the Department of Agriculture, which oversees the National School Lunch Program.
The ongoing, federal commitment to a National School Lunch Program started in 1946, primarily due to the success of school meals as a way to provide the agricultural sector a market for its surplus food, said Wendi Gosliner, a project scientist with UC's Nutrition Policy Institute. Now it's part of a national dialogue about how the nation eats.
"The politicization of school lunches is relatively new," Gosliner said. "It was historically a bipartisan issue."
The issues raised today — from nutrition education to food quality — are similar to those raised in the 1940s, she said. In the 1960s, amid concerns the program wasn't feeding enough hungry children, President Richard Nixon guaranteed that the U.S. would provide free or reduced-price lunches to every student in need of one. Tensions followed between efforts to improve the program and reduce costs.
"The times of program expansion have been followed by times of program curtailment," Gosliner said.
California, which has been at the forefront of healthier school meals, would likely face significant pushback from parents and policymakers if it suddenly reversed course.
"More than half of kids in California qualify for free or reduced-price lunches," Barlow said. "These are kids who rely on the school meal program for 35 to 50 percent of their calories. The school meal program plays an important role."