How to engage in difficult but respectful dialogue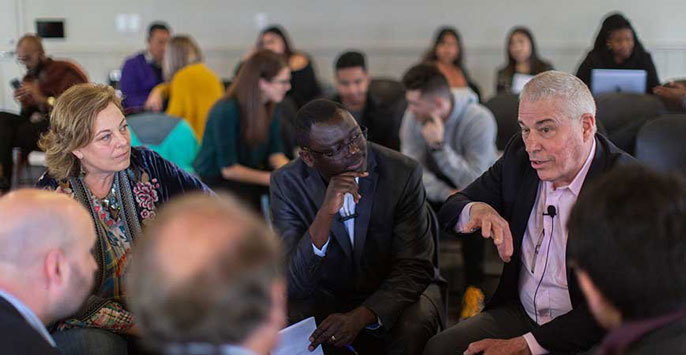 UC Merced staff members, students and alumni participated in an experiment to help people gain a better understanding of others' opinions without abandoning their own viewpoint or values.
Getting people to talk about polarizing topics while remaining respectful was the goal behind last week's "3 Practices for Crossing the Difference Divide," a two-day workshop series designed to expose campus and community members to a structured and thoughtful way of talking about differences of opinion.
Nearly 200 people registered in advance to attend one or more of the three workshops held on March 19 and 20. The event, hosted by the Office of the Chancellor, showcased how the 3 Practices technique works.
"We're here to understand people with whom we disagree," said Jim Hancock, one of the creators of 3 Practices and a co-facilitator during the event. "The Practices promote understanding not by giving up what we believe, but by carefully listening to what another person believes as part of a path forward."
3 Practices illustrates that those who adopt the following tenets can successfully talk with someone who holds an opposing viewpoint:
I'll be unusually interested in others.
I'll stay in the room with difference.
I'll stop comparing my best with your worst.
Provocative topics generate discussion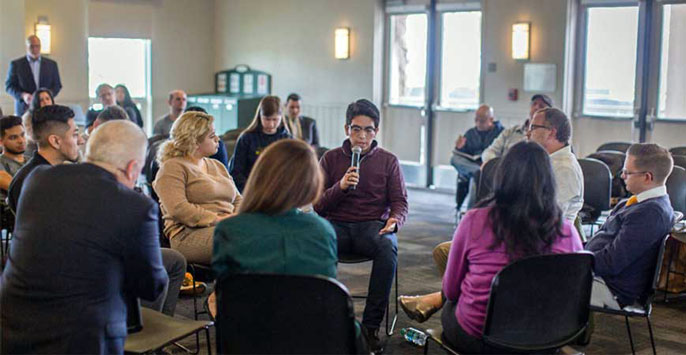 Each workshop addressed a topic that tends to elicit strong opinions:
"Are We on the Brink of Disaster or Halfway Across the Bridge to a Better America"
"Build the Wall or Open the Borders: Will E Pluribus Unum (Out of Many, One) Form Our Future as Much as It's Shaped Our Past"
"Judge Kavanaugh vs. Dr. Ford, Who Did You Believe?"
Hancock and co-facilitator Jim Henderson deliberately chose eye-popping, provocative titles for the workshops to solicit a variety of opinions. But Henderson, who served as "referee" during each workshop, assured everyone at the start of each session that the process would be "fair, equitable and accomplish something without damaging any human beings."
Those present got to observe the 3 Practices process at work:
A speaker in the circle got 2 minutes to state their opinion on the workshop topic.
The other circle participants (and audience members) listened without interrupting.
When the speaker finished talking, anyone in the circle could ask a clarifying question that started with the phrase, "I would be curious to know."
The questioner had 20 seconds to ask their clarifying question.
The speaker had 1 minute to respond.
The process repeated until each person who wanted to ask a clarifying question did so, and then started over with another circle participant getting 2 minutes to express their view.
"It slows you down enough to actually focus on listening to somebody else. You're not just sharing your own viewpoint. You're asking a question, so you can give the person the gift to further clarify their position."
–Luanna Putney, associate chancellor
3 Practices encourages people to develop understanding of each other, according to Associate Chancellor Luanna Putney.
"It slows you down enough to actually focus on listening to somebody else," she said. "You're not just sharing your own viewpoint. You're asking a question, so you can give the person the gift to further clarify their position."
Initially, finding people willing join the circles and share their true, honest viewpoints was difficult, Putney said.
"People were skeptical because they didn't understand what this was," Putney said. "We currently have no forums that allow all of us — students, staff and faculty — to get together in an open, welcome environment to talk about difficult subjects in a respectful way."
Putney added that it takes courage for people to share opinions that might be uncommon or controversial in a certain setting. But when people understand the 3 Practices rules, it's easier to engage in dialogue and dive deeper into issues.
"As we deal with crises and national events that affect our campus, we are going to need this kind of practice," she said.
The 3 Practices method was born from The No Joke Project, a feature-length documentary; the book "No Joke: A Rabbi, an Imam and a Preacher Do the Unthinkable and Become Friends for Life," co-written by Henderson and Cara Highsmith; and a series of live shows about the friendship between three clergymen in Peoria, Ill.
Putney said several people who attended thanked Chancellor Dorothy Leland for offering a program that allows different viewpoints to be heard.
Attendees were asked to provide feedback about the series, which will help campus leadership determine whether bring the 3 Practices method back UC Merced to teach it to campus community members who could then serve as facilitators across a range of difficult topics.
Jose Lopez, a second-year environmental engineering student from Echo Park, attended the first workshop as an observer. After watching the process during the first day, he returned the next day and volunteered to participate inside the circle during the remaining sessions.
"Other (methods) are more like a debate where people just want to get in their one-liners," Lopez said. "They don't even try to empathize with each other. With 3 Practices, I was surprised at how effective they were and how people are able to learn."