The UC Berkeley protest that changed the world.
In December of 1984, a handful of UC Berkeley students walked off campus and down to the administrative offices for the whole University of California system, determined to secure a meeting with the chancellor and president.
Their demand? That the University of California pull out billions of dollars in investments in companies doing business with the government of South Africa.
At the time, South Africans were fighting back against apartheid, the decades-long regime of racial oppression that targeted the country's black majority, curtailing their education, denying them citizenship and the right to vote, and segregating public services.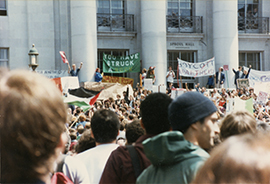 The police crackdown on the uprisings in South Africa was brutal, and images made their way across the world to UC Berkeley students like Andrea Pritchett, who was motivated to take action. She and her fellow student organizers wanted to shake up their peers. Students around them didn't seem to realize that Nelson Mandela was in jail, or South Africa was governed by a code even more vicious than Jim Crow. And they certainly didn't seem to realize that the UC regents invested more in South Africa than any other university, to the tune of $4.6 billion, helping to prop up that nation's status quo.
In March of 1985, Pritchett and other activists decided to start a sit-in. They hauled their sleeping bags to Sproul Hall and renamed the plaza "Biko Plaza" in honor of slain South African activist Steve Biko.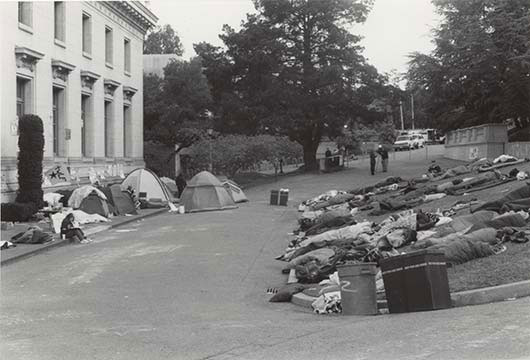 It wasn't just your average protest. Day after day, night after night, students were attracted to the Sproul steps. Soon there were thousands of attendees and hundreds camping out, a level of activity the campus hadn't seen since the '60s. It had only been a week. The sustained growth was promising.
Police attempted to crack down, arresting 158 protestors. In response, 10,000 students boycotted classes, and celebrities, from Kurt Vonnegut to Alice Walker to the Free Speech Movement's Mario Savio, came to Berkeley to show their support. The protest had become a movement. Anti-apartheid hero Bishop Desmond Tutu visited the Greek Theatre on campus that spring:
As God looks down on you today, he's saying, hey, hey, have you seen my children in Berkeley? Eh? Don't you think that they're something else?

Bishop Desmond Tutu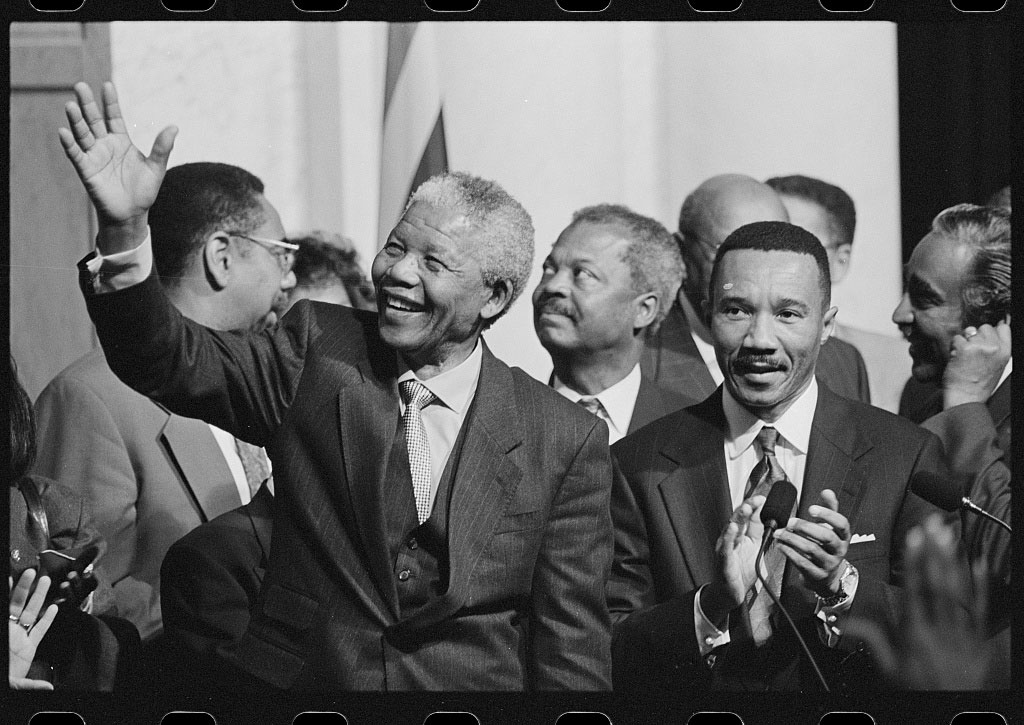 The Regents convened a public forum in May 1985 to discuss divestment. The steps they took were only incremental, so protests continued for another year. American cities and schools were beginning to divest. Finally, in July of 1986, the UC Regents voted to divest $3.1 billion from companies doing business with the apartheid government. It was the largest university divestment in the country.
In 1990, Mandela was released, and he stopped over in Oakland to thank the students and faculty of Berkeley — his "blood brothers and sisters." The students had changed not just the national but the international conversation on apartheid. The legacy of the anti-apartheid movement in Berkeley was sealed.
One Bold Idea tells stories of pivotal moments in California history that have shaped the world, spanning topics from the arts, health, agriculture and technology. This series is produced in celebration of the University of California's 150th anniversary. For more stories, visit 150.universityofcalifornia.edu. Subscribe to One Bold Idea on Stitcher or iTunes.