August 13, 2019
Ami Bhakta
,
UC Newsroom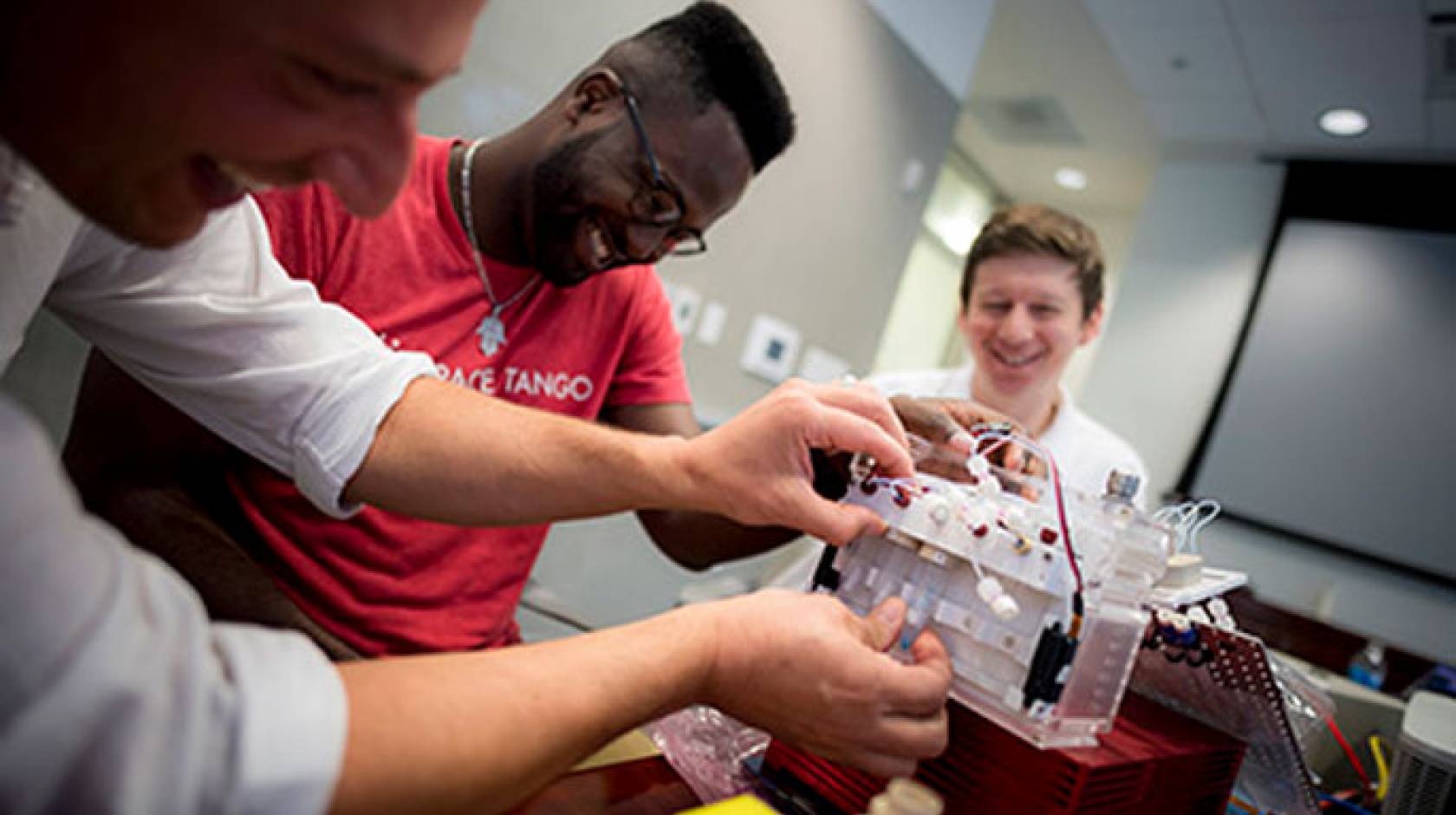 Credit: Erik Jepsen/UC San Diego
While summer vacation is a time to kick back and relax for many, the action doesn't stop on the University of California's 10 campuses. From summer events, classes and parent orientations to research that is literally out of this world, UC students, faculty, staff and researchers keep making strides as catalysts for positive change.
UC San Diego: This is your brain on space
In July, UC San Diego researchers sent a payload of 100 stem cell-derived human "mini-brains" to the International Space Station to assess microgravity's effect on brain development. This groundbreaking research has implications for space colonization and human health, and could also advance our ability to understand and treat neurological disorders, such as autism and Alzheimer's disease.
"This will be the first in a series of space flights to help us understand the intricacies of brain development, both in weightlessness and on Earth," said Alysson R. Muotri, a professor in the UC San Diego School of Medicine's Department of Pediatrics and Department of Cellular and Molecular Medicine. "This flight and future flights will help us create brain organoid models that will accelerate understanding of a range of neurological diseases. Ultimately, our findings may help shape future technologies and brain models to help scientists and doctors create more resilient brains."
UC Davis: Building the next generation of physicians to advance Latinx health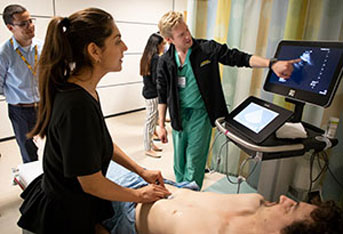 Latinxs make up 39 percent of California's population, but only 4.7 percent of its physicians. To help close the gap, UC Davis and Kaiser Permanente teamed up this summer to help 45 incoming college freshmen prepare for careers in medicine. Known as Prep Médico, the six-week program, now in its fourth year, gives students the opportunity to shadow Kaiser physicians, bond with mentors, receive medical school application tips, take science classes and engage in hands-on emergency medicine practices. Many of the students who took part in the program hail from underrepresented communities from Central and Northern California. The program is one of the ways that UC is working to address physician shortages in rural Northern and Central California and to increase physician diversity.
UCLA: Responding in real time to a SoCal shaker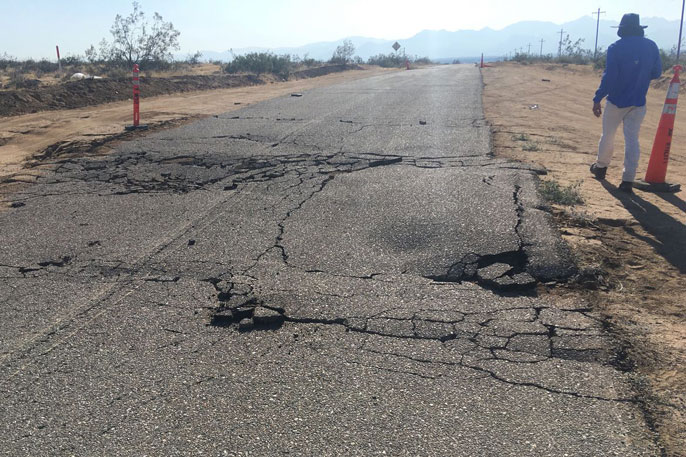 Just one day after a magnitude 6.4 earthquake on July 4 rattled Southern California, a small team of UCLA earthquake engineers and scientists was already near its epicenter, in Ridgecrest, Calif., gathering time-sensitive data.
"We often need to balance this need for rapid response with staying out of the way of first-responders, especially when collapsed structures have produced casualties. Fortunately, that was not an issue, so we deployed rapidly," said Jonathan Stewart, the civil and environmental engineering professor who organized UCLA's 7-member team, which is part of the Geotechnical Extreme Events Reconnaissance Association.
The information gathered will help improve our understanding of seismic risk — ground shaking, ground failure, structural and system response — to improve seismic hazard maps, guide land development and create better building codes.
UC Merced: Helping military veterans rebuild civilian lives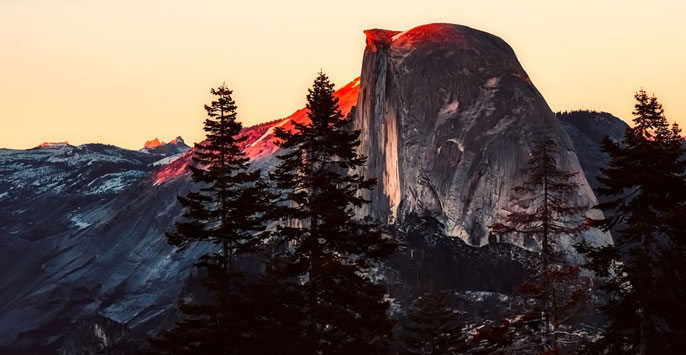 More than 11,000 veterans living within 60 miles of UC Merced have been invited to participate in the Yosemite Veterans Education and Leadership Seminar this August. The four-day program, a first-of-its-kind pilot project, is geared toward helping veterans access higher education, civilian life skills, family benefits and career pathways. Participating veterans will be able to attend classes in Yosemite and perform field exercises in the park. Steve Shackelton, the course organizer, said that veterans have more highly sought-after job skills than they might realize.
"Careers in parks and protected lands are complicated and involve interdisciplinary education and experience — often involving combinations of science, teaching, firefighting, law enforcement, search and rescue, paramedicine and aviation, as well as 'soft skills' such as teamwork, leadership, communication under stress and risk management," Shackelton said. "A lot of people who have been deployed have those skills, acquired the hard way — from tough circumstances of field experience."
"If we're successful, we'll help these people who have given years of service graduate with degrees which, in addition to their existing skills, would put them in super-competitive demand."
UC Riverside: A role model for inclusivity

This summer, UC Riverside marked two decades of offering Spanish-language parent orientations, one of many efforts to better serve its Latinx community. The first full Spanish-language orientation was offered in the summer of 1999-2000, said Alfredo Figueroa, a retired assistant dean of students and Chicano Student Programs director.
Since then, the need has only grown: UC Riverside's Chicanx/Latinx student population is about 42 percent today, compared to 21 percent when the program started.
"It had been something that was lacking. Parents would come, and students would have to serve as translators," Figueroa said.
The full day sessions typically draw between 100-200 parents annually. They hear from experts in financial aid, admissions and representatives from every college. Many of the staff were themselves first-generation college students and they are committed to ensuring that parents feel their student is in good hands, Figueroa said.
UC San Francisco: Personalizing cancer treatment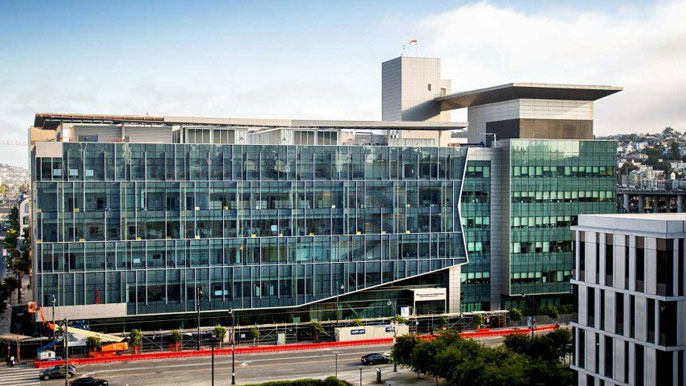 UCSF unveiled the Bakar Precision Cancer Medicine Building this summer. The center provides adults with highly advanced treatments, including immunotherapy, genetic counseling, molecular profiling of tumors, fully integrated clinical trials and advanced imaging. The new center arrives as part of the university's mission to initiate a new generation of precision medicine and is part of the only National Cancer Institute-designated comprehensive cancer center in greater San Francisco.
The center reflects UC's commitment to realizing the promise of precision medicine, an approach that tailors individual care to reflect each person's genetic or molecular information — the "signatures" that make each tumor, for instance, unique — to provide novel approaches and personalized treatment.
"The Precision Cancer Medicine Building represents an unprecedented advance for people affected by cancer," said Alan Ashworth, Ph.D., FRS, president of the UCSF Helen Diller Family Comprehensive Cancer Center. "It is inspired by two ideals: to bring the latest, cutting-edge treatments to patients more rapidly than ever before, and to ensure that our patients are front and center in everything we do."
UC Santa Barbara: Renowned faculty take the stage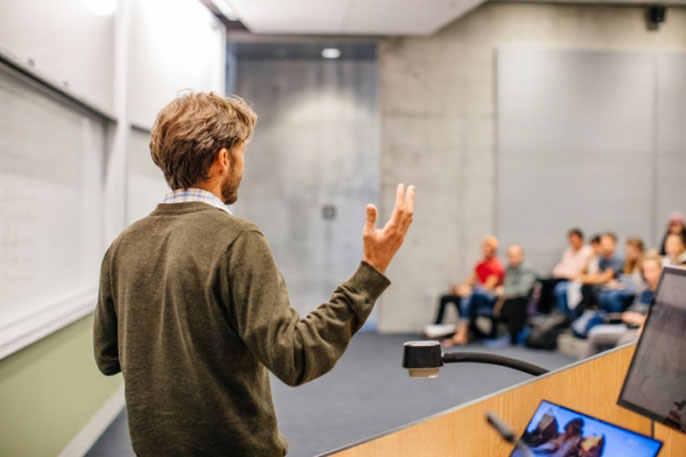 This summer, UC Santa Barbara hosted a series of free public lectures by some of its most renowned faculty. The lectures, known as Groundbreaking Research & Innovative Technology talks, or GRIT Talks, ranged from neuroscience, to applied mathematics, to globalization to oceans, and provided UC Santa Barbara's notable researchers an opportunity to share their vast and diverse expertise with a broad audience. Over the course of GRIT Talks' seven years on campus, attendees have included other campus faculty, Santa Barbara locals, visiting scholars and undergraduate, graduate and high school students.
"Our goal is to give our faculty a platform to share their passion for research and the impact that it has on the world," said Lina Kim, director of the series and of precollege programs in the Office of Summer Sessions." The success of the series is attributed to our fantastic speakers who rise to the challenge of presenting their research in a different light — they are exciting and inspiring the next generation of researchers. Additionally, from an audience's perspective, the talks are a unique opportunity to be exposed to cutting-edge research being conducted on our campus across multiple disciplines."
UC Santa Cruz: Searching for extraterrestrial life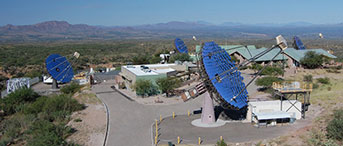 UC Santa Cruz physics professor David Williams teamed up this summer with the Breakthrough Listen Initiative and will help lead an innovative effort to search for nanosecond flashes of light from extraterrestrial civilizations.
The search is being conducted using an array of telescopes, known as VERITAS, that were built to study gamma rays. The array detects gamma rays from space by looking for the extremely brief flashes of blue "Cherenkov" light they create when they hit the top of the Earth's atmosphere.
VERITAS will look for pulsed optical beacons with durations as short as several nanoseconds. Over such timescales, artificial beacons could easily outshine any stars that lie in the same direction on the sky.
"When it comes to intelligent life beyond Earth, we don't know where it exists or how it communicates," said Yuri Milner, founder of the Breakthrough Initiatives. "So our philosophy is to look in as many places, and in as many ways, as we can. VERITAS expands our range of observation even further."
UC Berkeley: Achieving gender equity in the era of #MeToo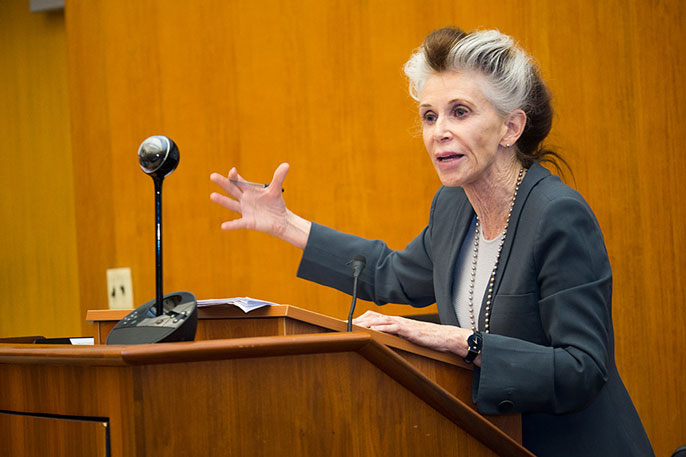 UC Berkeley Law hosted the Worldwide #MeToo Movement Conference, drawing a packed crowd and 64 panelists from around the globe. Catharine McKinnon, the feminist legal scholar who spearheaded the legal claim that sexual harassment should be considered sex discrimination, was one of three keynote speakers and riveted the crowd with her assessment about the strength of the movement and the change it is ushering in all over the world. The conference also included study sessions where participants discussed priorities and strategies in combating harassment and strengthening female empowerment.
"Imagine a revolution without violence, against domination and aggression. Envision a moment of truth, a moment of transformation for the sexually violated toward a more equal, therefore more peaceful and just world," MacKinnon said. "It's happening all over the world. All around us. Right now."
UC Irvine: Taking the anti-cancer challenge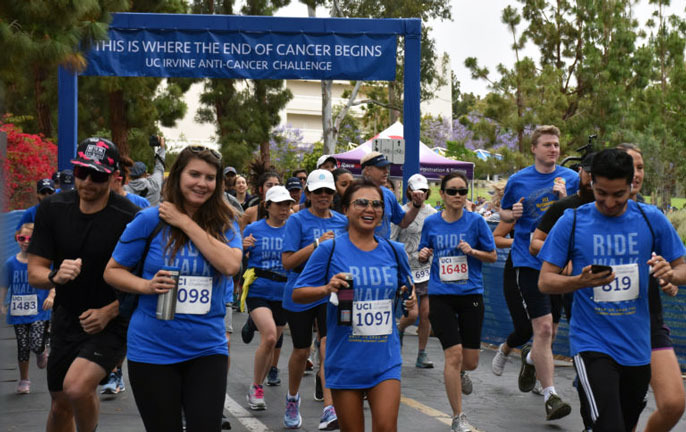 At least 18 promising cancer studies and early-phase clinical trials will move forward at UC Irvine's Chao Family Comprehensive Cancer Center, thanks to supporters of the third annual UCI Anti-Cancer Challenge, which raised a record-smashing $620,000 in June.
More than 185 teams and 2,800 individuals completed runs, walks and bike rides in support of the Anti-Cancer Challenge.
"We are grateful to the Orange County community for embracing the Anti-Cancer Challenge with more enthusiasm every year," said Dr. Richard Van Etten, director of the Chao Family Comprehensive Cancer Center. "Each additional study or early-phase clinical trial that people help to fund will reveal something new about cancer, improving our ability to diagnose, prevent or treat these devastating diseases."
Lawrence Berkeley National Lab: Connecting students to computing science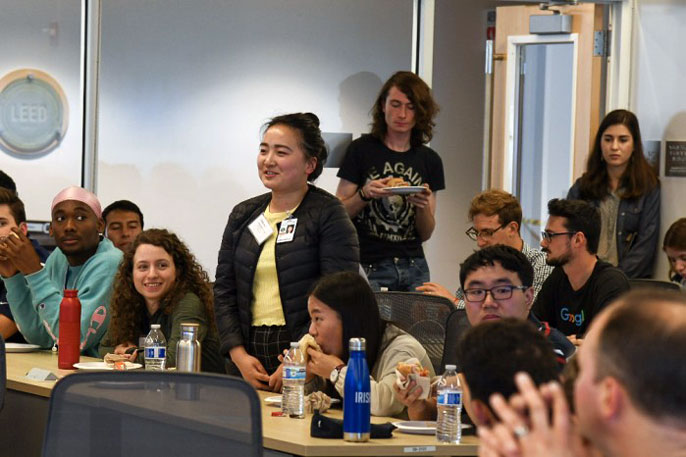 This summer, a record-breaking 180 students participated in Lawrence Berkeley National Lab's Computing Sciences summer student program. In its ninth year, the program provides undergraduate and graduate students in science and engineering the opportunity to gain research experience under different departments at Berkeley Lab. Alongside completing research projects with computer science mentors from the area, students were also able to attend lectures and workshops and present a final poster to peers and staff.
"The Computing Sciences summer student program gives students a unique opportunity to interact with Berkeley Lab staff, learn about the work done at the Lab and at CRD, NERSC and ESnet in particular, and in many cases contribute to that work," said Osni Marques, the program chair and staff scientist. The program also aims to recruit students and faculty from minority-serving institutions and women's colleges to support students from underrepresented or underprivileged backgrounds."
About the author: Ami Bhakta is a rising senior at UC San Diego. She is currently participating in the UCDC program at the UC Washington Center in Washington, D.C., where she is an intern in UC's Office of Federal Governmental Relations.