Hunt for the Arctic bumblebee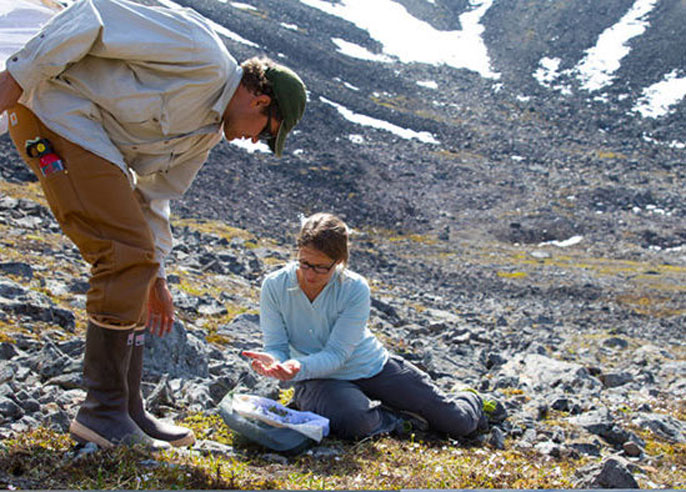 The search for the elusive arctic bumblebee named Bombus polaris began at the Thai Orchid Drive-Thru in Fairbanks, Alaska.
The drive-thru — a neon painted shed in a parking lot — offered the team of six UC Riverside scientists one last chance for anything close to pad Thai or tom kha soup for the next two weeks.
It was late June, and the team was about to embark on a more-than-1,000-mile trip north toward the Arctic Ocean, where the sun does not set in summer and mosquitoes are often unbearable. Cell phone service and Wi-Fi would be nonexistent nearly the entire trip. Food was limited to what could be stored in the vehicles without refrigeration. By the end of the trip, the group was getting tired of pancakes, pasta and instant oatmeal, and missing fresh fruits and vegetables.
The researchers were searching for B. polaris, one of only two species of bumblebee in the high Arctic. The bee is black, with a mixture of yellow and orange, with a thicker coat of hair than most bees. The long coat of hair helps them spread pollen, but has also helped them adapt to the cold. The bumblebee also has an ability to increase its internal temperature up to 38 degrees Celsius (warmer than a human body) through a process called thermoregulation.
The UC Riverside researchers wanted to know: How is this bee uniquely adapted to Arctic conditions? And how it is it impacted by climate change?
Bumblebees are important pollinators of wild flowers and food crops, so much so that in 2007 Canada placed B. polaris on 5-cent postage stamp to draw attention to its significance. But some species are undergoing precipitous declines. The implications of UC Riverside researchers' findings could be significant because the effects of climate change are amplified in the Arctic, and B. polaris is the primary pollinator of about 80 plants threatened in the region.
Read the full article, "The search for the Arctic bumblebee," at UC Riverside Magazine.