Immunotherapy: the last hope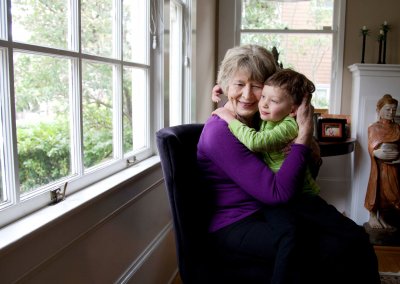 Patricia Hollowell, 80, was diagnosed with melanoma in April 2012.
She had three surgeries in quick succession in her hometown of Grand Junction, Colo., that removed the tumors from her head but didn't prevent them from coming back and spreading quickly to her neck and lymph nodes.
On the day she returned home from the hospital after the third surgery in June of that year, her husband had a massive stroke and died a week later.
"It was the summer from hell, it was like everything was over," she recalled. "When my husband died and my cancer came back it was like the world was over, my world was over. It was just complete devastation."
This was not Hollowell's first bout with cancer, having survived breast and colon cancer 30 years ago. This time, after the failed surgeries and with her cancer spreading quickly, she figured her luck would run out.
Her doctors suggested her only hope might be to join a clinical trial involving new cancer immunotherapy drugs.
Hollowell moved to San Rafael, Calif., to be with her daughter and was accepted into a trial at UCSF under the direction of Adil Daud, M.D., director of melanoma clinical research at the UCSF Helen Diller Comprehensive Cancer Center. She began a biweekly IV of an antibody that targets an immune inhibitor called PD-1 in June 2013.
"Within a month, my doctors could see the difference, and I am now tumor-free," she said. "For me, it's been an absolute miracle."
Daud said use of the PD-1 antibody has been "a game-changer for melanoma therapy." Just a few years ago, about 10 percent of his patients saw their tumors shrink with immunotherapy treatment; today the response rate has improved to 30 to 50 percent. That's compared to chemotherapy treatment, which has a 10 percent response rate and can be a short-lived solution.
Immunotherapy is "not a sure thing even now, but a positive response is becoming a lot more likely with [the antibody for] PD-1," Daud said. "Hopefully it will become a building block, and we will add to it and go beyond a 50 percent response rate in the coming years."
For Hollowell, twice-monthly trips to UCSF for treatment could soon end if her PET scan at the end of February shows no present tumors.
"I feel really good," she said. "The only bad part is that I'm a little tired, so I rest during the day, but the good part is I'm alive."